The Film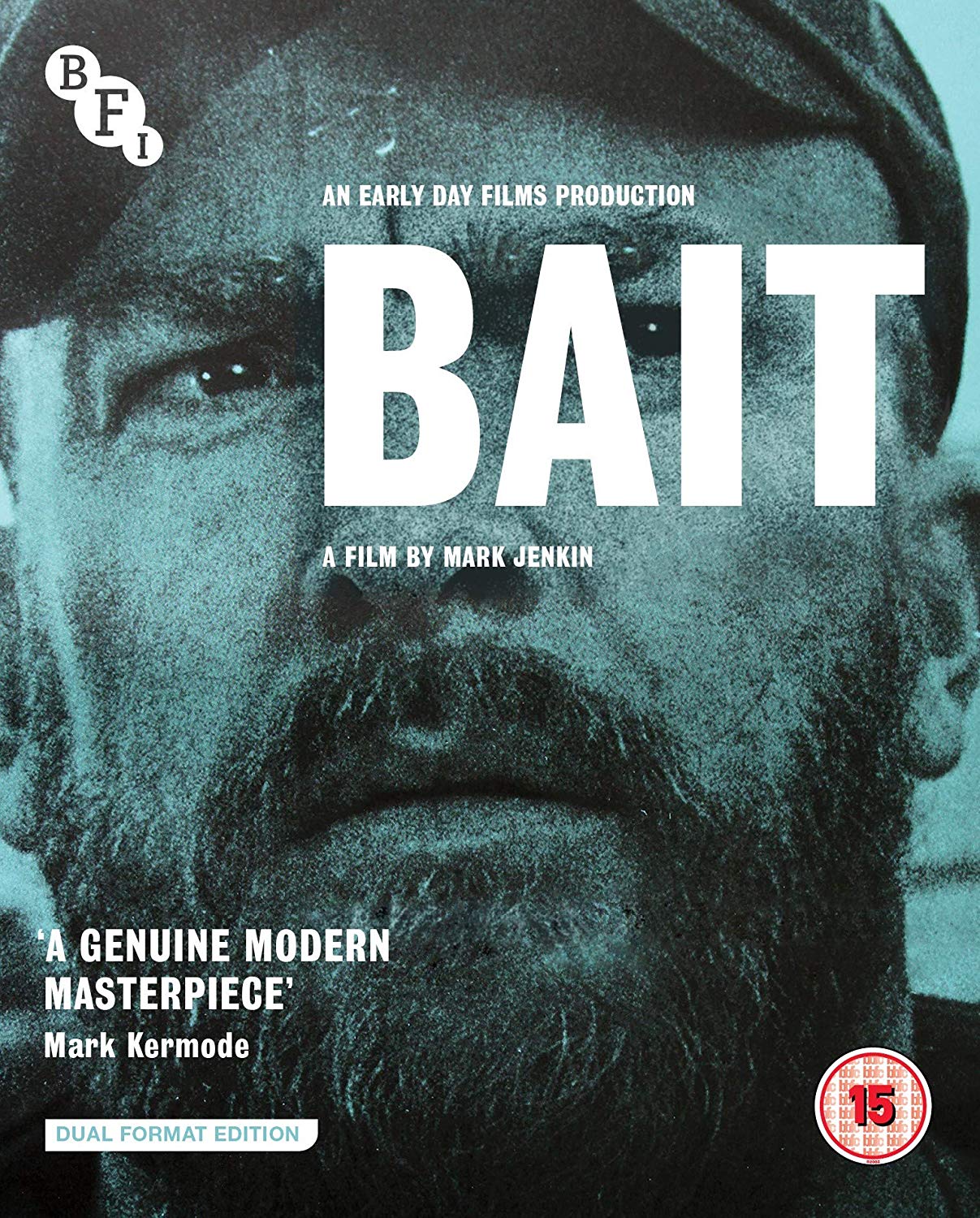 "Bait" (2019)

Martin (played by Edward Rowe) is a fisherman without a boat living on a coastal town in Cornwall. Catching fish and shellfish from traps set along the coast, he is saving money so he could buy his own boat someday soon. He has an older brother Steven (played by Giles King) who does have a boat, but the two are not on the friendliest terms after going their separate ways a while back. With the tourism industry being a better way to make money, their old house where their family used to live had been sold off to Sandra (played by Mary Woodvine) and Tim Leigh (played by Simon Shepherd), a couple with teenage children that visit the area during the holidays and rent it out as an Air BnB, as many others in the area have. Steven uses his boat to transport tourists around and is not interested in fishing anymore. Martin is set to keep with the old ways, and the clashes between him and his brother, as well as with the tourists and other locals.

It's impossible to talk about "Bait" and not talk about how the film looks and sounds. Shot in stark black and white on 16mm on a windup Bolex camera, it does not look like any film that has come out recently, and does not look like any feature that has ever come out. With the camera used mostly for home recording without sound, it does look closer to some amateur short films of yesteryear. But this is a feature length production, and it looks rough. There are scratches, dust particles, flickering frames and jumps from time to time, as the old Bolex camera does not make pristine looking images, and the hand processing of the film also reproduces the damage, and sometimes creates more damage to the footage. As for the sound, everything was done in post-production, with every voice, every wave, every footstep being dubbed once the film was fully edited. Sound could not be synchronized on location due to the extremely loud camera, though the re-recorded audio sounds close to what the film would sound like, with intentionally being muffled for the voices. With this method, the film has a handmade look and feel that studio films and current independent films shot digitally could not reproduce. It is not an old fashioned look yet it somehow feels old. Yet there is modern technology to be seen such as Macbooks and dialogue talking about Internet bookings, so it might be confusing when the film is supposed to take place. It's timeless yet it's not. It's certainly similar to "Wings of Desire", having an old fashioned look, but once the music of Nick Cave & the Bad Seeds kicks in as well as the color sequences, it's suddenly transported into the modern age, to when the film was released in the late 1980s.

The narrative of "Bait" is fairly simple with Martin's conflicts with various people in town being the main focus. Most of the story is told through his perspective but there are others to be seen, such as Sandra and Tim's teenage kids Katie (played by Georgia Ellery) and Hugo (played by Jowan Jacobs) that end up in some unfortunate scuffles with other local teens visiting the town. There is Wenna (played by Chloe Endean) who works at the pub who has a notion of getting into trouble. While the plot of the teens does have quite an impact, it is Martin's character and his strong devotion with a quick temper that becomes the central focus of the production. Rowe is a comedian, yet he plays the character with no strong comical elements, instead showcasing a stern and hard headed individual who wishes things would go back to the way things were. From his sadness of missing his house, his frustration with his brother, and not fully overcoming the loss of his parents, he is a broken character ready to snap, yet he does have a moral compass. The supporting characters are interesting, though in comparison their screentimes are much lower than the character of Martin and it sometimes feels unfortunate that more couldn't be said for them.

Another strength of "Bait" is the editing. Though the story is told in a linear fashion, there are certain montages seen in some of the more striking scenes that intercut with elements from past and present happenings. Instead of just foreshadowing events, the montages actually show the foreshadowing sequences, and how they are cut together is extremely well done. While it may seem striking and confusing on first glances, on second viewing the effect it does make much more sense as to what the viewer is being shown.

The film first opened at the Berlin International Film Festival in February of 2019, followed by festival screenings around the world until a general theatrical release in the UK from August 30th, 2019. It received rave reviews for its unique look and positive word of mouth from both critics and audiences. It was nominated for many awards at festivals with a few wins, and most recently won the Outstanding Debut by a British Writer, Director, or Producer at the BAFTAs. "Bait" might have a fairly simple but striking story at its center, but one can't deny the unique experience aurally and visually.

Note this is a region B Blu-ray

Video


The BFI presents the film in the original 1.33:1 aspect ratio in 1080p AVC MPEG-4. Shot on a 1976 clockwork Bolex camera with 16mm B&W film stock, the film was processed by hand by Jenkin though Illford ID-11 chemistry. The film easily picks up dust and other particles both during shooting and in processing, while the camera itself can have issues of uneven lighting and other issues due to the weather and temperature. With so many issues, it is impossible to have the film look pristine, and with the intention being the film having visual defects, the transfer here reflects the director's vision. Cuts and scratches are prevalent, flickering about, uneven lighting are all present without any digital cleanup. On the other hand, the image is quite sharp with faces in closeups, detail is wonderful, and film grain is obviously there, bringing a very organic looking transfer. If on a usual scale a transfer with damage marks everywhere would be low, but as this is how the film looks and is intended, it must be given an "A".

The film's runtime is 88:49.

Audio


English LPCM 2.0 stereo
The original stereo soundtrack is uncompressed. As none of the film used location sound due to the extremely loud whirring of the camera, all sound had to be dubbed in post production. All dialogue and effects are dubbed, though there isn't much of a synchronization problem as many might expect. Though post-production sound could mean everything would sound clear and crisp with editing and recording tools at sound studios, "Bait" takes again the analog route, by recording the dialogue in a condition that matches the image. Dialogue and effects are sometimes more muffled than clear, with echoey distortion and low fidelity. In a strange way, it makes things seem more "authentic" and in tune with the visuals. As for the droning music cues by Jenkin, they are given some stereo separation, as opposed to the dialogue which is mostly in a mono state. Again, a film with muffled sound would usually be graded lower, but an "A" is given for the authenticity and being the intention.

There are optional English HoH subtitles in a white font.

Extras


This is a dual format set with the film and extras on the Blu-ray being repeated in standard definition on the DVD.


DISC ONE (Blu-ray)

Audio commentary with Mark Jenkin and Mark Kermode
In this commentary, the director sits with film critic Mark Kermode in a slightly Q&A style, as they discuss the making of the film. From its origins dating back to 1999, how it evolved from a found footage film into what it became, films that influenced Jenkin, the technical issues in making a film on a Bolex camera and hand processing it, some behind the scenes information on each actor and their contributions, as well as life in Cornwall and how the film reflects his own life when he lived there.
in English Dolby Digital 2.0 with no subtitles

The following extras also have a "Play All" function, with the full runtime being 94:55 in the following order.


"Bait" Q&A with director Mark Jenkin (32:31)
In this on stage Q&A following a screening at the BFI Southbank on July 15, 2019, Jenkin is again in talks with Mark Kermode on the production. Discussed are the influences, the problems dealing with the complicated shooting and processing, the director's past and connection to Cornwall, and more. Some of the information is repeated in the commentary, but there is still some good additional information to be found here.
in 1080p AVC MPEG-4, in 1.78:1, in English Dolby Digital 2.0 with no subtitles

Trailers (with Play All) (3:23)
-- Festival Trailer (1:40)
-- Theatrical Trailer (1:44)
The two original trailers are presented, both cut very differently, with the second trailer having more quotes from critics inserted. The theatrical trailer has been embedded below.
in 1080p AVC MPEG-4, in 1.33:1, in English Dolby Digital 2.0 with no subtitles

"The Essential Cornishman" 2015 short (6:10)
This short film by Jenkin has a similar look to "Bait" with the Bolex shot black and white image, with a poem being read over footage of a fisherman at work on a boat.
in 1080p AVC MPEG-4, in 1.33:1, in English Dolby Digital 2.0 with no subtitles

"Dear Marianna" 2015 short (6:31)
This short film by Jenkin is shot on Kodachrome 40 color film, though again having an analog feel with the washed out colors and damage marks. Shown is footage from a coastal town in Ireland with a man reading out loud a letter to a girl named Marianna.
in 1080p AVC MPEG-4, in 1.33:1, in English Dolby Digital 2.0 with no subtitles

"The Road to Zennor" 2016 short (2:30)
This short film by Jenkin is shot on Super 8, with narration by actress Mary Woodvine.
in 1080p AVC MPEG-4, in 1.33:1, in English Dolby Digital 2.0 with no subtitles

"The Saving of Bill Blewitt" 1936 short (25:19)
In this short produced by the GPO, it shows a village where the people bind together to save up for a new boat after one sinks off the coast. The short showcases a coastal town that is reliant on fishing and mining, possibly what the Cornwall town in "Bait" could have been like more than eighty years ago. The transfer has a fair share of scratches and dust as well as some audio drops and hiss, causing some dialogue to be hard to hear.
in 1080p AVC MPEG-4, in 1.33:1, in English Dolby Digital 2.0 with no subtitles

"Scenes in the Cornish Riviera" c1919 short (18:34)
A montage of silent footage captured in Cornwall circa 1919. From riverboat rides, people on the pier, the railway station, and more, the footage is actually in fairly watchable condition throughout even with the expected damage marks seen.
in 1080p AVC MPEG-4, in 1.33:1, Music Dolby Digital 2.0 with English Intertitles


DISC TWO (DVD)


Booklet
A 28 page booklet is included. First is a short director's statement about the film itself. Next is "The Melancholy of the Real" by critic Jessica Kiang, discussing the unique making-of and about the film's themes. "Taking the Bait" is the next essay, written by professor Jason Wood about the film and its reception. There are also film credits, special features information, transfer info, acknowledgements, and stills.



Overall


"Bait" presents a unique visual experience while also giving an excellent look at one man's internal conflict. One of the most talked about British films of 2019 is given an excellent home video release by the BFI, with a transfer that keeps with the director's intent, with a good selection of extras. While it's only a January release, it might be an early contender for one of the best discs released this year.
| | | | | |
| --- | --- | --- | --- | --- |
| The Film: B+ | Video: A | Audio: A | Extras: B+ | Overall: A- |