The Film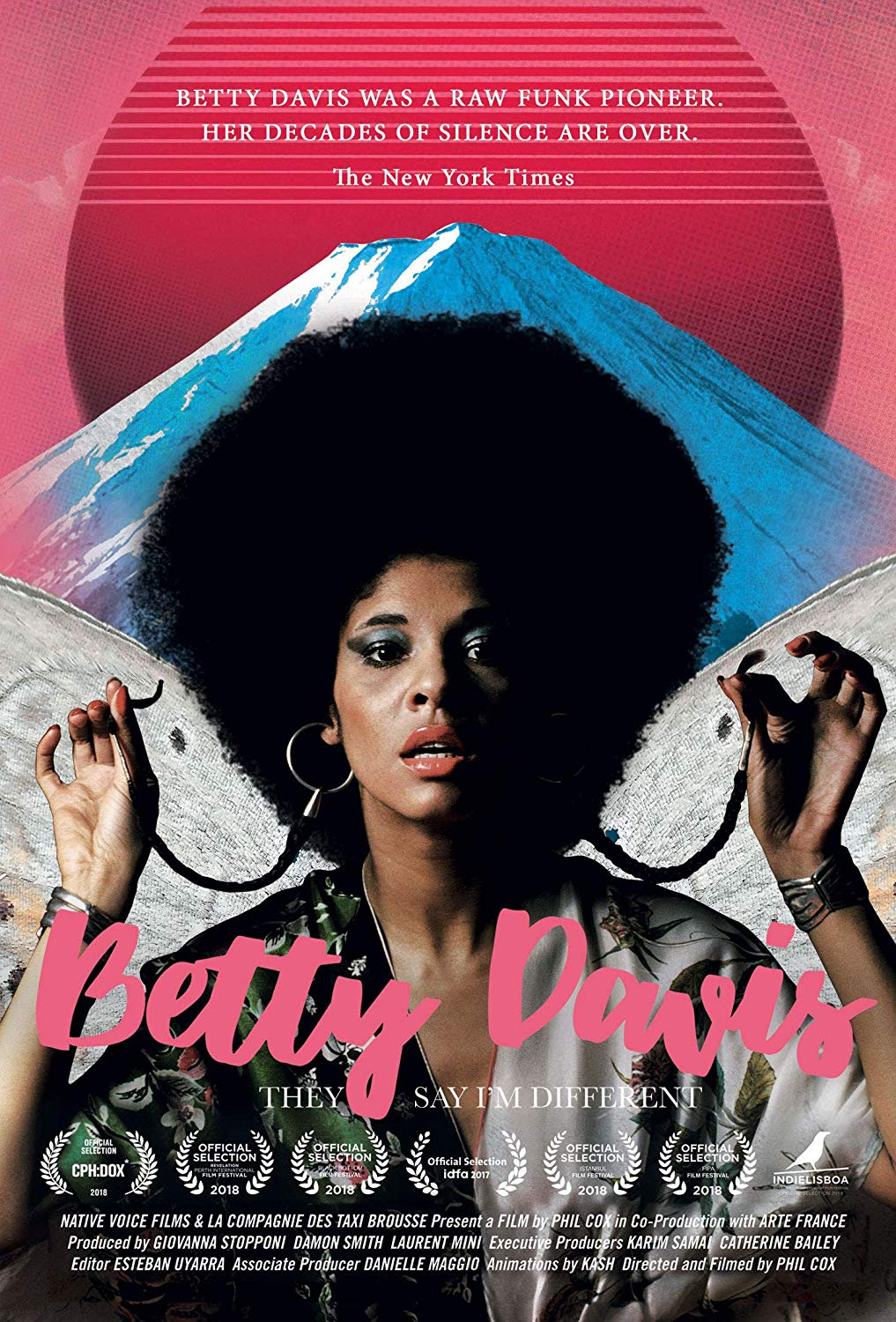 "Betty Davis: They Say I'm Different" (2017)

During the early 1970s, Betty Davis released a trio of albums - her 1973 self-titled debut, "They Say I'm Different" in 1974, and "Nasty Gal" in 1975. With a raw vocal style that was raspy yet smooth, powerful while sexy, it was complimented by a funk soul sound that perfectly matched her style. Her lyrics were sexual and unforgiving, the music was funky and deep, and her live shows in which she wore hot pants, thigh high boots, skimpy and sexy tops, and a magnificent afro to top it off, her moves were just as suggestive as her lyrics. Her albums were not major sellers. The first two were on an indie label while the third was on major Island Records. A fourth album was recorded in 1976 but was shelved by the label. And then, Davis seemingly disappeared from the music world. As she rarely gave interviews and she was not a major figure in the business, she was basically a blip on the music world. Most may have known her as the wife of Miles Davis for a short period, and the person that heavily influenced his music during the period, as he went more experimental with jazz rock and fusion, and even appearing on the cover of his ground breaking 1968 album "Filles des Kilimanjaro". But her songs and her work were not on the charts, and her time in the solo limelight was barely remembered.

When hearing Betty Davis' music now, it's still fresh, funky, and amazing. She was years ahead of the soulful funk rock of Price, a decade before Madonna pushed the boundaries of female sexuality in music and image, decades before "Parental Advisory" stickers were a commonplace on albums. Listening to Macy Gray's raspy soul, Erykah Badu's quiet and smooth vocals, Alabama Shakes' Brittany Howard howls, there are quite a lot of female artists working today that may inadvertently be paying tribute to Davis without knowing it. She wasn't a massively known artist and her albums sold in low numbers during the 1970s. Whether they heard her work or not, it certainly shows that Davis was way ahead of the curb and would more or less fit in much better with the modern era. As seen with documentaries such as "A Band Called Death" and "Searching for Sugar Man" which showcased artists that broke new musical ground without the majority of the population realizing it, "They Say I'm Different" falls in a similar category of introducing an obscure yet important and defining artist for a new generation and giving belated credit where it is due. With those mentioned documentaries, they both had the musicians themselves on camera to tell the story along with historians and acquaintances. In "They Say I'm Different", the hope was to make a film with Davis' input, but as she was and is a very reclusive person, there was question if getting in touch with her would be possible.

By including interviews with family and old friends, music historians, former producers and studio musicians, there is a lot to reveal about her. From her upbringing in North Carolina and Pennsylvania, her early days in New York studying fashion and getting into the music business, her brief marriage to Miles Davis, each person gives their side of the story. But the main draw here is the words of Betty Davis herself. Keeping with her privacy, all her interview sessions were recorded in audio form, and her words were read out loud by Kim El for narration, and a body double for certain shots. So people thinking that is her in some of the footage and talking, it actually isn't. Though there is one moment when the audience hears Davis' real voice recently, through a telephone call.

Although there are good moments in the documentary, there are a lot of unanswered questions as well. There is the segment at the beginning with her Columbia Records sessions being pressed, but information about the sessions is very brief. In addition, information about the three studio albums and the fourth unreleased one in detail is also kept on the cutting room floor. There is a lot skipped over, and with the less than an hour runtime, when the credits come up, it seems extremely sudden and unfinished. "They Say I'm Different" starts off excellent focusing on the myth of the legendary and obscure artist, but never feels like a completed work but a work in progress.

Betty Davis's music has been slowly but surely being rediscovered, with her albums being remastered and reissued in the 2000s, her music being sampled by some hip hop artists including Ice Cube, Redman, and others, and now this documentary. "They Say I'm Different" may win some new fans, and it's nice to finally see some actual vintage footage plus her own words being spoken. But it certainly will leave people asking for more.

Note this is a region 0 NTSC DVD.

Video


MVD Visual presents the film in the 1.78:1 aspect ratio with anamorphic enhancement in the NTSC format. Being a mix of HD shot interviews, animated photographs, vintage film, and stock footage, it certainly is a mixed bad of sources. The interviews have some instances of shimmering and inconsistent lighting, with some blockiness and pixelated moments in the downgraded standard definition transfer, though most of the time they look fair. The 1976 concert footage that was recently uncovered is missing a lot of the original color, though damage is actually quite minimal. The stock footage is the most inconsistent with blurriness, choppy picture, and damage, while the animated photos are the best looking of all. It certainly could look better.

The film is uncut with a runtime of 53:38.


Audio


English Dolby Digital 2.0 stereo
When the music kicks in, it certainly sounds excellent as they are coming from the remastered versions. As for the dialogue from the interviews, they also sound very good and well balanced with the music. For the most part the interviews are clear, centered, and without damage, dropouts, or other issues. Overall it is a good track to accompany the documentary.

There are no subtitles for the main feature.

Extras


"Phil Cox on the Making of Betty Davis: They Say" interview (16:31)
Director Phil Cox gives a discussion about how he came into contact with her music, the lengthy amount of time and difficulty in getting to meet Davis for the documentary, and how the project evolved during the years. There is also some insight into the finding of the rare footage of Davis on stage in France in 1976 which was used in the film, and also Davis' reaction to the final cut.
in anamorphic 1.78:1, in English Dolby Digital 2.0 with no subtitles

Interview extract with Betty Davis (5:18)
Cox was fortunate enough to interview Davis in person for insight and information into her life and art. This interview extract is from one of the sessions done with Davis and Cox, and for those wishing to see how Davis looks now, they may be disappointed. It is only a shot of her from the back mostly in shadow as she states that nobody wants to see an old lady on camera, and she is content with keeping her privacy after all these years. Her voice is not recognizable anymore, though she obviously still does have some interesting things to discuss about.
in anamorphic 1.78:1, in English Dolby Digital 2.0 with no subtitles

Trailer (1:09)
A trailer featuring "If I'm in Luck I Might Get Picked Up" as the background track, it features critics quotes and stills rather than talking heads. It seems to come from a slightly low quality source, and the sound is very compressed sounding very muddy here. It has been embedded below, courtesy of MVD Visual.
in anamorphic 1.78:1, in English Dolby Digital 2.0 with no subtitles




Considering the amount of footage shot with different interviewees, it seems like a wasted opportunity that some additional interview segments couldn't be included in the special features. In addition, the 1976 footage of Davis performing in France would have been great to see in full rather than just in clips form in montages. As for the Davis interview, 5 minutes is an awfully short tease of a runtime as well. Also, the first trailer from its world premiere at the International Documentary Film Festival Amsterdam (IDFA) was not included either.

Light in the Attic Records licensed the rights to reissue Davis' first two studio albums and remastered them for release on CD and vinyl in 2007. They also licensed the rights to reissue her third album in 2009 and in the same year her unreleased fourth album from recorded in 1976 was issued for the first time. In 2016, Light in the Attic also uncovered and released a "The Columbia Years - 1968-1969" featuring many unreleased songs and demos from the vaults. All these remastered releases include extensive liner notes with essays, interviews with Davis, musicians, and others and are all highly recommended.

Overall


"Betty Davis: They Say I'm Different" showcases a fascinating artist way before her time. Lyrically, musically, and stylistically a groundbreaking artist, Betty Davis' story is an interesting one. Unfortunately the film does seem a bit short ended and not one that fully encompasses her story. MVD Visual's release has good audio, but the image is on the fair side, and the supplements are welcome, if not long enough.
| | | | | |
| --- | --- | --- | --- | --- |
| The Film: B- | Video: B- | Audio: A- | Extras: C | Overall: B- |