Operative (The)
R2 - United Kingdom - Signature Entertainment
Review written by and copyright: Rick Curzon (10th February 2020).
The Film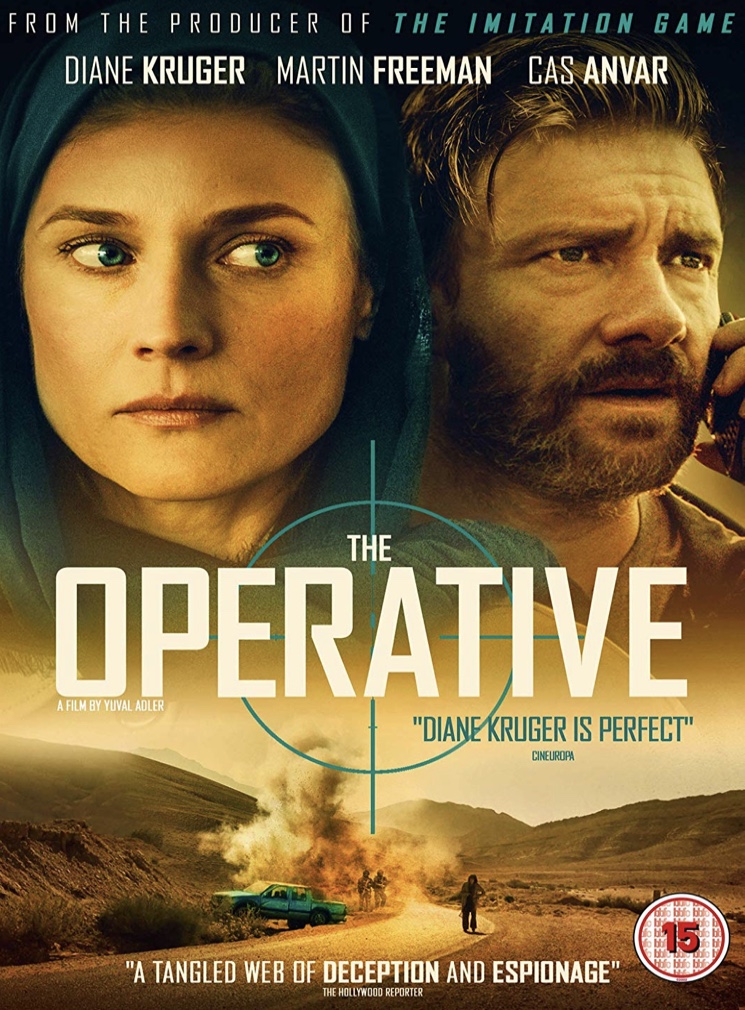 MUNICH meets HOMELAND in this taught and pacy psychological thriller following an undercover spy. The Operative follows the story of Rachel (Diane Kruger, Inglorious Basterds), a rogue spy from Israel's feared national intelligence force Mossad, vanishes without a trace while attending her father's funeral in London. The only clue to her whereabouts is a cryptic phone call she places to her former handler Thomas (Martin Freeman, The Hobbit Trilogy), who is then summoned from Germany to Israel by Mossad.

With Rachel's life immersed in her assignments as part of a vast espionage effort against Iran's nuclear program, Thomas must retrace her steps to determine what threats she may now pose to their operation, while also working to protect her. Based on the hit novel The English Teacher by Yiftach R. Atir, The Operative also stars Cas Anvar (Room, Argo), Yoav Levi (Zero Dark Thirty) and Ohad Knoller (Munich).

Video


Solid espionage thriller based on the Israeli novel The English Teacher is a digitally shot production is pretty typical of many modern films. The co,our palette is muted favouring a naturalistic if dull look. Flesh tones are fairly pasty by design and the overall patina is concerned with greys, browns and blacks. It's as if the makers wanted to pay homage to those gritty Le Carre tales like The Deadly Affair (1966) or The Spy Who Came in from the Cold (1965).

Occasionally in the brighter, daylight scenes colours kick out but not as they would in a film by the likes of Pedro Almodovar or Quentin Tarantino. Some of the sequences set in the desert are warmer, hotter, richer but they're brief and the ballance of the film is as above.

Black levels are deep and inky with about as much shadow detail as can be expected in a standard definition scope image; obviously were this on Blu-ray there would be an extra layer of information in each frame. Contrast is largely low key but supportive of detail with no blown out highlights.

The image has obviously had a fair amount of digital grading and tinkering in post production but I couldn't detect anything egregious like edge enhancement. Encoding is adequate and I saw no signs of compression artefacts although if you get up close to the image and raise the brightness black levels may have some minor issues.

All told, a solid, single layered standard definition image. A dual layered disc would've helped with a higher bitrate that could've bolstered some of the digital muddiness.

PAL / 2.4:1 / 112:14

Audio


English Dolby Digital 5.1
English Dolby Digital 2.0 Stereo
Subtitles: None for English dialogue but there is some yellow / white burnt in subs for non-English sections.

This is a pretty effective surround track with plenty of wallah in street scenes whereby street sounds play gently around the sound field. Directional effects are fairly subdued and the rear speakers are mainly used for score. Like a lot of recent DVD releases this lossy track needs to played somewhat louder to achieve a better effect. The 5.1 is noticeably stronger with more depth to the surrounds so is obviously the track of choice.

There are no subtitles for .english dialogue sadly but non English sections are catered for in a mixture of yellow (Hebrew) and while (everything else) text.

Extras


Startup Trailers:
- Escape from Pretoria (2:30)
- Mr. Jones (2:05)

Nothing to see here bar trails for other Signature releases.

Packaging


Standard black single disc DVD case.

Overall


A minor but good espionage tale gets pretty straightforward, single layered DVD treatment. The image is decent, adequate but no match for HD or higher resolutions. But, it gets the job done. The soundtrack is slightly more robust that the image on it's own terms being quite full of ambiance and score rather than jolts. A solid purchase provided you don't pay too much. Bizarre that a film of this ilk and pedigree hasn't got the Blu-ray treatment.
| | | | | |
| --- | --- | --- | --- | --- |
| The Film: B- | Video: B- | Audio: B | Extras: E | Overall: C+ |

---
DVD Compare is a participant in the Amazon Services LLC Associates Program and the Amazon Europe S.a.r.l. Associates Programme, an affiliate advertising program designed to provide a means for sites to earn advertising fees by advertising and linking to amazon.co.uk, amazon.com, amazon.ca, amazon.fr, and amazon.de.