Night Tide (Blu-ray) [Blu-ray]
Blu-ray ALL - United Kingdom - Powerhouse Films
Review written by and copyright: Rick Curzon (15th February 2020).
The Film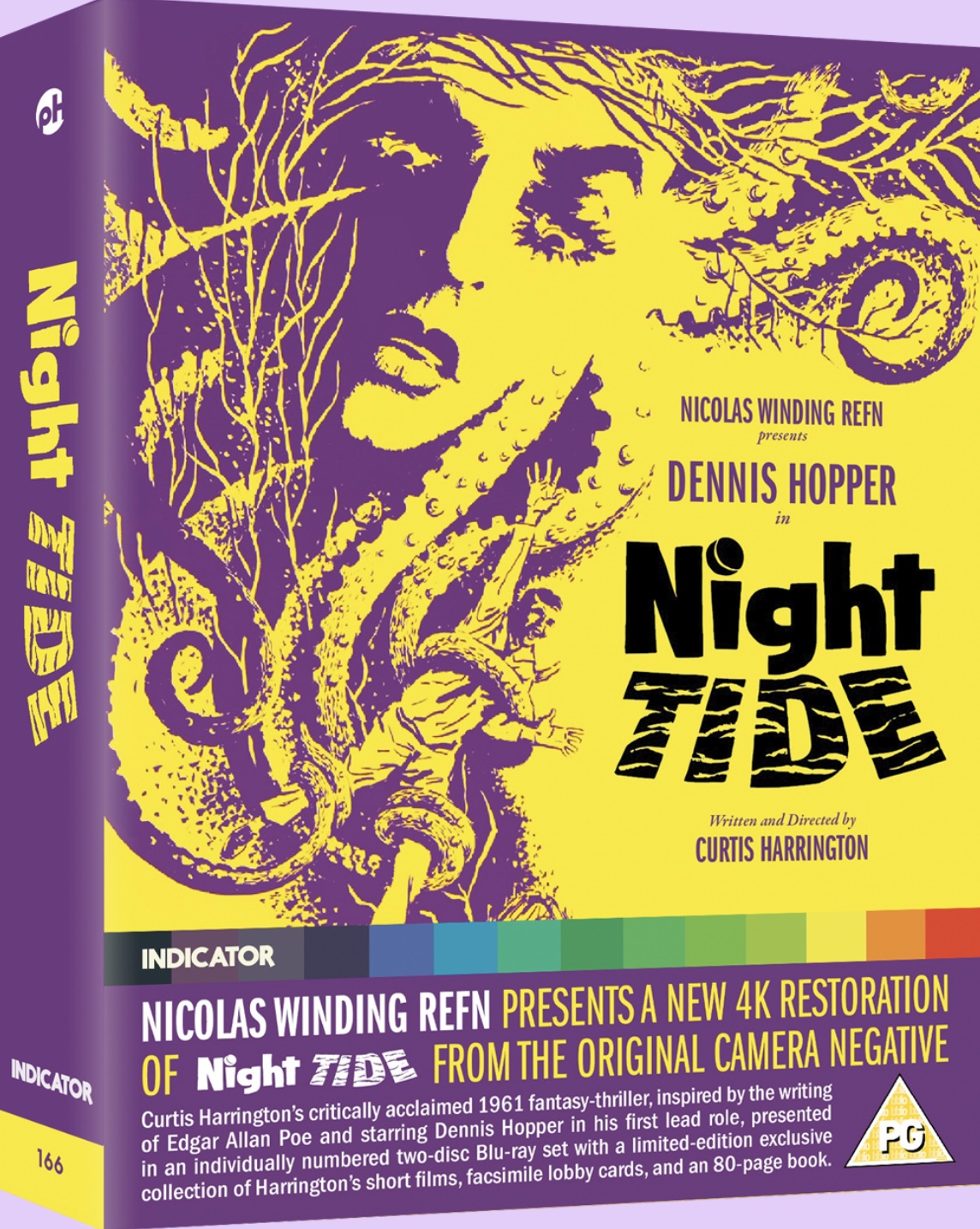 Presented by Nicolas Winding Refn in a new 4K restoration, Curtis Harrington's acclaimed fantasy-thriller, featuring Dennis Hopper (The Last Movie) in his first starring role, is an offbeat classic of American cinema. Hopper plays a sailor on shore leave, when he meets a young woman (Linda Lawson) who may not be as she seems…

Exclusive to this two-disc set is a bonus Blu-ray devoted to Harrington's short films, encompassing his seven decades as a filmmaker and featuring experimental works, documentaries, and the two adaptations of Edgar Allan Poe's The Fall of the House of Usher that bookended his career.

Video


Moody psychological fantasy thriller from Harrington is beautifully crafted if occasionally stilted and filled with references to the cinema of Val Lewton. It's very much a tone poem with a deliberate pace and good performances. My only quibble is the serviceable score by David Raksin which doesn't suit the drama or action as well as it might ... at least in my opinion. It's not bad by any stretch, but just didn't cut it for me.

My feelings about Harrington are that he was sort of like Mario Bava in that he was an exceptionally cultivated man and an experienced film maker who took whatever job came his way and imbued it with style, gloss and interest. All of his films are interesting and should be seen by all buffs.

Previously available in decent but letterboxed, non-enhanced widescreen transfers dating from the '90s, Powerhouse Film's disc uses the same recent master created for the Kino Blu-ray that utilised the OCN which was badly contaminated with vinegar syndrome and a 2008 duplicate fine grain master taken from the OCN before it was in such a sorry state.

The end results are remarkable to say the least. Given the circumstances the transfer is flawless, in fact by any standard the restoration is an utter miracle. There are some sections where the quality varies but it's hardly worth mentioning.

A pristine black and white image harvest with no signs of gamma bias at all. Grayscale is perfectly balanced and the contrast is perfectly layered with some brilliant white highlights (no blowouts) and deep, dark inky blacks with plenty of shadow detail and no unintended crush. Filtered shots look appropriately dreamy. Lots of lovely grain beautifully encoded in an incredibly filmic transfer; no signs of digital tinkering at all. Detail is exceptional on all focal planes.

A stunning transfer.

1080/24p / MPEG-4 AVC / 1.66:1 / 86:02

Audio


English LPCM 1.0
Subtitles: English HoH

Crystal clear mono track that naturally has little range but manages to be as robust as it's possible to be. The sound design is straightforward, professional and typical of a low budget film of the era made by a meticulous film maker like Harrington. Occasionally there is some mild distortion with loud music like the opening club scene when trumpets blast but it's not something that could be improved; frankly it's not needed. There is the occasional echo on the track (the tea bag discussion with the fortune teller for instance). Dialogue is always clear. Hard of hearing subtitles have been included.

Extras


Audio commentary with writer-director Curtis Harrington and actor Dennis Hopper (1998)

Vintage yaktrak from 1998 which was created for the US Image and was recycled on the 2011 UK Cornerstone Media DVD. Hipper has some trouble remembering making the film but Harrington is filled with great stories and trivia and as to why the film failed at the box office and was rarely seen in the years since.

Audio commentary with writer and film programmer Tony Rayns (2019)

Plenty of great trivia about Harrington and the film; Rayns was acquainted with the late director and recounts his meeting with him. If you know Rayn's work then you know this is an essential companion to the film.

"Harrington on Harrington" 2018 featurette (24:40)

Wonderfully gabby and fascinating interview with the great man who starts by speculating as to why he loved horror films age five and takes it from there. He covers how he loves the personal imprint that a creator makes in their films; that he likes the subtext behind things; his making of shorts and transferring to features; showing his films in New York and Europe; discusses various films he made. An excellent piece.

"Sinister Image: Curtis Harrington" 1987 TV episode (SD) (57:17)

A 2-part episode of David del Valle's '80s cable access talk show. Quality is highly variable on this shot video production with sound that distorts when it gets loud. With plenty of clips and an interesting discussion that covers Harrington's influences starting in childhood and moves on to his career including Night Tide. Part one runs 28:06 and part two 29:09.

Theatrical Trailer (2:17)

Cheesy promo piece that plays on the films oddball properties ... and the love story. Lots of purple prose.

Night Tide Image gallery: Original Promotional Material (18 images)

Brief but decent HD still gallery.

DREAM LOGIC: THE SHORT FILMS OF CURTIS HARRINGTON
The Films (Play All - 119:05):
- "The Fall of the House of Usher" (1942) (9:59)
- "Fragment of Seeking" (1946) (13:42)
- "Picnic" (1948) (22:19)
- "On the Edge" (1949) (6:12)
-- Play with 1949 music-only track
-- Play with 2003 music & effects soundtrack
"The Assignation" (1953) (7:31)
"The Wormwood Star" (1956) (10:01)
"The Four Elements" (1966) (12:39)
"Usher" (2002) (36:42)

From the booklet:

"All eight short films were supplied in High Definition by Flicker Alley and Drag City. The Fall of the House of Usher was restored from Curtis Harrington's 16mm blow-up print. Fragment of Seeking and Usher were restored from the original camera negatives. Picnic and On the Edge were restored from the original duplicate negatives. The Assignation, The Wormwood Star and The Four Elements were restored from original prints. Restoration work on Fragment of Seeking, Picnic, On the Edge, The Assignation and The Wormwood Star was carried out by the Academy Film Archive. All are included courtesy of the Academy Film Archive."

The quality here is variable but that's to be expected. The earlier films are amateur productions shot on film but if the transfer was sourced from an OCN .THEN IT's sharper, others from film prints less so. There is print damage, density changes and other artefacts of the analogue, photo chemical film processes of the time. Obviously the most recent production is pristine.

The films themselves are fascinating and show Harrington's burgeoning talent from it's earliest days to near the end of his life. His use of colour from 1953 onwards in these shorts is particularly strong and striking although The Four Elements seemed faded.

Dream Logic: The Short Films of Curtis Harrington : Promotional Images and Portraits (74 images)

Extensive HD gallery with some fascinating images.

80-page liner notes book featuring by Paul Duane, Curtis Harrington on Night Tide and the short films, archival articles by Harrington on horror cinema, experimental films and the making of Picnic, an overview of critical responses, Peter Conheim on the restoration of Night Tide, and film credits

Superb book; a riveting read as there doesn't seem to be a great deal out there that I've come across regarding Harrington.

Packaging


Hard card slipcase that houses the book and the discs which are housed in a 2-disc keepcase.

Overall


One of THE disc of the year ... simples. Image and sound are as good as can be and the extras are peerless. Snap it up before the limited edition and magisterial book are gone.
| | | | | |
| --- | --- | --- | --- | --- |
| The Film: B | Video: A+ | Audio: A+ | Extras: A+ | Overall: A+ |

---
DVD Compare is a participant in the Amazon Services LLC Associates Program and the Amazon Europe S.a.r.l. Associates Programme, an affiliate advertising program designed to provide a means for sites to earn advertising fees by advertising and linking to amazon.co.uk, amazon.com, amazon.ca, amazon.fr, and amazon.de.