The Film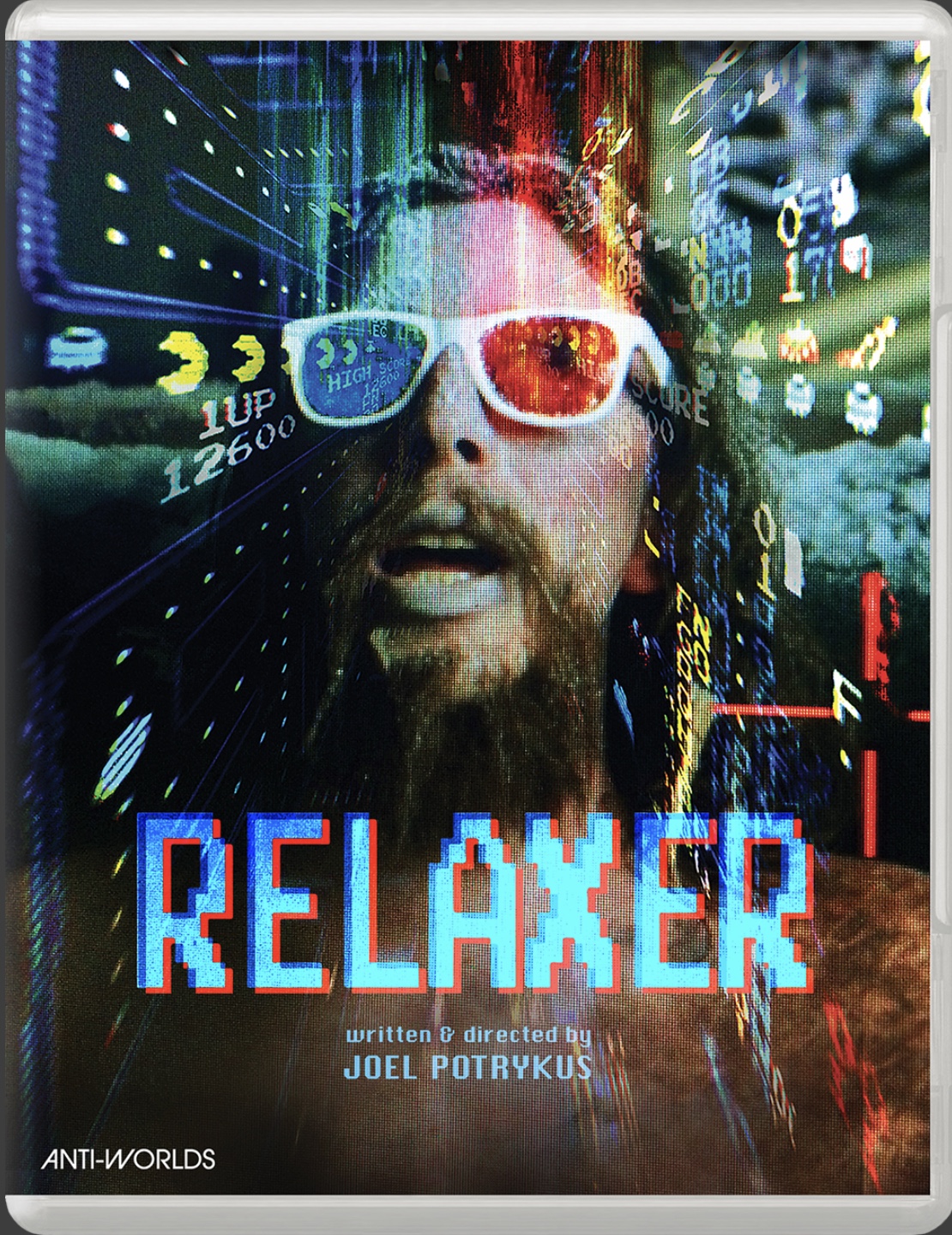 Set on the eve of Y2K, Relaxer is a mind-bending drama about a young man who is tasked by his overbearing brother to get to level 256 on the classic computer game Pac-Man, and not to leave his couch until he does.

Inspired by Luis Buñuel's absurdist classic The Exterminating Angel, the film premiered at the 2018 South by Southwest festival, and won the Best Actor award at that year's Fantasia Film Festival.

Video


Two extremely strange, absurdist slacker comedies that are an acquired taste ... to say the least.

Relaxer

Relaxer manages to get it's 18 certificate purely for grotesquerie like vomiting, sitting in urine and faeces, copious amounts of sweat, some pressure sores, copious swearing ... and one moment of gore which is surreal and out of left field!

Although gross in concept there's not much to really get the BBFC's knickers in a twist about; 15 would suffice in my humble view. In any case, I didn't find it screamingly funny or witty despite excellent performances and assured direction. The whole film takes place entirely in the one set.

Buzzard is about a scam artist played by Joshua Burge who played the gamer lead in Relaxer. Here he's got to be the most horrible scroat one could imagine; I felt no empathy for him whatsoever and found the film a chore to get through ... but, it is interesting. If you're into the whole slacker aesthetic and life your comedy very, very dry then this will be your dream film!

These digitally shot productions are not visual tour de forces by any stretch so don't expect fireworks. The masters are obviously very recent, digitally sourced and pristine; as good as can be frankly.

The colour palettes on both are generally very naturalistic and matter of fact; with Relaxer the story never deviates from the front room or really the lead's settee so the settings and colour schemes are very consistent. Flesh tones err on the cool side on both films. With Relaxer, bright colours really only come into play with the few inserts of game screen activity and some of the clothing on show worn by those visiting or tormenting the gamer. On Buzzard it depends on the location as this film is a much more opened up production using multiple locations bith interior and exterior. Most of the film is closeted and set indoors - the landscape of the slacker!

Contrast is subtle, supportive. There are very few bright sections of image on Relaxer but Buzzard has a much brighter general countenance and more to visually play with. Tellingly, these lighter parts of the screen have terrific levels of fine detail (check out the wallpaper in the hotel room in Buzzard).

Black levels are reassuringly dark and deep for both films; a sequence in Relaxer when that film's only female character appears is bathed in beautiful, lowkey lighting and some rich brown hues with plenty of shadow detail. Buzzard seems almost entirely lit by the natural bright lights found indoors in offices, banks, hotels, shops etc ... wherever the lead is carrying out one of his petty scams.

Detail throughout is excellent on all focal planes on both films and Potrykus favours medium and long shots. I didn't notice many closeups with backgrounds and midrange as the main framing, textures are strong. I saw no signs of digital manipulation or enhancement. There isn't much grain but that's down to the digital lensing; even the few darker scenes in Buzzard were sharp and clear.

Top notch transfers, both beautifully encoded and representing the digital sources exactly.

Relaxer: 1080/24p / MPEG-4 AVC / 1.85:1 / 91:19

Buzzard: 1080/24p / MPEG-4 AVC / 1.85:1 / 97:28

Audio


English LPCM 2.0 Stereo
Subtitles: English HoH

Throughout most of their length Relaxer and Buzzard don't make much of the 2.0 stereo sound field; 99% of the sounds come from front and centre speaker placements including all dialogue, although I did detect some ambient atmospheric sounds in both. In fact the only surround effects that I really noticed strongly were the scores which hit effectively at key points throughout both narratives. The last section Relaxer suddenly explodes with sound; sirens, ambient and mucho score; the final scene of Buzzard also blasts out with some heavy rock. There are no distortions and the 2.0 tracks surely represent the theatrical performances of both of these largely dialogue-driven character pieces.

Excellent hard of hearing subtitles are provided for both features.

Extras


Relaxer Extras

Audio commentary with writer / director Joel Potrykus

Potrykus is a softly spoken, intelligent individual and he handles this yaktrak very well; I have found in the past that solo commentaries can be dull ... see John Carpenter's solo track for Assault on Precinct 13 (1976) from the Laserdisc era. Lots of trivia about the physical production, the culture behind the film and the narrative (Lactose party ... anyone?); film references; biblical references etc. A riveting track.

Behind the Scenes (B-roll footage) (7:05)

What it says; echoey, behind the scenes showing takes from various alternate angles and with the camera in shot showing the video assist tech.

Deleted Scene (4:11)

Ungraded deleted scene; nothing to right home about ... but if you're on the film

Rehearsal Footage (10:00)

Single, wide camera angle rehearsal footage shot in someone's house rather than the set seen in the film.

Milk Party 2001 short film (9:02)

Not terribly interesting short video shot at one of the Lactose / Milk parties Potrykus mentions in the commentary where folks drink off milk or something and vomit. Presented 1.33:1.

Joel Potrykus Short Films and Music Video:
- The Ludivivo Treatment (1998) (1:39)
The Ludivico Testament (1998) (4:09)
Coyote (2010) (24:10)
Heavier Than Air Flying Machines: Follicle Gang (Green) (2011) (2:05)
Test Market 447b (2019) (1:46)

A series of mostly 8mm film shorts with the last being done on 16mm.

Theatrical Trailer (1:54)
HD trailer is funnier than the film as it starts with funny narration and shots of beautiful landscapes before cutting to grunge heaven!

David Dastmalchian Promos (1:57)

The actor who plays the lead character's obnoxious brother talks to camera imploring viewers to watch the film.

Relaxer Image Gallery: Behind the Scenes (48 images)

Decent HD image gallery.

Buzzard Extras

Audio commentary with writer / director Joel Potrykus

Another track in the same vein as the first. I personally found these commentaries more interesting than watching the films. The behind the scenes takes are more stimulating and compelling that the slacker narratives themselves.

Buzzard: The Rehearsal Cut (64:35)

Although presented in HD 1.78:1 the image quality is a step down and doesn't seem to have been graded; sound is lossy Dolby Digital 2.0 Mono. Essentially this is a dry one version shot in the maker's own houses.

"Buzzard at Locarno International Film Festival: 2014" 2014 featurette (8:51)

Short piece of off the cuff footage shot at the festival; no narration or ficus, just the celebs arriving, connecting, hob nobbing etc. More of a home video diary type of extra.

Behind the Scenes (B-roll footage) (Play All - 7:32):
- Behind the Scenes #1 (2:25)
- Behind the Scenes #2 (1:56)
Derek Sucks! (3:10)

B-roll footage shot on the set.

Deleted and Alternate Scenes (Play All - 8:44):
- Mudhoney (1:36)
Bus Station (0:35)
- Gordon & Derek (0:15)
- Jackitansky High Five (0:09)
- Look it (1:17)
- Nip the Tip (3:28)
Sob Noisse Lens Lice (1:26)

What it says on the tin; nothing of particular interest ... at least to me, however if the films are your bag you'll be like a pig amongst the truffles.

Hidden Buzzard (0:25)

Two short clips showing Marty making imaginary messages in the film which have had animated red lines drawn over as he draws to let us see clearly what he's saying.


Theatrical Trailer (1:48)
Festival Trailer (1:51)

Promo pieces; nuff said.

Buzzard Image Gallery: Behind the Scenes (46 images)

Decent HD still gallery.

36-page liner notes booklet by Nathan Rabin, Joel Potrykus on the making of Relaxer, Caden Mark Gardner on Buzzard, Alex Ross Perry on Potrykus, and film credits

Chunky booklet well up to the usual high standards that like the commentaries makes for more interesting entertainment that the films.

Double-sided sleeve with choice of artworks

Not sent for review.

Packaging


Standard clear Blu-ray case used by Powerhouse Films and Anti-Worlds Releasing.

Overall


These films simply were not to my taste or sensibility. That said, I recognise the skill in the writing, acting and direction on display so my letter grade of 'D' is to be ignored if you love them, and - as is usual - I don't take it into account when determining an overall average for the release. My main remit for Rewind is to provide a technical assessment of the masters and a cursory look at the extras.

The masters used are of a high quality and the job Anti-Worlds Releasing and Fidelity in Motion have done optimises the qualitative aspects to produce a technically flawless release. Extras are up to the usual high standard but lack range; the commentaries and booklet are - for me - the whole story here.

A top notch release and highly recommended for those who love these kind of films.
| | | | | |
| --- | --- | --- | --- | --- |
| The Film: C+ | Video: A+ | Audio: A+ | Extras: A- | Overall: A+ |