The Film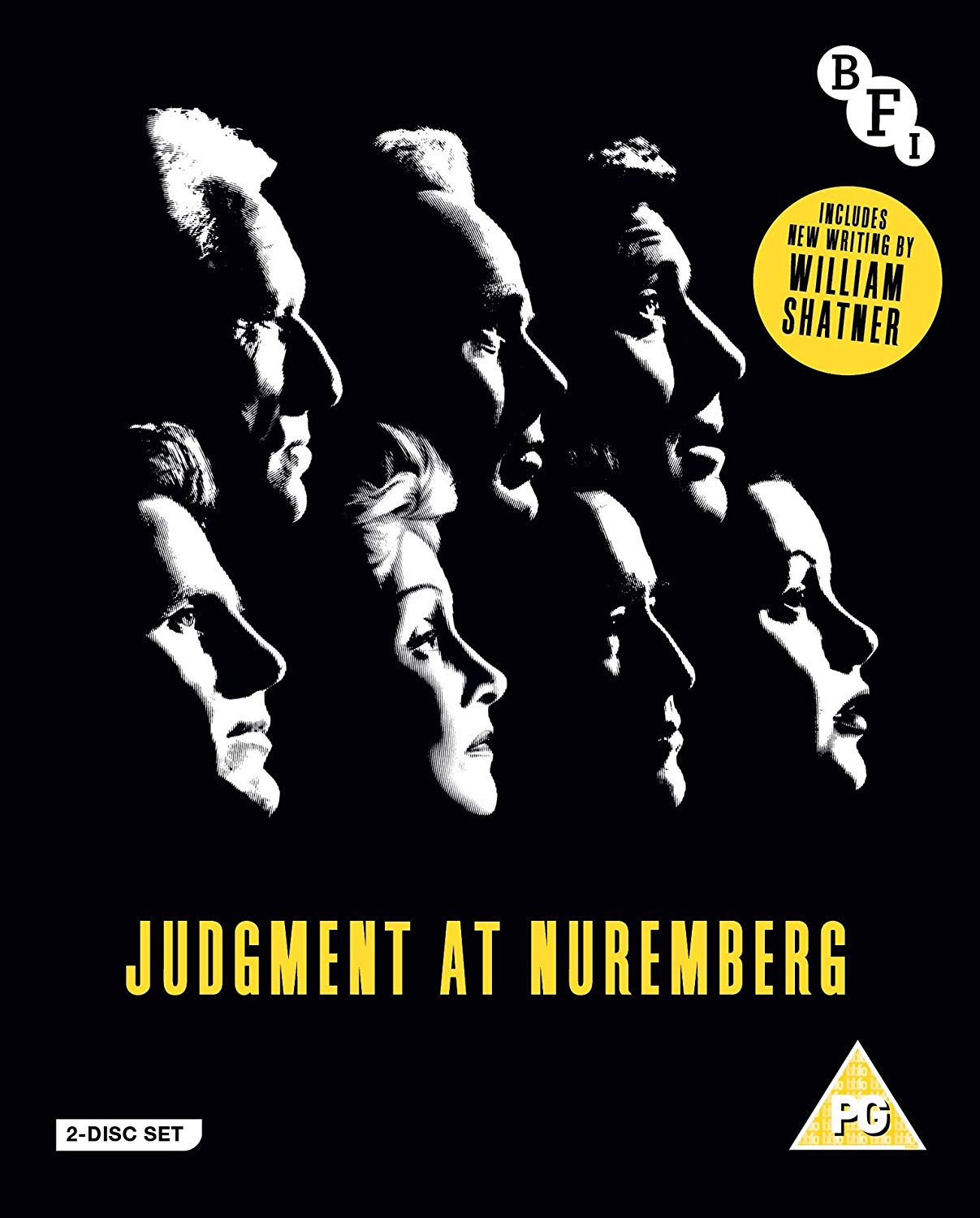 "Judgment at Nuremberg" (1961)

Judge Dan Haywood (played by Spencer Tracy) arrives in the German city of Nuremberg in 1948, there to serve as chief judge in a trial against four German judges for war crimes. Dr. Ernst Janning (played by Burt Lancaster), Emil Hahn (played by Werner Klemperer), Werner Lampe (played by Torben Meyer), and Friedrich Hofstetter (played by Martin Brandt) are the defendants, who all plead not guilty are defended by Hans Rolfe (played by Maximilian Schell), a lawyer who has a difficult case with him and a man that is dedicated to helping the defendants. On the international side, Col. Tad Lawson (played by Richard Widmark is ready with evidence and testimonials not only to prove that the judges were guilty in their work as judges sentencing innocent people to their deaths, but also for being part of a regime that brutally murdered millions of people across Europe.

There were twelve trials held in Nuremberg in 1947 for war crimes, ranging from doctors, judges, and military officers. The trial for judges were held between March 5th to December 4th for sixteen judges. One was declared a mistrial due to the defendant's illness. One committed suicide before the trials began. Ten in total were found guilty with four receiving life sentences in prison and six receiving lengthy prison sentences. The remaining four were acquitted of all charges. With these court officials having a hand in sentencing innocent people to imprisonment or death with the ideas of ethnic cleansing stemmed from the Nazi party during the war, the trials were to place some blame on these well educated and intelligent men into following cruel orders and having heavy influence on the public. "Judgment at Nuremberg" is not a biopic nor is it a retelling of the case. It is a dramatized version of the trials that only happened a little over a decade before the film was made, with fictional characters telling the story of factual happenings. Filmmaker Stanley Kramer was a powerful force in Hollywood from the 1950s, proving himself to be a producer and director that was not afraid to tackle controversial subjects such as race relations, nuclear threat, war, with films such as "The Defiant Ones" (1958), "On the Beach" (1959), and "Inherit the Wind" (1960). While they all had controversy from the conservative Hollywood, the more left leaning ideals and societal challenges that were presented were well received both progressive critics and the public. When he spoke to young people at universities about the persecution of Jews in WWII, he was shocked to find that there were skeptics and even young people not knowing of fairly recent history on the matter. He was set on making a film that would deal with the issue, and came across the script for "Judgment at Nuremberg" by writer Abby Mann.

Previously written for a teleplay on the anthology series "Playhouse 90", the courtroom drama was extended and rewritten for the screen, as a dramatized look at the trials against the judges. Rather than sixteen judges the film version was withered down to four. Wanting to shoot in the actual city of Nuremberg, some external sequences such as the judge's time outside the courtroom including restaurants, at his temporary home with caretakers, and other scenes were added, though for most of the lengthy runtime of 179 minutes takes place within the one set of the Nuremberg courthouse. Though it was originally thought to have the actual courthouse where the trials took place to be used for filming, that idea was shut down as the courthouse was still in use and filming could not be accommodated. Instead a set was built in Hollywood to recreate the place, but also build for filming purposes where walls and other objects could easily be dismantled or moved for certain shots and sequences. Kramer knew that this would be an important film, and stars needed to be secured. Some actors that had worked with Kramer before were cast. Spencer Tracy who played in Kramer's "Inherit the Wind" was cast as the judge. Power players such as Lancaster and Widmark received top billing as well. Marlene Dietrich played the part of a widow of a German general that befriends the chief judge. Judy Garland and Montgomery Clift played the roles of two German citizens testifying. For Garland it was her first film in seven years. For Clift it was also during a time of rockiness. Both actors were battling alcoholism, media pressure, and other issues, but certainly gave memorable and heartbreaking performances in their scenes. A young William Shatner plays the role of Captain Harrison Byers, a few years before his more well known role as another captain on a starship. The breakout star of the production was the incredible Maximilian Schell, who actually played the same role of the defense attorney in the television version from 1959, and was the only actor to reprise his role. Kramer being so impressed with Schell's vigorous and challenging performance made him the only choice for the part.

As the trials were held in English and German with the American judges and prosecutors speaking English and the German defendants and attorneys speaking German, there were simultaneous interpreters at the trials, as shown in the film version with everyone wearing earphones for times the other language was spoken. Interestingly for the film, it starts off in dual languages, but suddenly takes a turn with Hollywood suspension of disbelief during Schell's character's opening remarks starting in German with English interpretation and a sudden zoom and closeup changing Schell's language to English for the remainder of the film. Like "Schindler's List", "The Diary of Anne Frank" and other Hollywood productions dealing with WWII, having a significant amount of dialogue in a foreign language might have been too much for the public. Granted, the majority of American moviegoers even in the twenty-first century still have issues seeing subtitled films. With "Judgment at Nuremberg", it might have become more convoluted with two languages being spoken with interpreters in between. If it were to be kept this way for the full duration of the story, it might have lengthened the film from three hours to possibly five hours with the additional filler. Realism is thrown out for convenience and also for cinematic licensing, but once the audience gets passed the jarring moment that everyone speaks English throughout (while still keeping on their headsets), it does run in a smoother fashion than breaking in between sentences for interpreters to follow.

For a film that takes place in a courtroom for at least three quarters of its lengthy runtime, Kramer with cinematographer Ernest Laszlo used some great visual techniques to always feel a sense of movement along with the lengthy testimonials and dialogue. The camera frequently revolves around characters in a 360 degree movement to showcase the character from every angle continuously. In addition there were zooms for sudden closeups, and telephoto lens shots to keep multiple characters in focus while in closeup and in backgrounds. Courtroom dramas can often feel stale due to the limited nature of it being basically explanatory scenes, and for a story set almost entirely in a courtroom, "Judgment at Nuremberg" is a rare case of being a visual marvel while also including brilliant dialogue and excellent performances.

As for the performers, Schell's role as the German defense attorney Hans Rolfe is one that had him receive a deserved Academy Award for Best Actor. Though he may have been defending the opposite side, the way he conducts himself is extremely professional, with full research on his clients and hoping there would be at least a small sense of dignity left for Germany after the war. He is not only defending four men, but he is defending an entire generation from humiliation and anger. It's a powerhouse of a performance and though the Swiss actor was not very well known before the film, the role certainly opened more doors for him in the future. While it was not miscasting by any way, Dietrich as Mrs. Bertholt was one of the more unnecessary parts, as her character's insights weren't particularly profound in comparison to some others, and the idea that a German general's widow would become friends with an American judge during the trials without some sort of blackmail intention seemed lost. Not to say she was bad in her role, but one that didn't seem to belong. Granted the film needed some female starpower to somehow balance the more male oriented piece, and Dietrich along with Garland were the keys.

"Judgment at Nuremberg" didn't shy away from the crimes faced at war. Though there was talk of male sterilization for Jews and sexual relations with an underage girl during the testimonies, there were some toned down portions in the dialogue, as certain words could not be said and had to be more or less implied. But the most shocking moments from at the time of its release and even to this day are the scenes in which the prosecutors show footage of the concentration camps. Documentaries such as "Death Mills", "Night and Fog", and "German Concentration Camps Factual Survey" also make use of the footage, which range from the gas chambers where people were killed, the mountains of discarded shoes, glasses, and gold teeth, and also the mountains of rotting bodies being bulldozed into pits for mass burials without censorship. It certainly sickens the souls of the people in the courtroom as well as the audience that view the film. It's difficult to watch without feeling any form of disgust, yet it is also something that shouldn't be looked away from. Propaganda is a dangerous tool and it's important that history doesn't repeat itself, and it's scary to think that genocides have happened in Germany, Cambodia, Rwanda, and other countries within the last century. It's not only the power of the propaganda machines, but how people can easily be tricked, fooled, and scared into hateful acts and create demons from within.

The film premiered in Berlin, West Germany on December 14th, 1961 to very mixed reviews, with the German critics and public reacting negatively while internationally the reception was much better. Released in many territories around the world at the end of December by United Artists, it was nominated for an impressive eleven Academy Awards with two won for Best Actor for Schell and Best Adapted Screenplay for Mann. It was also nominated for six Golden Globes and winning two for Best Director for Kramer and Best Actor for Schell, plus many other awards internationally. It was not the biggest hit financially grossing only $10 million worldwide, though the production budget was $3 million so it was still a financial hit. Over the years it has been one of Kramer's most well known works and has been available in the home video market in many versions over the years. In 2004 MGM in the US released a special edition DVD which had a good selection of newly created extras, but as was the norm for MGM's DVDs, the 1.66:1 aspect ratio was relegated to a shoddy non-anamorphic transfer. While MGM internationally did right the wrongs by issuing the film on DVD with an anamorphic transfer, the extras were sadly not ported over. In 2013, the film was selected for preservation in the United States National Film Registry by the Library of Congress as being "culturally, historically, or aesthetically significant". One year later, the film was given its Blu-ray debut by Twilight Time in the United States. The film was later released on Blu-ray in Australia and Germany as well as a newer US release from Kino Lorber, and this latest one marks the film's UK Blu-ray debut from the BFI in quite the definitive edition.

Note this is a region B Blu-ray + region 2 NTSC DVD set

Video


The BFI presents the film in the theatrical 1.66:1 aspect ratio in 1080p AVC MPEG-4. The HD transfer comes from MGM and supplied to the BFI for this release. The black and white image certainly looks crisp, though it is not perfect. Grey scale could have been improved as the hard blacks and the bright whites look great but skin tones are a little bit on the brighter side. As for damage, there are some minor instances of speckles and dust in the image, with stock footage obviously being more prevalent than others, but even in the main courtroom sequences have some issues with very minor damage marks. On the better side, the image is quite stable, no issues in color fluctuation, and grain is visible with no digital artifacts or anomalies from digital restoration.

The film's runtime is 179:10.

Audio


English DTS-HD Master Audio 5.1
English LPCM 2.0 stereo
A 5.1 remix as well as a stereo track has been included. The film was originally released in mono though that track has not been included. The 5.1 spreads out the music and effects to the left and right much more, with most of the dialogue being in the center. There are certain moments that voices will pan to the left or right if they are speaking offscreen though it happens on a few occasions. For a film mostly based on courtroom dialogue a 5.1 track might be a little much, and in that case the 2.0 stereo track is closer to the original, yet as previously mentioned there is separation with the music and effects in that track as well. There are no issues with hisses or pops or hard to hear dialogue in the production, and they are well balanced with dialogue, music and effects.

There are optional English HoH subtitles in a white font for the feature. Not only the English but the German dialogue is also captioned. When the minor portions of German is spoken, the subtitles caption the German in German, rather than translating them.

Extras


The BFI is releasing this as a two disc set, with the Blu-ray having the film and some extras plus a DVD with additional extras.


DISC ONE (Blu-ray)

Audio Commentary with film historian Jim Hemphill
Recorded in November 2019, Hemphill who is an unabashed fan of Kramer's work is very knowledgeable about the film and the filmmaker, giving a solo commentary for the full runtime. He discusses how the project began, the production process, information on the cast and crew, the technical portions, the release of the film and much more. He not only discusses the film but also about Kramer's other works for comparison as well, and he also shares my opinion that the Kramer produced "The Member of the Wedding" (1952) had a lead actress should have been played by someone much younger (and possibly not so loud).
in English Dolby Digital 2.0 with no subtitles

The Guardian Interview: Maximilan Schell (audio only) (86:22)
Recorded at the National Film Theatre in 1971, this on stage interview with Schell is a lengthy one, in which he discusses about his start in acting, working with Marlon Brando, the importance of his work in "Judgment at Nuremberg" on both television and in cinema, his later work producing, and much more. Strangely, the female moderator is uncredited in the booklet and she never introduces herself during the discussion.
in English Dolby Digital 2.0 with no subtitles

Image Gallery (6:10)
A selection of promotional stills, behind the scenes stills, lobby cards, posters, and more in an automated slide show with no music or narration. Some rarely seen beautiful color stills of the actors on set are also here.
in 1080p AVC MPEG-4

Trailer (2:59)
The powerful original trailer showcasing the cast and their performances is presented here. It comes from a not so perfect source, with an imbalanced black and white transfer and plenty of scratches and dust with a slightly tinny sound.
in 1080p AVC MPEG-4, in 1.33:1, in English LPCM 2.0 with no subtitles


DISC TWO (DVD)

"A Tribute to Stanley Kramer" featurette (14:26)
This featurette has the director's widow Karen Kramer and "Judgment at Nuremberg" screenwriter Abby Mann reminiscing about Stanley Kramer and his persistence in producing the film version. This was originally on the US MGM DVD from 2004 and also available on all other Blu-ray editions of the film.
in non-anamorphic 1.33:1, in English Dolby Digital 2.0 with no subtitles

"The Value of a Single Human Being" featurette (6:02)
In this interview with Abby Mann from the same session as the featurette above, he discusses the Hollywood Blacklist and Kramer's involvement in helping breaking the oppressive cycle and how it affected the lives of many in Hollywood at the time. This was originally on the US MGM DVD from 2004 and also available on all other Blu-ray editions of the film.
in non-anamorphic 1.33:1, in English Dolby Digital 2.0 with no subtitles

"In Conversation with Abby Mann and Maximilan Schell" featurette (19:37)
The screenwriter and actor have a chat together praising each other about the film they made more than forty years prior, as they also talk about the writing process, the performance, the complexities, and comparing the TV and film versions. This was originally on the US MGM DVD from 2004 and also available on all other Blu-ray editions of the film.
in non-anamorphic 1.33:1, in English Dolby Digital 2.0 with no subtitles

"Heredity in Man" 1937 short (13:34)
Presented by evolutionary biologist Julian Huxley, the documentary short features how hereditary traits are passed through generations. Athletic people having athletic relatives in their bloodlines, actors and performers also have similar traits, including John Gielgud's family tree. On the other hand, they also showcase a family of a poorer and less fortunate family, in which the couple have seventeen children, with many of them being physically or mentally disabled. There is footage of institutions to help the handicapped and how they contribute to society, though there are some language now that may be considered insensitive, such as calling people "clinically insane" and saying that it would have been better if they had "never been born". In addition, the charts shown by Huxley warns of the future, as people with less intelligence are procreating much more than the intelligent and upper class. Rather than discussing about education - both sex ed and public education to help the lesser, he instead suggests the more intelligent to have more babies. "Idiocracy" does seem to become closer and closer to reality.
in non-anamorphic 1.33:1, in English Dolby Digital 2.0 with no subtitles

"These Are the Men" 1943 short (11:58)
This short film features footage from Nazi rallies with Hitler and other German officials, with translated speeches warning the English public of such hate being spread.
in non-anamorphic 1.33:1, in English Dolby Digital 2.0 with no subtitles

"Man - One Family" 1946 short (16:30)
This short narrated by Huxley again explores how propaganda and writing such as "Mein Kampf" can be false and is a dangerous tool to control people with fear and misinformation. There are some great animation sequences and some scary newsreel footage again, warning Brits that hate can be instilled very easily when man should be considered as one.
in non-anamorphic 1.33:1, in English Dolby Digital 2.0 with no subtitles

"Berlin Airlift: The Story of a Great Achievement" 1949 short (10:40)
This short features footage of airlifts for Berlin in postwar period with various aircraft carrying food and supplied.
in non-anamorphic 1.33:1, in English Dolby Digital 2.0 with no subtitles

"Resistance" 2008 short (13:08)
In this film by artist and activist Liz Crow, "Resistance" is an award winning short concerning an institution of disabled people in Nazi Germany, during a time that Hitler ordered the executions of countless people with disabilities. With a cast of disabled people performing the parts, it certainly has power even in its very short runtime. In addition to being filmed as a short, it has also been performed on stage to great reviews. As it was a short that was made with the disabled, the short includes optional audio description for the visually impaired, subtitles for the hearing impaired, as well as an optional British sign language version with a person in the right corner. Yes, to say British sign language and American sign language are not mutually intelligible.
in anamorphic 1.78:1, in English Dolby Digital 2.0, English Audio Descriptive Dolby Digital 2.0, with optional English HoH subtitles, with optional British sign language


Booklet
A 32 page booklet is included in the first pressing. First is a lengthy essay by historian Jennifer Frost, author of "Producer of Controversy: Stanley Kramer, Hollywood Liberalism, and the Cold War". In it she discusses the film in depth from the production to the reception and much more. Next is "A Message from William Shatner", who is at this point the only remaining main cast member alive. He talks about meeting Kramer and receiving the part and what the film means to him. There are also full credits, a biography of Stanley Kramer by Frost, and special features information. "Resistance" has lengthy writing by director Liz Crow discussing the project and the history of disabled genocide in Nazi Germany. Lastly there is transfer information, acknowledgments, and stills.


With the BFI release having all the MGM produced extras plus adding a wealth of addition exclusives, it basically surpasses all the other Blu-ray releases worldwide. The only thing not ported was the isolated score track, which was available on the US Twilight Time Blu-ray release. Below is a clip from the film, courtesy of the BFI.



Overall


"Judgment at Nuremberg" is a courtroom classic and one of filmmaker Stanley Kramer's best works. Thought provoking and intense with its theme and the performances from the stellar cast of actors, it's certainly one of the most important postwar films ever made. The BFI release has a stellar selection of extras making this highly recommended.
| | | | | |
| --- | --- | --- | --- | --- |
| The Film: A- | Video: A- | Audio: A- | Extras: A | Overall: A- |