Chained for Life (Blu-ray) [Blu-ray]
Blu-ray ALL - United Kingdom - Anti-Worlds Releasing
Review written by and copyright: Rick Curzon (25th February 2020).
The Film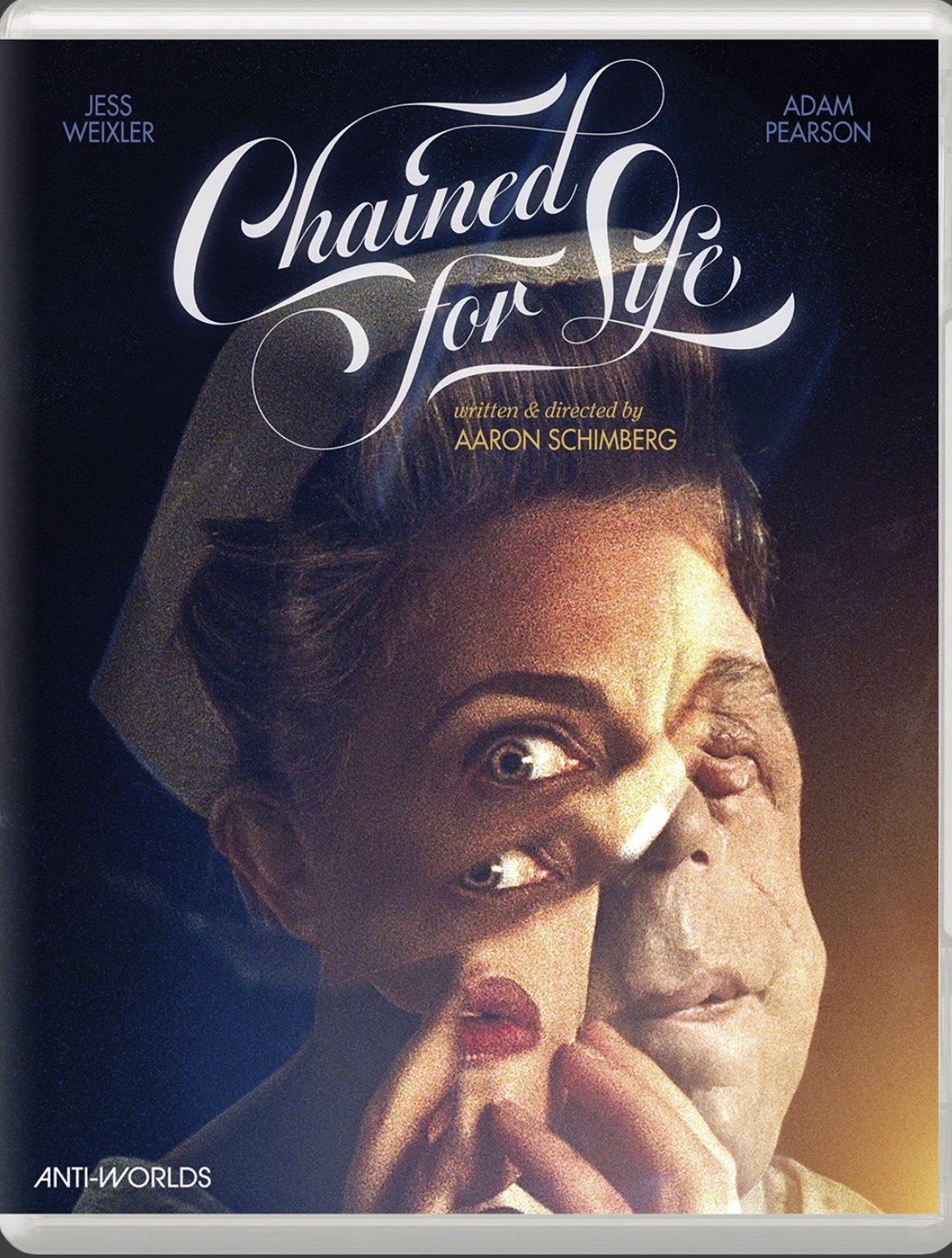 Aaron Schimberg's impressive second feature is his response, as a filmmaker with facial deformity, to cinematic portrayals of disfigured people, from Freaks to The Elephant Man. Simultaneously empathetic and sardonic, Chained for Life's multi-layered meta-narrative casts Jess Weixler (Teeth) as Mabel, a well-intentioned Hollywood star.

She takes the role of a blind woman in a hospital-based horror movie about abnormalities, directed by an egomaniacal German filmmaker. As shooting progresses, Mabel gradually falls for her friendly British co-star Rosenthal, played by Under the Skin actor Adam Pearson.

Video


Chained for Life

Straight forward arthouse drama shot in a straightforward way as regards cinematography. The colour palette is very warm but naturalistic; flesh tones are also subdued; it's not Speed Racer (2008)! Outdoor scenes are shot as if with natural light, indoors are more couched in shadows and display some a mild yellow bias (by design) unless it's medical scenes which are cold and bright. Greens are especially pleasing with grass and leaves coming off nicely in outdoor scenes; Mabel's red dress is especially vivid.

Blacks are extremely deep and velvety with plenty of shadow detail and contrast is fairly bright with some intended washed out whites in some of the daylight scenes. Being shot in Super 16mm means that grain is fairly prominent throughout especially in very shadowy or super bright sequences. No signs of digital tinkering and the encode as is as good as can be handling the potentially problematic source extremely well; a very thick, film like image.

1080/24p / MPEG-4 AVC / 1.85:1 / 91:21

Go Down Death
Gorgeously shot in inky monochrome, this philosophical genre-bender is straight drama, horror, comedy and feels very much like an off Broadway stage production.

No gamma bias, just perfectly pristine black and white images with deep, dark blacks and no unintended crush and with plenty of vivd detail, texture and grain. Being a production shot on Super16, this is yet another very film like presentation with none of your rather clinical digital sheen. Contrast is supportive and layered handling both interiors and exteriors well. I saw no signs of print damage nor digital manipulation and the Fidelity in Motion encode is top drawer.

As this is Anti-Worlds Releasing's first disc set, a complete triumph of the art.

1080/24p / MPEG-4 AVC / 1.66:1 / 88:05

Audio


English LPCM 1.0
Subtitles: English HoH

Both films have mono tracks but are achieved using modern technology so are very solid, robust and have a good amount of depth. Dialogue is always clear and the score supportive rather than dominant. No distortions, no issues; top notch work. Subtitles are provided for the hearing impaired and are welcome.

Extras


Chained for Life

Audio commentary with writer / director Aaron Schimberg

A very precise track that kicks off with Schimberg giving us the precise day and time the track is being recorded. A quietly self deprecating but with lots of analysis of character motivation; trivia on the production; comments about cast etc. Schimberg is a real character.

"A Different Kind of Intimacy: Jess Weixler on Chained for Life" 2020 featurette (17:33)

Interview with the leading actress; Weixler is intelligent and discusses in detail her history with disabilities and what she thinks the importance of Chained for Life is.

"Good Things Happen to Good People: Adam Pearson on Chained for Life" 2020 featurette (9:07)

Pearson discusses how he got the role and working with Schimberg; shooting of scenes; rehearsal; meeting the cast; the films themes.

"We Are Family: Sari Lennick on Chained for Life" 2020 featurette (16:44)

Lennick discusses how she knows Schimberg and how she got the part; why she likes playing the kind of "ugly" roles she seems to favour.

Deleted and Extended Scenes (Play All - 11:52):
- Scene 7B Take 2 (extended) (0:40)
- Scene 8 Take 12 (extended) (2:39)
- Scene 13 Take 6 (extended) (0:31)
- Scene 39 (excerpts) (1:12)
- Scene 44A Take 2 (extended) (1:09)
- Scene 48 Take 11 (extended) (0:57)
- Scene 58 Take 5 (deleted) (1:37)
- Scene A48A Take 1 (extended) (3:04)

Extensive package of deleted scenes. Quality isn't too far below the main feature; deleted late in the editing process perhaps? Plenty of interesting material here.

Super 8 On-Set Footage (1:40)

What it says; B-roll material shot on set during production.

Theatrical Trailers:
- UK Theatrical Trailer (1:43)
- US Theatrical Trailer (1:26)
- Teaser Trailer (0:58)

Interesting to see the slight differences between different trailers but fairly standard stuff.

Chained for Life Image Gallery: Behind the Scenes (41 images)

Decent HD gallery of high quality images.

"Late Spring / Regrets of Youth" 2009 short film (SD) (4:26)

Brief short film made by Schimberg presented in standard definition.

Go Down Death

"It Would Be Sad to See This End Up in a Dump" B-roll footage (6:00)

A few interesting snippets of B-roll footage; quality is pretty decent.

Deleted Scenes (Play All - 31:09):
- Original Opening (2:27)
- Worship Me (6:09)
- Gribulous (0:58)
- Is it Not Clobbering Time? (3:00)
- I Mean That in a Nice Way (2:36)
- May I Speak to Your Boy Alone? (1:35)
- Let's Free Associate (4:43)
- I've Given My Life to Others (4:12)
- It Nearly Blinded Me (5:25)

An excellent, extensive deleted scenes package that were it to be added back into the film it would have a fair impact. Plenty of interest here for fans of the film; the quality, although not up to the restored feature, is good.

Theatrical Trailer (1:42)

Creepy trailer selling the odd atmosphere of the film.

Go Down Death Image Gallery: Behind the Scenes (40 images)

Excellent quality HD gallery.

36-page liner notes booklet by David Jenkins, Jeff Billington on the 1950 exploitation film Chained for Life, Alejandro Bachmann and Michelle Koch on Go Down Death, and film credits

Another essential hard copy companion to the films; not to be missed.

Packaging


Standard 2-disc, clear Blu-ray case.

Overall


Two more challenging productions which will be the stock in trade of Anti-World Releasing. An effective arthouse drama about disability and how people react to it; and an arthouse comedy-drama-horror-stage play-like film.

The former in colour and the latter in Monochrome; both lensed on photochemical film and given stunning film-like presentations here. Image and sound are as good as can be and although the extras lack the reflective depth of the average Powerhouse Films release they're welcome nonetheless.

The director commentaries and the booklet take pride of place.
| | | | | |
| --- | --- | --- | --- | --- |
| The Film: B+ | Video: A+ | Audio: A+ | Extras: A- | Overall: A+ |

---
DVD Compare is a participant in the Amazon Services LLC Associates Program and the Amazon Europe S.a.r.l. Associates Programme, an affiliate advertising program designed to provide a means for sites to earn advertising fees by advertising and linking to amazon.co.uk, amazon.com, amazon.ca, amazon.fr, and amazon.de.