The Film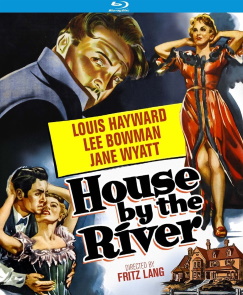 Discouraged by yet another rejection of his manuscript from a publisher and a dull day-to-day existence as symbolized by the junk that travels down the river and back beside his home, aspiring author Stephen Byrne (And Then There Were None's Louis Hayward) indulges in a bit of erotic reverie when he allows young housemaid Emily (711 Ocean Drive's Dorothy Patrick) to use the upstairs bathtub when the plumber does not show up to repair the servants' facilities. He is aroused by the light in the upstairs window, the sound of the draining water gurgling through the pipes along the outside wall, and spying her robed silhouette and a glimpse of thigh as she descends the staircase. When Stephen makes an advance on Emily, however, she rebuffs him and screams when he does not let her go. In his attempt to muffle her so as not to attract the attention of nosy neighbor Mrs. Ambrose (Conflict's Ann Shoemaker), Stephen accidentally strangles Emily. His older brother John (My Dream is Yours' Lee Bowman) stumbles upon the scene and wants to call the police immediately, but Stephen tells him there is no way the police will believe it was an accident. He further implores John to help him by mentioning the stress a scandal will put on his wife Marjorie (Interlude's Jane Wyatt) who he reveals has finally gotten pregnant. John reluctantly helps him put the body in a firewood sack and sinking it in the river. John is surprised to see Stephen in high spirits later that day, and later with the cool way he deals with the police inquiry into the disappearance of Emily, discovering that Stephen has gone further with the cover-up by hiding some of his wife's jewelry and a dress that some conjecture was stolen while Marjorie wants to believe the girl wore them to meet a man and may have run off with him. John is further disturbed by the way Stephen has not only capitalized on the murder with the publication of his previously rejected book but also how a few intimations about the girl's private life have led to her reputation as a hussy as voiced by his own doting housekeeper Flora (Butch Cassidy and the Sundance Kid's Jody Gilbert) who quits when he chastises her for gossip. When Flora mentions that she cannot find the wood sack Stephen borrowed that has his own name stenciled on it, John is not sure whether Stephen used it with the intent of setting him up until he sees Stephen's own terror as the sack surfaces and travels along the river with the tide and eludes his attempts to retrieve it. When the body does surface, it is crippled, embittered John – who used most of the inheritance that passed to him to finance Stephen's lifestyle as a would-be author – who is the suspect not only to the police but in the court of public opinion (not helped by spurned Flora's slanted testimony about John's reactions to the reportage on Emily's disappearance). Meanwhile, Marjorie has become disturbed by Stephen's emotional distance as he sets to work on a new secret manuscript, finally able to write from his own experience. Marjorie confesses her own unhappiness to John, but John suspects his brother's ruthless creative ambition may take another murderous turn.

A period film noir from Fritz Lang (Spies), House by the River is a considerably more complex and adult work than his more gothic Rebecca-influenced psycho thriller Secret Beyond the Door, eschewing the usual femme fatale of a work like The Woman in the Window entirely in favor of women as either projections for unwholesome male fantasy or objects of derision as easily led on busybodies. In seemingly marginalizing, or at least "reducing," female characters, Lang also makes unambiguous the lack of their complicity in a transgressive act that goes from erotic objectification to what should be seen as sexual assault and murder. It is indeed fitting that neither of the two glamorous female performers make much more than a surface impression while Hayward is suitably amoral in a performance that channels Joseph Cotten and anticipates "just this side of scenery chewing" Oliver Reed, and the mise-en-scθne supports Stephen's skewed version of reality with a house full of billowing curtains that are erotic and feminine shadows that should be sexy but instead elicit a frisson of recollection. While Stephen's intent on setting up John for the murder (and possibly another murder) seem to occur on the spur of the moment rather than careful planning, a scene in which a character reads Stephen's latest manuscript suggests it may be some mad confessional and that the entire affair may be a sick fantasy fully realized with no "it was just a cautionary dream" coda of another Lang noir in which a man's fantasy involving a beautiful woman and a murder spiraled out of control. If the actual ending feels a bit contrived – more so in the realization than the concept – most of House by the River seems like Lang at his least studio-constrained.

Video


Hard to see after its release through Republic Pictures, House by the River oddly did not end up with Studio Canal even though it was distributed in the United Kingdom by British Lion - it was licensed from French company Lobster Films - and the source for all home video releases including the Kino on Video DVD and the French Wild Side DVD have been an archival element from London's National Film and Television Archive. This is also the source for Blu-ray since the British Lion logo appears under the Republic one on the 1080p24 MPEG-4 AVC 1.33:1 pillarboxed fullscreen transfer which exposes more picture information with rounded corners and superb contrast which makes more evident the deliberate darkness of the house interiors before the curtains are opened and lanterns are lit where once these scenes just looked murky and underlit; indeed, the darkness of subsequent scenes remains oppressive rather than problematic.

Audio


The DTS-HD Master Audio 2.0 mono track not only boasts clear dialogue but allows for an appreciation of the somewhat more traditional scoring of the intriguing George Antheil (In a Lonely Place), the "Bad Boy of Music" who was known for his experimental pieces but less so for his collaborations in various patented inventions with actress Hedy Lamarr. Optional English SDH subtitles are also included.

Extras


The disc includes a new audio commentary by film historian Alexandra Heller-Nicholas who addresses the problematic nature not of the inciting incident but of the ways in which it has been described and perceived by various critics as a "seduction gone wrong" rather than a sexual assault, noting that the sensory experience of Emily using her mistress' bath, perfumes, and robe are entirely separate from Stephen's eroticization of her, also noting issues of class and Lang's original intention to have the maid be played by a black actress. The issue of perception of the event even extends to Kino's cover synopsis which does concede assault and murder but describes Emily as a "virginal housekeeper" when the question of her virginity is entirely irrelevant even as rumors of her promiscuity are used in the film to villainize her. The disc also ports over Kino's DVD interview with film historian Pierre Rissient (7:41) who recalls that Lang disowned the film because it was not successful but enthralled French critics with a vivid description of the film's first ten minutes, and that Rissient was not able to see the film until later when Republic provided their only archival material. He also mentions his meeting with the source novel author A.P. Herbert, noting that his home must have inspired the setting as described in the novel. The disc also includes five bonus trailers.

Overall


If the actual ending feels a bit contrived – more so in the realization than the concept – most of House by the River seems like Lang at his least studio-constrained.