The Film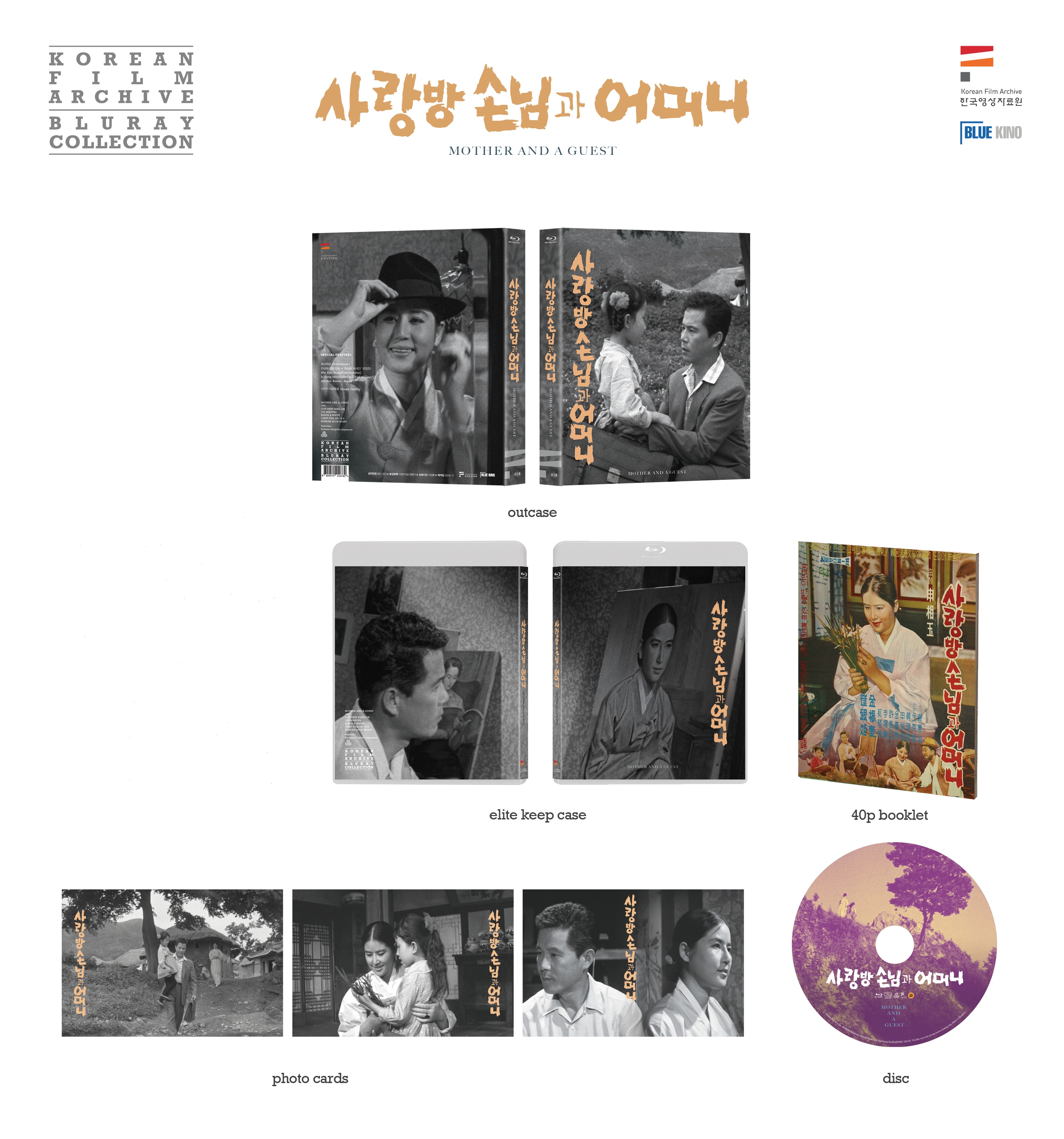 "Mother and a Guest" <사랑방 손님과 어머니> (1961)

Ok-hee (played by Jeon Young-sun) is a six year old girl who lives in a "house of widows" in the town of Suwon. Her mother (played by Choi Eun-hee) is a widow, as her father passed away a month before Ok-hee was born. Her father's mother (played by Han Eun-jin) is also a widow and the house's maid Mrs. Sung-hwan (played by Do Geum-bong) is also a widow. Living in a a large upper class household, she is a young girl that is fascinated by drawing and all things of curiosity, including the new house guest, Mr. Han (played by Kim Jin-kyu). Through an invitation by Ok-hee's uncle, Han is from Seoul and staying in the house for business. Although he is not wanting to intrude in any way and keeping his distance, Ok-hee takes much of her time to talk to him and he is willing to return the favor as a friendly guest. There is a hint of a relationship about to blossom between the mother and Mr. Han, but with remarriage being frowned upon in the upper class, will the two decide to break tradition...?

Based on the best selling novel by Chu Yo-Sup of the same name which took place in the 1930s in the colonial period, filmmaker Shin Sang-ok updated the setting to the 1960s with a few differences to the narrative to reflect the times as well as keeping with the main theme of the novel. The story is told through the eyes of a six year old child and critics have pointed her out as an "unreliable narrator", though that is questionable in the feature film. Sure, there are many elements that are never explained, such as how her family is able to keep a gorgeously large home in Suwan with a maid when the widowed mother and grandmother have no jobs. But at the same time there are segments in the film version that are not told in her viewpoint, like the scene in which she runs away after being scolded, only to be hiding in a closet at home. In the film that particular scene is seen through the adults running around town panicking and worried. The same also goes for multiple scenes with a subplot that was added for the film version, with the love-hate relationship between the maid and the local egg seller (played by Kim Hee-gap) being quite an important part of the story but told almost entirely without Ok-hee's involvement.

Class structure was still a part of Korean society in the 1960s, but it was also a period of revolution for a modernized society in the post war period, from the economic boom with commodities such as television and appliances, as well as a time for equality through a democratic and capitalist era. With many families torn apart or widows of soldiers having to raise children without a father figure, the idea of remarrying was certainly becoming a norm for South Koreans of the era, but there was the old fashioned notion still implanted in people that it was not part of tradition. In the film, there are three different widows in the same household coming from different classes and generations. The grandmother the oldest and from the strictest sense of upholding marriage even after the passing of the spouse. Also, she is a practicing Christian which reflects on her strictness and her stance on marriage. The mother, who most likely became Christian through marriage and moved into the house though marriage also comes from the upper class and her beliefs are still strong, though her fairly young age of 28 makes things quite difficult for her both morally and sexually. On the other hand, the maid Sung-hwan does not come from an upper class background, and remarriage was more on the acceptable side. With the maid and the mother being around the same age, their morals may be quite different, though their upbringing most likely paralleled with WWII and the Korean War and the struggles that all classes faced. The two women's lives are seen as almost alternate versions of themselves, with one holding onto past traditions, while the other is able to follow her heart into remarriage. But in either direction, there are hardships by being married, and there are also hardships in being single and letting your feelings become filled with regrets.

The character of Ok-hee wants to see her mother happy, as she has rarely seen her mother with a smile on her face. When she plays with Mr. Han, Ok-hee feels like he is the missing father figure in her life and she tells him that directly. Unfortunately for him, even though he finds the mother attractive, he cannot bring himself to pursue a romantic relationship. In the film it is not particularly mentioned on why he doesn't make any move, though there seems to be tension between him and her from whenever they meet. He makes mentions that he knew Ok-hee's father, but to what extent? How does he know the father's brother and what was in his past that is keeping him from following his heart? There are a lot of unanswered questions in "Mother and a Guest", but there is a lot to say about the subtext and what is left unsaid rather than having thoughts on full display. As stated before, since much of the narrative is in the eyes and narration of six year old Ok-hee, maybe it's left unsaid because the narrator doesn't know or understand yet. She only sees the clarity of having Mr. Han around would make her mother happy. She doesn't see how it would affect things socially for her mother and grandmother, or Mr. Han either having to move to Suwan permanently or the family having to move to Seoul, and other long term changes.

1961 was an especially busy year for filmmaker Shin Sang-ok, with seven films produced and four films directed including "Mother and a Guest". His other films "Seoung Chunhyang", "The Evergreen Tree", and "Prince Yeonsan" were all massive hits in South Korea, and continued Shin's fruitful period in South Korean cinema. Shin was one of South Korea's leading commercially successful filmmakers with his melodramas such as "Flower in Hell" (1958), "A College Woman's Confession" (1958), and "Dongshimcho" (1959) being very successful and being multiple award winners. Along with his muse and wife Choi Eun-hee, they produced a quite a number films together including "Mother and a Guest". Though they divorced in 1976, their story continued under very unfortunate circumstances, with Choi and Shin being kidnapped by the North Korean government by orders of Kim Jong-il. In North Korea they were remarried, and became a filmmaking couple, through strict government orders. They were able to escape in 1986 and lived under protection in the United States, and were able to produce films in South Korea and in the United States in their later years. Shin died on April 11, 2006 at the age of 79 and Choi died on April 16, 2018 at the age of 91. Jeon Young-sun was actually eight years old when the film was released. From a child star onward, she appeared in films such as "Drifting Island" (1960), "A Bonanza" (1961), "The Marines Who Never Returned" (1963), "Goryeojang" (1963), "Assassin" (1969), "Wangsimni" (1976) and dozens more. She basically retired from the screen from the 1980s, only appearing in two films in the decade, with the last being "Heaven's Secret" from 1989. Kim Jin-kyu had quite a long career in film, debuting in 1955's "Piagol" and continuing acting until the 1980s. He had memorable parts in "Dongshimcho" (1959) and "Rhee Syngman and the Independence Movement" (1959) for Shin Sang-ok, "The Housemaid" (1960), "Aimless Bullet" (1961), "Goryeojang" (1963), "The Devil's Stairway" and many more. He died in 1998 at the age of 76. Do Geum-bong also had a very lengthy career in cinema with hundreds of credits. She appeared in "Forever with You" (1958), "Dongshimcho" (1959), "Rhee Syngman and the Independence Movement" (1959), "Drifting Island" (1960), and more, continuously playing in roles until 1980. From thereon she appeared only sporadically in films. She died on June 3, 2009 at the age of 78.

"Mother and a Guest" is by no means a perfect film, though it is a wonderful look into South Korean society of the period and a melodrama done well. A big hit especially with housewives, it was also critically lauded, with wins for Best Film at the Asia-Pacific Film Festival and Best Film at the Buil Film Awards, both in 1962.

Note this is a region ALL Blu-ray.

Video


The Korean Film Archive/Blue Kino presents the film in the 2.40:1 aspect ratio in 1080p AVC MPEG-4. The 35mm original image and sound negative were acquired by KOFA in 1980, which was digitally scanned and color graded in 2018 in 4K. The restoration was completed in 2019 with the support of Naver Corporation. As the negative had some warped and shrunken materials when acquired, the restoration meant stabilizing the image with both digital and manual restoration techniques. Three out of ten reels were in serious condition, with the worst points being before and after cuts. Considering this, it is a revelation on how the restored version looks on this Blu-ray. There is almost no trace of warped images being straightened out, with the image being very stable throughout, with only minor instances where the warping is evident, such as when the mother meets the fortune teller. The black and white image looks very crisp with a very stable grey scale, with fine detail looking excellent. Dust, scratches, debris, flickers, and other damage have also been mostly removed, with very minor instances of serious damage still remaining. There are minor scratches and blemishes found in moments, but in many scenes the image looks basically perfect. This is another excellent restoration from KOFA.

The film's runtime including the restoration credit is 103:18.

Audio


Korean LPCM 1.0
The original mono track is presented uncompressed, and like the image, the sound has also been restored. Unlike the image, the soundtrack element was in very good condition. As the film was post-synchronized in studio like almost all Korean films in the period, there are some moments that the mouths don't perfectly match the speaker but that is to be expected, but for the most part the synchronization is never far off. For the sound, hisses, pops, crackles, hum, and other inconsistencies or damage have been removed digitally. Voices sound very good, with some issues with fidelity when characters raise their voices too high. Music on the other hand can sound a little tinny at times, though nothing too distracting. An excellent track and fitting with the image restoration.

There are optional English, Japanese, Korean subtitles in a white font for the main feature. They are well timed and easy to read, though there were two or three minor grammar issues with the English track.

Extras


Audio commentary with filmmaker Min Kyu-dong and editor in chief of Cine21 Ju Sung-chul
In this newly recorded commentary, the two discuss about the film, about Shin Sang-ok's career at the time, the actors, the difference in class structure of the period, differences from the novel, how the film holds up and much more. In addition they discuss about how the film was submitted for the foreign language film Academy Award but was not accepted in the final nominees. As the commentary was recorded in 2019, they talk about having high hopes for "Parasite", which would sweep Hollywood's trophies and make Oscar history. The commentary is not always in depth, as there are cracks and laughs such as how young children in films of the period were always dubbed by adults, and always sounding a little odd.
in Korean LPCM 2.0 with optional English, Korean subtitles

Image Gallery
Nine behind the scenes black and white stills plus two color theatrical posters are presented in this manual gallery.
in 1080p AVC MPEG-4

Booklet
A 40 page booklet in Korean and English is included. Included are a cast and crew listing, an awards listing, a synopsis, a biography and filmography of Shin Sang-ok, plus essays. There is a note about the restoration, followed by the essay "Lived Like a Movie" by Cho Jun-hyoung of KOFA, which discusses about Shin's fascinating life and career. Last there is "Mother, a Woman in Front of the Gate of Modernity" by Lee Hwajung of Cine21 magazine discussing the story.

Book
Also included is a 240 page Shin Sang-ok biography in Korean.


For the on disc extras, it is a little slim with no featurettes or documentaries. KOFA releases almost always have a short restoration featurette, and strangely this one has none. Considering the time and effort put into the restoration it is an odd miss by not including a before/after featurette. No documentary on Shin is included either, though "The Lovers & the Despot" from 2016 would be a great inclusion, which is a documentary that chronicles Shin and Choi's abduction, incarceration, and their eventual escape from North Korea. Possibly on another release in the future?

Packaging


The Blu-ray is housed in a standard clear keepcase, which also holds 3 postcards with stills from the film. The standard blue keep case and the booklet are housed in a slip box. The box is labeled #18 as this is the eighteenth Blu-ray release by the Korean Film Archive. The Shin Sang-ok biography is separate from the Blu-ray's slipbox.

Overall


"Mother and a Guest" is a great melodrama from filmmaker Shin Sang-ok that is a partial love story seen through the eyes of a young girl while also being a reflection on a changing South Korea in the post war period. The Korean Film Archive/Blue Kino Blu-ray features an excellent restoration, though it is a bit light on supplements on disc.
| | | | | |
| --- | --- | --- | --- | --- |
| The Film: B+ | Video: A- | Audio: A- | Extras: B- | Overall: B+ |