The Film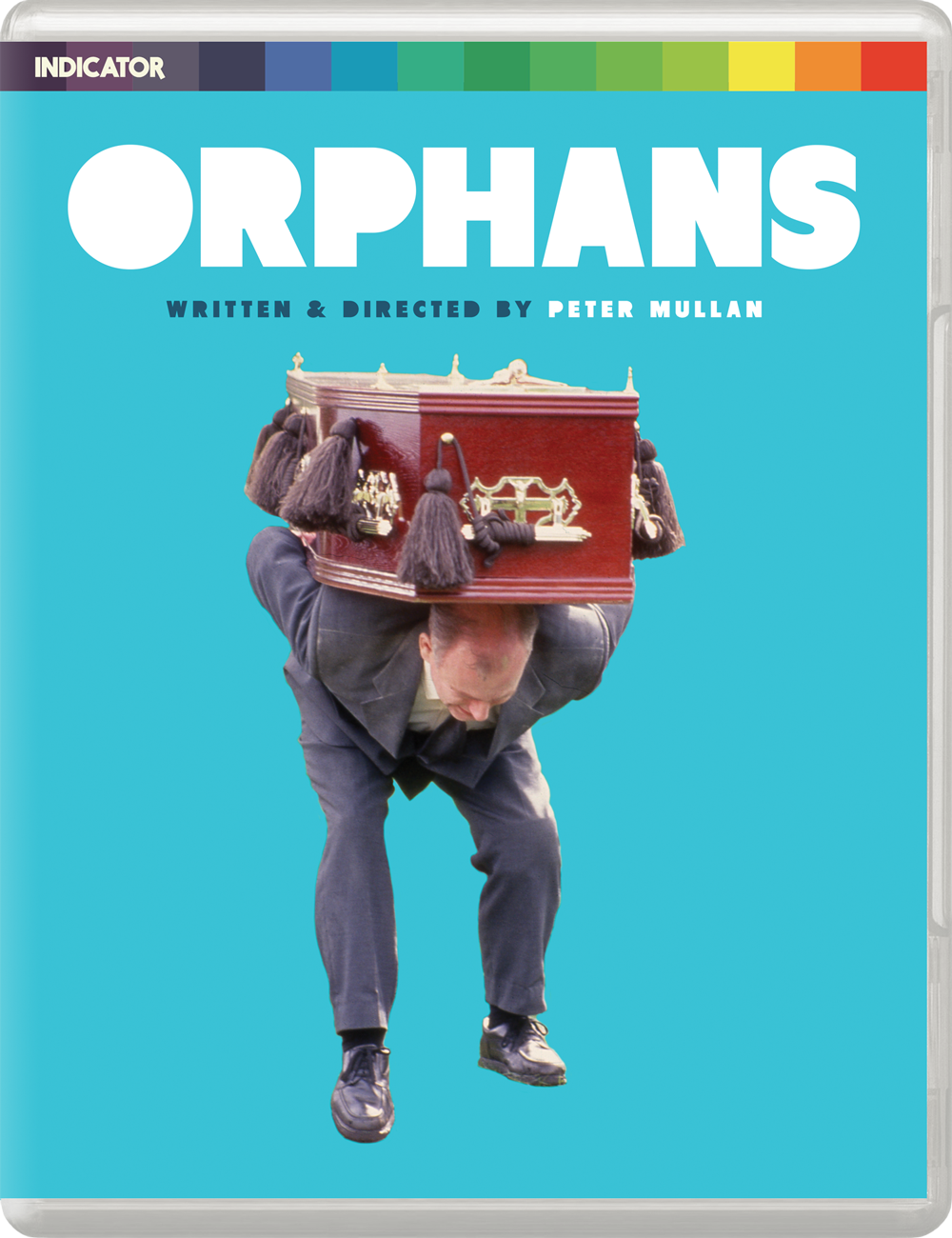 Renowned Scottish actor Peter Mullan (Trainspotting, My Name Is Joe) made his feature film directing debut with this fierce jet-black comedy of familial grief shot in and around the streets of Glasgow where he grew up.

As four siblings reunite for the funeral of their mother, Orphans blends realist drama, wildly absurdist humour, and moving social observation. Gleefully unsentimental and taking wicked delight in subverting audience expectations, Orphans is a dark, dangerous, funny and extraordinarily touching modern classic of Scottish cinema.

Video


One of those movies I refer to affectionately as a "It's grim up North" film. This uniquely UK sub-genre is steeped in working class characters and their miserable lives and you can guarantee that everyone will say "fuck" and "cunt" a great deal; that characters will be very much ruled by their heart and steeped in misery and sometimes violence. This is essentially an analysis of one family's grief and how it affects them in the 24 hours leading up to the mother's funeral.

Orphans adds some fairly absurd humour of the kind you'd find in a more mainstream comedy like the smashing of the Virgin Mary statue scene, or the masterbation bit, or the bit where the church roof surreally blows off in a storm; only it's handled in a much more sober way. In the end you either like these kind of hard hitting dramas or you don't and I have to admit that they're just not really my cup of tea. They very much fall into that area of cinema that I greatly admire but can't love or "get into". I know that they're usually brilliantly written, played, directed and conceived (and Orphans is certainly deserves all of those superlatives) but being a fan of more escapist cinema they just don't appeal.

However, Powerhouse Film's Blu-ray is impeccable on every possible technical level. Using Film Four's HD master they're done this justice and I gather it's a more robust presentation than the earlier Park Circus release. Top of the superlatives is the encode which ensures we have no issues with the actual presentation of said master. Being shot on photochemical 35mm film this has it's fair share of film grain. Darker scenes are murkier with some intended black crush but it's all very evenly handled with no clumping, digital splats or holes. All very smooth and even across the different lighting conditions. This film is made deliberately to look murky and dark in places, very tenebrous which is no fault of the transfer, master but are the way it was deliberately intended to be.

Colours are natural but vibrant when required to be; pub, club, funfair sequences come alive with flashing colours and roving textures black levels are satisfyingly Lynchian in their macabre depth with plenty of shadow detail when intended. As I said above, there are moments with intended crush, mainly in nighttime exteriors where only a single street lamp may be lighting things.

Contrast is supportive in this very dark film which is mainly set at night, at least in the first half. Textures, details are all present with no blown out highlights. There's no signs of print damage or digital tinkering that I could detect.

As good as can be for HD.

1080/24p / MPEG-4 AVC / 1.85:1 / 101:48

Audio


English DTS-HD Master Audio 5.1 
English DTS-HD Master Audio 2.0 Stereo
Subtitles: English

Exceptionally good 1990s era, lossless 5.1 which wipes the floor with the less encompassing 2.0 track. Being a drama the tracks are mainly focussed front and centre but in street, crowd and and scenes with music it really hums. It's obviously not going to stand up to a contemporaneous Bond film soundtrack for instance but then it isn't trying to. Like the image this is as good as can be.

Given the Glaswegian accents throughout some people will need the subtitles although I never did.

Extras


Audio commentary with writer-director Peter Mullan (2000)

This track was done for the 2000 UK DVD and is a few seconds out of sync with the onscreen action as it always has been. An excellent taktrak that covers every aspect of the production from the point of view of it's writer-director. My only quibble is that the films audio is a bit too loud so the occasional comment was obscured and I had to rewind at a couple of points

"Orphans Reunited" 2019 documentary (59:49)

An excellent BBC Scotland documentary remembering the film which seems to have been quite a signification production north of the border. This not only focuses on reuniting the central cast from the film, but has contributions from others as well as very much looking at Mullen as an artist; looking at his work and his influences.

Narrated by Alison Peebles and with interview subjects include Craig Armstrong (composer), Maureen Carr, Frank Gallagher, Douglas Henshall, Gary Lewis, Stephen McCole, Hannah McGill (critic), Lenny Mullen (casting and acting), Peter Mullen (writer-director), Alex Norton, Rosemarie Stevenson,

Featuring clips, obviously from Orphans (1997), but also from Billy Elliot (2000), Braveheart (1995), Close (short 1994), Fridge (short 1995), Gangs of New York (2002), Good Day for the Bad Guys (short 1995), Jute City (BBC 1991), Kes (1969), Mean Streets (1973), My Childhood (short 1972), My Name is Joe (1998), Rushmore (1998), Shetland (BBC Scotland 2019), Taxi Driver (1976), Top of the Lake (2013), Trainspotting (1996) and Westworld (TV 2018).

"The Making of Orphans" 2000 featurette (34:23)

Vintage retrospective from the old UK DVD. Newer footage of Peter Mullen discussing the film interspersed with film clips, interviews and behind the scenes footage shot at the time of production.

Deleted scenes (with optional director commentary) (11:20)

Three deleted scenes of a more compromised visual and aural quality when compared to the main feature but with optional commentary from the 200 DVD.

Audition tapes (with optional director commentary) (16:45)

Shot on video tape footage from preproduction; again with optional commentary from Mullen. Also from the 2000 UK DVD.

Peter Mullen Short Films:
- Close (1994) (16:45)
- Good Day for the Bad Guys (1995) (23:17)
- Fridge (1995) (20:57)

A collection of pre-Orphans shorts that led Mullen to making his debut. Orphans and Fridge are grainy B&W in the former in the Academy ratio 1.37:1, the latter in 1.66:1. Good Day for the Bad Guys is in rich colour and 1.37:1.

Theatrical Trailer (2:05)

The trailer maintains a breezy pace and comic tone with some gritty violence and emotional crescendos.

Orphans Image Gallery: Original Promotional Material (65 images)

Very solid HD collection of images.

40-page liner notes booklet by Michael Pattison, an archival article by Mullan, Mullan's open letter to FilmFour, critical responses, and film credits

Crackerjack contextual companion to the film.

Packaging


Standard clear Blu-ray case.

Overall


The film ain't my cup of tea but there's no denying it's brilliance in terms of execution and intention. The image and sound are as good as can be shy of a 4K UHD release and the extras are as good a package as a fan could've hoped for mainly porting over existing material gut it's choice. The booklet is the main new addition and is worth the price on it's own.

This disc will make fans extremely happy; top marks!
| | | | | |
| --- | --- | --- | --- | --- |
| The Film: B | Video: A+ | Audio: A+ | Extras: A+ | Overall: A+ |