The Film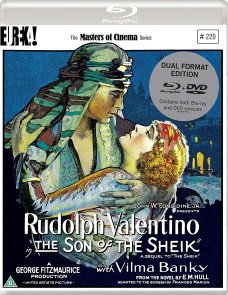 Somewhere south of Algiers is a bandit camp led by French thief André (Flesh and the Devil's George Fawcett) and the Moor Ghabah (The Adventures of Robin Hood's Montagu Love). While the thieves scam the locals, André's daughter Yasmin (The Lady from Paris' Vilma Bánky) makes money dancing in the town square where she attracts the attentions of young, wealthy Ahmed (The Eagle's Rudolph Valentino). Wary of how her father would take advantage of a wealthy suitor, Yasmin and Ahmed being a secret courtship, meeting in the ruins deep in the desert. Ghabah becomes suspicious and jealous since André had promised Yasmin to him. They track the couple down and get the jump on Ahmed who is unable to fight off André's men. While torturing Ahmed to discover his identity and who would pay for his return, jealous Ghabah tells him that Yasmin lured him into his abduction. When Ahmed's valet Ramadan (The Big Parade's Karl Dane) rescues him, Ahmed resolves to forget the girl and her treachery; that is, until he sees her again in a café flirting with a wealthy customer (Ghabah having decided to become her pimp if he cannot be her lover). He spirits her away to a desert camp where he tells her that of the many men she has lured to doom, he will make sure that she will never forget him. As his prisoner and victim, Yasmin proclaims that she hates Ahmed but she remains conflicted. When his father the Sheik (also Valentino) turns up at the camp and orders him back home, he tells his son to set the girl free and forget about his vengeance; nevertheless, the Sheik endeavors to bend his son to his will and marry him off in a socially-advantageous manner to a family friend of his wife Lady Diana (Bye, Bye, Buddy's Agnes Ayres). Ahmed resists his father's demands out of principle, but he also cannot forget Yasmin and will risk his life to rescue her from her father's gang.

An early case of a sequel to a hit Hollywood film, The Son of the Sheik is not exactly good cinema but it has a place of importance as the enigmatic Valentino's last film (it was released after his death at age thirty-one). The film trades on audience memories of the 1921 film The Sheik from announcing the return of Ayres in the opening credits to an extended flashback as Diana reminds the Sheik of their youth in trying to convince him not to come down too hard on Ahmed for his defiance. In addition to these reminders, the film dispenses with buildup, rushing through its setup in order to get to the courtship and the imagery of Ahmed and Yasmin in romantic clinches against desert backdrops. Valentino not only gets to play the great lover again, he also gets to do some swashbuckling in a dual role as Ahmed and his father, while Bánky is different enough from Ayres heroine, and Dane provides comic relief with his own romantic overtures towards a servant girl almost a parody of Valentino. Cinematographer George Barnes would go on to photograph the likes of Spellbound and Rebecca while William Cameron Menzies (one of the founders of the field of production design in the United States) later went onto his own directorial career with films like Invaders from Mars (after having been one of the six directors that had a hand in the troubled Alexander Korda production of The Theif of Baghdad which Menzies also designed).

Video


Released theatrically stateside by United Artists and in the UK by Allied Artists, Son of the Sheik and reissued in both countries in 1937 and 1938 with a newer score, the film wound up for a time with Republic Pictures and they issued it on a laserdisc in 1991 from a 1969-copyrighted print with a Wurlitzer score by Jack Ward followed by an identical but more expensive version from The Voyager Company the same year. The Ward-scored version was subsequently issued on DVD by Kino Video in 2000 followed by a double-bill with The Sheik from Image Entertainment featuring both a vintage score and a new one in stereo. The first Blu-ray release came stateside from but this tinted transfer was sourced from an older HD master incorrectly framed at 1.17:1 with plenty of wear and missing frames while the Eureka release is sourced from a newer restoration by Cohen Media and Modern Videofilm, and the untinted 1080p24 MPEG-4 AVC 1.33:1 image is significantly improved, looking sharper with better contrasts and less damage, with enhanced clarity even evident during the desert sandstorm scenes. It is obvious that the source materials came from the 1937 reissue as the opening titles have a score credit for Artur H. Guttmann and Gerard Carbonara.

Audio


Although the source materials for Eureka's master bear the composer credits for the 1937 version, the disc does not feature that vintage score as heard on the Image DVD, the Ward score from the 1969 issue, or Kino Lorber's Alloy Orchestra score. Instead it features a brand new score by Carl Davis (The Rainbow) in DTS-HD Master Audio 5.1 and LPCM 2.0 stereo. While Davis has more recently become better known for his silent film score than his impressive roster of British feature and television work, this is not one of his better efforts. It is lush but also rather bombastic.

Extras


Carried over from the Kino Blu-ray is the Introduction by actor Orson Welles from the TV series "The Silent Years" (17:35) putting the appeal of Valentino into context at a time when his works were not as accessible, but new to this edition is "Loitering Within Tent" (24:01), a video essay by film historian David Cairns discussing macho male and fawning female perceptions of Valentino in his heyday, the appeal of the Latin lover, and how the very exotic, ethnic, and sexually ambiguous qualities of the actor that drew in women also repelled men who could not see him as an identification figure in the same manner as Douglas Fairbanks. He also discusses the Edith Maude Hull source novel for the first film – describing it as the "Fifty Shades of Grey of the Jazz Age" – its notions of female submission, male domination, and intimations of interracial relations that it eventually sidesteps, and how the sequel dispenses with the text of Hull's sequel and essentially reconfigures the original and adapts it to the persona of Valentino as matinee idol (noting the greater emphasis on female point of view shots of Valentino in the film over his male gaze). He also discusses the career of the film's director George Fitzmaurice (Mata Hari).

Packaging


Packaged with the discs is a collector's booklet featuring a new essay by critic and film historian Pamela Hutchinson who contextualizes the film's "retrogressive sexual politics and flagrant exoticism, not to say full-on racism" and how the film compares to the "watered down" first film in terms of Hull's source story.

Overall


An early case of a sequel to a hit Hollywood film, The Son of the Sheik is not exactly good cinema but it has a place of importance as the enigmatic Valentino's last film (it was released after his death at age thirty-one).