The Film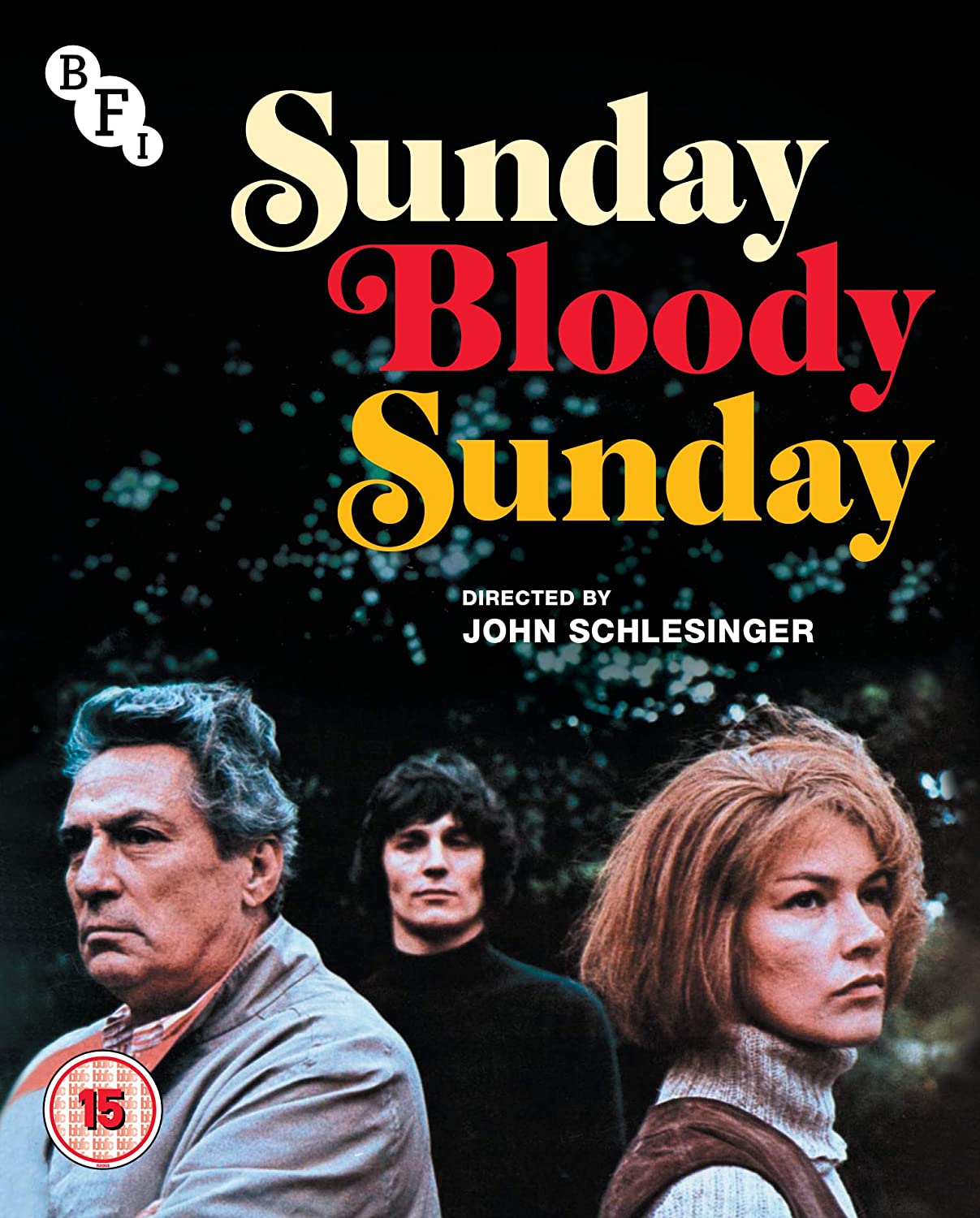 "Sunday Bloody Sunday" (1971)

Bob (played by Murray Head) is a young English artist in his twenties living a fairly carefree bohemian life, though he is at the moment awaiting news on the possibility of having his work exhibited in America. He is bisexual, though he doesn't have a steady singular partner but instead is in an open relationship with two people. One is with Daniel (played by Peter finch), a doctor who is twice as old as Bob. The other is with Alex (played by Glenda Jackson, a divorcee in her thirties. While Peter and Alex know that Bob is bisexual and is having relationships with the other, they do not know each other personally as they have never met. The relationships between the three are not about love, but about sex and friendship and nothing more. While Bob is fine with having things on the surface level, both Daniel and Alex constantly rethink about the relationships they are leading, and increasingly having more feelings towards Bob than they should.

"Sunday Bloody Sunday" was director John Schlesinger's follow-up to the critically and commercially successful "Midnight Cowboy", and one that was very personal. There were elements of Schlesinger's own recollections of an open relationship he was in with a young artist, and the part of Daniel was an alternate version of the director. Schlesinger was Jewish and came from a medical family, as seen with the Daniel character who is Jewish by faith and a successful doctor by trade. Unlike many films which had gay characters as flamboyant, comical, or pompous, the character of Daniel represented an average person. He dresses in suits, has a normal job in a normal workplace, listens to classical music, buys artwork, and does not show a particularly homosexual persona in the stereotypical sense. Realism is what Schlesinger was seeking and for the screenplay, he enlisted film critic Penelope Gilliatt to collaborate on the story. While there was some tension between her and Schlesinger from before and during the writing period, it led to some rewrites by Ken Levison and David Sherwin who had to be uncredited since Gilliatt was stipulated contractually to be the sole writer. Controversy came with Gilliatt taking sole credit for both the original drafted and published screenplay as well as the filmed version, though to be fair, quite a lot of the emotional core was kept intact.

The film explores sexual relations in the post free-love era. While the idea of open relationships and homosexuality have been explored in cinema before, there was nothing quite like "Sunday Bloody Sunday" in the mainstream, treating things realistically. Alex and Daniel each start a relationship with Bob knowing that it would be nothing more than a simple sexual relationship. But over the course of the film which takes place in a one week period, both start to question if there should be more than what they are having with Bob. Daniel has always wanted to take a trip to Italy together with Bob but it always seems like a thought rather than a plan. When he encounters a past lover who is quite aggressive and is a heroin addict, there is notice of how much better off he is with Bob, a carefree spirit who is much nicer and loving than who he experienced before. For Alex who comes from an upper class family, she has experienced divorce and is not necessarily happy in her career. She and Bob have fun while taking care of the children of their friends while they are out of town, and though the two have their usual sexual encounters, it is when they babysit the children that she sees a sense of fatherly love from him. As things progress during the week both Daniel and Alex are mutually having stronger feelings for their mutual lover, but there doesn't seem to be any emotional change from Bob or a desire for it. He is more concerned with going to America, working on his art, while everything happening in the week are things to be taken in day by day.

"Sunday Bloody Sunday" is not the typical love story since there is no love between the characters, though two out of three long for it. It could be considered a tragic story as the longing doesn't evolve into fruition. Cinema makes it seem like there is happiness and destiny for love, but reality shows that there are such things as emotional and physical trauma, broken families, and mutually not being able to agree on steps going forward. The film does not shy away from any of it. There are not only the relationships of the lovers being shown, but also the contrasting Hodsons (played by Vivian Pickles and Frank Windsor) who are a very liberal couple with four children and are fine with Bob and Alex's relationship as well as Bob and Daniel. Alex's parents (played by Peggy Ashcroft and Maurice Denham) on the other hand are not the happiest in marriage over the years, but as the mother reveals that it is mostly about an effort to keep things together for the greater good. Relationships are complicated in any era as humans are extremely the most mentally complex species in existence. "Sunday Bloody Sunday" gives no easy answers, but instead hold a mirror up to society and shows that even if there are lonely people out in the world, they are not truly alone.

United Artists financed the film for $1.25 million due to the success of Schlesinger's Oscar winning previous film, but the production was not necessarily a smooth one. Aside from the writing and rewrites, the casting also took some time with continuous recasting. Two weeks into production, Ian Bannen who was playing Daniel decided to drop out, in which the newly available and original choice Peter Finch could take his place on short notice. The house that was scouted for the Hodson's home was later found out to be on the flightpath to Heathrow Airport, causing very limited time that the scenes there could be shot as ADR was not desired by Schlesinger. When the film was completed, most of the United Artists executives were very concerned by the end product. The non-commercial viability, the bisexuality, the downbeat nature of the story were elements that they were worried about. The film was released in 1971 and was a critical hit, including four Academy Award nominations, two Golden Globe nominations and one win, eight BAFTA nominations and five wins with Best Picture, Best Director, Best Actor, Best Actress, and Best Editing, and more. Even with the critical raves, the film was not successful financially, failing to hit with audiences due to limited screenings. Over the years it has certainly been held high in critical stature and a very forward looking film that looked passed the stereotypes of homosexuality and bisexuality, and having a very personal touch from the filmmaker throughout.

Note this is a region B Blu-ray

Video


The BFI presents the film in the original theatrical 1.66:1 aspect ratio in 1080p AVC MPEG-4. The transfer comes from MGM and looks very similar to the transfer on the US Criterion Blu-ray from 2012. There is no detailed technical information in the BFI edition, but the Criterion used an HD master created from the 35mm interpositive with color correction supervised by cinematographer Billy Williams, and most likely that information should apply to the BFI's transfer as well. The cinematography was purposefully in a muted tone so browns and greys are more of the norm than any bright or bold colors. skin tones are slightly reddish but looking natural, detail is quite good, and there is a healthy amount of grain in the picture. The picture has been cleaned but there are still a few instances of dust or speckles visible, mostly in transition shots or ones with overlayed text from a second generation source.

The film's runtime is 110:02.

Audio


English LPCM 2.0 mono
The original mono track is presented uncompressed. As a dialogue heavy film, thankfully the restored track sounds very good with voices sounding clear and well balanced against the music and effects. It can sound a little flat being a standard mono track but it certainly fits with the film and thankfully there are no anomalies such as hisses or pops to be heard.

There are optional English HoH subtitles for the main feature in a white font.

Extras


Audio commentary by Amy Simmons
Simmons delivers a well prepared scripted commentary, which for the most part is not specific to the happenings on screen, but at times she does point out specific on screen references directly. She goes through the themes presented in the film, the background of the production, the views on homosexuality in the time period in the UK, the casting and recasting, comparisons to other films that included bisexuality, and more. While there is a lot of information and well prepared, the presentation is a little on the dry side, like reading notes from a lecture. The commentary stops at the 105 minute mark, leaving about 5 minutes of empty air time.
in English LPCM 2.0 with no subtitles

"The Starfish" short film (46:44)
"The Starfish" was directed by Schlesinger and Alan Cooke in 1950 in a Cornish town while the two were undergraduates at the University of Oxford. The town is haunted by the legend of a witch called Meg that supposedly lives in a nearby cove, and the pseudo-horror film has children being kidnapped and a grotesque looking monstrous witch that isn't quite the best in make-up effects work. The print is in very bad shape, with scratches and dust all over the picture, splice marks being visible, and detail looking muddy at times. The sound which was post synchronized is also weak with distortion and pops and crackle throughout. With the Cornwall setting by the sea and the print and audio quality, it was very reminiscent of "Bait" from last year, but with an added supernatural element.
in 1080p AVC MPEG-4, in 1.33:1, in English LPCM 2.0 with no subtitles

"Sunday in the Park" short film (14:48)
A short film featuring various Londoners enjoying the weekend in the park, along the streets, and by the water. From the elderly taking strolls to young adults frolicking, to young children running around, itís a glimpse into the past though not much has really changed in terms of human behavior all these years later. The short is with background music without narration, but there are some voices that can occasionally be heard.
in 1080p AVC MPEG-4, in 1.33:1, in English LPCM 2.0 with no subtitles

"Murray Head Remembers Sunday Bloody Sunday" interview (24:15)
The actor recalls his performance as Bob and the difficulties he had with the part and the importance of the role it had on his career. He recalls the kiss scene with Finch and how it was not at all uncomfortable on set, the difficulties with the sudden recasting of the Danile role, and much more. This interview was shot exclusively for the BFI Blu-ray release.
in 1080p AVC MPEG-4, in 1.78:1, in English LPCM 2.0 with no subtitles

"Billy Williams Remembers Sunday Bloody Sunday" interview (27:42)
The famed cinematographer talks about his time with Schlesinger, his initial reservations with the subject matter, alongside details of the shooting and the visual style of the film. He also talks about the problems such as the recasting, the location of the house being underneath a flightpath, and other details of the shoot and reception. This interview was shot exclusively for the BFI Blu-ray release.
in 1080p AVC MPEG-4, in 1.78:1, in English LPCM 2.0 with no subtitles

"The Pace-makers: Glenda Jackson" 1971 interview (14:09)
This interview was taken from the TV series "The Pace-makers", in which Jackson talks about her character in "Sunday Bloody Sunday", with some rare behind the scenes footage of the film. There are also some scenes of her previous film "Women in Love" being shown as she discusses her role in that film.
in 1080p AVC MPEG-4, in 1.33:1, in English LPCM 2.0 with no subtitles

"Blood Donor: Glenda and Ernie" 1981 short (2:29)
This Central Office of Information short features Jackson and Ernie Wise appealing for blood donors, with them giving blood in a comical short.
in 1080p AVC MPEG-4, in 1.33:1, in English LPCM 2.0 with no subtitles

"John Schlesinger in Conversation" (104:51)
Recorded at the National Film Theatre in London in 1975, the director talks about days at film school, the start of his career in documentaries and shorts, plus his move to feature films. He discussed quite a lot about "Midnight Cowboy", "Sunday Bloody Sunday", and especially his latest film at the time, "Day of the Locust" (which obviously needs a special edition Blu-ray). For people that haven't seen the film, he does mention Homer Simpson quite a bit, which is not the father character on The Simpsons, but Donald Sutherland's character in his film and the original story.
in English Dolby Digital 2.0 with no subtitles

Image Galleries (with Play All) (12:48)
- Photographs by Michael Childers (2:15)
- Promotional Image Gallery (10:33)
Two automated slideshow galleries are presented. First is a series of black and white behind the scenes photos taken by Michael Childers. The second gallery has theatrical posters as well as additional color and black and white behind the scenes photos.
in 1080p AVC MPEG-4

Original Trailer (2:34)
The original British trailer for the film filled with critical quotes is presented.
in 1080p AVC MPEG-4, in 1.66:1, in English LPCM 2.0 with no subtitles

Booklet
Initial pressings include a booklet. First is a lengthy essay on the film "A Love Triangle Today" by Simon McCallum of the BFI, discussing the themes, the making-of, the reception, and much more. A biography of the late director written by Kieron McCormack is next, followed by film credits, special features credits and information, presentation information, acknowledgements and stills.

A clip from the film, courtesy of the BFI:



As mentioned, the film had a release on Blu-ray first in the United States by The Criterion Collection. It featured quite a different set of extras with an audio excerpt from a 1975 AFI interview with Schlesinger, 2012 interviews with Head, Williams, production designer Luciana Arrighi, and photographer Michael Childers, and an interview with author William J. Mann about the film. Only the theatrical trailer is the overlapping extra. One doesn't seem to be better than the other, though to note the Mann interview in the Criterion release is excellent as well as the one with Childers who was also Schlesinger's longtime partner.

Overall


"Sunday Bloody Sunday" is a powerful film about sexual desire, the lack of love and the longing for it through differing eyes, emotional trauma, and what happens to relationships when paths do not quite move in the same direction. A landmark achievement in gay/bisexual depictions in cinema, it is also a very personal piece from the great John Schlesinger. The BFI gives the film a great presentation with a nice selection of extras. Absolutely recommended.
| | | | | |
| --- | --- | --- | --- | --- |
| The Film: A | Video: A- | Audio: A- | Extras: A- | Overall: A- |