The Film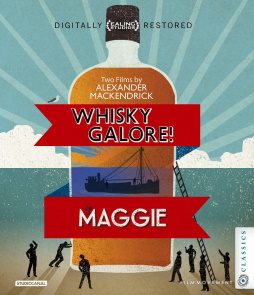 BAFTA Film Award (Best British Film – Nominee) - BAFTA Awards, 1950
NBR Award (Top Foreign Films – Winner) - National Board of Review, 1950

Whisky Galore!: The Outer Hebrides stand in between the Scottish mainland and America far in the distance. When whisky supplies run short all over, the island of Todday is devastated overnight in "mourning for a departed spirit," and the local tavern's ration of four bottles is woefully inadequate; enough to make old Hector (James Anderson) take to his sickbed in despair and young Home Guard officer/schoolteacher George Campbell (The Great Escape's Gordon Jackson) lose his nerve about telling his domineering mother (I Know Where I'm Going!'s Jean Cadell) that he has become betrothed to "wanton" Catriona (The Secret Adversary's Gabrielle Blunt), switchboard operator daughter of shopkeeper/postmaster Joseph Macroon (The 39 Steps's Wylie Watson), whose other daughter Peggy (Tom Jones' Joan Greenwood) is entertaining an engagement to Sergeant Odd (Gorgo's Bruce Seton), a mainlander who arrives to assist snobby Home Guard Captain Waggett (The Lady Vanishes' Basil Radford) who has been rubbing the locals the wrong way with his officiousness. When the S.S. Cabinet Minister runs around just off the shore on a foggy night, news spreads quickly that it is carrying fifty-thousand cases of whiskey bound for America, and MacCroon leads the covert salvage operation under Waggett's nose. Although the ship goes down in the middle of the night, Waggett's discovery of Odd tied up during his night watch – having allowed the villagers to get the drop on him upon learning that the local betrothal ceremony, the rθiteach, requires a glass of whisky – and the sudden upswing in local temperament lead him to suspect that the contraband whisky has made its way to shore. When Waggett's investigations lead nowhere, he brings in Customs & Excise officer Mr. Farquharson (The Man in the White Suit's Henry Mollison) who has a very personal vendetta against MacCroon.

Although the famed Ealing Studios had been producing films in a variety of genres including comedy since 1930, 1949's Whisky Galore! was one of the first of what are considered their signature brand of comedy that included the likes of The Lavender Hill Mob, Passport to Pimlico, and The Ladykillers among others. Shot entirely on location on the island of Barra, the film is both based on a factual incident about the S.S. Politician and the humorous fictionalization by English-born Compton MacKenzie (who cameos as the S.S. Cabinet Minister's captain) who got in touch with his Scottish roots like the film's Boston-born director Alexander Mackendrick (Sweet Smell of Success), and in its reach for authenticity it is at its most successful and engaging during moments of documentary-like observation of daily life and less so when trying to engage with character. Only Radford's stuffy Home Guard armchair colonel and his long-suffering wife (The Sorcerers' Catherine Lacey) makes much of an impression as a main character, with the seemingly primary relationship between Greenwood and charisma-free Seton given about as little screen time as that between Blunt and Jackson. As such, the comedy works best in the broadest moments like a montage of shots as word gets around town at night about the whisky and the mad scrambles to keep Waggett and the customs officers from finding the contraband whisky. Although the caricature of drunken Scots is the locus of comedy, the film does spare a little time for some dramatics as when a disgusted Catriona calls the men waiting for word of whether her father and the others were able to get to the cache of whisky before Waggett as "helpless as newborn babies" but the "moral" punchline falls flat. Author MacKenzie – who also adapted the script with Angus MacPhail (Spellbound) – is perhaps better known these days as the author of the "Highland" novels that inspired the BBC comedy series Monarch of the Glen. Whisky Galore! was remade to lesser success in 2016 by Gillies MacKinnon (Hideous Kinky).


The Maggie is a small cargo ship known popularly as a "puffer," and this one run by the irascible "Captain" MacTaggart (Kidnapped's Alex Mackenzie) with a two man crew in first mate MacGregor (The Private Life of Sherlock Holmes' James Copeland), engineer Hamish (Doctor at Sea's Abe Barker), and "wee boy" Dougie (Tommy Kearins) never docks for long since MacTaggart has not bothered to renew his license and must pay £300. When MacTaggart shows up at the shipping office to try to negotiate with its owner Campbell (Moonraker's Geoffrey Keen), he is dismissed by the busy man but overhears British secretary Mr. Pusey (The Story of Robin Hood and His Merrie Men's Hubert Gregg) having trouble booking a cargo boat to deliver £4,000 in furniture, lumber, and plumbing to the island of Kitarra where wealthy American businessman Calvin B. Marshall (Executive Suite's Paul Douglas) has purchased a house for his wife. MacTaggart offers the use of his ship, and Pusey mistakes a neighboring larger boat for the vessel and makes a deal only to discover the truth the next day when Campbell calls him about an available boat. When Pusey confesses his mistake to Marshall, they catch up with the puffer by plane and Marshall puts Pusey on the boat to ensure that it returns to dock and the cargo is transferred to a more suitable ship, but MacTaggart and his crew give both the slip, so insistent is MacTaggart that he can complete the job. When the story reaches the national papers, humiliating MacTaggart he goes in pursuit and puts himself aboard the boat to manage the transfer of the cargo; however, a combination of manipulation and circumstance scuttles Marshall's plans and the wealthy go-getter may be outgunned in a battle of wits with a wily drunken seadog.

The superior of the two comedies contained in this Mackendrick double bill, The Maggie works because its clash of cultures is not only more clearly delineated but laid out in a novel manner, with loud and brash American Marshall humanized by sharing MacTaggart's cunning but not wanting to made a fool of (particularly as an American in Britain), Pusey the laughing stock of the Scottish (including refined shipping agent Campbell) and so reticent as to be ineffectual in Marshall's regard, with young Dougie (pronounced "Doogie") primarily conveying to Marshall his captain's pride and his pride in his captain with some asides from Evening News reporter Frazer (Quatermass and the Pit's Andrew Kier) explaining to him the humor with which he portrays the ongoing story as part of the Scottish peoples' affection for puffers, and during a stop on an island where they crash a wedding and young Sheena (Fiona Clyne) explains to Marshall how she has arrived at the choice between an ambitious go-getter with big plans and a simple fisherman. Marshall's climactic decision ("Don't worry, it was bound to happen. It was the only thing left that could happen") works dramatically because it is as much about his own stubbornness as all of his earlier other decisions in spite of MacTaggart's repeated insistence that they close enough to complete the job and that it would only end up costing Marshall more to go back and do things his way. Besides The Ladykillers, screenwriter William Rose's subsequent comedy credits included Guess Who's Coming to Dinner, The Russians Are Coming, the Russians Are Coming, and It's a Mad, Mad, Mad, Mad World.

Video


Whisky Galore! was released stateside in 1949 by Universal Pictures but largely unavailable until Anchor Bay's 2005 DVD as part of the five-disc Ealing Studios Comedy Collection and in the U.K. through Studio Canal – by way of distributor General Film Distributors – and Optimum Releasing as a two-disc special edition in 2005, followed by a reissue of the first disc which also appeared in the sixteen disc The Definitive Ealing Studios Collection followed by a 2011 Blu-ray. The same high definition restoration is reproduced on Film Movement's 1080p24 MPEG-4 AVC 1.37:1 pillarboxed fullscreen Blu-ray which seems free of digital noise reduction at the cost of minor damage in the form of faint scratches and some instability while some of the fluctuations in light levels may have to do with the original location shoot (which the extras reveal was plagued by bad weather among other things). Since Studio Canal has kept the same HD master in circulation for almost a decade, a new restoration is unlikely any time soon but this is more than acceptable.


The Maggie was released theatrically in the U.S. by rebranded Universal-International and later released to DVD in 2005 as part of Anchor Bay's five-disc Ealing Studios Comedy Collection in the U.S. and individually in 2006 on DVD and the later sixteen disc The Definitive Ealing Studios Collection followed by a 2015 Blu-ray from Studio Canal who licensed the same master to Film Movement for their 1080p24 MPEG-4 AVC 1.37:1 pillarboxed fullscreen Blu-ray which is the better-looking of the two films owing as much to age, studio lensing, as well as the later digital restoration carried out by Studio Canal. The film is given its own disc with a healthy bitrate which brings out detail in faces, complex costume textures, and the grittiness of The Maggie's worn exterior and interior.

Audio


Both films feature English LPCM 2.0 mono tracks, and some of the same remarks about the picture extend to the sound, with Whisky Galore sounding a tad tinnier in its louder moments and hissier in its silences than The Maggie which sounds overall more robust in the dialogue recording, sound effects, and scoring. Neither disc features English subtitles or captions which is a pity since the Optimum and Studio Canal releases had HoH subtitles.

Extras


Whisky Galore! is accompanied by an audio commentary by British cinema expert John Ellis who has written about Ealing Studios and produced a 1991 documentary focusing on Whisky Galore! (more on that below). He discusses how the production of his "cheap movie" shot on location would end up going over-budget because of weather and other problems, and how it ended up being a box office success despite producer Michael Balcon's dislike of the film and his overruled intention to make it a B-picture on a double bill. He also discusses the real historical events of the S.S. Politician and the novel, as well as the "narrative economy" of the film in establishing all of the setup in the first few minutes compared to the source which did not establish the central conflict between Waggett and the islanders until a few chapters in. He also suggests that some changes in emphasis may have been made from Peggy and Odd to George, his mother, and Catriona since the casting of Greenwood as Peggy would seem to suggest she and her subplot were meant to be more substantial. Ellis' aforemented TV documentary "Distilling Whiskey Galore!" (54:18) features input from Mackendrick, uncredited editor Charles Crichton – whose subsequent directorial career is as far flung as Ealing titles like For Those in Peril to A Fish Called Wanda, associate producer Monja Danischewsky (Topkapi), and actress Blunt discussing the film while a roster of other participants expand upon the backstories, from Compton MacKenzie settling on Barra and bringing not only artists to the island but modernizations for the villagers, as well as Angus Campbell, one of the surviving villagers who salvaged whisky from the S.S. Politician. Campbell appears again in "The Real Whiskey Galore!" (20:35) providing a more in-depth recollection. Not ported over from the Optimum Blu-ray, unfortunately, was an interview with Mackendrick's wife Hilary. The disc also features trailers for other Film Movement releases.


The Blu-ray disc of The Maggie has no extras.

Packaging


Housed with the discs is a booklet by film scholar Ronald Bergen in which he discusse how the Ealing comedies embodied the British "Blitz Spirit," American Mackendrick's love affair with Scotland, and brief pieces on the two films.

Overall


Pairing two films from the opposite ends of director Alexander Mackendrick's stint at Ealing Studios, Whisky Galore! and The Maggie not only offer plenty of laughs but also a look at the evolution of the studio.