The Film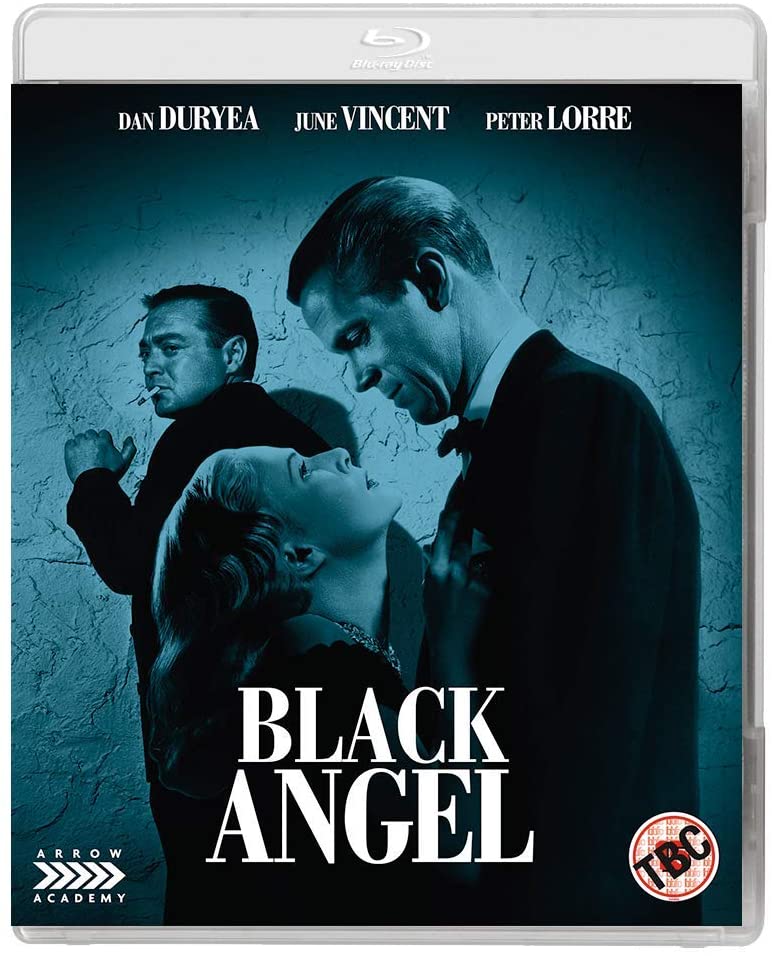 Black Angel (Roy William Neill, 1946)

Synopsis: Pianist Martin Blair (Dan Duryea) and singer Mavis Marlowe (Constance Dowling) were a winning team, a married couple whose songs reached the hit parade. However, their relationship soured, and Blair is now an alcoholic on skid row whilst Marlowe lives the high life.

When Blair makes an attempt to visit Marlowe on what would have been their wedding anniversary, he is dismayed to discover that Marlowe has issued orders that Blair must be turned away.

When Marlowe's body is discovered by Kirk Bennett (John Phillips), Police Captain Flood (Broderick Crawford) arrests Bennett, much to the dismay of Bennett's wife Catherine (June Vincent) who believes utterly in her husband's innocence. Under interrogation, Bennett reveals that Marlowe was blackmailing him over their affair. This is taken as a motive for the murder. However, Bennett also reveals what seems to be a key clue: a distinctive heart-shaped brooch he saw at the scene of the crime was taken, presumably by the real killer.

Desperate to prove her husband's innocence, Catherine tracks down Blair. The pair team up to identify Marlowe's true killer. They discover amongst Marlowe's belongings a matchbook on which a telephone number is written. They trace this number to an upmarket club, the Rio, which is run by Marko (Peter Lorre).

Posing as a musical duo, Catherine and Blair audition for the floor show at the Rio. Recognising their talent, Marko signs the pair up. Getting closer to Marko, Catherine and Blair try to identify evidence that might point to his involvement in Marlowe's murder – such as the missing brooch, which the pair believe Marko may have placed in the safe in his office.


Critique: Roy William Neill's 1946 film noir Black Angel was based on Cornell Woolrich's 1943 novel of the same title. Woolrich's source novel adapted its premise from two stories that Woolrich had written previously, 'Murder in Wax' (originally published in 1935) and 'Face Work' (1937). 'Face Work' had previously been adapted to film, as Convicted (dir: Leon Barsha) in 1938. Black Angel would later form the basis of the 1967 picture Yoru no wana (dir: Tomimoto Sokichi), which would transpose the narrative to Japan.

Roy William Neill's film adaptation of Black Angel takes a number of liberties with the source material, which would infuriate Woolrich when he saw the completed film. Aside from some superficial adjustments (for example, changing the names of various characters), the film's script, by Neill and Roy Chanslor, creates in Martin Blair a composite of two of the novel's characters, and simplifies the solution to one of the novel's key clues. Sadly, Black Angel was the final film of director Roy William Neill, who would die of a heart attack only months after the film was completed.


The film opens with Blair gazing up at Wilshire House, where his estranged wife is staying. In a bravura piece of staging which is somewhat reminiscent of the opening of Alfred Hitchcock's later Psycho (1960), the camera travels up the building – clearly a model – before settling on a window; a dissolve takes us inside the room to a close-up of a crystal chandelier, a unmistakeable symbol of wealth. Mavis Marlowe, Blair's wife, is introduced brushing her hair at a vanity table which bears a framed photograph of herself – an index of her self-obsession. Marlowe treats her maid with disdain: 'Why don't you keep my things where I can find them?', she demands. After Blair is turned away from the Wilshire on the orders of Marlowe, he winds up in a wine bar across the road from The Palace Hotel, the dive in which Blair is living. At the wine bar, a drunken Blair demonstrates his dexterity with the piano, and afterwards his buddy, Joe (Wallace Ford), asks Blair when he's going to forget about Marlowe; Joe laments to another man, 'When is he [Blair] going to learn you can't drink it as fast as they make it'.


When Catherine catches up with Blair, she discovers he is resigned to his fate, telling her, 'I had a wife and needed killing, and you had a husband who took care of it'. They soon team up, however; during their investigation, Blair and Catherine grow close. After they have worked 'undercover' at the Rio for three weeks, Blair writes a song for Catherine – a love song. Blair hits the wagon, giving up his drinking of hard liquor in favour of soft drinks, and the pair investigate Marko. This leads to the film's darkest scene. Catherine spends time in Marko's office, hoping to find a way of getting access to the safe. She watches Marko open it, unaware that Marko is setting a trap for her by letting her see the combination. Afterwards, Marko presents Catherine with a bottle of champagne. 'I've been saving this for a special occasion', he tells her sleazily as we cut to a closeup of Catherine, tears in her eyes; there's a clear insinuation that the price Catherine must pay for witnessing Marko opening the safe is to sleep with him. It's a deeply disturbing yet quietly handled moment.

Ultimately, the film moves from one red herring to another, Neill deftly playing with the audience's sympathies for the various characters. (MILD SPOILERS.) The true solution to the enigma at the heart of the narrative – the murder of Marlowe – involves alcoholic amnesia. Amnesia was a recurring trope in 1940s films noir, most often associated with male characters who were shown to be burying some aspect of their past, as in Joseph L Mankiewicz's Somewhere in the Night (1946), George Marshall's The Blue Dahlia (1946), and Maxwell Shane's Fear in the Night (1947). Whilst Black Angel doesn't quite sit alongside Somewhere in the Night or The Blue Dahlia, as an 'amnesia noir' which, for much of its running time, presents itself as something completely different, it's certainly an interesting and engaging slice of paranoid melodrama with some excellent performances from the key cast – particularly Duryea, Vincent and Lorre.


Video
Filling slightly under 23Gb on a dual-layered Blu-ray disc, Black Angel is presented uncut, with a running time of 80:28 mins. The film is presented in 1080p using the AVC codec, and in its original aspect ratio of 1.33:1.

The 35mm monochrome photography is represented very well on this Blu-ray release, a very pleasing level of detail being present throughout. (There is, naturally, some diffused light used during close-ups, which is a characteristic of the original photography. The presentation is based on unspecified 'original film elements', which seem to be a couple of different sources – as evidenced by some of the fairly subtle but noticeable inconsistency within the grain structure and contrast of the film materials. Contrast levels are for the most part very good, with defined midtones, a balanced drop into the toe and an even shoulder; though in some footage, there's some noticeable 'crush' in the shadows. The encode to disc is fine and presents no problems, a natural, filmlike grain structure being present throughout. (In some scenes, this is more coarse than in others, again suggesting more than 'film element' has been used.) In all, it's a very pleasing presentation of the film, easily eclipsing its various DVD incarnations.

Some full-sized screen grabs are included at the bottom of this review. Please click to enlarge them.






Audio


Audio is presented via a LPCM 1.0 track. This is rich and deep, with dialogue being audible throughout. Optional English subtitles for the Hard of Hearing are included. These are easy to read and accurate in transcribing the dialogue.

Extras



The disc includes:
- An audio commentary with critic Alan K Rode. Noir expert Rode provides an enthusiastic commentary track for the film, exploring the picture's origins in Cornell Woolrich's work. Rode talks about the similarities between Black Angel and Woolrich's Phantom Lady. He reflects on the onscreen action whilst providing some carefully-researched comments on the picture's production and reception. Rode offers some detailed discussion of the music in the film, and he also examines the casting decisions, considering what the various performers bring to their roles.

- 'A Fitting End' (20:53). Neil Sinyard talks about the reputation of Black Angel, which Sinyard suggests is 'not well-known' and usually not cited as a 'canonical' example of film noir. Sinyard discusses the film's relationship with Cornell Woolrich's work, and Woolrich's reputed disappointment with the finished picture. Reflecting on Woolrich's work, Sinyard suggests that there are a number of autobiographical elements in Black Angel. Sinyard also talks at some length about the casting of the film.

- Trailer (1:32).

- Gallery: Production Stills (15:40); Posters and Lobby Cards (2:40).


Overall



As Neil Sinyard notes in the interview on this disc, Black Angel is an often overlooked film noir. The picture contains some superb performances from its key cast (particularly June Vincent, Dan Duryea and Peter Lorre). Whilst Cornell Woolrich was reputedly deeply unhappy with the changes that were made in the adaptation of his source novel, the finished picture actually has a strong narrative that is driven by its central enigma – who murdered Marlowe?

Arrow Academy's Blu-ray presentation of Black Angel is very good. The presentation of the main feature is pleasing, and the film is accompanied by some very good contextual material. There is naturally some overlap between Alan K Rode's commentary and the video interview with Neil Sinyard; however, there are sufficient differences between Rode's and Sinyard's approaches to the film that make both worthwhile.

Please click to enlarge: