The Film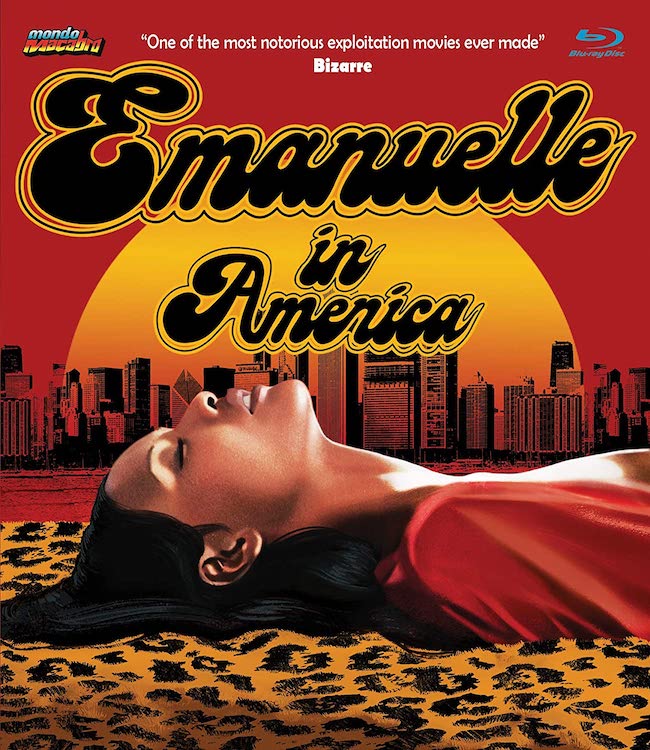 She is back and in action again. Yes fans, Laura Gemser is back in the role that propelled her to infamy: Emanuelle. This time around we find Joe D'Amato, the king of sleaze, helming the production, but he is also the cinematographer as well going under his real name, Aristide Massaccesi. Let's face facts here; the only way to review this cinematic wonder is with attitude and that is just what I am going to do. There is no way that I can attempt some serious film criticism without some good natured pandering and since I have previously reviewed all three of the "Emmanuelle" films with very little sarcasm, I feel that I am due a chance to be a tad more rakish this time around, and so without further adieu, let the show begin.

Laura Gemser is Emanuelle, an American journalist that travels the globe in search of a good, no make that, great story. This film hit the theaters in 1977 and that was a great time if you were a sleaze hound looking to ogle the flesh on the wide screen. Our friends at Mondo Macabro bring us this cinematic gem uncut and on Blu-ray so that we can enjoy the fruits of director D'Amato's harvest. Back in the old days, trying to track down an uncut version of this film on VHS resulted in nothing but grey market badly duped copies and that is because D'Amato was testing the waters and boundaries of good taste with this film. D'Amato has since then left this film in the dust and is now a verified director of nothing but no-holds-barred hardcore cinema. But before we move on, let's take a closer look at this film and see if there was anything to all the rumpus that was raised.

The film begins with footage of Gemser, looking smoking hot, clad all in white, as she strolls down a few Manhattan sidewalks. We see her working with a few other women as they pose provocatively in the nude as Emanuelle snaps some pics. The women make small talk amongst themselves as the camera captures their beauty. A model is talking about her boyfriend, who sounds like he has read too much Michel Foucault, and he has threatened to end the relationship because of the nature of her work. Emmanuelle calmly explains that the boyfriend needs to relax and take a chill pill; little does Emanuelle realize that she is about to come face to face with Mr. Self-righteousness. After the photo shoot, Emanuelle gets into her car and is driving away when suddenly up from the back seat pops the angry boyfriend and he is armed with a revolver. Apparently, he has the bright idea that force makes right and that he is planning on killing Emanuelle. Thinking fast, our heroine uses her head and literally she makes a go at the lad, rendering him helpless and limp. He escapes from the vehicle ashamed and humiliated.

Arriving at her swinging apartment she runs into her partner and lover Bill (Riccardo Salvino), a fellow reporter. After a brief roll in the hay, Emanuelle is back on the streets, where she gets a hot tip from a boxing coach pal of hers, Joe (Efrem Appel). He tells her about Erik Van Deeran (Lars Bloch), a hip playboy that is dealing in illegal arms, but also runs a high-end brothel outside of San Diego. Before you can blink an eye, Emanuelle is ready and willing to join the escapades; armed with a trusty concealed bracelet camera, she is prepared to bare her body and soul for a scoop. Lounging about at poolside, Emanuelle sporting a zodiac sign thong, joins the other women in a rousing threesome with plenty of underwater footage to boot. Clothes are mere obstacles in this film and the women disrobe as quickly as possible and there is plenty of eye candy on display. Later we see the women discussing one woman's extreme fondness for someone named Pedro and in no time, we see the woman in question enter the stable, completely nude, and she begins to masturbate the horse in a lengthy sequence. Katie, bar the door. I had thought that I had seen it all, but even I was surprised that D'Amato was willing to entertain the notion of bestiality. This is certainly a warning shot fired across the bow of good taste, and as we continue along on our erotic journey, more hardcore scenes await us. Checking out the sauna, Emanuelle and gal pal, Gemini (Lorraine De Selle) get down and dirty for a lesbian tryst.

Since Emanuelle is such an easy-going party guest, she befriends a fellow patron, Alfredo (Gabriele Tinti) an Italian Duke (and the real-life husband of Gesmer's). Sequestering herself in the trunk of Alfredo's car, Emmanuelle escapes Van Deeran's clutches and ends up in Venice at Alfredo's mansion where she is introduced to his wife, Laura (Paola Senatore). Emanuelle is immediately sucked into a menage a' trois with her two insatiable hosts, but she manages to escape with her virtue intact. Later that night, the couple host a large party that quickly turns into a veritable orgy, populated with a wide assortment of hardcore acts. Snooping around while the others get down and dirty with the other guests, Emanuelle snaps some illicit pictures, capturing the risky facts about the Duke.

Changing locales once again. Emanuelle arrives in the Caribbean at a sort of stud farm for bored wealthy women where they can take charge and try different male partners. The film is a voyeuristic delight with the camera standing in for Emanuele's POV so that everything that she sees is the audience's viewpoint as well. While sneaking around the corridors of the ranch, Emanuelle peeks in on an embracing couple as they watch a snuff film. This is where D'Amato really pushes the boundaries of the usual soft-core hijinks and begins to explore the outer reaches of the grotesque. Filmed in a spliced version of both handheld and black and white footage, D'Amato makes the viewer ponder if they are seeing an authentic snuff film or merely some special effect laden segment. Either way, this is the end of visual delights and this part of the film is appalling and depressing. Recognizing the face of one of the filmed captives, Emanuelle vows to get to the bottom of the debauchery and after snapping some pictures of the footage, she escapes to confront her editor with the exposed illicitness.

Tracking down the crooked US Senator (Roger Browne) who was watching the snuff footage, Emanuelle manages to turn on the charm and has the politician escorts her back to his clandestine apartment that is decorated with plenty of S&M inspired artwork. Emanuelle requests a porno loop to help get in the mood, but when the Senator plays a regular flick, she complains that "I thought someone like you would have something sensational, and not phony like that!" Eagerly he complies and puts on the snuff inspired loop that Emanuelle had witnessed back in the Caribbean; boy, she really is invested in her work, isn't she? Emanuelle wants to discuss the footage with the politician after they have implied sex, and she wants to know exactly where did he find this stuff? Emanuelle is appealing to the man's baser instincts and is acting like she really enjoys the barbaric scenes. While they talk the Senator slips her a mickey in her drink so that she will be malleable. She knocks back the loaded drink and immediately she finds herself on board a private plane with her host. They land in a jungle setting and she is made to watch as more real-life horrors are enacted for her to witness. Breasts are hacked with knives, women are impaled on sharpened spears, and assorted horrors are played out for their voyeuristic pleasure. Emanuelle comes to and the Senator acts like it was because he had slipped her a tab of LSD in her drink. We cut to the newsroom of the outfit that Emanuelle works for and the editor tells her that it was all true and he has the photos to prove it. The editor gives Emanuelle the brush off and tells her that he can't publish any of the pictures because the owners of the paper won't allow it. Emanuelle blows a cork and tells him that she quits.
"Goodbye, editor! Goodbye, camera! Zoom lens! Highly sensitive film! Wide-angle lens and darkroom!"

Cut to a different jungle scene where Emanuelle and Bill are walking hand in hand. They must be on some type of vacation to celebrate Emanuele's resignation. After saying that she doesn't need money or success, Emanuelle is swept up in a net that has been planted by the natives. As Emanuelle is getting oiled up by the female natives, Bill is off having a drink of some home brew. Emanuelle is horrified to learn that she is to be wed to the island's King and that she will be his queen. The King tells her that he has thirty-two children, but he neglects to tell her how many wives he has. The couple collapse in a heap but are awakened by the noise of a film crew dismantling the sets. It seems that this ending is D'Amato's last laugh on all of us as he is literally telling us that all films are fictitious, and that all of this has been arranged for our entertainment. Roll the credits!

Video


Presented in widescreen 1.85:1 HD 1080p 24/fps and mastered in AVC MPEG- 4 compression, the colors are bold and look great. It's a very good organic quality with a strong showing of grain giving the overall film a strong cinematic quality.

Audio


Two standard audio tracks are included: English DTS-HD Master Audio 2.0 mono and Italian DTS-HD Master Audio 2.0 mono. Optional English subtitles are provided for the Italian track. The soundtrack is by Nico Fidenco and is somewhat haunting. Overall it's decent audio for a pulp 70's era film.

Extras


The film includes an audio commentary with film critics Bruce Holecheck and Nathaniel Thompson find much to discuss and enjoy poking fun at the film.

"Joe D'Amato Totally Uncut: Erotic Experience" (62:21), documentary in Italian, with optional English subtitles, this is an extensive interview with the director as he talks about his career and his love of genre bending. He also talks extensively about his relationship with star Gemser.

"Emmanuelle: From 2 M's to One: The Story of Emmanuelle" video essay by author David Flint" (35:30) is a documentary on the Emmanuelle Phenomenon, critic David Flint examines the cult of the Emmanuelle/Emanuelle films and why they were so wildly popular. In English, no subtitles.

"Mondo" trailer reel (13:30) is also included.

Packaging


Comes in a regular Blu-ray keep case with a reversible cover.

Overall


This Blu ray features a 4k transfer from film negative and the print looks very good. Colors appear natural and balanced with no distracting cuts or blemishes. If this is your thing, go for it... otherwise it's out there.
| | | | | |
| --- | --- | --- | --- | --- |
| The Film: C | Video: A | Audio: A | Extras: B+ | Overall: B- |