The Film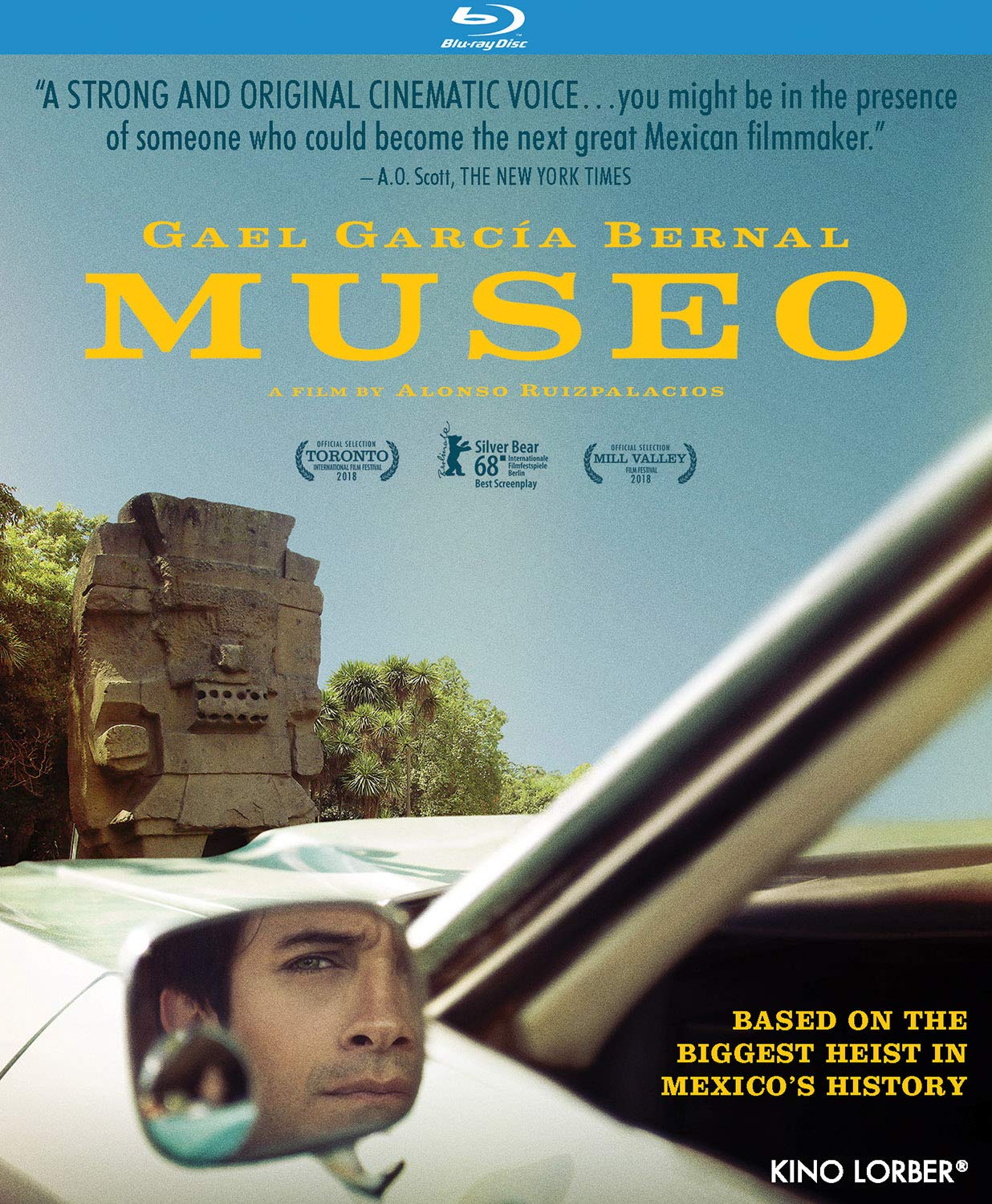 "Museo" is an intricate knot of a film; it is a meditation on many things: family, responsibility, friendship, the importance of history, crime and its consequences. At first, I thought that I was about to watch a film about a museum robbery, but ultimately, the film became much more than simply a heist film. In lesser hands this film could have been another exercise in idiocy but thankfully director Alonso Ruizpalacios is a cut above that nonsense, and instead serves up something that is different, and I am one grateful viewer.

Before the film starts, we are shown the coda that this is a reproduction of an original incident. The film begins with a slow pan of an ensemble of grade school recorders, at first, they are silent, then the sound of their instruments fills the room. We hear a voice over narration supplied by best friend, co-conspirator, and poor criminal, Benjamin Wilson (Leonardo Ortizgris); he is to be the voice for this tale, and he is recounting what occurred between him and the domineering Juan Nuñez (Gael García Bernal). Wilson fills us in on some facts about his best friend Juan: that he never believed what he read in history books, that no one knows what someone was thinking when they did a specific act, and that often even the offender couldn't tell you what his motives were or what he was thinking at the time. History was made up of lies. This fact is one of the purporting truths underlying the basis for what follows.

Why would two amateur slackers conspire to rob a prestigious museum of its most valuable treasures? Can this act of rebellion be deemed as a true act of robbery when it may be construed as a correction of a wrong by an authentic Mayan descendant? When is it okay to steal back a piece of one's own cultural history? Yes, it can be classified as a crime, but to what extent does the authority of the state extend upon historical crafts? Whom decides the ultimate value of these items: is it the native peoples, the ruling government, or an institute that is created to warehouse the items and display them, under glass, to visitors?

So first some facts: this film is loosely based on an actual case; the theft of 140 Mayan and Mesoamerican objects of inestimable value from the National Museum of Anthropology on Christmas Eve, 1985. This is a true incident that occurred, however how the director processed this information and produced the screenplay for the film is entirely fictitious. The two characters that are the focus of the film are slackers: Juan and Wilson are both about 30 years old, both still live at home with their parents, and both are studying to become veterinarians, albeit it is taking an ungodly amount of time to graduate. They are essentially still children. The two men have decided that they are going to commit the ultimate act of rebellion by robbing the National Museum of Anthropology in Mexico City. Juan, the mastermind behind this scheme had a part time job working at the museum helping inventory the items on display in the Mayan wing. Juan had taken the job to help offset the expense of his marijuana habit; so much for any lofty explanations. While working there, Juan has plenty of time to daydream and formulate a plan. The plan is to break in and rob the place on Christmas Eve because the alarm system hasn't functioned in three years and workmen are going to be coming into the museum to install a new AC unit. This is the perfect time to pull the caper.

Paying homage to the 1955 classic "Riffi"; the ultimate heist film, Ruizpalacios films the robbery in the huge building in complete silence, just like Jules Dassin executed his robbery sequence. This sequence is the highlight of the film and it is amazing that two bumbling amateurs like Wilson and Juan do it like they were pros. Undercutting the tension with an acute sense of humor, the director showcases some innovative camerawork, using the existing light and some extreme close ups of the two character's faces, Ruizpalacios gives us a lesson in the art of B&E. The duo is suddenly interrupted by the arrival of some security guards; the front door that they had entered through is now heavily chained and thus they need to find another option to make their escape. Using the intricate and claustrophobic tunnels of the buildings ventilator system, the two are forced to scurry along like a couple of rats in a maze. At one point, Juan hallucinates, and he is convinced that he sees the famed Mayan king Pakal watching them escaping with his treasures. The boys successfully get out of the building and drive off in Juan's father's car. Their escape vehicle is the family car which Juan had to ask permission to use it. Some criminals these two are.

Storing the stash in Juan's bedroom with an assortment of dirty laundry, the two desperadoes discuss how they are going to fence the ill-gotten goods for a large sum of cash. As I watched this, I thought of countless other crime films and how this part of the plan often goes array: John Huston's "The Asphalt Jungle" (1950), Stanley Kubrick's "The Killing" (1956), and Michael Mann's "Heat" (1995); the thing that you cannot predict becomes your weakest link in pulling off the perfect score. You know way ahead of being shown, that these two are stumbling forward toward defeat and that justice will have the final say. The film's second act has the two men (and I find using that term laughable) headed to the outskirts of town in the jungle to meet up with an individual that is going to be the go between with a British art dealer that may be willing to purchase the stolen goods. Bosco (Bernardo Velasco) is a tour guide that works giving guided tours to the tourists at Palenque, and he is pressed into service by our bumbling protagonists.

After wasting time in Acapulco, the trio are to meet with their connection and hopefully get paid for their troubles. But of course, the men are disappointed because the cold fact is that no one in their right mind would buy these goods; they are so hot that they are glowing. Mr. Graves (Simon Russell Beale) basically calls the duo out and shames them because it is all too clear that these men are not only amateurs, but they are also frightening naïve. They have no idea of the absolute seriousness of their crime and now they can't even get paid for the goods. Since it never has been made clear, just exactly why the two committed this crime, it apparently is "a ticket out of here." The two men are dreamers. Juan sees this act as being something that will finally win the admiration of his distant doctor father (Alfredo Castro). Wilson's father is ill and during the trip to Acapulco, he goes to the hospital and dies. Wilson seems just to be going along for unknown reasons; probably how he has been living his entire life; merely a blind follower, never a leader.

The film follows the men as they return to their homes with their tail between their legs, embarrassed and ashamed. Juan goes home only to waken his parents in their bedroom, telling them that he was the thief and that he is sorry for the trouble that he caused. He believes that he can go away somewhere and disappear. Juan's father somehow talks some sense into the pair and convinces the duo that their best plan is simply to return the goods to the museum and walk away.

Ultimately "Museo" is a film about disillusionment on a large scale. The main characters are disillusioned about what role they play in the world, they are fooled into thinking that they can make a difference somehow. Throughout the film, Wilson remarks that no one can know for certain why a person does what they do. We, as the audience, are left with that riddle to ponder as well. Joan Didion writes in her essay from "The White Album" (1979): "We tell ourselves stories in order to live…." But what is the purpose if in the end it doesn't matter? Ruizpalacios has assembled a very interesting film that should make us all ponder the deeper meanings to life.

Video


Presented in widescreen 2.40:1 HD 1080p 24/fps mastered using AVC MPEG-4 compression, working with cinematographer Damián García, we are presented with a colorful world as seen through his lens. I thought that the interiors of the museum were nicely captured, and the blacks were robust and strong. Colors all appeared natural and were well represented as well.

Audio


Kino Lorber has included two audio tracks in Spanish DTS-HD Master Audio 5.1 surround and Spanish DTS-HD Master Audio 2.0 stereo. I was impressed with the sound of the 5.1 track, good separation and overall, the sound environment is well represented. Soundtrack by Tomás Barreiro is distinct and impressive. Optional subtitles are included in English.

Extras


There are a limited amount of supplements in the form of the following:

There are five deleted scenes in Spanish with English subtitles:

- "Hit and Run" (1:58)
- "Have You Got Any Ether?" (1:24)
- "Second Thoughts" (2:45)
- "Palal's Second Coming" (2:10)
- "The Hard Life of an Easy Woman" (3:01)

Original theatrical trailer, in Spanish with English subtitles: (2:00).

The packaged includes an 8-page booklet featuring an essay by producer Alan Page "Stolen Goods" and technical credits.

Packaging


Packaged in a standard Blu-ray keep case.

Overall


The film is very interesting and worth checking out.
| | | | | |
| --- | --- | --- | --- | --- |
| The Film: A | Video: A | Audio: A | Extras: B- | Overall: A- |