The Film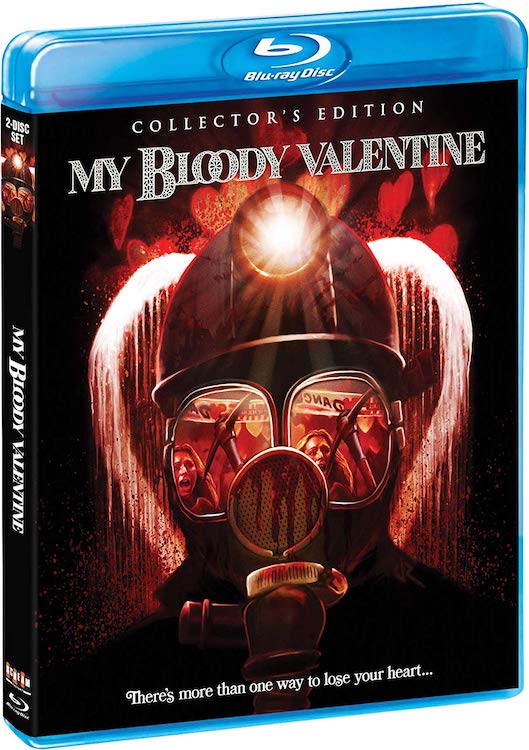 There are about a hundred-and-one slasher films out there but back in the heyday of the subgenre two of the best came from the Canada: Bob Clark's "Black Christmas" (1974), a film often credited with starting the movement, and George Mihalka's "My Bloody Valentine" (1981). The former relies on waves of tension for the terror, with gore taking a backseat to the creepy undercurrent. But Mihalka's film, though notable for more than just bloodshed, was neutered by the MPAA; every death was trimmed to the bone, resulting in a loss of anywhere from 3-9 minutes depending on whom you ask. The first DVD release from Paramount presented the film in widescreen with nothing more included; the cut footage claimed to be "lost". Lionsgate acquired the film rights some years later when producing their own 2009 remake and, lo and behold, some of that cut footage was recovered. A Blu-ray release reinstated close to three minutes, though the change in quality between the theatrical cut proper and these "new" scenes was obvious.

By comparison, this new release from Scream Factory is a revelation. The transfer on the new disc has been remastered in 4K (I am dying for the day Scream Factory starts releasing horror in proper 4K Ultra HD) and even though the reinstated footage comes from an alternate source the result of seeing everything put together is seamless. It isn't as apparent where the theatrical footage ends and the uncut footage begins. Before I get to gushing too hard, a quick recap for those who might not be familiar with Harry Warden…

The small mining town of Valentine's Bluff hasn't celebrated its namesake holiday in 20 years; not since the day miner Harry Warden (Peter Cowper), who had a year prior survived a cave-in, massacred several people on February the 14th, warning the local government never to celebrate again or he'll be back! Cut to 20 years later and the town has decided to give the infamous dance another shot – after all, Harry Warden has been locked up in a mental hospital for all this time. A group of twenty-somethings – among them Sarah (Lori Hallier), her current boyfriend Axel (Neil Affleck), and her just-returned-home ex-boyfriend T.J. (Paul Kelman), whom she secretly still loves – decide to help organize the dance at a local meeting hall. This'll be fun!

Except the mayor just received a box of chocolates that actually contains a human heart – Harry cut the hearts out of his victims – with a warning that more will die if the dance proceeds. The bodies begin to pile up faster than the cops can act and soon everyone is living with the very real fear that the old town legend, Harry Warden himself, has come back to his hometown to continue the murderous rampage he began two decades ago.

Here are three things this film gets right: the characters, the location, and the kills. Rather than stack the cast with a bunch of faceless nubile teens the roster of "My Bloody Valentine" is full of hardworking young adults who are just beginning to feel the weight of the real world. These people are mature and capable, making them slightly tougher prey for a returning serial killer. When the film isn't killing off townsfolk the time spent with this ensemble is interesting, seeing their relationships defined and changed, understanding more about what these people desire and dream. I don't want to make it sound like the film is a character study or anything but something that always stands out to me is how much I enjoy being with these characters more so than those in similar movies. Even the love triangle of Axel/Sarah/T.J. has merit because it is presented with authenticity. The small town setting keeps the activity intimate, and because this is an "everyone knows everyone" kinda place there's a certain weight to each death since these people have such close ties. Plus, the use of an actual mine for filming – disastrous as it was – adds novelty; we aren't spending 90 minutes on a college campus or in the woods or any other location slashers favor.

Seeing the kills restored to their former glory is the icing on the cake because, as horror fans know, mere frames can not only add extra impact but now viewers are able to see everything the talented FX team created and as it was originally intended. Hours… days… weeks of work can go into crafting special FX gags and all it takes is the arbitrary ruling of a faceless governing body of relative nobodies – read: the MPAA – and all that effort is left on the cutting room floor. This footage isn't new and has been on disc for years but the restoration done by Scream Factory blends it more seamlessly than ever before.

This new "Collector's Edition" includes both the "Theatrical Cut" (90:27) and "Unrated Cut" (93:02) versions of the film.

Video


Did I not gush enough about the new 4K scan? The 1.85:1 1080p 24/fps mastered in AVC MPEG-4 compression image blows away the previous Blu-ray from Lionsgate, offering noticeable upticks in overall definition, fine detail, color reproduction, black levels, and as previously mentioned that uncut footage. A good deal of the film takes place during daylight hours and the picture shines exceptionally bright, with colors popping and image quality reaching the maximum limits of HD. The picture takes a bit of a hit at night or when the action moves to the mines, where black levels falter slightly and grain tends to swarm. Those are miner (sorry I had to) complaints for what is a highly satisfying image that should elate fans.

Audio


A single, simple English DTS-HD Master Audio 2.0 mono track delivers a thoughtful balance of clean dialogue and discreet sound effects along with providing a lossless sound field for composer Paul Zaza's fantastic score. My favorite audible moment doesn't come until the very end, though, when "The Ballad of Harry Warden" plays over the end credits. It's a great track. Subtitles are available in English SDH.

Extras


DISC ONE: THEATRICAL CUT

"My Anemic Valentine" (1080p) is an interview with director George Mihalka, running for 24 minutes and 9 seconds.

"From the Heart" (1080p) is an interview with actor Paul Kelman, running for 14 minutes and 15 seconds.

"Axel, Be My Bloody Valentine" (1080p) is an interview with actor Neil Affleck, running for 14 minutes and 48 seconds.

"Friends of Mine" (1080p) is an interview with actress Lori Hallier, running for 19 minutes and 20 seconds.

"Becoming Sylvia" (1080p) is an interview with actress Helene Udy, running for 17 minutes and 17 seconds.

"Broken Hearts and Broken Bones" (1080p) is an interview with special make-up effects designer Thomas R. Burman, running for 10 minutes and 36 seconds.

"The Secret Keeper" (1080p) is an interview with actor Rob Stein, running for 27 minutes and 25 seconds.

"Holes in the Heart" (1080p) is a featurette that runs for 12 minutes and 29 seconds, offering a comparison between the "theatrical" and "uncut" versions of the film.

A still gallery (SD) runs for 11 minutes and 41 seconds, featuring ephemera, behind-the-scenes shots, poster art, and more.

Two radio spots run for a total of 1 minute and 1 second.

Three TV spots (1080p) run for 1 minute and 32 seconds in total.

A theatrical trailer (1080p) runs for 2 minutes and 11 seconds.

DISC TWO: URATED VERSION

Director George Mihalka provides a new introduction to the film (1080p), running for 23 seconds.

An audio commentary track features director George Mihalka as he comments on the production process and offers insight into the film and it's cult legacy.

"35th Anniversary Cast Reunion" (1080p) is a featurette that runs for 46 minutes and 54 seconds, taking place at the 2016 Bay of Blood convention in Florida.

Thomas Kovacs performs "The Ballad of Harry Warden" (1080p) music video runs for 5 minutes and 3 seconds.

Packaging


The two-disc set comes housed in a standard Blu-ray keep case. A slip-cover with newly created art is available on first pressings.

Overall


One of the best slasher films of the 80's finally gets a worthy home video release, featuring the best a/v quality yet, two cuts of the movie, and two discs worth of bonus features.
| | | | | |
| --- | --- | --- | --- | --- |
| The Film: A- | Video: A- | Audio: A | Extras: A+ | Overall: A |