The Film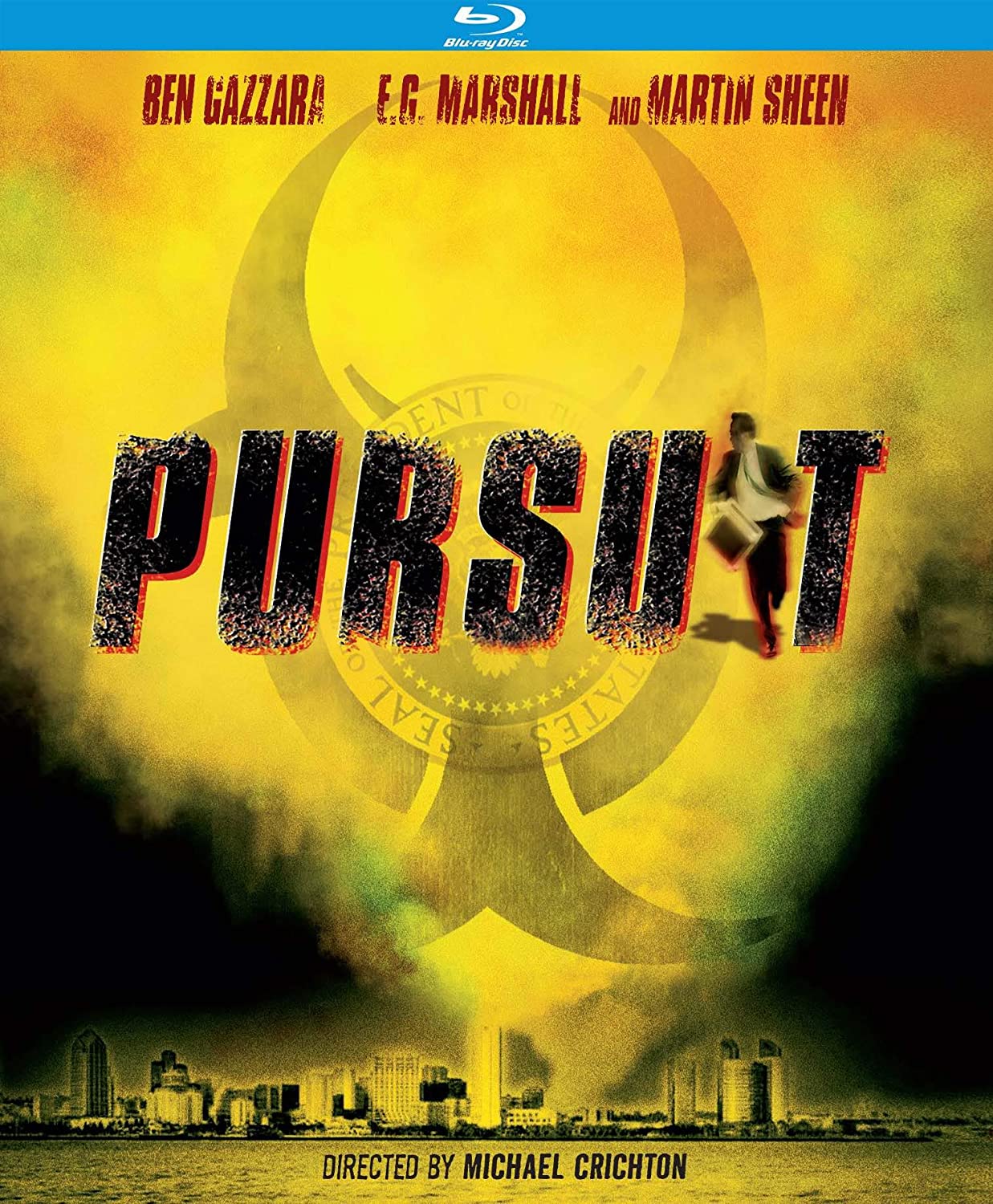 In today's age of infinite media, where thousands of films have been made available via myriad streaming services, it seems downright quaint to imagine a time when the only major alternative to theatrical releases was the once-vaunted Movie of the Week. Viewers would have to turn on the television at a set time – no DVRs back in those days – and sit through endless commercials as the feature unfolded. The small screen attracted big names, too, and it was not uncommon to see big screen actors adding their gravitas to network productions. In the instance of "Pursuit" (1972), the talent comes not only from in front of the camera – Ben Gazzara, E.G. Marshall, Martin Sheen – but behind, too, with Michael Crichton making his directorial debut, helming his own 1972 novel, "Binary".

When a convoy is attacked in the night and its payload stolen, Steven Graves (Ben Gazzara) is brought in to investigate James Wright (E.G. Marshall), a political extremist and agitator who may be behind the theft. There is a Republican convention set to take place in San Diego in only a few days and the President is expected to attend, making the location a prime target for such a radical. Graves isn't as inconspicuous as he'd like to believe, though, because Wright seems to be aware of the agent's presence. Wright's activities are highly suspicious, though nothing is salient enough to warrant an arrest. After Graves manages to pick up Timothy Drew (Martin Sheen), a former lackey of Wright's, only then does he uncover the master plan: a deadly nerve gas, "binary 75/76", was stolen along with a complete profile on Graves himself. Armed with this information Graves wants to take down Wright – but he's beaten to the opportunity by the man himself, who openly rigs up two bombs in a hotel room; if anyone attempts to enter the room, the bombs will detonate and lay waste to San Diego. They are set to go off just as the President enters the convention.

Wrought with tension thanks to a highly skilled cat-and-mouse game, "Pursuit" is a rare TV movie that feels so much bigger than the small screen for which it was designed. Crichton manages to make his caper feel large, spreading the action out across the southern California landscape and staging a few decent action set pieces along the way. Similarly, the frantic nature of Graves' manhunt is given additional pressure as a countdown timer intermittently flashes on the screen. Yet another element that aids in the pursuit is that Graves and Wright seem to share an almost professional courtesy, with both men behaving so congenially despite the widespread catastrophe that looms. The third act scenes involving Graves, Wright, and his ingenious bomb are among the very best this kind of film has to offer.

Oddly enough, Crichton was not able to write his own screenplay, with the producers asking Robert Dozier to provide a workable script. Dozier does an admirable job of keeping the affair tight and controlled, with no loose plot threads or wasted characters. Crichton was able to then focus his energy on being a first-time director. Also of note: the legendary Jerry Goldsmith composed the score and it's as solid an effort as devotees of the late composer might expect.

Video


The 1.33:1 fullscreen 1080p 24/fps image is sourced from a new 2K scan and mastered using AVC MPEG-4 compression, the results of which are often spectacular. Clarity is generally strong, with some daylight scenes looking absolutely pristine. Colors are nicely saturated and contrast is stable throughout – for the most part. The worst looking scenes of the film are, by far, all the stock political convention footage, which is grainy, blurry, and bleeding. The scenes were no doubt inserted in an effort to give a "face" to the big Republican gathering, which would have been cost-prohibitive for such a small project, but their inclusion doesn't help the film because their appearance is so jarring. Perhaps they appeared a little more seamless via 70's-era television sets.

Audio


An English DTS-HD Master Audio 2.0 mono track capably delivers a clean track, free from hissing and other abnormalities. The production is mainly dialogue-driven but a couple minor action scenes have a slight punch to them. Jerry Goldsmith's score sounds procedural and jazzy; certainly a highlight. Optional subtitles are included in English for the hearing impaired.

Extras


There is an audio commentary track with film historian Lee Gambin and comic artist/writer Tristan Jones.

The disc also includes bonus trailers for other Kino Lorber titles, including:

- "The Satan Bug"
- "The Falcon and the Snowman"
- "Chosen Survivors"
- "The Manhattan Project"
- "The Great Train Robbery"

Packaging


The single disc comes housed in a standard Blu-ray keep case.

Overall


Tense and occasionally shocking for a TV movie, "Pursuit" is an auspicious debut from the man who brought audiences so much incredible entertainment. Kino Lorber's HD release looks stellar and comes highly recommended.
| | | | | |
| --- | --- | --- | --- | --- |
| The Film: B+ | Video: B+ | Audio: B | Extras: C | Overall: B- |