The Film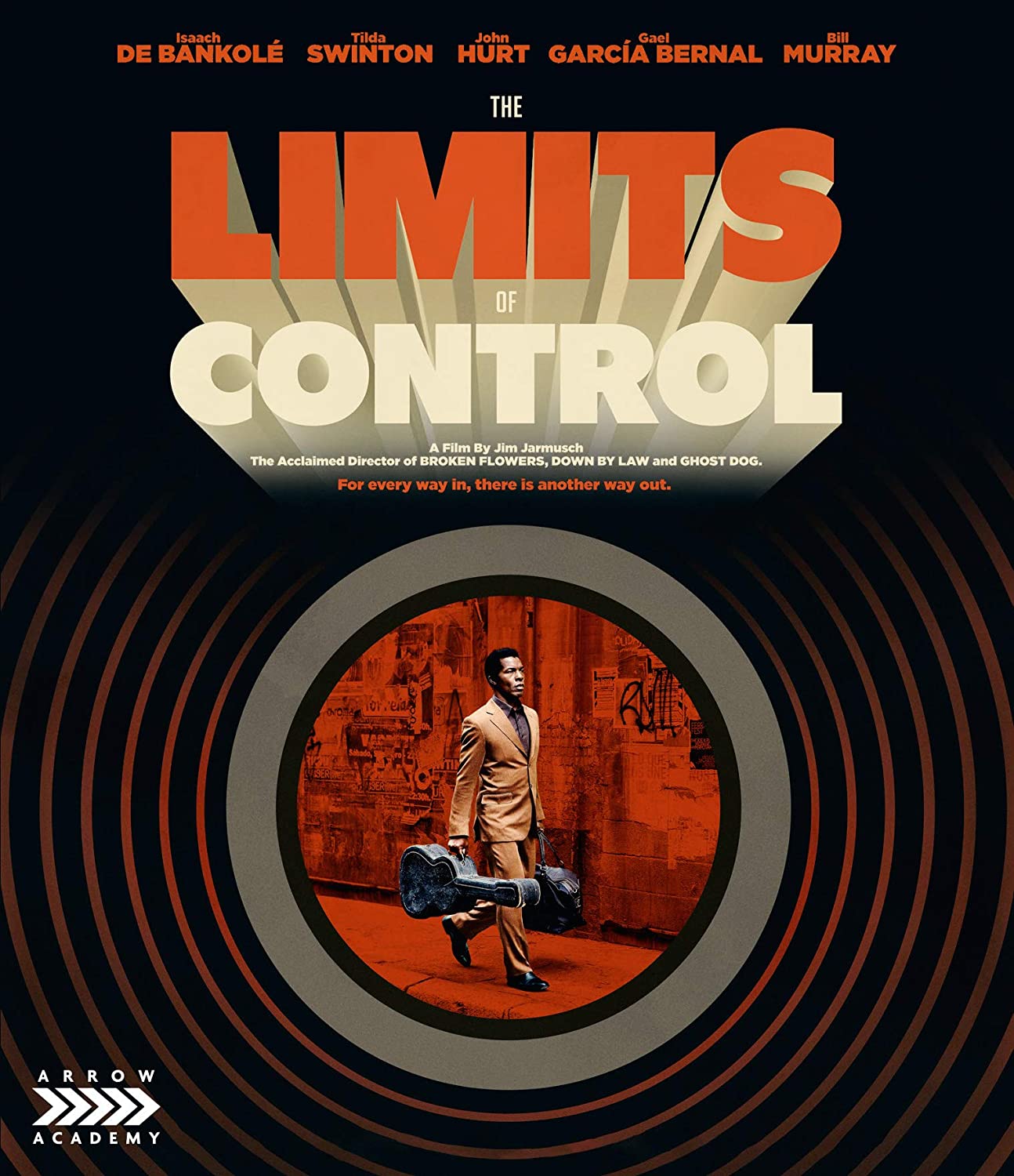 Jim Jarmusch, that hip daddy of the uber cool, the man that is more interested in what didn't happen while the camera was turned on than what did happen when the film was rolling, the master of dead pan humor, the existentialist film maker, the list could go on and on, but really what's the point? Or is that exactly the point? "The Limits of Control" is a difficult film to critique, largely because it is many things to many people: to some it is a mere empty façade of tiresome antics. To others it is a mystery to be slowly savored and watched carefully, again and again. I recall the first time that I saw it years ago when it was first released on DVD; I watched it and shook my head. What the hell was that all about? Re-watching it now, on Blu-ray for the first time, I was engaged, but still mystified as to the overall reason for the film. And that, I believe, is the way that Jarmusch wants it. It is ultimately his film and no doubt he put a lot of time and thought into the making of it. Whether you like it or not is up to the viewer, but perhaps you need to watch the film several times before passing judgement.

Jarmusch is a huge fan of the arts, be it cinema, classical music, literature, religion and philosophy. This film is akin to a Spanish tapas dish. Jarmusch offers us several portions with no comment, the film is a palette of mixed resources and like a painter, Jarmusch dips his brush into a wide variety of colors, selecting bits and pieces of riddles, philosophy, and existential angst to create his portrait of one man, alone and on a mission. Clearly Jarmusch loves cinema and this film is homage of sorts to other films, including the films of Sergio Leonne and John Boorman's hit man thriller "Point Blank" (1967). You could also include nods to Welles, European cinema, various detective films; throw in some film noir tropes, and add a dash of Paul Auster existentialism and the end results is this film. At times I felt like I was the helpless victim of a long drawn out shaggy dog story or that I came in on someone telling a long detailed story that I had missed the major points of, but again, I am pretty sure that the director would smile wisely to himself and say nothing more. That being said I consider myself a fan of the director and that includes this film.

The film starts with an enigmatic man, The Lone Man (Isaach De Bankolé) walking through an airport. He meets two other individuals, one of them a mysterious Creole (Alex Descas) and the other a Frenchman (Jean-François Stévenin) and they have a brief unusual conversation. The enigmatic man does not have a name and in the credits he is listed as "The Lone Man". It is clear that Jarmusch must have selected this actor for his face and its mask like qualities; the man hardly speaks, and the camera lingers on his face at times, as if by doing so, we may extract a secret, but the Lone Man is simply that. He is a complete individual; he reveals nothing. We observe by watching the film that the Lone Man is an assassin and he is dispatched on a mission by the two men. Very little is revealed during their conversation, but the man boards a plane and he journeys to Spain. The Lone Man is very well dressed and I thought to myself, his assembly looks like it comes from Lee Marvin's closet.

Travel takes up a large part of the film's time: first by plane, and then by train. The Lone Man is alone and aloof. He does not seek out the company of others; he is silent and his face is like one of the statues on Easter Island. As the Lone Man travels he makes various stops along the way and he stops at an outdoor café where he orders two single espressos, in two separate cups. When a waiter brings him a double espresso in one cup, he is corrected and sent back to follow his precise instructions. In the various café's he meets a contact; the conversations all begin the same: "You don't speak Spanish do you?" In fact a possible key to unravelling the film's mystery may lie in its use of repletion; the Lone Man follows a stylized path of unwavering ritual: daily he practices Tai Chi, he always orders two espressos; he is a solitary individual on a mission and in that sense, this character is the epitome of the limit of control. As far as what does that mean for us as an audience, it is completely in the eye of the beholder.

On the plane, the Lone man opens a matchbox that he was given by the two men at the airport; he looks at a coded message and then swallows the message with his espresso. He arrives in Spain and lets himself into a hotel room. He already has the key. Interaction with other people is kept to a bare minimum. At night, the Lone Man lies on his bed and I suspect that he doesn't actually sleep. A day or so later a beautiful naked woman (Paz de la Huerta) appears in his room and he refuses her offer of sex. "Not while I'm working." he responds. Again, control is the main object of his concentration. Nothing is allowed to distract him or vary his course. He then meets another contact; the woman with the white hair and cowboy hat, known as The Blonde (Tilda Swinton) is the most interesting and actually has the most to say: "The best films are like dreams you're never really sure you had." The exchange of matchboxes happens and the dialogue is cryptic and loaded with philosophical tidbits. The Lone Man doesn't react to any of this: he sits there, his face an unchanging mask of solitary comfort, the others do all the talking and it almost doesn't mean anything. This is certainly a crippled manner of communicating.

Occasionally the Lone Man will enter the Museo Nacional and sit and stare at a cubist painting of a violin while the soundtrack roars in the background with a quick cut back to the Lone Man's poker face; something may have occurred but what it is, is left unstated. All of this would ultimately lead to the audience to wonder what the point of all this subterfuge is if it weren't for Jarmusch's talent as a directory and cinematographer Christopher Doyle's amazing camerawork. This is truly a film for a film geek audience to revel in: visually every single frame of the film is balanced and grounded in reason. Every scene is methodically composed as if a scientific experiment, there is no extraneous movement, no unnecessary pans or swirls, and each scene has been thought out and executed with a painstaking perfection. I cannot offer any higher praise than this. This is truly a thinking person's film and a delight for both the eye and ear.

This is not a typical Jarmusch production for a number of reasons: the action is kept to a bare minimal, the usual deadpan humor of the director is absent even though there are absurdist moments throughout. This is not a film for those seeking quick thrills or expressive CGI scenes. I hate to use the clichéd phrase, but it certainly seems to be a thinking person's film. The journey to the end is the entire reason for the trip. What you encounter along the way is the challenge. Absolute attention is required here. An interesting cast helps to liven up the scene some, but Jarmusch is overall concerned with what happens in the unnoticed moments than the reality of the ordinary. This is an extremely subjective film and something as mundane as plot is not the focus of the director.

Video


Presented in widescreen 1.85:1 HD 1080p 24/fps mastered using AVC MPEG-4 compression. This film is a visual delight with cinematographer Christopher Doyle exerting a master's touch from frame to frame. Universal has given this film an excellent transfer; the colors are bold, the details are excellent, the bright Spanish light is well represented.

Audio


Two audio options are included in either English/French/Hebrew/Japanese/Spanish DTS-HD Master Audio 5.1 surround or English/French/Hebrew/Japanese/Spanish LPCM 2.0 Stereo option. The 5.1 soundtrack is well mixed. Ambient sounds are versatile in the surround soundtrack and all dialogue is crystal clear. Subtitles are in English for the hearing impaired.

Extras


Arrow has only included a selection of well curated supplements.

"An American in Europe" interview with Geoff Andrew, author of "Stranger Than Paradise: Maverick Film-Makers in Recent American Cinema" (34:24).

"The Rituals of Control" is a video essay on the film by author and critic Amy Simmons (16:47).

"Behind Jim Jarmusch" archival documentary on the making of the film (51:20) this is an extended "making of" that includes behind the scenes footage of the director at work on the set.

"Untitled Landscapes" archival featurette showcasing the film's locations (4:07). Outdoor footage of the desert contrasting with the city.

Rounding out the extras is the film's original theatrical trailer (1:38)

Packaging


Comes packaged in a clear plastic Blu-ray keep case.

Overall


"The Limits of Control" is an interesting experiment into what makes a film a success, even though this film is not interested in supplying the definitive answers. Jarmusch is playing with the loose themes of genre filmmaking, but doing them in his own manner. The director is interested in finding his own answers in his own time rather than feeling bound to his audience's need for pure entertainment.

Note that this edition of "Limits of Control" is missing footage!
On the disc, the end credits of the film are incomplete with about 2.5 minutes missing, bringing the runtime to 113:35 rather than the full 116 minute runtime. The credits stop abruptly with the image and music suddenly cutting off and returning to the main menu. While nothing from the film itself is cut, the music credits and other staff's names have been mistakenly been left off. Arrow has stated that the disc will not be recalled or replaced.
| | | | | |
| --- | --- | --- | --- | --- |
| The Film: A | Video: A | Audio: A | Extras: B+ | Overall: A- |