The Film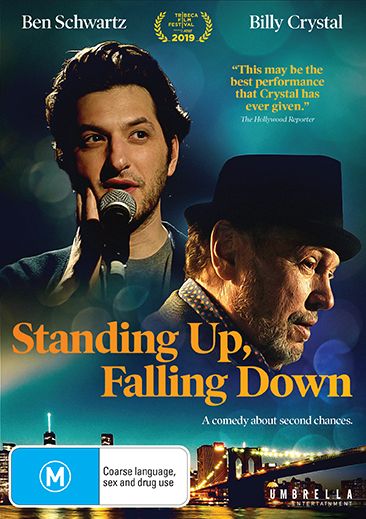 "Standing Up, Falling Down" (2019)

Scott (played by Ben Schwartz) is a 34 year old that tried his hand at stand up comedy in Los Angeles for the past few years. But as success never came by, he has decided to give it up and return to his parent's home in Long Island. His mother (played by Debra Monk is very loving and welcoming of his return while his father (played by Kevin DunnGrace Gummer) is 30 and still living at home and constantly teases her older brother.

Scott sparks up an unlikely friendship with Marty (played by Billy Crystal), a dermatologist in his 60s that makes his rounds frequently at the local bar, is a pot smoker, and alienated from his grown children. The two have little in common but somehow their influences on each other lead to major changes in their lives, for better or worse.

"Standing Up, Falling Down" may feature two funnymen in the leads but not all is fun and laughter in this indie dramedy. There are many genuine laughs such as Crystal's deadpan one liners that give great reactions from Schwartz's character not sure whether to take him seriously or not in many occasions. Schwartz in his stand-up scenes is able to deliver quite well with timing and yet is also going quite against his previously seen television and film roles with something more emotional. The reality setting in for a person in their mid-30s going through a life crisis is not unusual, by contemplating whether to settle down with a loved one with marriage and family or continuing in the single bachelor life of fun and games with career first. As if becomes clear in the story, the character of Scott is in an awkward place, as all his old friends are married, including Becky (played by Eloise Mumford), the girl he left behind for Hollywood. Scott is cynical, negative, and self deprecating while using humor as a sort of shield to escape from reality, which is quite the contrast to the character of Marty. Marty has a successful local clinic and always has a smile on his face whether he is sober, drunk, or high. No matter when he talks to bar patrons or his patients, he finds something funny to say. But this is also his shield to escape from reality, as his relationship distance from his son Adam (played by Nate Corddry) has only gotten worse over time, and the drugs and alcohol are also a way to escape from confronting the pain that he is feeling.

Writer Peter Hoare's script does have some great sequences in it and director Matt Ratner is able to give the actors enough to play with while not making things too centered on the filmmaking, rather putting emphasis on the character driven narrative. There are no particularly flashy visuals or techniques to take the stage away, and it might not have a particular stand out look, but it certainly feels fine for the production. As stated, this is an indie dramedy and it is not filled with many subplots or minor characters that leave a major mark, playing with a fairly intimate cast of characters while centering on two. The story doesn't take a lot of harder hitting chances, with even some of the more confrontational scenes not being as hard a punch as they could have been. Surely there could have been more but this is quite a lean story with both the content and the runtime at just an hour and a half. Some might even feel that the relationships could have been explored more, and the ending does slightly come abruptly. But "Standing Up, Falling Down" does a fair job in its comedic scenes and has some wake-up calls with its dramatic side. Was there room for more depth? Surely. Is there more to life? There must be with where the film was going, and as it shows for every negative aspect, there was a positive one thrown back to counter it.

Note this is a region 0 NTSC DVD

Video


Umbrella Entertainment presents the film in the 1.90:1 aspect ratio with anamorphic enhancement in the NTSC format. Being a new production it is hard to fault much with the look and the transfer. The scenes indoors at the bar with the darkness highlighted by neon certainly looks great, and even the outdoor scenes with the overcast skies are well balanced throughout. Skin tones look natural and detail is great throughout. There may be some digital blocking due to the standard definition format, but overall things look great.

The film's runtime is 91:06.


Audio


English Dolby Digital 5.1
The 5.1 track is mostly front and centered being a dialogue heavy piece. There are moments of music and effects such as the karaoke scenes and the crowds at the club which get some kicks from the surrounds, but they are not frequently used and are more for ambiance than anything else. Dialogue is always clear and well balanced, and there are no errors or damage to speak of.

There are no subtitles for the main feature.

Extras


There are no extras on the disc itself, not even the trailer. The trailer for the film has been embedded below, courtesy of Umbrella Entertainment.



Umbrella Entertainment opted to release the film on DVD and skipping a Blu-ray release. On the other side of the world in the United States, Shout! Factory has issued the film on Blu-ray, which includes a commentary track with the director Ratner along with Schwartz and Crystal, plus three featurettes and the trailer.

Packaging


The packaging states region 4 but this is a region 0 disc, playable on any DVD or Blu-ray player worldwide.

Overall


"Standing Up, Falling Down" may not break new ground in the dramatic comedy genre, but it certainly has some great moments from the leads with its small bromantic story. The Umbrella Entertainment DVD looks and sounds good, but unfortunately lacking any extras.
| | | | | |
| --- | --- | --- | --- | --- |
| The Film: B- | Video: A- | Audio: A- | Extras: F- | Overall: C |