The Film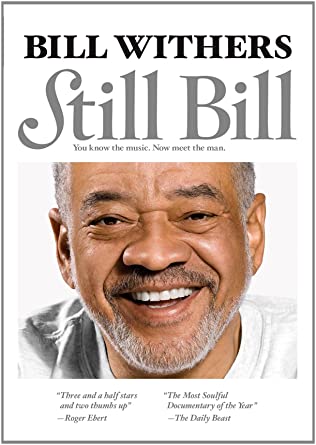 "Bill Withers: Still Bill" (2009)

On March 30th, 2020, singer songwriter Bill Withers passed away from heart complications in Los Angeles, California at the age of 81. Although Withers started his music career when he was 32 years old and was active for only 15 years in the business, he left an undying legacy and a catalog of incredible songs that has rarely been equaled by any other artist. He was a unique and honest artist that left a mark of positivity for listeners, he crossed genre boundaries by doing what he liked, and that resonated with the fans. It's hard to find a music listener that doesn't like Withers or appreciate his works. He may have not recorded any new music after 1985, but through cover songs, remixes, tracks featured in films and television, as well as being passed down from generation to generation, his voice lives on.

"Still Bill" is a documentary by filmmakers Damani Baker and Alex Vlack released in 2009, which chronicled Withers' life through newly done interviews with the singer himself, along with family, friends, other musicians, with vintage clips, photos, and more to chronicle his life both past and present. Born in the small coal mining town of Slab Fork, West Virginia on July 4th, 1938 as the 13th and youngest child in the Withers household, William Harrison Withers Jr. suffered from stuttering and was a quiet child for many years of his life. Considering how wonderfully he was able to tell stories through his songs as well as his conversations made in between songs at concert performances, it's hard to imagine the same man had a speech impediment years before. Following service in the armed forces, Withers moved to Los Angeles where he worked at the Douglas Aircraft Corporation installing toilets in 747s for a good few years while also making demos of his singing. In 1970 Sussex Records founder Clarence Avant took a chance on the soulful voice of Withers' demos, and a deal was signed for three albums. With a mix of soul, blues, folk, and rock, with lyrics that were focused on friendship, love for family, beauty in dark times, as well as a cover of The Beatles' "Let It Be", the first album "Just as I Am" was released in 1971. The first single "Ain't No Sunshine" went against convention by not having an intro to the song, instead beginning with the chorus. It reached number six on the US R&B Chart and number three on the Billboard Hot 100 chart, and winning Best R&B Song in 1972 at the Grammy Awards. The second single "Grandma's Hands" was a love letter to his late grandmother, and the sweetness and beauty of the track was one that sent warmth to the listeners hearts as well as tears of joy to the listeners hearing Withers reminisce. Though it was not an obvious hit by formula, it reached number 18 on the Best Selling Soul Singles chart and 42 on the Billboard Hot 100 and became one of Withers' most covered songs.

Over the years Withers recorded the number 1 hit "Lean on Me" and the number 2 hits "Use Me" and "Just the Two of Us", plus classics and favorites like "Lovely Day", "I Can't Write Left Handed", "Kissing My Love", "Hope She'll Be Happier", "Oh Yeah" and many more throughout the years. But with seven studio albums in the 1970s, and only one album in 1985 following a full seven year gap between the last, Withers decided to call the music business quits. "Still Bill" not only focuses on the hits and the times Withers was riding on success, but also the troubles he went through during his time as a recording artist. From the troubles Sussex Records had with money and eventually with promotion of his third album "+'Justments", his move to Columbia Records where there were so called "Blaxperts" who wanted to have Withers be more "black" for the black music audience, and his disillusion with the business in general. The documentary doesn't go fully into other issues such as what happened during the seven year gap between the underrated "'Bout Love" and "Watching You Watching Me" albums, nor do they go into the issues had with his first marriage to actress Denise Nicholas which only lasted a short period. Withers' songs and his image was about positive thoughts and the documentary certainly reflects more in that direction than in others.

There are some great moments in the documentary such as him returning to Slab Fork to visit old friends and his brother's grave and reminiscing about his childhood times. There is also a segment of Withers visiting a school to treat children with stuttering in which he also discusses his troubles with speech as a child and how he was able to overcome it while also struggling suddenly as an adult from time to time. Possibly the greatest highlights are of Withers in his home recording studio which he admits he does not know how to work fully, where he recorded some new tracks over the years with the help of his daughter Kori who has an incredible singing voice but has not embarked on a music career of her own. There are teases of a comeback album being made, but as fate would have it, there wouldn't be a completed new album released during his lifetime. But as he says in his own words, he was content on being happy rather than struggling and as it shows in his later interviews, he was living comfortably and able to crack a smile open with inspirational words and gestures to family and friends, like a reflection of his music.

"Still Bill" is a fairly short and condensed look at the life of one of the greatest singers of the twentieth century with a runtime of only 76 minutes. He never went platinum in sales figures, though he had three gold albums and some gold singles. It wasn't about sales or selling out, but for Withers it was about being true to himself, making the music he liked and doing things the way he wanted. Fans would not have wanted it any other way either. The world will miss you, Bill Withers. As you said in the final lyrics of "Grandma's Hands", "If I get to heaven I'll look for Grandma's hands." You've obviously made it there to see Grandma with open arms again. Rest in peace.

Note this is a region 1 NTSC DVD

Video


Docurama Films/New Video presents the film in the 1.78:1 aspect ratio with anamorphic enhancement in the NTSC format. The vintage clips can look a little rough coming from older video sources, but the newer late 2000s interviews look very good with bright and beautiful colors, great clarity in detail. Whether outdoors or indoors, the lighting always looks great. There is little to fault with the overall transfer here.

The film's runtime is 76:18.

Audio


English Dolby Digital 5.1
English Dolby Digital 2.0 stereo
There are separate 5.1 and 2.0 stereo tracks available for the film. While it is a music documentary, the speaker separation for the music sections are quite important and both tracks do a great job using the surrounding speakers for the music. Dialogue is kept mostly centered, and there are no particular issues with dropouts or other errors to speak of.

There are no subtitles for the feature.

Extras


"Play All"
There is a "Play All" which will continuously play in order the video based extras.

Conversation with Bill Russell, Jim Brown, and Bernie Casey - Winter 2007 (5:32)
Former NBA star Bill Russell and NFL stars Jim Brown and Bill Russell gather at Withers' home as they give their accolades for the singer, as well as Withers showcasing a song that has been in the works for over a decade.
in anamorphic 1.78:1, in English Dolby Digital 2.0 with no subtitles

Conversation with Graham Nash - Spring 2007 (1:36)
Crosby, Stills & Nash's Graham Nash talks to Withers recalling the first time they met, which was while Withers was in the studio recording "Ain't No Sunshine".
in anamorphic 1.78:1, in English Dolby Digital 2.0 with no subtitles

Conversation with Ernie Barnes - Winter 2007 (1:55)
Former football player and artist Ernie Barnes talks to Withers about "Grandma's Hands" and about the influence grandmothers had on their generation.
in anamorphic 1.78:1, in English Dolby Digital 2.0 with no subtitles

"Who Is He and What Is He to You" performed by Corey Glover - Celebrate Brooklyn Concert, August 9th 2008 (5:26)
The performance of Living Colour's Corey Glover covering Withers' 1972 song which was seen partially in the documentary is shown in full here.
in anamorphic 1.78:1, in English Dolby Digital 2.0 with no subtitles

"Stories" performed by The Swell Season - Celebrate Brooklyn Concert, August 9th 2008 (4:23)
Glen Hansard and Markéta Irglová, the stars of the film "Once" which became a real life couple for a short period and a musical duo perform a cover of Withers' 1974 song.
in anamorphic 1.78:1, in English Dolby Digital 2.0 with no subtitles

"Ain't No Sunshine" performed by Yim Yames of My Morning Jacket - Celebrate Brooklyn Concert, August 9th 2008 (3:17)
Yames performs a great soulful cover of Withers' classic.
in anamorphic 1.78:1, in English Dolby Digital 2.0 with no subtitles

Filmmaker Bios (text)
Two pages each for Damani Baker and Alex Vlack

About Docurama (text)

DVD Credits (text)


One thing that might be unfortunate to note is there isn't any piece in the film or extras of Withers performing besides the vintage footage. There are moments in the studio which tease a possible performance, or when a person in the street starts singing one of Withers' songs in which he replies back that the passerby sounds better than him. There is also no commentary, no trailer, no input from the documentary filmmakers themselves about the project or their thoughts on Withers and his music. Although not included on the disc, the trailer has been embedded below.



Overall


"Still Bill" is a great look at the life of late Bill Withers in his later and quieter years of his life while reflecting on his past and his influential works with a sense of peace and positivity. It's very unfortunate that the world has just recently lost this icon of music and hopefully his words of healing will find a new audience again in these troubled and uncertain times. You music will live on.
| | | | | |
| --- | --- | --- | --- | --- |
| The Film: B+ | Video: A | Audio: A | Extras: C | Overall: B+ |