The Film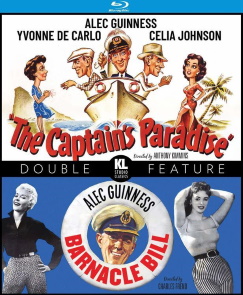 The comic stylings of Alec Guinness are showcased in this Kino Lorber double feature Blu-ray release of The Captain's Paradise and Barnacle Bill.

The Captain's Paradise: Ever since he was a child, Captain Henry St. James (Guinness) has looked for the secret of happiness; and, in spite of being executed by firing squad in the fortress of the North African island of Kalik, his chief officer Carlos Ricco (The End of the Affair's Charles Goldner) tells St. James shocked uncle (Peeping Tom's Miles Malleson) that his nephew did indeed find it. Henry was captain of The Golden Fleece, a passenger boat that sailed between Gibraltar and Kalik, where he had a reputation among the admiring ladies as a man's man preferring whit over flattery at the Captain's table, and his crew of Kalik natives knew him as the fun-loving husband of beautiful Nita (Criss Cross' Yvonne de Carlo) who go out dining and dancing every night. His colleagues in Gibraltar, on the other hand, know him as the stiff-backed, dutiful naval man and husband of Maud (Brief Encounter's Celia Johnson), preferring "A nice simple meal and early to bed. That's his idea of bliss." Trusted officer Ricco discovers the truth when The Golden Fleece's engine needs replacement parts and he must step off the boat in Gibraltar and visit Henry, where he nearly gives the game away by confusing Maud for Henry's housekeeper and flirts with her. Henry tells Ricco of his system ("Two women, each with half the qualities necessary for a man; and therefore, quite easy to find, and once found, never to meet"), whereupon Ricco becomes not only his confidante but also complicit in his deception when it nearly comes crashing down when Maud impulsively visits Kalik (having never set foot on the island before). Although the near-meeting of his two wives is averted through Henry's cunning (and bribery of local officials) – resulting in public embarrassment for Maud and utter confusion for Nita – Henry is unprepared when his two wives desire change in their lives which threatens to turn each into the opposite of what he desire. Maud crave excitement and variety while Nita starts setting up house, teaching herself to cook from Mrs. Beeton's book. When Henry reacts poorly to these upheavals, both women may seek their own secret to happiness elsewhere.

For the most part, The Captain's Paradise skirts actually being about a chauvinist fantasy rather than actually being one in the way it depicts Maud and Nita as halves of a perfect woman not just from Henry's point-of-view but feeling incomplete because he has imposed limitations on their lives through overt manipulation in Nita's case – telling her that if cooks, she will grow old and ugly – and more subtle manipulation in Maud's case so that she does not dare ask when their couple friends (Doctor at Sea's Nicholas Phipps and Expresso Bongo's Ambrosine Phillpotts) suggest a midnight trip to the beach when Henry must get in his eight hours of sleep (only to then audaciously cut to another night with Henry running into the waves and sweeping Nita into his arms). He similarly manipulates his own crew by keeping them ignorant of half of his life by being the only person on The Golden Fleece to hold a British passport; thus, the only one of them who can step off the boat in Gibraltar. He "gives" Maud twins to distract her when she is dissatisfied, and then the most modern sewing machine to fill the hole left when the children are sent off to England for school. While he is understandably jealous when Maud makes a spectacle of herself dancing with charming cousin Bob (No Orchids for Miss Blandish's Walter Crisham); but, when he discovers that Nita plans to run off with taxi driver Absolom (Eye of the Needle's Bill Fraser), he seems more betrayed by his favorite cab driver – with whom he has had a condescendingly benevolent relationship throughout the film – acting out of character than Nita's defiance. The ending seems to let Henry off too easily, especially since his decision seems less about escaping his life than escaping social embarrassment on both sides of the water, but Guinness is engaging throughout in spite of his character while de Carlo and Johnson are window dressing by design. The supporting cast includes many character actors who would become more recognizable in later years, including The Fearless Vampire Killers' Ferdy Mayne, Family Affair's Sebastian Cabot, and The Mummy's Shroud's Roger Delgado typecast in ethnic supporting bits.

Barnacle Bill: Guinness is William Horatio Ambrose who, as the film opens, meets with a reporter (Passport to Pimlico's Harry Locke) to tell the story of how he was awarded the Lloyd's Medal despite being the only Ambrose in six generations of seamen – which included illustrious ancestors who rather disastrously served with Cooke and Nelson – to suffer from violent seasickness at the slightest wave (earning him the nickname "Midshipman Queasy"). Retiring from a distinctive (rather than distinguished) career in the navy after spending much of his career doing secret trials for seasickness remedies on simulated vessels, Ambrose is still eager to live up to his family tradition with his own command, so he purchases for £5,000 Sandcastle Pier, a shabby nautically-themed amusement pier, treating the lackadaisical employees as his own men (already dressed for the part as they are). His leadership quickly rubs some the wrong way, including Figg (Cromwell's Victor Maddern) who quits and goes back to his old job sailing a dredger, and magician Artie White (The Crawling Eye's Warren Mitchell) when he shows him up during his act. Ticket taker Tommy (The Cockleshell Heroes' Percy Herbert) is promoted to First Mate and seems at least ready to humor Ambrose. Taking up residence in the off-kilter Crazy Cottage, Ambrose sets about addressing the rundown attractions starting with the gaming machines which the council has banned as gambling, leading to the first of many confrontations with the Town Council's Miss Barrington (The Red Shoes' Irene Browne) who owns the bathing huts on the beach. When the Town Council has the police seize the machines, he gets them back by having fifteen-year-old engineer Reggie (Martyn Woodman) play them and prove that they are games of skill rather than chance. Ambrose is hassled by the local beatnik teenagers but invites them to see the floor show that night. When they discover there is no show, the teenagers hit upon the idea to turn the stage into a dance hall, helping to clean and redecorate even as they are partying. Unfortunately, the racket attracts the police and Ambrose is fined for not having a permit. When Ambrose decides to open a bar on the pier, he meets with more opposition from the council, which also includes mayor Crowley (The Alphabet Murders' Maurice Denham). Ambrose in unaware that Crowley sold him the pier to make a quick buck and is planning to get it back through "compulsory purchase" for half the price in order to demolish it for a new marine drive. When Barrington discovers that they also plans to demolish her bathing huts, she accuses Crowley and the other council members of self-interest, with Crowley's firm getting the job, and Bullen (A Night to Remember's George Rose) of the planning committee getting the demolition materials for scrap, among others. When Ambrose shows her some sympathy, she tells him the council's plans and he strikes back by registering Sandcastle Pier as a foreign vessel on a technicality and starts running the pier as a cruise ship for seasick customers using Barrington's bathing huts as accomodations. When Crowley and the others discover they have been outwitted, they try to levy dock fees; whereby, Crowley unmoors the pier from the land and the party continues. Crowley and Figg conspire with the council to sabotage the pier, but Ambrose and his men have radar and are ready for a major sea battle.

The zanier of the two comedies in this double bill, Barnacle Bill has Guinness willing to twist his dignified image any which way for a laugh – including a series of sight gag flashbacks as he plays several of his ancestors – although he actually did the film as favor for director Charles Frend (A Runyou're your Money) and regarded the entire experience as "wretched." Ealing veterans T.E.B. Clarke as writer and Michael Balcon as producer try the old formula, but the film is not as clever and does not make so much social commentary as stack the deck with blatantly hypocritical and corrupt characters outwitted by stiff if honorable characters. There are plenty of laughs to be had, even with the villains playing at their broadest (particularly Denham). The supporting cast includes several players who would become more recognizable later on, including Donald Pleasance (Cul-de-Sac), Agatha Christie's Miss Marple's Joan Hickson, author Jackie Collins, Miles Malleson (Stage Fright), and Lionel Jeffries (Eyewitness).

Video


Released theatrically in the U.K. by British Lion and the U.S. by Lopert Pictures (a year before it was purchased by United Artists and used as a sublabel for provocative pictures), The Captain's Paradise was released on VHS by NTA Entertainment (which later became Republic Pictures Home Video who licensed some British Lion titles from Lumiere International which was later purchased by Studio Canal) and then by HBO Home Video – along with an Image Entertainment laserdisc double bill with Ealing's Kind Hearts and Coronets, and debuted on DVD in the U.S. as part of the Studio Canal-licensed five film Alec Guinness Comedy Collection in 2002, with the same five titles reissued by Lionsgate when they had a long term deal with Studio Canal catalog. In the U.K., the film was released separately in 2005 by Optimum Releasing – who subsequently were subsequently bought by Studio Canal – and then in 2007 as part of the five film Alec Guinness Collection. Kino Lorber's 1080p24 MPEG-4 AVC 1.37:1 pillarboxed fullscreen Blu-ray marks the film's debut in the format, and Studio Canal's 4K restoration is spotless with a nice delineation of blacks, whites, and gray, differentiating the bright and hot Kalik from the dark and chilly Gibraltar.

Released theatrically by MGM in the U.S. as All at Sea (the English translation of Ambrose' Latin family motto), Barnacle Bill was one of the MGM titles acquired by Turner Entertainment, subsequently winding up with Warner who released it on their Archive Collection DVD-R line as All at Sea either because that is what was on MGM elements or so as not to confuse it with the 1941 Wallace Beery vehicle also released by Warner Archive. The film somehow wound up with Studio Canal and is also presented here in a new 4K restoration. Although previous DVD versions – including Optimum Releasing's DVD have been presented at 1.33:1 and the film's U.S. theatrical release was 1.85:1, Kino Lorber's 1080p24 MPEG-4 AVC widescreen transfer is presented at 1.66:1 and looking compositionally correct (although the slightly narrower American matting probably would not have been disruptive). Like the film's co-feature, Studio Canal's restoration looks great although the film's locations, studio work, and cinematography display a wider range of contrasts that the disc's co-feature with the deep black levels proving themselves during the film's climax on the water.

Audio


Both films come with DTS-HD Master Audio 2.0 mono tracks which are technically undemanding, delivering clear dialogue, music, and effects (with Barnacle Bill being slighlty more adventurous during its climax in terms of sound design). Optional English SDH subtitles are included for both films.

Extras


The only extras are a theatrical trailer (2:07) for The Captain's Paradise and bonus trailers for three Ealing Studios Guinness vehicles released by Kino Lorber.

Overall


Kino Lorber provides the opportunity for Alec Guinness fans to to assess two of his lesser known comedy vehicles with their double feature of The Captain's Paradise and Barnacle Bill.