The Film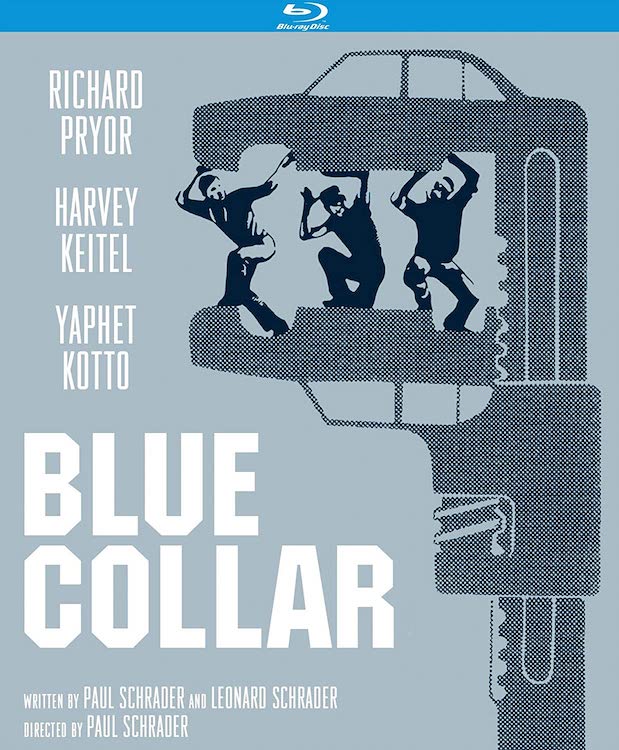 Plenty of film noirs have dealt with the topics of guilt, bad fortune, bad luck, and hard times, but no film has approached the topic of desperation quite like Paul Schraderís directorial film debut as "Blue Collar" has. Schraderís name may be familiar to most film viewers because he was the man behind the screenplays for Martin Scorseseís powerful narratives: "Taxi Driver" (1976), "Raging Bull" (1980), "The Last Temptation of Christ" (1988), and "Bringing out the Dead" (1999). Schrader has directed 18 feature films and his latest "First Reformed" (2017) earned him his first Academy Award nomination. We cannot speak of Schrader without mentioning that he was raised as a Calvinist by his parents and he did not see his first film until he was 17 years old. That religious upbringing helped shape his approach to film making and writing; essentially man is doomed, pre-destined to fail, and he is usually his own worst enemy. Schrader has pondered this line of thought throughout his films and it truly takes center stage in "Blue Collar".

The film starts on location at the Checker Cab Company in Detroit; the soundtrack blasts a blues inspired song bellowed by Captain Beefheart & The Magic Band. We are shown the assembly line with its loud machinery belching sparks, the workers resembling ants as they work on the vehicles coming down the line. We see various men and women working, assembling the vehicles, while management essentially stands around and watches for slip-ups or slackers. Then the whistle blows and we are introduced to our three protagonists: Zeke Brown (Richard Pryor), Jerry Bartowski (Harvey Keitel), and Smokey James (Yaphet Kotto). Zeke is a devoted family man with three kids, Jerry is the man in the middle, also a family guy with children, and Smokey is an ex-con who sees himself as a ladies man. After work the trio heads to the bar where they get together, to bitch about their problems, and all three are union members. It isnít the best deal going, but itís a living. Schraderís camera is observant and he doesnít do anything fancy; usually the camera is stationed at a distance and we observe the men in their natural habitat. The dialogue is natural and we can easily see the menís personalities shine as it reveals their true characters. They are true middle class working heroes, the kind of men many Bruce Springsteen songs are about. Schrader has set the scene, however he has bigger things in mind for our protagonists than merely a meditation on the working man.

Some critics have made the mistake that this is an anti-capitalist film or even an anti-union film, but it isnít that simple. The men are honorable people but like all honest folks they are being given a raw deal by the factory supervisors. The shopís steward is abusive and dictatorial; there is a basic lack of respect to the workers and the union does nothing to help the situation. The men take it and take it but there comes a breaking point where the three men agree that they canít take it anymore and they must retaliate the only way they know how. Schrader shows us the factory workers attending a union meeting; it is clear that the union is only concerned with its own agenda. The time comes for complaints and Zeke stands up and tells the union steward that his locker is broken. It has been broken for a long time now, but nothing gets done. Zeke has complained and complained, but still the locker remains broken. He has to use his pinky finger to open it and then he gets injured; he reverts to jamming a pen into the hole, but the pens keep breaking off.

Pryor is excellent as he takes the stuff of his stand-up act and transforms it into something greater. Sure, it isnít the end of the world, but the union doesnít really care that this man is unhappy. Then why be a member? I can hear you ask, because the union is the only thing that these people can believe in; it promised higher wages and it delivered after a walkout occurred. Many people have not worked in this type of situation, and often the union is the only way to get fair wages and better working conditions. Like I stated earlier these are ordinary men doing the best that they can do and until something better comes along (highly unlikely), this is the hand that life has dealt them. Schrader is masterful in his use of space and he shows us the menís homes; Zekeís is pretty basic but it is functional. The console television is probably the most expensive item in his living space and the dťcor is blatantly ugly and bland.

Jerry is hardly better off and Schrader shows us the family sitting down to a dinner featuring ďhamburger helper.Ē When his son complains that he is still hungry Jerry shows him the box and tells him that it ďserves four. How can you be hungryĒ he asks as if it is merely a mathematical problem that needs solving. He wonders where his daughter is and his wife tells him that she had a hard day. When he asks what the problem is, he is told that because she needs braces, the girl attempted to fix it herself with pieces of wire and ended up cutting her mouth. Jerry is humiliated and gets angry. The only person that isnít having family issues is Smokey but that doesnít mean that he is free and easy. He may drive a flashy red car, but the local numbers guy is after Smokey because he is behind in his payments. All three men are feeling the vice grips of economic pressure being applied to them. They are members of a familiar race of people known as ďthe working poor.Ē Schrader has set up this scenario carefully by showing us the place where the men work, the bar where they drink, and their homes. As the film continues the plot continues to expand and change until the film is hardly where it begun.

After the union meeting Zeke, in exasperation, heads downtown to see the union representative Clarence Hill (Lane Smith) hoping to air his grievance. It is while here that Zeke gets the bright idea of obtaining some easy money by breaking into the offices and robbing the place. Zeke is under the impression that the large walk-in vault that the union routinely uses as a storage area is holding a vast sum of cash and that all they need to do is walk in and collect it. The three men are forced to take action after a series of financial issues come to a head. We witness Zeke get a visit from the IRS by an agent (Leonard Gaines) who actually is there to do a head count of his off spring; he claims six but in reality there are only three. The agent also is calling on Zeke regarding some unreported wages and this pushes him over the edge. Tapping into that anger that Richard Pryor utilized so well, his character blows a cork and throws the man out. It is almost as if Schrader is saying - even though you all have jobs, you are still being screwed by life, and so you have no choice but to enter into a criminal enterprise. The three men thinking that they are going to walk into the union headquarters and take the dough is a daydream and there are unforeseen consequences to their actions.

The film departs from the dramatic area and takes a detour into caper territory, but Schrader also gets an opportunity to have his leads do some comedy as well having the men don some truly idiotic disguises when they are forced to confront a guard that makes the mistake of interrupting the robbery. The men find a small safe inside the larger walk-in vault and decide to steal it because thatís where the money must be kept. Back at the garage they use a welding torch, and they open the safe only to find a ledger and an envelope containing a minuscule amount of petty cash. So much for their dreams of striking it rich. Later after they have divided their haul, Zeke takes the time to eyeball the ledger from the safe. It is the unionís ledger and it is filled with telling evidence of loans made to suspicious individuals at exorbitant rates of interest, then it dawns on him that it is their dues that are supplying the ready cash. What should they do now? Turn it over to the authorities or blackmail the bastards?

The remainder of the film focuses on the three men as individuals and their separate fates: Zeke is offered a cushy union job as a supervisor, Jerry decides to contact the FBI agent that had been snooping around earlier in the film looking for some risky behavior, and poor Smokey James really get the sharp end of the stick as his death is arranged in a grisly work accident. All three men come out at odds with each other and their disillusionment is apparent as their former friendship is left behind in tatters. Schrader pauses the film at its conclusion with a freeze frame right before former allies Zeke and Jerry are about to come to blows. The ending is pitch perfect as what started out as a buddy picture ends up with the remaining survivors completely transformed into strangers. The viewer is left to ponder were the men better off now than where they had started? With Schraderís version of cinema, there never are any easy answers and the film goer is left with plenty to think about as well.

Video


Presented in the film's original theatrical ratio of 1.85:1 widescreen and mastered in HD 1080p 24/fps using AVC MPEG-4 compression. Overall it's a very good presentation; Universal Studios sourced the remaster from a version that was utilized for an Indicator/Powerhouse Film release in 2018. Some scenes are a tad weak; especially the darker scenes have some limitation visible but in general this film looks very good. The interior scenes that are well lit are very good.

Audio


English DTS-HD Master Audio 2.0 mono is the only one standard audio track available, the dialogue tracks are clear and easy to understand. The musical soundtrack is exceptional featuring the title track by Captain Beefheart & The Magic Band and some excellent Ry Cooder guitar playing during the quieter moments. The soundtrack was composed by Jack Nitzsche. The film includes optional English for the hearing impaired subtitles.

Extras


Kino Lorber has included a helpful audio commentary track that features co-writer/director Paul Schrader discussing the problems that he experienced on the set with the three main actors with critic/author Maitland McDonagh who moderates.

The disc also includes the film's original theatrical trailer (2:36), as well as a collection of bonus trailers for:

- "Report to the Commissioner" (2:20)
- "Across 110th Street" (2:57)
- "The Border" (1:40)
- "City of Industry" (2:04)

Packaging


Packaged in a standard Blu-ray keep case.

Overall


"Blue Collar" is an amazing film and for a debut, Schrader seems to capture the true essence of an existential situation. Using authentic locations to set up his storylines, Schrader presents us with a serious drama utilizing three strong presences to expose the working manís dilemma.
| | | | | |
| --- | --- | --- | --- | --- |
| The Film: A | Video: B+ | Audio: A | Extras: B- | Overall: B |