The Film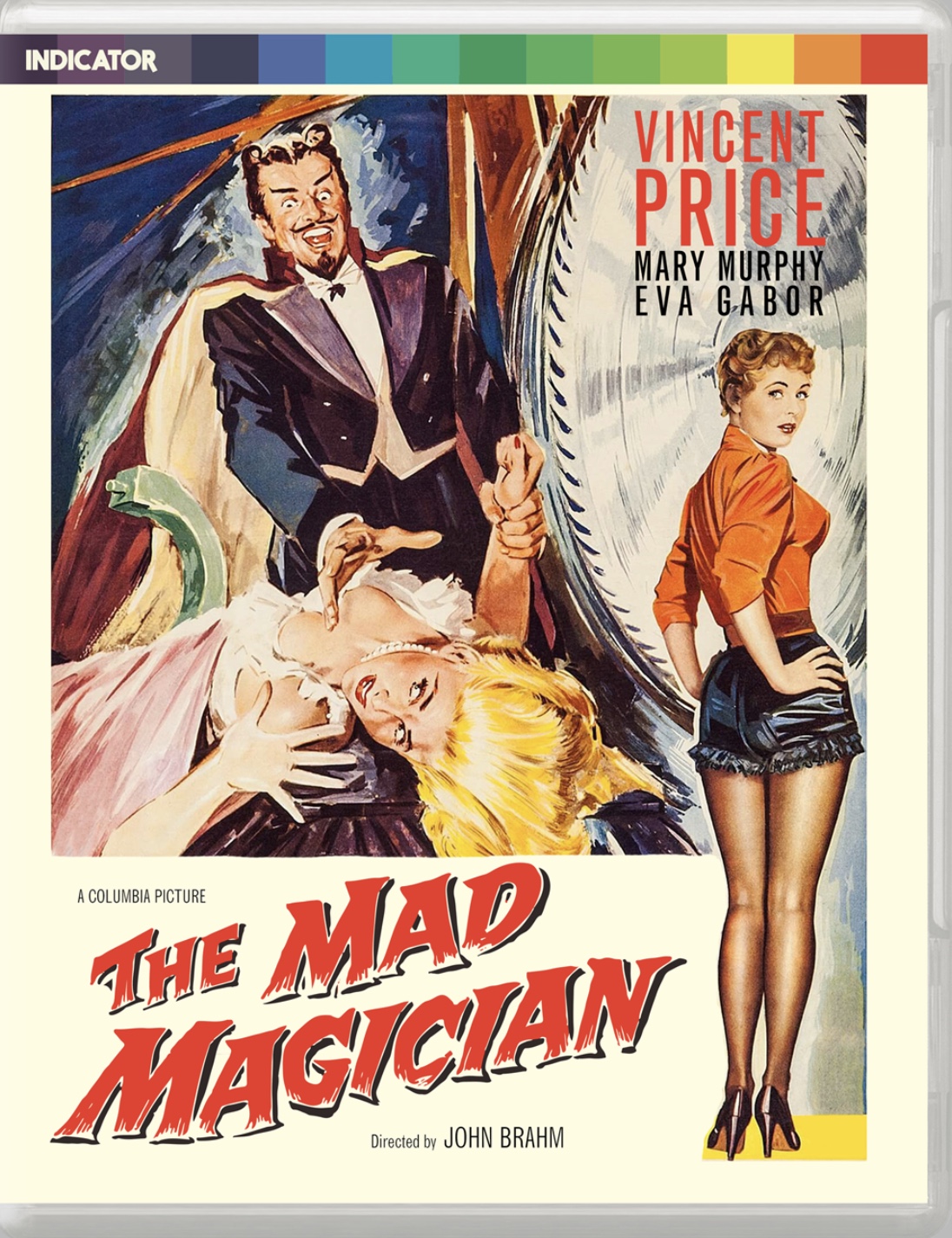 Made shortly after the box-office success of House of Wax, The Mad Magician returns Vincent Price to the world of three-dimensional horror. He plays Don Gallico, the creator of elaborate illusions for stage magicians, who seeks their fame… and will turn to murder to achieve it!

Directed by John Brahm (The Undying Monster), The Mad Magician is presented in two- and three-dimensions, and is accompanied by a pair of 3D comedy shorts by the Three Stooges.

Video


Agreeable clone of House of Wax (1953) is no classic, is indifferently written and at times rather flatly photographed and not in the same vibrant colour. However, anything with Vincent Price is usually good value and elevated by his performance and The Mad Magician is no different. It'll never be one of his best but it's still worth seeing for buffs.

The 3D is good fun and effective with plenty of depth via gimmicks popping out of the frame. It's solidly directed by veteran John Brahm and the cast have fun but the only one that really stands out after Price is Lenita Lane as the nosy parker mystery writer Alice Prentiss.

Image quality is typically fine as it's a Sony 2K restoration. Gamma is perfectly balance with no bias that I could detect. Black levels and contrast work in perfect concert to ensure detail is very much present. As usual faces and fabrics really benefit in closeups; set dressing is also impressively visible at all times when intended. There are some shits where focus is used to create more of a 3D effect with foreground or background thrown out deliberately to accentuate something.

Grain is healthy throughout and beautifully handled by the expert encode; I saw no print damage, digital tinkering nor digital artefacts.

3D has been beautifully handled. I also have the 2017 US Twilight Time disc and the 3D has been handled even better because the encode is more solidly done on this Powerhouse disc. The US release was no slouch, but they don't have David Mackenzie and .fidelity in Motion working for them.

I saw very little crosstalk and it all worked beautifully throughout; I find that B%W 3D plays better than colour and when comparing the main films on this disc to the 3D shot extra feature my view hasn't changed. Creature from the Black Lagoon (1954) remains my single best 3D experience both on the big screen and at home.

My only quibble, and that is one I have with 3D releases in general - especially more modern films - is that I had to knock the brightness up a notch or three and increase sharpness from 0 to 50% as the glasses tend to dim and soften the image. Those with younger, stringer eyes kay not need to do that.

In any case, this is a first class presentation with image quality that could only be bettered by a 4K restoration and subsequent UHD BD release.

1080/24p / MPEG-4 AVC / 1.85:1 / 72:51

Audio


English LPCM 1.0
Subtitles: English HoH

A very florid and robust soundtrack; you gotta love the melodramatic score and with Price as the lead the track has it's work cut out when he cuts loose. Dialogue is always legible, music never intrudes and I heard no distortions to speak of. An excellent track

Subtitles for the hearing impaired are available and typically meticulous; kudos to those responsible.

Extras


Audio Commentary with film historians Kevin Lyons and Jonathan Rigby

A typically excellent, warm, funny and informative yaktrak; a conversation between two old pros at this kind of things. Plenty of information about the cast, crew, 3D and horror cinema at the time. The sound on this did bleed into the surrounds when played on my 5.1 amp. (The track is Dolby Digital 2.0 Stereo)

"Three-Dimensional Magic: Frank Passingham and Tom Vincent on The Mad Magician" (2D / 3D) 2020 featurette (15:02)

Super 8 Version #1 (silent) (8:34)
Super 8 Version #2 (16:22)

Rough looking, soft vintage home video versions; both in anaglyph 3D (green & red). The first is silent with subtitles, the second with sound.

Theatrical Trailer (2:09)

Price dominates this vintage promo piece.

The Mad Magician Image Gallery: Original Promotional Material (32 images)

Solid HD still gallery.

"Spooks!" (2D / 3D) 1953 short film (15:47)
"Pardon My Backfire" (2D / 3D) 1953 short film (15:59)

Two amusing shorts also presented in 2D and 3D. Although these have been restored they do look a shade (only a shade) rougher that the feature. Grain is courser, image overall a little softer. The 3D is of the same quality in the digital handling by the excellent encode. However, these are much more gimmicky than the main feature. Ultimately, you either find the Three Stooges funny, or you don't; I do and these are very amusing.

40-page booklet with a new essay by Kat Ellinger, a look at the career of producer Bryan Foy, an archival interview with director John Brahm by David Del Valle, a guide to the promotional campaign, an overview of contemporary critical responses, Jeff Billington on the Three Stooges' 3D shorts, and film credits

Another in the indispensable, superb booklets from Powerhouse Films. Packed with contextual material and beautiful images. It covers both the main film and the shorts.

Packaging


Standard, clear BD Keepcase.

Overall


A superb release and as it's Powerhouse Films maiden 3D release I pleased to say that they've done a bang up job of handling the encode; picture and sound are topnotch and the 3D works a treat. Extras are not quite as prolific as many other Powerhouse Films' releases but the commentary, featurette, booklet and shorts are all valuable.
| | | | | |
| --- | --- | --- | --- | --- |
| The Film: C+ | Video: A+ | Audio: A+ | Extras: B+ | Overall: A |