Legal Eagles [Blu-ray]
Blu-ray A - America - Kino Lorber
Review written by and copyright: Eric Cotenas (20th April 2020).
The Film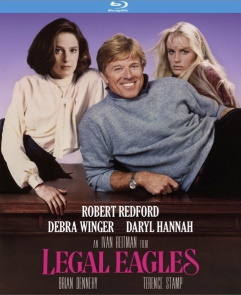 Assistant District Attorney Tom Logan (Butch Cassidy and the Sundance Kid's Robert Redford) has it all together at work – already slated to be the next district attorney ahead of his boss' as-yet-unannounced retirement – but is floundering at home as a divorced father with weekend custody of a teenage daughter Jennifer (Heaven Help Us's Jennifer Dundas) sworn to secrecy about his domestic incompetence from his ex-wife Barbara (Jumpin' Jack Flash's Sara Botsford). In spite of plucky defense attorney Laura Kelly's (The Sheltering Sky's Debra Winger) reputation for daring courtroom maneuvers – including putting a dog on the witness stand – Tom easily bests her the first time they face off against one another. When Tom refuses to discuss the case of Chelsea Deardon (Wall Street's Daryl Hannah), who is accused of trying to steal a painting from gallery owner Victor Taft (Superman's Terence Stamp), she crashes the dinner to announce his candidacy for District Attorney in front of the press to force him to hear her. A performance artist, Chelsea claims that the painting she tried to steal was a birthday gift to her from her artist father Sebastian Dearden (The Climb's James Hurdle) who died in a fire on her eighth birthday (a fire in which the painting supposedly also went up in flames). Tom and Laura visit Taft and are seemingly mollified when the painting in question does not have an inscription from Chelsea's father on the back of it and Taft has decided to drop the charges. Chelsea, however, tries to seduce Tom, claiming that Taft must have shown them a different painting and that a man has been following her. Tom disbelieves Chelsea until a mysterious man opens fire on him in the street. That same night, Laura gets a visit from Detective Cavanagh (Silverado's Brian Dennehy) who claims that his investigation into the Dearden fire as arson was hushed up and gives her the confidential case file and the insurance claims; whereupon, Tom and Laura discover that the painting Taft showed them was one of several Deardens that Taft and his partner Forrester (Blow Out's John McMartin) filed insurance claims for that were paid out. After Laura accuses Taft of fraud, she and Tom follow him out to a dockside warehouse and discover incriminating evidence that goes up in an explosion that nearly takes the with it. A distraught Chelsea climbs into Tom's bed claiming that she took a gun to Taft's loft and got in a scuffle with him, only for the police to show up the next morning to arrest her for Taft's murder. The resulting bad publicity for Tom results in him getting fired; however, he teams up with Laura to defend Chelsea against his professional rival Blanchard (The Thing's David Clennon) and discover the identity of the real murder and the location of the paintings.

Director Ivan Reitman's forty million dollar follow-up to Ghostbusters is a shockingly forgettable affair that does not know whether it wants to be a zany comedy or a modern film noir; indeed, it makes Reitman's other pre-Ghostbusters II effort Twins seem like a masterpiece. Redford and Winger are good as usual but they are no Tracy and Hepburn (the comparison made in some of the press materials) while Hannah feels as wasted here as Stamp who is relegated to red herring. Comic situations are set up but the laughs are few and far between, while the thriller aspect comes across no better with a long setup before most viewers will realize that the film is supposed to be a thriller in addition to a romantic comedy. One is unsure whether the script itself – by Jim Cash (Top Gun) and Jack Epps Jr. (Dick Tracy) – is to blame or post-production shuffling since the setup is a lot longer on telling than showing. We know that Tom is charismatic and good at his job because we are told that by various characters, just as we know that Laura is a spitfire; indeed, we do not really get to see the two show off their real courtroom swagger until eighty-odd minutes into the two hour film; and indeed, Redford is good in the courtroom scenes. Rumors of multiple endings were borne out by an entirely alternate ending seen in TV prints, and suggests a movie ultimately made by committees and test audiences. Just as disappointing as the underuse of Stamp is that of Clennon who was by this time typecast as an asshole but here makes about as much of an impression as Christine Baranski (The Good Wife) as Logan's hapless assistant so don't expect any of the Dan Ackroyd/William Atherton-type Ghostbusters exchange in the courtroom. The contributions of film's Ghostbusters alumni are rather undistinguished from the photography of the great László Kovács (Easy Rider) and production design of John DeCuir Jr. (Fright Night) to the scoring of Elmer Bernstein (An American Werewolf in London). The film was also a considerably less demanding job for Richard Edlund's BOSS Film Studios than Ghostbusters or Big Trouble in Little China and Poltergeist II: The Other Side from the same year. Action set-pieces are technically proficient but fail to stand out from any of the film's contemporaries, and the film's romantic core gets about as much screen time as the custody dispute between Tom and his ex-wife which lasts all of about five minutes before it is solved offscreen; as such, it is perhaps appropriate that the film's love theme is Rod Stewart's not particularly moving "Love Touch."

Video


Released theatrically by Universal Pictures, the film was released twice on laserdisc, first in 1987 by MCA in a panned-and-scanned transfer, and then in 1994 by Universal in a widescreen edition. The same master appeared on Image Entertainment's non-anamorphic 2000 DVD which was replaced by an anamporphic DVD in 2003 from Universal. The film made its Blu-ray bow last year in Germany and Kino Lorber's 1080p24 MPEG-4 AVC 2.35:1 widescreen Blu-ray likely comes from the same master. While the press materials and the Blu-ray cover make no claims about a new scan, if this is the same master struck for the DVD, then they left it alone for the most part in terms of digital cleanup and noise reduction. Detail is not startling, but the image looks crisp and sharp for the most part, with only some of the darker areas of the frame in some of the interiors looking a bit flat.

Audio


The sole audio option is a DTS-HD Master Audio 2.0 stereo track. Dialogue is always clear, effects are directional - see the explosions and the scene of Laura driving against traffic - and music has a satisfying presence, but this is not a particularly creative or ambitious mix that one might expect from Reitman's other films. Optional English SDH subtitles are included.

Extras


Extras are limited to a theatrical trailer (1:52) and promotional featurette (8:52) that hype the film as something much bigger than it turns out to be, with the latter particularly drawing comparisons to Ghostbusters with Reitman taking over the streets of New York again but ultimately on a much smaller scale; indeed, Reitman remarks that a lot of New Yorkers showed up at the exterior shoot locations to get a glimpse of Redford. Trailers for other Kino Lorber comedies are also included.

Overall


Director Ivan Reitman's forty million dollar follow-up to Ghostbusters is a shockingly forgettable affair.

---
DVD Compare is a participant in the Amazon Services LLC Associates Program and the Amazon Europe S.a.r.l. Associates Programme, an affiliate advertising program designed to provide a means for sites to earn advertising fees by advertising and linking to amazon.co.uk, amazon.com, amazon.ca, amazon.fr, and amazon.de.