Beyond Therapy
Blu-ray A - America - Scorpion Releasing
Review written by and copyright: Eric Cotenas (20th April 2020).
The Film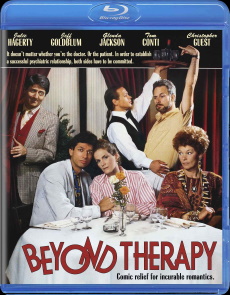 Neurotic New Yorker Prudence (Airplane!'s Julie Hagerty) answers a personal ad in a magazine to meet a sophisticated Francophile for dinner at the French restaurant Le Bouchon, but her date turns out to be Bruce (The Fly's Jeff Goldblum) who admits to tailoring the ad to attract a certain sort of woman and also admits to being bisexual and still living with his male lover Bob (This is Spinal Tap's Christopher Guest). Prudence breaks off the date because she says she hates gay people, whereby Bruce makes an argument distinguishing bisexual people from gay people which makes very little difference to her. They part on bad terms only to wind up together at the restaurant again when Bruce once again changes the details of his personal ad in hopes of attracting a different kind of woman; whereupon Prudence must admit to being less than truthful about herself in response to the ads. Their unlikely relationship is met with incredulity by Bob (obviously), his melodramatic mother Zizi (Belle de Jour's Geneviève Page), and most of all Prudence's psychiatrist Stuart (Merry Christmas Mr. Lawrence's Tom Conti) who wonders what a gay man can offer her that he cannot in bed (arguing that premature ejaculation is symptomatic of our on-the-go world). Bruce barely discusses his personal life with his psychiatrist Charlotte (Women in Love's Glenda Jackson) but she appears to be unaware half the time which patient is which, and quite adversarial with others like Le Bouchon's androgynous young waiter Andrew (Pirates' Cris Campion) who sits in silence during their sessions and seems to want to make Charlotte cry. Given conflicting advice by his group therapy and his badgering mother, Bob confronts Bruce about his pursuing of Prudence while Prudence is targeted by Zizi as the source of her son's relationship problems. Although the counsel of their equally troubled therapists seems like the last thing this powder keg needs, the patients manage to achieve an odd catharsis and confront what they really want amidst a hail of gunfire in Le Bouchon.

Based on the Broadway stage comedy by actor Christopher Durang (The Secret o My Success) – who adapted the film with director Robert Altman (The Player) – Beyond Therapy follows the intersecting lives of two psychiatrists and their patients; and the intersections are so blatantly contrived that one deduces that Durang must be trying to say something about human relationships or modern dependence upon therapy or something that gets entirely muddled down by Altman's approach to the material (Durang himself described it as "a very unhappy experience and outcome"). Altman seems to be attempting a virtuouso opening twenty minute sequence intercutting all of the principal characters and cutting away to supporting players – the cook (Louis-Marie Taillefer), the maitre'd (Edward II's Bertrand Bonvoisin), his wife (Nicole Evans), his coat check love interest (The Double Life of Veronique's Sandrine Dumas), and Andrew of course – whose confused love lives may offer up a mirror to the main characters; but none of this conveys anything beyond surface character for the first twenty minutes: Goldblum is just doing his Jeff Goldblum shtick, Hagerty is shrill in response, Paige is no more than another clucking hen amidst her brunch party and only distinguishable by close-up emphasis, Guest's gay characterization is of the broadest, swishiest variety, Jackson seems to be stoned, and Conti appears to be going an ethnic Kenneth Mars impression. From that point on, Goldblum's Bruce seems like a narcissistic creep who does not understand his boyfriend's anger and tells his boyfriend's mother not to "interfere," while one cannot help think that any man (apart from Stuart) who had previously dumped Prudence or was dumped by her dodged quite a bullet. Things should get interesting once all the characters come together but Altman just lets them bellow at each other without the benefit of his later multi-wireless microphone dialogue recording that allowed him to remix group conversation master shots for emphasis. Most of the jokes fall flat apart from from a reference to Sunday Bloody Sunday and "that English actress [Jackson]." Whenever it seems as if Goldblum and Hagerty have argued themselves into a corner, Altman either has them quote from George Gershwin's song "Someone to Watch Over Me" or cuts away to a montage set to a recording of it, of which three are used in the film: one by Yves Montand, one by Linda Rondstadt, and one by Lena Horne. The film is set in New York but shot in Paris as much for budgetary considerations as the final shot which moves seamlessly from New York to Paris simply by craning back from the Le Bouchon restaurant front to reveal that the New York street is actually a Paris suburb with the Eiffel Tower looming in the skyline. Beyond Therapy feels less like a romantic comedy or a stage play adaptation than an aimless Robert Altman experiment.

Video


Beyond Therapy was released theatrically by co-producer New World Pictures and grossing just over a quarter-of-a-million during its opening week before disappearing onto New World VHS. The film was released on barebones DVD first by Anchor Bay and then by Image Entertainment (in a lopsided comedy double feature with Lust in the Dust) when each had the Lakeshore Entertainment catalog which contained much of the New World Pictures library. The film debuted on Blu-ray first in Germany in 2011, but Scorpion Releasing's 1080p24 MPEG-4 AVC 1.78:1 widescreen Blu-ray boasts of being derived from a new 2019 HD master. We have not seen the German release to compare, but the new master looks spectacular throughout thanks to the professional lensing and processing (the film's post-production took place mainly in France). The eighties set dressing and wardrobe boasts vibrant colors, the chrome and stucco production design of Stephen Altman (Near Dark) gleams, and Goldblum and Hagerty could not be more in your face in the close-ups if they tried.

Audio


Don't expect one of the more clever mixes of Altman's later films. The DTS-HD Master Audio 2.0 mono mix of this dialogue heavy film is always clear even when voices overlap. The sound design is heavier on ambient background than foley, and everythig recedes whenever the music swells up. Optional English SDH subtitles are provided.

Extras


There are no extras apart from the film's theatrical trailer (2:11) and trailers for other comedies from Scorpion Releasing.

Overall


Beyond Therapy feels less like a romantic comedy or a stage play adaptation than an aimless Robert Altman experiment.

---
DVD Compare is a participant in the Amazon Services LLC Associates Program and the Amazon Europe S.a.r.l. Associates Programme, an affiliate advertising program designed to provide a means for sites to earn advertising fees by advertising and linking to amazon.co.uk, amazon.com, amazon.ca, amazon.fr, and amazon.de.