The Film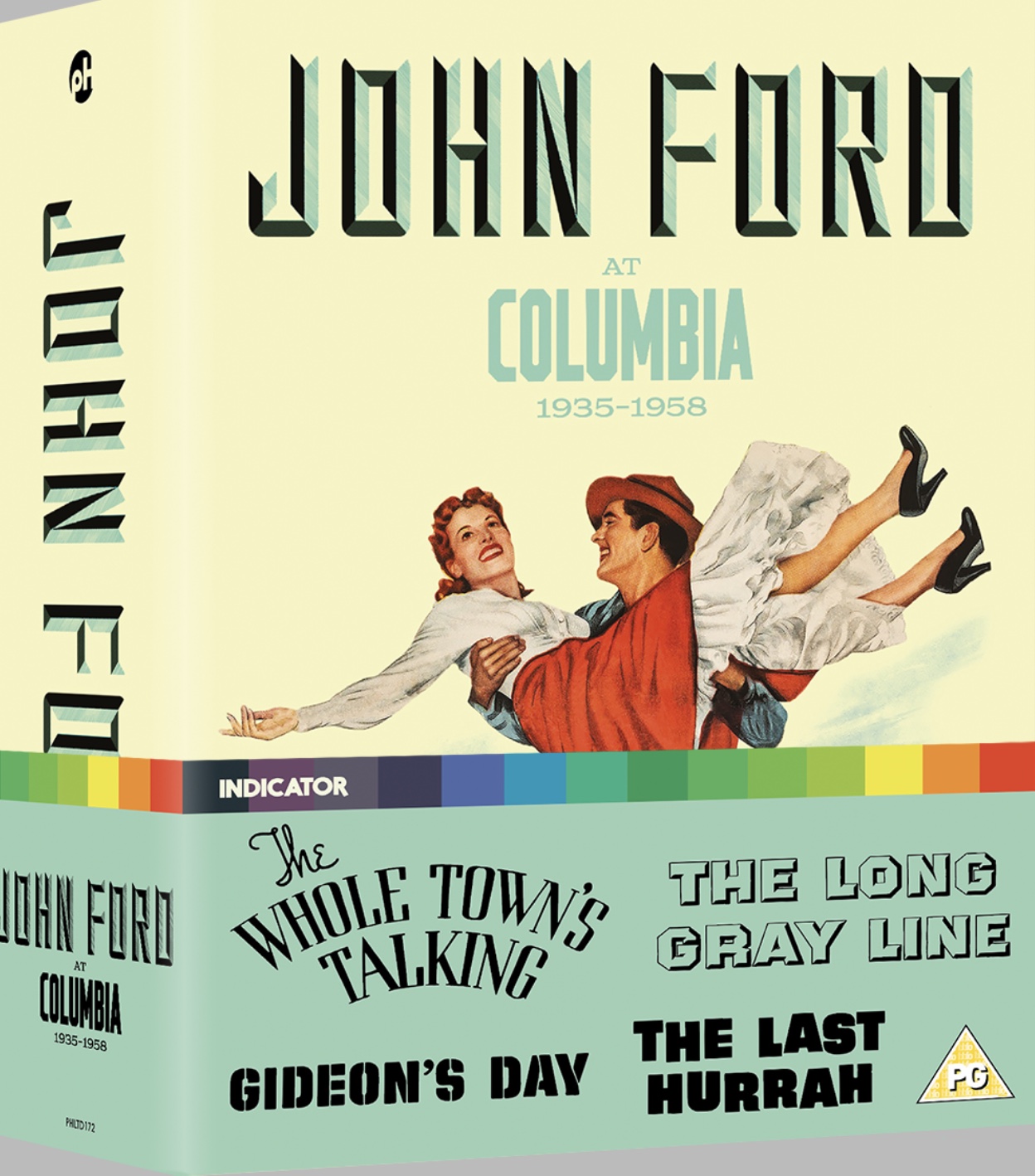 A showcase for some of the most unexpected and surprising turns in the great director's prolific career:

The Whole Town's Talking is a screwball comedy about a law-abiding man (played by Edward G Robinson) who happens to be the doppelgänger of Public Enemy No. 1, 'Killer' Mannion; The Long Gray Line is a Ford military picture with a difference, focusing its attentions away from the battlefield and onto the fifty-year career of an Irish immigrant who rises through the ranks at West Point; The Last Hurrah is a star-studded political drama boasting the talents of Spencer Tracy, Jeffrey Hunter, Pat O'Brien, Basil Rathbone, Donald Crisp, and John Carradine, and; Gideon's Day takes us on a twenty-four journey in the life of Jack Hawkins' titular London-based detective.

All four films are presented for the first time on Blu-ray in the UK, with The Long Gray Line making it's world Blu-ray premiere. This limited edition box set is strictly limited to 6,000 numbered units.

Video


The B&W films:
The Whole Town's Talking (1935) 1.37:1 / 92:28
The Lash Hurrah (1958) 1.85:1, 121:05

It's fascinating to compare two productions with an approximate twenty year difference looking at the film stocks, lighting etc. Both image harvests have been sourced from 4K restorations by Sony and both look as good as it's possible to be given the sources.

The 1935 production, apart from the Academy ratio, is extremely softly lensed with a very gentle contrast ratio for much of it's length. Black levels are soft and velvety with plenty of deep shadows and with generally good detail considering it's a '30s film; most films from that decade, especially early on, don't have primary sources (OCN) to rely on for transfers. This one does look very good however and if I had to guess I'd say it was not more than one generation off the negative.

It's a potentially problematic source but MacKenzie / Fidelity in Motion have worked their usual alchemy on the encode and the grain structure is perfectly preserved; there's a reason they're considered amongst the best ... most likely THE best in the business. There's absolutely no digital artefacts or print damage which had me surprised considering the film's age. Gamma has been expertly handled with not a colour bias that I could detect. Even the optical sequences aren't all that noticeably softer than the main footage.

The 1958 film by comparison has a much more sharply delineated contrast and a very vivid, inky monochrome pallet. It's much sharper with greater levels of detail along all focal planes. Once again, gamma is perfectly balanced with no bias evident. As good as can be. I saw no signs of print damage nor digital artefacts and the encode is once again peerless allowing the natural grain to play across the image evenly.

Neither title suffers from unintended crush.

The Colour Films:
The Long Gray Line (1954) 2.55:1 / 136:57
Gideon's Day (1958) 1.85:1/ 90:56

We have two film made only a few years apart, both shot in Technicolor. The earlier film is an early CinemaScope production in the very wide 2.55:1 aspect ratio and has evidence of the visual mumps that process always displays with mild distortion and compression of the image towards either aide although the restoration has tried to even that out somewhat.

The colour palette is typically '50s rich and warm with plenty of vivd primaries throughout; skies look particularly vivid and enticing with lovely cloud delineation and detail. There is a softness to the image and grain field typical of anamorphosis but it's of no worry. Contrast and black levels are perfectly balanced and there's no crush. Flesh tones are warm and vivid with plenty of detail in closeups.

Gideon's Day was shot open matte 1.37:1 (same as The Last Hurrah) and designed to be matted in theatrical exhibition to 1.85:1. Freddie Young's Technicolour lensing is naturalistic as befitting the grittier, more urban, more intimate nature of the film but the London Buses don't half pop of the screen. With no anamorphic process in use the image is naturally sharper with a very even grain field throughout. Detail is exceptional on all focal planes. I noticed no density issues either. Do have to mention the encode? (You know the score)

Superb image quality all round, no worries!

All films: 1080/24p / MPEG-4 AVC

Audio


English LPCM 1.0 (The Whole Town's Talking, Gideon's Day, The Last Hurrah)
English LPCM 2.0 Stereo (The Long Gray Line)
Subtitles: English HoH

The mono tracks are superbly robust without any issues that you wouldn't expect. The 1935 one has that distinct, closeted, limited range one would expect but is still robust and clear. Dialogue is to the fire and music never interrupts; mind you, score is used very soaringly. There's the odd bit of distortion on the high end with score, action and dialogue crescendos but itKs been expertly handled.

The more recent mono tracks from the late '50s are obviously more dynamic with no distortions at all and surprisingly managed to engage my subwoofer alightly. Florid, robust and very satisfying they have a fairly good range considering and the restoration team have done a bang up job in ensuring their clarity. Mind you, the same can also be said for the 1935.

The 2.0 stereo track is a relative powerhouse for the era (a downmix of the original 4.0 stereo) , with splendid rear speaker activity for the score even managing to engage the subwoofer with use of drums. It's mostly front centric which is not surprising; almost a mono track with spacial use of separation and surrounds for the score as noted. The surrounds get a good minor workout at the "end of the war" scene (at approximately 92 minutes) with cannon fire, bonfire explosion and score all conflate into a pleasing crescendo and the bell tolling in the left surround speaker.

Hard of hearing subtitles have been provided and as is usual are superb with all dialogue being accounted for; at least for the various sections I tested. I must clarify: Most studio subtitle streams tend to stream line the dialogue which means much of the nuance can be lost, but with a curated release from a small independent like Powerhouse Films you can tell that those responsible for these subtitles love what they do and take great care; hats off to them!

Extras


Audio commentary on The Long Gray Line with Diana Drumm, Glen Kenny and Farran Smith Nehme
Audio commentary on Gideon's Day with historian Curtis Barr

Valuable and engrossing yaktraks packed with information about the films under discussion and scrutiny. I tend to find the tracks with multiple commentators more lively and that is the case here, but Barr's track is still a great listen and essential.

"The British Entertainment History Project (BEHP) Interview with Freddie Young: Excerpts conducted by Roy Fowler and Alan Lawson on 1 April 1987 and 14 Aug 1987" plays as an alternate audio track over the film (90:56)

If you heard these valuable screen talk cum interviews before then you know what to expect. Incredible amounts of detail and insight are to be gleaned here. Young was one of the greats of cinematography and even shot a Bond film, You Only Live Twice (1967) (one of the most giddily daft in the franchise), and managed to make it one of the most visually distinguished. Essential for film and Ford buffs.

"Cymbaline: John Ford, The Whole Town's Talking" 2020 video essay by Tag Gallagher, author of John Ford: The Man and His Films (6:15)
"Living and Dead: The Long Gray Line" 2020 video essay by Tag Gallagher, author of John Ford: The Man and His Films (16:48)
"Milk & Sugar: John Ford, Gideon's Day" 2020 video essay by Tag Gallagher, author of John Ford: The Man and His Films (9:11)
"True Blue: John Ford, The Last Hurrah" 2020 video essay by Tag Gallagher, author of John Ford: The Man and His Films (7:13)

A series of informative, well produced visual essays packed with insight and detail regarding the productions and very observational. Key scenes are discussed and highlighted with plenty of silence to allow the viewer time to process what Gallagher is saying. In many ways, a pocket film-school. Gallagher's tone can take some getting used to as he's very measured and softly spoken but once I'd gotten the vibe these pieces were riveting and a must. Bravo! (Collectively 39:27)

"Film Historian Leonard Maltin on The Whole Town's Talking" 2014 featurette (6:03)
"Film Historian Leonard Maltin on The Long Gray Line" 2014 featurette (5:43)
"Film Historian Leonard Maltin on Gideon's Day" 2014 featurette (3:28)
"Film Historian Leonard Maltin on The Last Hurrah" 2014 featurette (4:56)

Maltin is one of THE mainstays of the populist American film criticism scene since the late '60s and he is always worth a listen. I'm surprised at his positivity towards Gideon's Day as in his film guide book he rates it a paltry one and a half stars out of four! In any case, plenty of insight here. (Collectively 20:10)

"A Trip Outside Ford Country: Sheldon Hall on The Whole Town's Talking" 2020 featurette (22:26)
"Meet the Wife: Continuity Supervisor Elaine Shreyeck on Gideon's Day" 2020 featurette (5:33)
"A Day to Remember: Adrian Wootton on Gideon's Day" 2020 featurette (28:16)
"No Rules But Her Own: Pamela Hutchinson on Jean Arthur" 2020 featurette (17:56)
"Gideon's London: The Locations of Gideon's Day" 2020 featurette (3:33)

A series of new featurettes that add plenty of lively "contextual added value" (to use an education term used to judge how much extra teachers have raised a given pupil's attainment betwixt target and actual grade). Less academic and analytical that much of the above extra material and more warmly nostalgic and matter of fact. (Collectively feature-length at 77:44)

"Lux Radio Theatre: The Whole Town's Talking" radio adaptation originally broadcast on 24 February 1941 (52:30)

Vintage radio production has solid sound considering it's age; a little canned and lacking in dynamism with a very "small", distorted overall sound. However, it's worth a listen and is wonderfully introduced by Cecil B. De Mille no less in very intimate, chatty style.

"The Red, White and Blue Line" 1955 promotional short (10:01)
The Long Gray Line Theatrical trailer (4:27)
Gideon's Day UK theatrical trailer (2:29)
The Last Hurrah Theatrical trailer (3:05)

The Last Hurrah: Super 8 version (19:53)

Very early, technically lacking (by today's standards) hime video production. Makes a splendid contrast when compared to the restored HD feature.

"John Ford and Lindsay Anderson at the NFT" 1957 silent footage (4:29)

Fascinating slice of news reel-style footage; lacks technical polish but is valuable nonetheless.

The Whole Town's Talking Image Gallery: Original Promotional Material (19 images)
The Long Gray Line Image Gallery: Original promotional material (17 images)
Gideon's Day Image Gallery: Original Promotional Material (17 images)
The Last Hurrah Image Gallery: Original promotional material (23 images)

76 HD images spanning the four films.

36-page liner notes booklet for The Whole Town's Talking by Farran Smith Nehme, an extract from the W. R. Burnett's Jail Breaker, Edward G. Robinson on The Whole Town's Talking, an overview of contemporary critical responses, and film credits

40-page liner notes booklet by Nick Pinkerton, archival interviews with John Ford, Maureen O'Hara on The Long Gray Line, an overview of contemporary critical responses, Anthony Nield on The Red, White and Blue Line, and film credits

40-page liner notes booklet by Robert Murphy, an interview with producer Michael Killanin, Jack Hawkins on Gideon's Day, Lindsay Anderson on John Ford, an overview of contemporary critical responses, and film credits

32-page liner notes booklet by Imogen Sarah Smith, John Ford on Spencer Tracy and The Last Hurrah, screenwriter Frank S. Nugent on John Ford, an overview of contemporary critical responses, and film credits

148 pages of indispensable contextual added value (I love that term ... you can tell
I'm a teacher by day!).

Packaging


Four clear BD keepcases in a hard card outer box with a nice card slip.

Overall


An essential boxset for Ford and film fanatics and easily one of the best of the year thus far; it'll almost certainly be on many such end of year lists I predict. Image and sound quality are - as usual for Powerhouse Films - as good as can be shy of UHD BD releases with HDR and the extras are extensive and add hugely to the appreciation of the films. If you haven't ordered this set yet, bugger off right now and get it banked!
| | | | | |
| --- | --- | --- | --- | --- |
| The Film: A | Video: A+ | Audio: A+ | Extras: A+ | Overall: A+ |