The Film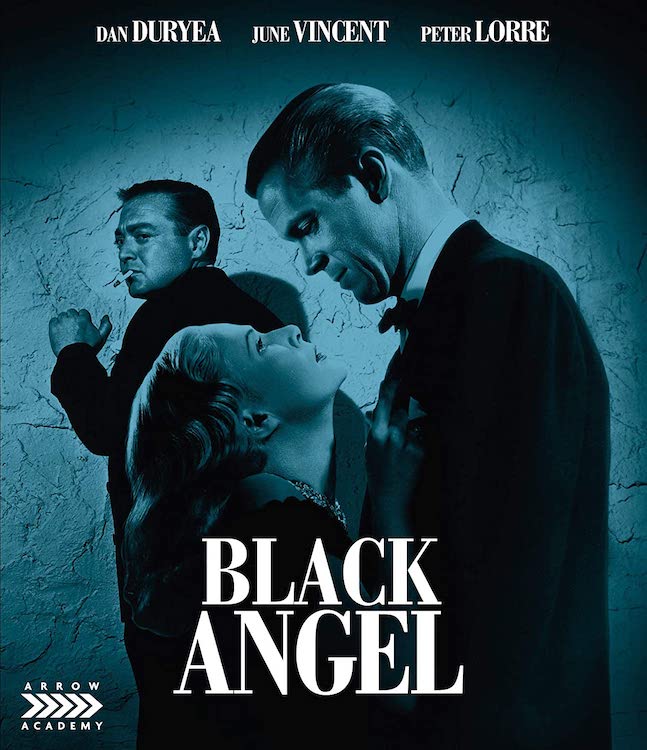 Director Roy William Neil may be best remembered for the eleven "Sherlock Holmes" films (1942-1946) that he directed starring Basil Rathbone and Nigel Bruce as the unflappable detective and the good doctor that acted as his sidekick, however this would be the capper to an illustrious career. "Black Angel" may mot be high on any critic's list of favorite noir films, but thanks to Arrow Academy for issuing this fantastic release, this great suspense film can now be rediscovered by a whole new audience.

Derived from the novel of the same name by author Cornell Woolrich, this seldom seen gem stars Dan Duryea as an actual sympathetic lead character. Duryea who built his career on portraying some of the sleaziest characters in film history ("Scarlett Street" (1945) directed by the legendary Fritz Lang) finally can be seen portraying a drunken piano player Martin Blair, that is still hung up on his ex-wife Mavis Marlowe (Constance Dowling) who is found murdered in her penthouse apartment. So, who killed Mavis Marlowe? Kirk Bennett (John Phillips) the adulterer, is pinned with the crime, but his wife Catherine (June Vincent) believes that her husband has been framed and is innocent. Catherine is determined to get to the bottom of things and that means that she strikes up an unlikely partnership with Blair, who of course is attracted to her. The duo forms a musical duo in order to infiltrate the greasy club owner Marko's (Peter Lorre) place of business. Everyone is shady and suspicious, and the suspects stack up accordingly.

The basic plot is that Marlowe is stalked and strangled by an unknown shadowy figure but to add to the confusion there is plenty of traffic to her penthouse suite and when Bennett is seen scurrying away by the maid, he gets collared for the crime. Captain Flood (Broderick Crawford) is thinking that this is a giveaway; Bennett's fingerprints were found all over the place and he was having an affair with Marlowe. Nothing to it, but then he did not figure on Bennett's wife believing him and being the forgiving type. Soon Martin Blair enters the scene and he is a pushover for a dame like Catherine who is emotionally engaged but nonetheless easy on the eyes. Blair decides to make a go of it, playing amateur detective alongside Catherine, even willing to sober up temporarily and become part of a musical act, Martin and Bennett, her doing the warbling and him playing the piano. Thankfully, the musical numbers are passable and doesn't bog down the action. Frank Skinner's musical score is presented in a wide dynamic scale and the songs are well presented and sound full.

This is the type of film that always makes me think of growing up and finding a film like this on a local Sunday afternoon television station. Not only do you have a great supporting cast, but you also have Duryea in a wonderful piece of casting. His character is a booze laden tragic figure but the man sure can write a great song and he also is impressive playing the piano. The supporting cast includes a subdued performance by Broderick Crawford as Captain Flood, a small but unforgettable part by Constance Dowling as the murder victim, and a delightful performance by Peter Lorre who steals the show by constantly having a cigarette glued to his bottom lip. Director Roy William Neil trims the fat from Woolrich's source material and keeps us guessing as to who actually committed the crime. I was impressed by Neill's use of montage as he shows us a bevy of shots to suggest that the courtroom drama was greased and processed swiftly because before you know it, poor sap Bennett, is due to be in the electric chair in no time. There is also a sparkling set up of Duryea being black out drunk, playing the piano one moment and then passed out in his two-bit room later and remembering nothing. The film briskly tells its story but is populated with some excellent character actors filling in and adding to the viewer's delight as you recognize the face but cannot recall the name.

Video


Arrow did manage to present a highly unusual copy of the film given its age. Arrow's presentation is richly detailed, and the grain is fine. The real surprise is that the film's elements were restored by Arrow by utilizing "an original nitrate combined 35mm fine grain positive and dupe negative were scanned in 2K resolution." Some reviewers have noted that the Aspect Ratio on their copy was 1.28:1 instead of the usual 1.33:1 but to me the image appeared 1.33:1.

Audio


Arrow gives us a 24-bit uncompressed English LPCM 1.0 mono lossless track which captures and delivers the dialogue clearly and consistently throughout. Sound effects are excellent and the musical numbers, though not my favorite, still are impressive, nonetheless. Optional subtitles are included in English for the hearing impaired.

Extras


This is where things really take off. Arrow has supplied an audio commentary track by noir historian Alan K. Rode who really knows his stuff. Not only does he supply us with some unusual background on novelist Cornell Woolrich but also, he informs us that Ava Gardner was originally cast as Catherine Bennett, he also reveals that Duryea learned five different piano pieces specifically for the film. Jammed packed with more information than you will learn from the internet, this commentary is worth the admission price alone.

"A Fitting End" video appreciation by film historian Neil Sinyard (20:53) this piece on the film and however repetitive it is in its details regarding the author's life, this is nonetheless a nice bit for those that don't have the time to listen to the earlier commentary track.

Next up is the film's original theatrical trailer (1:32).

Image galleries features a total of 110 images are quickly presented for your enjoyment, with many posters for the film and many production stills all presented in high resolution, high contrast images:

- "Production Stills" (15:40)
- "Posters and Lobby Cards" (2:40)

First pressings include a booklet that features a new essay by author Philip Kemp.

Packaging


Packaged in a typical Blu-ray case with reversible cover art.

Overall


I thoroughly enjoyed this noir film and appreciated Duryea's heartfelt performance. I loved when his hair would become a mess and obscure his face which was usually twisted into a grimace of sorts.
| | | | | |
| --- | --- | --- | --- | --- |
| The Film: A | Video: A | Audio: A | Extras: A | Overall: A |