The Film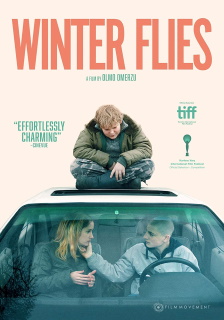 Czech Lion (Best Supporting Actor): Jan Frantisek Uher (winner), Best Supporting Actress: Eliska Krenková (winner), Best Director: Olmo Omerzu (winner), Best Film (winner), Best Screenplay: Petr Pýcha (winner), Best Actor: Tomás Mrvík (nominated), Best Supporting Actress: Lenka Vlasáková (nominated), Best Cinematography: Lukás Milota (nominated), Best Editing: Jana Vlcková (nominated), and Best Music: Simon Holy, Monika Midriaková, and Pawel Szamburski (nominated) - Czech Lions, 2019

Unable to tolerate things anymore at home, fourteen-year-old Mára (Tomás Mrvík) steals an Audi and heads out of Prague to the cabin of his admired grandfather (Zdenek Mucha). He nearly runs over schoolmate Hedus (Jan Frantisek Uher), unlike him an outcast not by choice, who seeks escape into imagination, dressing up in camouflage and acting out war games with his very convincing toy machine gun. Mára refuses to take Hedus with him no matter how much he tries to endear himself until Hedus forces him to by grabbing onto the hood of the car. Along the way, they rescue a mutt from its owner who first tries to sell it to them and then to drown it, and then talk a big game but hope to lose their virginities to older teenage hitchhiker Bára (Borgia's Eliska Krenková) who has walked out on her cheating boyfriend (Stepán Kozub). Initially irritated by them, Bára comes to care for them and they for her; that is, until her boyfriend shows up on her doorstep. When Mára and Hedus find they are in need of adult help, the adventure must come to an end… or does it? As with his previous three features – Family Film and A Night Too Young – Winter Flies focuses on young protagonists, two boys here as in the latter film, tugged between imaginative childhood and the adult world which is both ripe with possibility but also deadening. The film is framed as a series of flashbacks as Mára, arrested for stealing the car, is under arrest with an impatient policeman (Hands Head Heart's Martin Pechlát) passing off the task of finding out the boy's identity and where he lives to seemingly kinder and more understanding female officer Officer Freiwaldova (Lea's Lenka Vlasáková). Mára cannot relate to his mother but worships his grandfather who seems more formidable in the boy's stories than the man we meet, and Mára's first story to the officers about being on the run after getting girl pregnant might actually be an observed example of a man running away from responsibility. Hedus hides behind smiles and laughter, but the way he takes Mára's jabs and the way he mirrors the other boy's behavior and echoes the insults he hurls at others suggests a deep loneliness and willingness to be disrespected as long as he has company (in the way Bára seems willing to take her boyfriend back when he is actually in her presence). Officer Freiwaldova at first does seem sympathetic but there is always the possibility that she is playing good cop to her colleague's bad (more like disinterested) cop; and the audience shares the boy's betrayal at the mercenary way in which she is able to get his real name and address. We find ourselves rooting for Mára and Hedus to get away and take back to the road even though we know that they do not realize what they are really running from; if only because the director is able to make us truly relate to the adult world as seen by his protagonists.


Video


Shot in high definition in mostly bright settings, Winter Flies looks crisp and clean throughout in Film Movement's progressive, anamorphic widescreen encode with no obvious issues beyond the standard definition compression of what could be a richer visual experience on Blu-ray.

Audio


The audio options incldue a Czech Dolby Digital 5.1 track that uses the surrounds conservatively with little opportunity in the desolate winter settings apart from the sounds of the car along with Hedus' gun and the havoc it manages to cause during the climax. A 2.0 stereo downmix is included and is serviceable. Optional English subtitles translate all of the Czech dialogue but also, strangely, transcribe the entirety of the Beastie Boys' song "Girls" when it appears on the soundtrack. English Closed Captioning is also included.

Extras


The only extras are an unrelated short film "Jackie" (21:55) by Giedrus Tamosevicius and trailers for other Film Movement releases; however, viewers should not neglect to take a look at the inside of the cover through the clear case as it includes a paragraph on why Film Movement selected the film and a printed excerpt from an interview with the director.

Overall


In spite of the possible danger to the film's youthful protagonists, Winter Flies has us rooting for their escape (or escapism) if only because the director is able to make us truly relate to the adult world as seen by the children.