The Film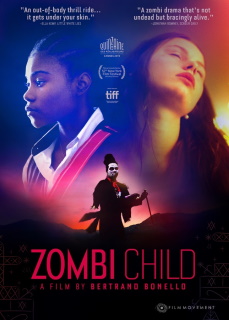 Queer Palm: Bertrand Bonello (nominated) - Cannes Film Festival, 2019
New Visions Award (Best Motion Picture): Bertrand Bonello (nominated) - Sitges - Catalonian International Film Festival, 2019

In 1961 Haiti, Clairvius Narcisse (Mackenson Bijou) falls ill and dies suddenly. The night after his funeral, three men dig up his corpse and revive him to work as a zombie in the sugar cane fields. In present day Paris, Fanny (In Your Hands' Louise Labeque) is a student at the Maison d'éducation de la Légion d'honneur, a private school set up by Napoleon for girls whose fathers, grandfathers, or great grandfathers were the recipients of the Legion of Honor. Although popular, and a member of a secret literary sorority who take run of the school after dark when the teachers are asleep, Fanny has grown distant from her friends out of longing for her crush Pablo (Messiah's Sayyid El Alami) whose never answers her letters no matter how provocative. Fanny becomes drawn to Haitian immigrant Mélissa (Wislanda Louimat) whose mother received the Legion of Honor fighting the Duvalier dictatorship in Haiti in the eighties but was killed in the 2010 earthquake along with her father. Fanny's sorority sisters Salomé (Adilé David), Romy (Ninon François), and Adèle (Mathilde Riu) think Mélissa weird, but to Fanny "weird is in" and the other girl shares interest in the same singers and bands as they. During Mélissa's initiation, she frightens the three but intrigues Fanny when she reveals that her aunt Katy (Katiana Milfort) is a mambo (or voodoo priestess) and that her grandfather was a zombie. As Fanny drifts away from the group, the others grow suspicious of Mélissa – especially when they catch her performing a ritual while Fanny is ostensibly absent to visit an ailing relative – but it is Fanny who goes behind her friends's back and approaches Katy with a special request that will have devastating effects beyond what even Fanny anticipated.

Although nominated for the Queer Palm award at Cannes, Zombi Child from director Bertrand Bonello (Saint Laurent) is not really a queer film, or even really a horror film despite horrific scenes like the appearance in the flesh of Baron Samedi (Néhémy Pierre-Dahomey). Fanny mentions in a letter to Pablo her attraction to a classmate in the shower, but that appears to be an effort to be provocative; and her contradictory wishes during the climax regarding her boyfriend are no more suggestive of a repressed attraction to Mélissa than the latter's claims to have the same favorite groups as Fanny (which is more a matter of fitting in as revealed in a late scene in which Mélissa telephones her aunt). The narrative cuts back and forth between sixties Haiti and contemporary Paris, drawing parallels between the former in which the effects of French colonialism are still felt more than a century after independence while revolution is about to erupt again the same decade in Paris, and the latter in which real-life French historian Patrick Boucheron lectures the disinterested students – children of Legion of Honor recipients, the values of which the superintendent of the school (120 BPM's Saadia Bentaïeb) believes have been passed onto their offspring who all appear estranged from their parents – on the notion that revolution is historically synonymous with France and yet their own is incomplete, pursued and betrayed by Napoleon, and that the liberty was never truly implemented with Boucheron defining the concept of liberalism as "adapting the idea of progress to liberty" while that progress has been historically "discontinuous, sputtering. Hesitant," and only occasionally resulting in "experiences of liberty." Mélissa is so determined to belong that she may lose her own self while Fanny first attempts to "possess" another but may in the end have chosen to obliterate her self and no longer feel anything. The film has many stimulating ideas but does not entirely come together; however, the idea of "experiences of liberty" applied to the individual at the risk of obliterating the self does make for an interesting horror-tinged take on the teen genre from a very idiosyncratic director. The film's historical link in the story of zombie Clairvius Narcisse who was born in 1922, died in 1962, and died again in 1994, whose story also inspired anthropologist Wade Davis' book "The Serpent and the Rainbow – less so the like-titled Wes Craven film – and Pedro Costa's Casa de Lava (a film which started life as a remake of I Walked with a Zombie).

Video


It is really regrettable that Strand Releasing did not give this visually attractive film a Blu-ray release since the Haiti sugar cane field night scenes are at times impenetrable on DVD in this progressive, anamorphic widescreen 1.78:1 presentation.

Audio


Audio options include a French/Haitian Dolby Digital 5.1 track and a serviceable 2.0 downmix. The surrounds are used conservatively until the climax but the discrete mix might deliver a better sense of depth in the settings (not just the cane fields but the cavernous halls of the Parisian school). Optional English subtitles are included along with English Closed Captioning. While the latter in other Film Movement DVDs was often identical to the subtitle track in translating all of the dialonge, the closed captions here are restricted to music, effects, and some bits of English dialogue (as well as translating a couple lines of incidental French dialogue delivered offscreen).

Extras


Extras start off with an audio commentary by director Bertrand Bonello who discusses the challenges of shooting in Haiti - especially a "zombie film" - needing to meet with local officials and intellectuals, casting the film (the Haitian scenes with trained actors and largely inexperienced young actresses for the Paris scenes including Louimat who spent half her life in Haiti and the other half in France like her character), the philosophical and political elements of the film, and how he first came across the story of Clarvius Narcisse. The disc also includes the film's theatrical trailer (1:48), an unrelated short film "Child of the Sky" (15:48) by Phillip Montgomery, and trailers for six other Film Movement releases.

Overall


Rife with stimulating and provocative ideas that do not entirely come together, Bertrand Bonello's Zombi Child is nevertheless an intriguing horror-tinged take on the teen genre.