Snowpiercer AKA Snow Piercer (Blu-ray) [Blu-ray]
Blu-ray B - United Kingdom - Lions Gate Home Entertainment
Review written by and copyright: Rick Curzon (20th May 2020).
The Film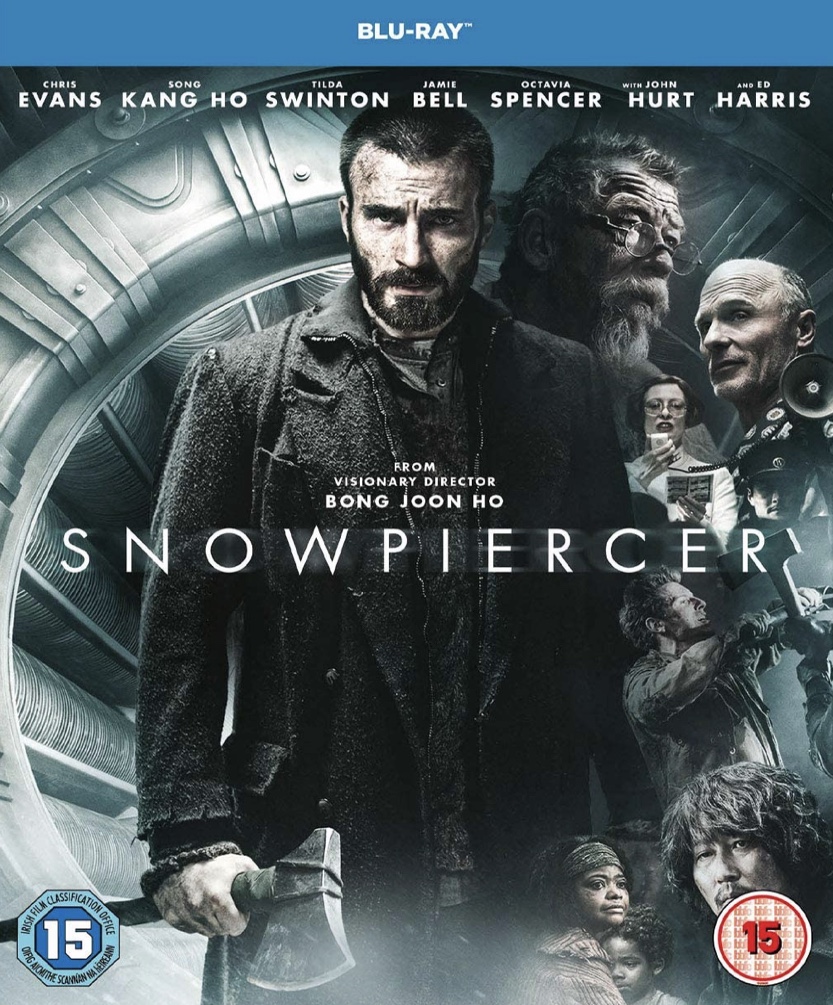 After a failed global-warming experiment, a post-apocalyptic Ice Age has killed off nearly all life on the planet. All that remains of humanity are the lucky few survivors that boarded the Snowpiercer, a train that travels around the globe, powered by a sacred perpetual-motion engine. A class system has evolved aboard the train, fiercely dividing its population—but a revolution is brewing. The lower-class passengers in the tail section stage an uprising, moving car-by-car up toward the front of the train, where the train's creator and absolute authority resides in splendor. But unexpected circumstances lie in wait for humanity's tenacious survivors...

Visionary director Bong Joon Ho's "enormously ambitious and visually stunning," (Scott Foundas, Variety) film has been widely praised as "a superb masterpiece of science fiction" (MTV). Starring Chris Evans, Song Kang Ho, Tilda Swinton, Jamie Bell, Octavia Spencer, Ewen Bremner, John Hurt, and Ed Harris.

Video


With the success of Boon Joon Ho's Parasite (2019) across the globe and particularly due to it's Oscar triumph, we seem to be getting an horrendously belated release of his other big international success; the grim post apocalyptic, satirical, sci-fi actioner Snowpiercer (2013) courtesy of Lionsgate UK.

You'd have thought that with the presence of so many Hollywood stars it would've been out here sooner ... as it was in most other territories. In any case, it's a trifle overrated to my mind, heavy-handed and obvious in it's satire but an entertaining view nonetheless.

This is yet another digitally shot modern film that is best seen in the evening or in very low light conditions. Much of the film is set on a dingy, dark train with a dull colour palette. Black levels are superb with little or no signs of crush which is very deliberate; deep shadows, plenty of detail. Exteriors are wintry and bright with plenty of detail and contrast is very low key and supportive; especially given that in these bright scenes blow outs could easily have been an issue. Other sequences feature a hotter, more richly coloured palette and it's well delineated with rich oranges and reds proliferating.

If you've seen digitally shot films before you know what to expect as the palette has a very "corrected" look to it throughout and it does favour the dreaded orange and teal grade at times that has been so popular over the last twenty years in populist film making. As a teacher who has taught art in my time I recognise the attractiveness of using the O&T grade due to it's two extremes being opposite and therefore complimentary on the colour wheel. However, it's been so overused that it's become a cliche.

I appreciated the more naturally lit and graded sequences in this film. The whole thing generally looks a peach technically despite occasionally some of that digital softness; sharp as a tack most of the time with a very fine grain field. Encoding is well up to par and I didn't detect any digital artefacts that weren't part of the original filmmaking process.

Obviously this film is made for as good a home cinema system as you can get; preferably 4K UHD Blu-ray and Dolby Atmos.

Audio


English / Korean DTS-HD Master Audio 5.1
Subtitles: English HoH, English for all non-English language dialogue (burnt in)

Snowpiercer has been gated a big budget blockbusting soundtrack. It's filled with a very active surround field and booming LFE that kept the subwoofer purring away at opportune moments. I suspect that an Atmos or 7.1 would kick this 5.1 into next week on the right system, but I had absolutely no complaints with this. Demonstration quality through and through.

Hard of hearing subtitles seemed to me excellent if the few sections I tested and burnt in subs have been provided for the Korean dialogue.

Extras


"Transperceneige: From the Blank Page to the Black Screen" 2013 documentary (54:28)

Excellent, thorough documentary on the making of the film.

"Chris Evans & Tilda Swinton on Snowpiercer" 2013 featurette (4:38)

Brief puff piece EPK; you know what to expect.

"Snowpiercer: The Birth of Snowpiercer" 2013 featurette (4:19)

Brief puff piece EPK; you know what to expect.

"Snowpiercer: The End of the World, and the New Beginning" animated prologue (1:01)

Brief animated prologue.

"Characters" 2013 featurette (5:05)

Brief puff piece EPK; you know what to expect.

Packaging


Standard blue Blu-ray keepcase.

Overall


A very belated release of this 2013 blockbuster from South Korea hits the UK with first rate image and sound although only the latter is absolutely top drawer; image has some of that typically soft yet sharp look but is virtually demo material. Extras are decent with the chinky documentary taking pride of place, but for some reason the commentary off the US and Australian releases hasn't been ported over and there are plenty of other little bits and pieces also missing off other releases.

A very agreeable and affordable alternative to importing but by 2020 seven years behind the rest of the world.
| | | | | |
| --- | --- | --- | --- | --- |
| The Film: B | Video: A | Audio: A+ | Extras: B- | Overall: A- |

---
DVD Compare is a participant in the Amazon Services LLC Associates Program and the Amazon Europe S.a.r.l. Associates Programme, an affiliate advertising program designed to provide a means for sites to earn advertising fees by advertising and linking to amazon.co.uk, amazon.com, amazon.ca, amazon.fr, and amazon.de.