The Film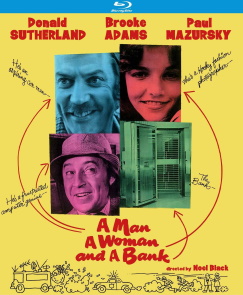 Reese Halperin (1900's Donald Sutherland) wears many hats. Day-to-day, he is an unassuming computer engineer, a cog in an immense company. He also puts on a hardhat and prowls the construction site of the Vancouver's new United Security Bank as an Earthquake Inspector but actually cataloguing its weak points for a heist. He also dons the cloth as a priest for the charity Christian Missionary Fathers which he will be using as a front for laundering the pilfered millions to a sweatshop in Macao where Mr. Tsang (The Vengeful Beauty's Kung-Wu Huang) will give him eighty cents on the dollar to exchange the cash with incriminating serial numbers. The only challenge is actually penetrating the bank's high-tech security system, and Reese's computer wiz buddy Norman Barrie (Down and Out in Beverly Hills's Paul Mazursky) has shown that it can be done, if only as an academic exercise with what amounts to a massive erector set. Norman becomes even less confident about Reese's plan when he learns that Reese has had his picture snapped on the site by photographer Stacey Bishop (Days of Heaven's Brooke Adams) who is doing PR for the construction job and thinks him the ideal model in his hardhat brandishing pilfered blueprints. Reese breaks into Stacey's apartment hoping to steal the negatives but accidentally walks into an argument turned near-assault-by-aerosol-whip-cream between Stacey and her temperamental artist boyfriend Peter (Shivers' Allan Kolman). Reese strikes up a flirtation with Stacey initially to retrieve the photographs but starts falling for her. Norman is ready to drop the heist until his wife asks for "space" and he takes up with Marie (Forced Vengeance's Leigh Hamilton), a pretty maid at the motel where he is staying after moving out of the house, after his wife files for divorce. Stacey has become suspicious of Reese's behavior but is more excited by the prospect that he is CIA or a drug smuggler – even after he takes her to Macao with him to finalize things with Tsang – and Reese starts to doubt that he will be able to leave her behind; that is, until she announces that the PR company wants to use his image to promote the bank's grand opening.

Co-produced by star Sutherland in the middle of his peak period of Hollywood stardom, A Man, a Woman, and a Bank is an uneven caper flick carried along solely by the chemistry between the three leads (Sutherland and Mazursky and Sutherland and Adams, separately, with Sutherland alternately intense and charmingly aloof). The film favors the lighthearted comic aspect of the story over suspense, posing complications like the photograph Stacey takes of Reese, her growing suspicions about his behavior, the unstable Peter, and the possibility of Reese's multiple identities attracting attention from the police; and yet, none of these complications really go anywhere, with the last taking all of five minutes. Indeed, the greatest danger Peter actually manages to contribute to the film is rousing Reese's jealousy rather than the other way around. The opening credits erector set run through of the heist seems far more ambitious and "high-tech" than the actual heist, and the film does not really build to any sort of exciting climax before its cute coda. Apart from the cast, the film's greatest strengths are the always handsome photography of the great Jack Cardiff (Black Narcissus), the production design of Anne Pritchard (Of Unknown Origin), the multiple mirrored surfaces of the bank interiors of which could have been better exploited for suspense as Reese tries to avoid detection, and the playful scoring of Bill Conti (Nomads) which includes a très seventies theme song sung by Dan Hill (of the cloying "Sometimes When We Touch"). The film would be the second to last theatrical feature of TV movie-bound director Noel Black who previously gave us the blackly comic and the interesting-if-flawed horror sleeper Mirrors. He was subsequently fired from the Erich Segal-scripted A Change of Seasons – which did not result in anything better handed off to equally-seasoned TV director Richard Lang (Kung Fu: The Movie) – and his last theatrical feature would be the sex comedy Private School.

Video


Released theatrically by Avco Embassy, A Man, a Woman, and a Bank was released on VHS by subsequent owner Nelson Entertainment sister label Charter Entertainment before being one of the Embassy titles to go to Studio Canal rather than MGM, and it was the former company that licensed it to Anchor Bay in 2003 for a DVD release. We have not seen that version, but Kino Lorber's 1080p24 MPEG-4 AVC 1.78:1 widescreen Blu-ray is quite attractive with sharp studio and location interiors and daytime and nighttime exteriors along with the usual seventies backlit and diffused romantic romping montage scenes.

Audio


The sole feature audio option is a clean DTS-HD Master Audio 2.0 mono track of an undemanding mix with clear dialogue – even when Sutherland tends to mumble – and a sense of depth in the delivery of the score (particularly the love theme). Optional English SDH subtitles are also included.

Extras


Ported over from the Anchor Bay release is the engaging audio commentary by director Noel Black and producer Peter Samuelson in which they mention that Samuelson had entered into a partnership with Sutherland to produce tax shelter movies in Canada, and that the film was greenlighted because writer Ray Gideon (Stand by Me) – who co-scripted with regular partner Bruce A. Evans (Starman) along with actor/filmmaker Stuart Margolin (Kelly's Heroes) – was Canadian and that counted double in the quota system of foreign versus Canadian talent in Canadian co-productions. He also notes that half of the budget was expected to come from the tax shelter before the law was written and retroactively applied to them, requiring production to shut down for a year wherein Samuelson got the other half of the budget from Marshall Field heir Frederick Field. Black notes that Sutherland and Mazursky improvised many of their scenes while also pointing out the dangers of doing so when it comes to continuity, as well as recalling that Cardiff had an accident and spent three weeks of filming being carried around by grips and working on the shoot from a wheelchair. Kino also includes a new audio commentary by film historians Dean Brandon and Andrew Nette who note the differences between heist and caper films, the popularity of caper films in the seventies – noting the similarity in tone between this film and The Hot Rock – Sutherland's seventies filmography as divided between straight and perm hairstyles, the revelation that Shelley Duvall was originally supposed to play the female lead in the 1977 incarnation and may have already been working on The Shining when the film went back into production and she was replaced by Sutherland's Invasion of the Body Snatchers co-star. They also note that the production company McNichol was Sutherland's company – taken from his middle name – and not a company set up by actress Kristy McNichol (Little Darlings) and her manager mother. The disc also includes the film's theatrical trailer (2:29) and trailers for four other Sutherland films distributed by Kino Lorber.

Overall


A Man, a Woman, and a Bank is an uneven caper flick carried along solely by the chemistry between the three leads.