The Film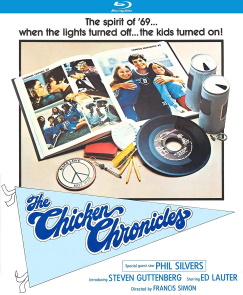 It's 1969, and upper middle class teenager David Kessler (Police Academy's Steve Guttenberg), track star and school paper editor, is about to graduate high school without ever having gotten laid. Even his fourteen year old brother Charlie (Foxes' Gino Baffa) is getting more action than him (in addition to skimming reds off his mother's prescriptions). The only person with less luck than David seems to be his Hawaiian best friend and weed supplier Mark (Hard to Kill's Branscombe Richmond). Although worldlier Tracy (Private Lessons' Meridith Baer) has made the offer, David only has eyes for cheerleader Margaret (The Pom Pom Girls' Lisa Reeves) who refuses to make love at his house if his brother is home or when they are alone in case his parents come back (although he rarely sees his parents, with his father constantly away and his mother [Kay Stewart] communicating with him almost entirely through the house's invasive intercom system). Margaret may also put off by the chicken smell that hangs on him from his hours at "Chicken on the Run" where he works to earn gas money; and where even his spry old-timer boss Max Ober (It's a Mad, Mad, Mad, Mad World's Phil Silvers) is constantly on his case. Breathing down his neck at school are vice principal Mr. Nastase (Breakheart Pass' Ed Lauter) and newspaper faculty advisor Mr. Phinney (Kentucky Fried Movie's Joseph G. Medalis) who object to his proposed final column "Springtime in Saigon" as something that might offend the president, not to mention the equally conservative parents of his classmates. Reduced to begging Charlie to find him a space where he and Margaret can have some privacy, the planned night of intimacy inevitably ends in disaster with Margaret running off while he goes out for rubbers and himself being chased by the police as a suspected peeping tom. When Nastase threatens him with expulsion before graduation, threating his admittance to Stanford, if he does not change his final column, and his mother threatens him with the army if he does not graduate, David does not know whether he has too much or nothing left to lose.

Scripted by Paul Diamond from his own novel, The Chicken Chronicles' coming-of-age story is also an early example of the teenager racing to lose his virginity sub-genre of teenage sex comedies that would flourish in the eighties (producer Melvin Simon would later bring us Porky's). At first, Guttenberg's "big bad Beverly Hills revolutionary off to face the world," does not seem like he would be a remotely sympathetic character. His gratuitous lashing out at authority at the threat to his future, however, turns out to be exactly that as it becomes more obvious just how psychologically stifling his otherwise privileged upbringing is in a time where the middle class children of his generation are not so insulated from the outside world as they would seem; and it takes the knowledge that the brother of one of his co-workers (Kutee) has been killed in Vietnam and the inability of himself and others to offer anything beyond awkward consolation for him to realize that. His illusions about life are destroyed in the course of a week, from his idealized vision of Margaret to the degree to which authority figures have the power to oppress him (including his mother seen through the surveillance camera scurrying down the drive when David demands that they talk in person for once), with everything coming to a head during a prom night party where Mark's dating of a supposed fourteen-year-old prostitute (Robin T. Williams) and Charlie winding up in the hospital after drinking in excess and walking through a plate glass window, and the usually docile date Stuart (Almost Summer's Robert Resnick) after his date Margaret becomes jealous upon seeing Tracy on David's arm, and David's response to it all suggest that he has indeed grown up a little bit. Undeservedly neglected after its theatrical release, The Chicken Chronicles has a bit more to offer than just another teenage sex comedy.

Video


Released theatrically by Avco Embassy and released on cassette in the early eighties, first by Fox offshoot Magnetic Video and then by Embassy Home Entertainment, and playing on HBO throughout the eighties, The Chicken Chronicles wound up with Studio Canal and, strangely given the introductory performance by Guttenberg, was not sought out for DVD or Blu-ray release until Kino Lorber's 1080p MPEG-4 AVC 1.85:1 widescreen Blu-ray. Shot by Matthew F. Leonetti (Poltergeist) on his Panavision competitor camera system Ultracam 35, The Chicken Chronicles really pops with the wonderful Avco Embassy logo. The colors look more sedate afterwards with occasional accents in the wardrobe and set dressing, but the image looks overall crisp with grain varying depending on the lighting conditions while night scenes have an appropriate sense of depth (as seen during David's attempts to evade the police during a suburban manhunt). Since the film has not been remastered since early eighties home video, it is not hard for this transfer to top any previous viewing experiences.

Audio


According to IMDb, the video versions had alterations due to music licensing issues. While we have not seen the tapes to compare, the DTS-HD Master Audio 2.0 mono track is full of recognizable sixties tunes including Classics IV's "Every Day with You" tapping into that nostalgia for love in supposedly simpler times. Dialogue and effects are always clear, along with the scoring, and optional English SDH subtitles are also included.

Extras


The sole extra is an audio Commentary by film historians Lee Gambin and Emma Westwood, the latter uncredited on the menu and disc cover even though she has appeared on other Kino Lorber commentary tracks. They contextualize the film within the genre of teen sex comedies where attractive characters have trouble getting laid, interpret Silvers' character as a cautionary tale for what David could become, discuss the Vietnam war element of the film which remains largely in the background, as well as Silvers' odd seventies career (his daughter was up for a role in the film and actually recommended him for the film). They also provide background on director Frank Simon for whom the film was his only narrative feature in a career that includes some acclaimed documentaries, and they posit that it was through his work on music documentaries that he must have met the film's producer Walter Shenson who produced The Beatles' vehicles Help! and A Hard Day's Night. The disc also includes four trailers, including three teenage comedies and the Guttenberg thriller The Bedroom Window.

Overall


Undeservedly neglected after its theatrical release, The Chicken Chronicles has a bit more to offer than just another teenage sex comedy.