The Film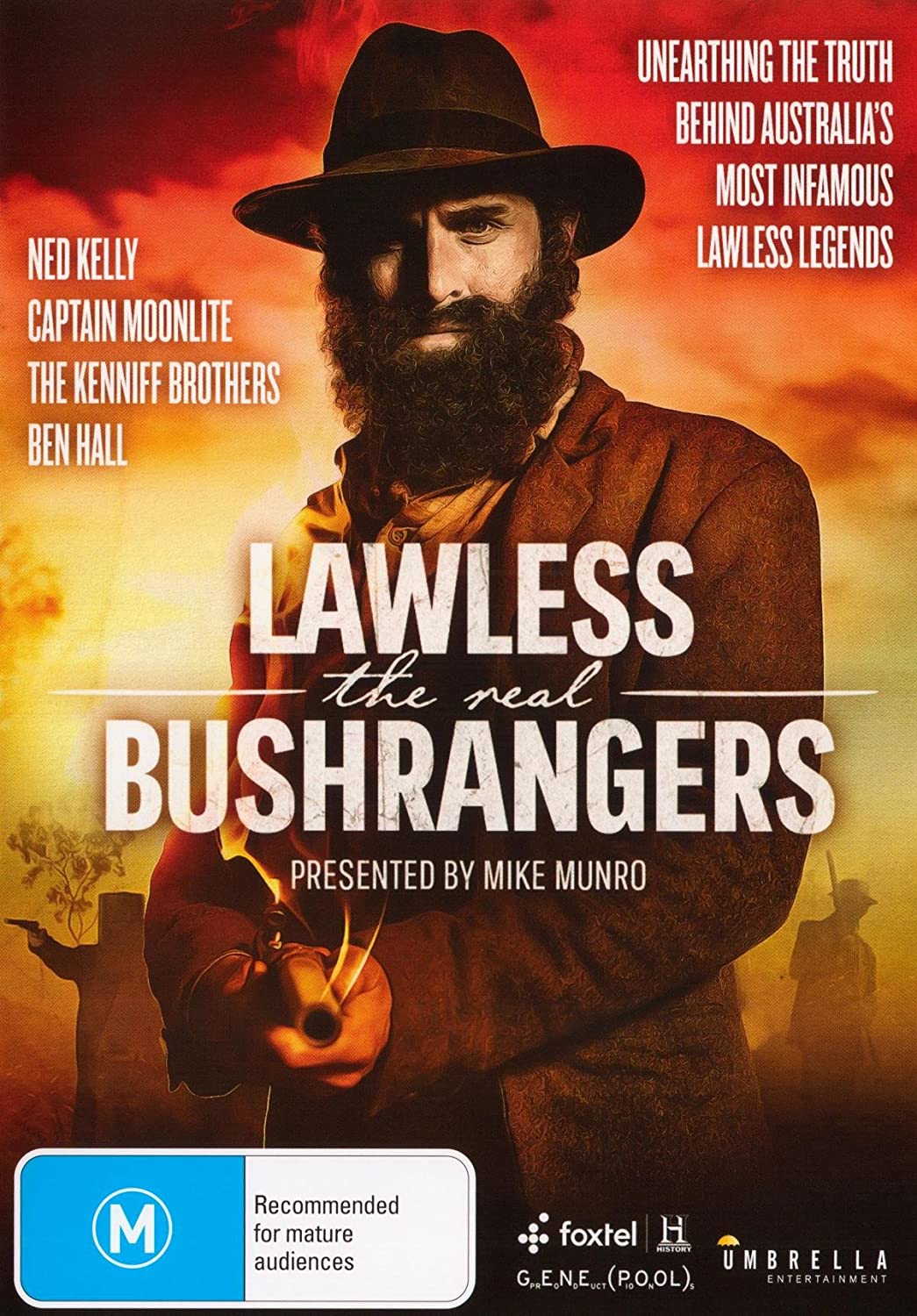 "Lawless: The Real Bushrangers" (2017)

Throughout the generations there have been stories of criminals who didn't become infamous for their crimes, but rather legendary heroes for their deeds and standing against authority in times of uncertainty. England had figures like Robin Hood and Dick Turpin and such. Americans had Butch Cassidy and the Sundance Kid and Jesse James, among others. Australia had quite a few bushrangers during their colonial period - thieves who robbed people in the "bush" or rural areas. Ned Kelly, Mad Dog Morgan, Ben Hall, and others are still well known and referenced in everything from songs to books to films generations later, and for many are antihero figures that continue to fascinate Australians as well as the rest of the world.

"Lawless: The Real Bushrangers" is a documentary series that is not here to glamorize these figures. Nor is it a series to drag them down as evil criminals that deserved to be killed. Hosted by journalist Mike Munro, the show is about uncovering evidence in famous incidents committed by or committed against four historical figures, and trying to find the ultimate truth behind the stories using modern technology. Adam Ford" is the archaeologist studying the landscape where the crimes occurred, using drones, lasers, as well as old fashioned tools for digging to pinpoint where exactly things happened. Roger Byard is a forensic pathologist who looks as ballistics and calculating how deaths occurred. Kiera Lindsey is a historian gathering everything from court documents, archival evidence, and information on the backgrounds of the bushrangers. The group dubbed "The Lawless Team" have the task of unmasking the truth and possibly changing the way some legendary stories have been told over the years. The episodes available on this DVD is as follows:

Episodes (with Play All)
- "Ned Kelly" (51:43)
- "Captain Moonlite" (50:41)
- "Ben Hall" (51:18)
- "The Kenniffs" (49:35)

The series has four episodes focusing on one bushranger and an incident they were part of. For the first episode "Ned Kelly", it deals with Kelly's gang killing three police officers at Stringybark Creek in 1878, in which he plead was in self defense. The second episode "Captain Moonlite" sees the bushranger captain and his gang in a shootout with police officers in Wantabadgery in 1879, in which Moonlite was hanged for, but he claimed he didn't fire the fatal shot. In the third episode "Ben Hall", the team looks at the killing of bushranger Ben Hall by police officers, but was it done lawlessly in cold blood or in a straight confrontation? Lastly in the final episode "The Kenniffs", it looks at the Kenniff brothers' horrific crime of burning and mutilating corpses of their victims.

For each episode, there are some recreated footage of the men in battle, but these are not scenes with dialogue or narrative, but shown with narration by Munro to illustrate the happenings in a "Rashomon" style, intercutting with newly uncovered information. The interviews go much further than just the main Lawless Team, as Munro also interviews the descendants on both sides of the fence. Descendants of the bushrangers as well as the police officers involved in the crimes. They discuss about the trouble and pain felt on their side of the family throughout the years, with the bushranger descendants living in shame or being ostracized for being connected with a criminal name, and the descendants of policemen seeing their fallen relatives as forgotten names in history while the killers have become legendary figures instead. Not only does the audience get to hear from real people affected by these incidents, but in each episode after the findings, the descendants from both sides are brought together to the historical landmarks with The Lawless Team explaining their findings of the fateful day, in most cases finding quite significant evidence to change the stories that their families and people have known for decades. While nothing can be 100% conclusive to say in most situations, the families show signs of forgiveness to each other and a mutual feeling of sorrow and relief at the end of each episode. The most significant may be the one with the Kenniffs, as host Mike Munro learned years ago from his father that his real name was not "Munro" and was "Kenniff", and he was a descendant of the Kenniff brothers, with their family changing their names to disassociate themselves from the criminals.

"Lawless: The Real Bushrangers" plays in a similar fashion to "Cold Case Murders" and "Mythbusters", using the basic scientific method, uncovering evidence, and presenting them in both entertaining and educating fashions for viewers. While there are many more stories to uncover with Australia's history of lawless men during the colonial era and fascinating to see stories from more than a century ago being revealed, it's just unfortunate that only four episodes were produced. Each episode is absolutely fascinating, with interest from true crime buffs, historical buffs, and audiences who like human drama as well. Hopefully the series will continue in the future, but these few episodes produced are still a very worthy watch.

Note this is a region 0 PAL DVD

Video


Umbrella Entertainment presents the series in the 1.78:1 aspect ratio with anamorphic enhancement, with recreated footage switching to the 2.35:1 aspect ratio. Shot digitally, the series looks very good with bright colors and fine detail throughout. The grass, dirt, blue skies, and empty fields look crisp in the documentary portions, while in the recreated footage it looks quite different in style. Besides the aspect ratio difference, the colors are much more saturated, and depth of field is very narrow for a stylized dreamlike effect. Although the disc has 200 minutes on one dual layered disc, there are no particular issues with compression to be seen.


Audio


English Dolby Digital 2.0 stereo
The series uses a basic stereo track for its presentation. Music and some atmospheric effects are used for separation, while narration and interview portions are entirely centered, and they are well balanced with each other.

There are optional English subtitles for all episodes in a yellow font. They are well timed and easy to read, but there are a few errors at times with a few words missing or with two words combined without a space in between.

Extras


Unfortunately no extras are provided. There is a main menu where one can choose a specific episode to start from as well as a "Play All" function.

A promo clip has been embedded below.



Packaging


The packaging states "region 4" only, but is in fact region free.
It also states the subtitles are "English HoH" but they are standard English subtitles, without captions for names or sound effects.

Overall


"Lawless: The Real Bushrangers" is a fascinating documentary series for true crime fans and is a highly entertaining series in its extremely short run of four episodes. The Umbrella Entertainment DVD has a great presentation but sadly lacking in the extras department.
| | | | | |
| --- | --- | --- | --- | --- |
| The Film: A | Video: A | Audio: A | Extras: F- | Overall: C+ |