The Film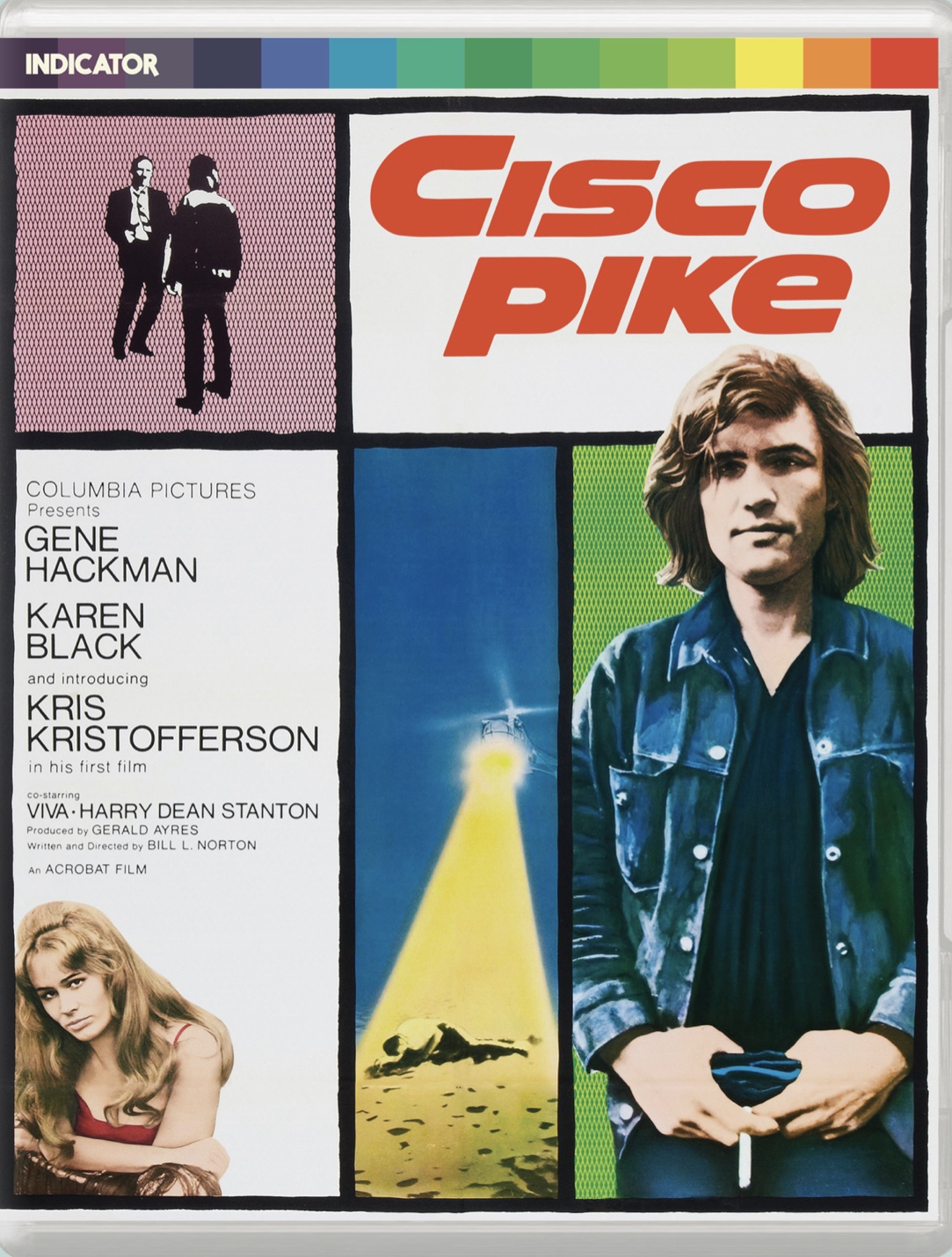 Starring Kris Kristofferson (The Last Movie) in his first leading role, and boasting an impressive supporting cast – including Gene Hackman (The Conversation), Karen Black (Five Easy Pieces), Harry Dean Stanton (Christine) and Warhol superstar Viva (Necropolis) – Cisco Pike follows the fortunes of a musician who turns to drug dealing to make ends meet.

Video


Musician Cisco Pike (Kris Kristofferson) also moonlights as a drug dealer, but when he's busted he determines that he's going straight and sticking to the music and his girlfriend (Karen Black) is overjoyed. However, a jittery cop (Gene Hackman) who is frightened for his financial future steals some high grade hash from a Mexican and forces Pike to sell it for him. Only problem is that he only gives Pike a weekend to make the 10K.

Low key indie drama typical of the new Hollywood aesthetic in the wake of Easy Rider (1969) that dissects the fallout from the '60s counterculture. It's beautifully crafted with heartfelt performances and lots of shades of grey. By the end we even feel a little sympathy even for the health-obsessed corrupt copper; all three leads are simply wonderful.

Dramatically solid because there's fine support from Harry Dean Stanton, Viva, Joy Bang, Howard Hesseman, Severn Darden, Antonio Vargas, Alan Arbus and Roscoe Lee Browne; all have memorable moments. Best of all, musician Doug Sahm has a hilarious cameo as a hyper, stoned producer in which much of his dialogue borders on unintelligible. Kristofferson and Sahm also perform on the terrific soundtrack.

It does meander a tad and is a little too laid back and is one of those films like Easy Rider and The Last Movie (1971) where it feels like the filmmakers shit about 100 hours worth of footage and whittled it down to the episodic final edit.

In any case, I enjoyed it a great deal. A Drama from the time when Hollywood made really good gritty dramas about real people. You gotta love a film that casts an actor in a bit called Wavy Gravy!

Cisco Pike has that wonderful naturalistic look favoured at the time. The colour palette is bright but never feels artificial; primaries can be very strong; I saw no signs of colour bleed. The image has a fairly flat appearance to emphasis the reality of the piece.

Black levels are excellent with plenty of shadow detail and I saw no signs of unintended crush; darker interiors and night exteriors have an intentional dark look. Contrast is lowkey and supportive; this isn't a visually vibrant film with the brief concert scenes being the most dynamic. Detail comes through on every focal plane and grain is ever present. Typical of a a Sony master and restoration there are no signs of damage nor digital tinkering; no DNR, no edge enhancement ... a nice clean image.

Encoding as as good as can be lending the image a wonderful film-like appearance.

1080/24p / MPEG-4 AVC / 1.85:1 / 94:23

Audio


English LPCM 1.0
Subtitles: English HoH

One of the strongest mono tracks I've come across and a while. The base in some of the score even triggered my subwoofer at a couple of points. Dialogue is always clear, except for Doug Sahm's jabbering but that is intentional. Music is well delineated commenting in the action with clarity. This track didn't even have some of the inherent tinniness that low budget films of the era could have. First class.

Subtitles for the hearing impaired are provided and comprehensive, bravo.

Extras


Audio commentary with B. W. L. Norton and Elijah Drenner

A chatty track that delves immediately straight into how the project came about drawing on personal experiences and acquaintances from his experience, Norton is also keen to stress that it isn't really autobiographical. Authenticity seems to have been the watchword and it's very much of a piece with BBS Productions like Easy Rider and Norton was in the same social circle. Lots of trivia on the cast and other aspects of the production. The discussion about Andy Warhol alumni Viva (real name Janet Susan Mary Hoffmann) most interesting; she was pregnant during filming and was making her first L. A. Film.

"Walking Contradictions - Cisco Pike: Then and Now by Elijah Drenner" 2020 featurette (9:53)

Excellent analysis of Los Angeles (via looking at Cisco Pike's locations then and now), the characters and the film. 1080/24p / 1.78:1 / Dolby Digital 2.0 Stereo

"Ode to Joy: Kier-La Janisse on the Life and Career of Joy Bang" 2020 featurette (42:45)

Substantial piece covers cult actress Bang's life and career. Bang was an actress with a short career of only a few years, but she was charismatic and had a knack for choosing roles working fir exceptionally interesting film makers like Norman Mailer, Andrew Meyer, Willard Huyuck, Herbert Ross, Woody Allen, Roger Corman, James Goldstone, Jack Bond, Jane Arden and Roger Vadim. Janisse does a fabulous job of keeping this relatively lengthy featurette interesting and full of interest. You get a real sense of a free spirited and possibly fairly esoteric young woman going where her whims took her. Janisse also covers the fascinating backdrop to several of the underground films Bang appeared in and their mob connections. 1080/24p / 1.78:1 / Dolby Digital 2.0 Stereo

Theatrical Trailer (2:51)
TV Spot (0:30)

Standard promo pieces of the period; trailer is in excellent nick but the TV spot is very pink. 1080/24p / 1.85:1, 1.33:1 / Dolby Digital 2.0 Mono

Cisco Pike Image Gallery: Original Promtional Material (23 images)

Brief HD still gallery.

40-page liner notes booklet by Christina Newland, the original soundtrack EP liner notes, an archival interview with Kris Kristofferson, Stephen Farber's 1972 article on Cisco Pike, an overview of contemporary critical responses, and film credits

Another essential, indispensable companion to the a Powerhouse Release. I have yet to come across one that is not a riveting, informative read. Sometimes these booklets are more interesting than the films, they're that good.

Packaging


Standard clear Blu-ray case as seen on other Powerhouse Films releases.

Overall


Excellent picture and sound with a fairly dynamic mono soundtrack that really kicked out. As good as can be ... as we've come to expect from Powerhouse Films. This one is sourced from an excellent Sony restoration. Powerhouse Films continue to do superb work taking the best off the shelf masters and presenting them on their best behaviour; lavishing them with superb encodes and copius extras filled with contextual added value.
| | | | | |
| --- | --- | --- | --- | --- |
| The Film: B | Video: A+ | Audio: A+ | Extras: A | Overall: A |