Moscow on the Hudson (Blu-ray) [Blu-ray]
Blu-ray B - United Kingdom - Powerhouse Films
Review written by and copyright: Rick Curzon (12th May 2020).
The Film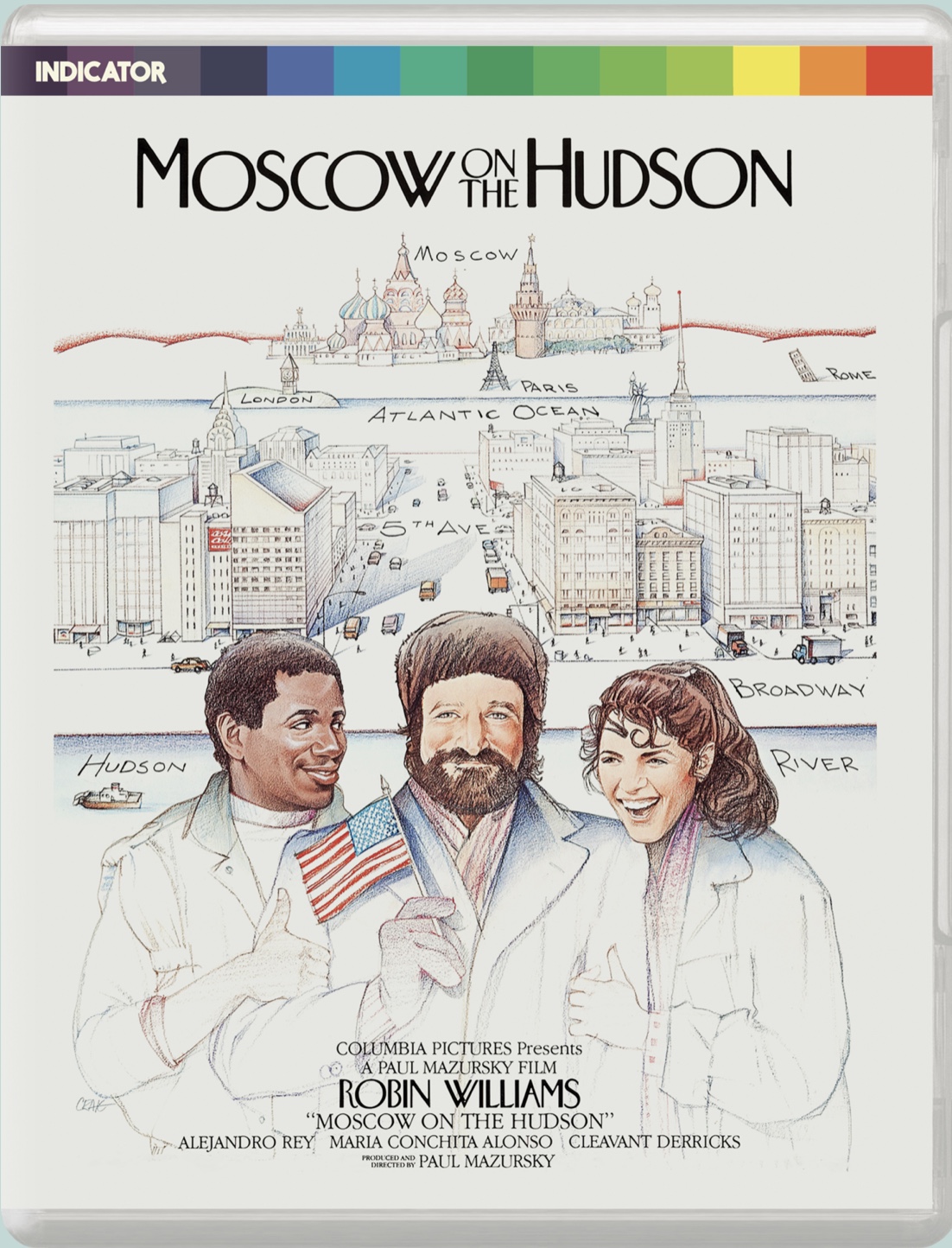 Vladimir, a musician with the Moscow circus, defects to the US and must navigate a new life in New York. An early dramatic role for star Robin Williams, the actor undertook a crash course in Russian and learned to play the saxophone in order to play the part.

Video


Agreeable, winsome culture shock comedy drama about a Russian musician (Robin Williams) who defects when his circus travels to New York. Williams is in his element playing agianst angreat supporting cast including several Russian emigre actors who all turned up in 2010 the same year.

The funny thing is that it portrays life in Russia as extremely grim and dour and at the time I recall thinking that it was just licence playing on a stereotype ... but now we know that it was a pretty accurate portrayal of life in the USSR. I do wonder how Russian Williams sounds to other Russians. I'd seen a few other Paul Mazursky films over the years (An Unmarried Woman, Willie & Phil, Down and Out in Beverly Hills, Moon Over Parador) and this is the best thus far.

This is a typically warmly coloured 1980s American studio picture that visually reminded me of Trading Places (1983). A palette that favours browns and reds in more intimate scenes; flesh tones are rich but natural especially in interiors. Exteriors are well lit, bright and detailed. Detail is exceptional across the board on all focal planes.

Black levels are satisfyingly deep and rich and contrast is balanced and supportive; no crush, no blowouts. This was a well funded film with a medium budget and the cinematography of production quality reflects that. Shadow and highlight detail are both very good. There is an inherent filmic softness typical of the '80s but that manifests itself more in the grain field. As this is an '80s film, there is neon in some scenes ... I love '80s neon ... and it looks fabulous, as it should. You can always tell how good a transfer of an '80s film by how sharp the neon is and it'll cut your eyes if you look too closely here!

Grain is natural, course and film like which is delightful obviously and the encode handles it all expertly. Reviewing Powerhouse Films discs (and their sister company Anti-Worlds) is a pleasure because I can so positive all the time. They take very good existing masters - occasionally fund their own restorations - and present them in optimal quality.

1080/24p / MPEG-4 AVC / 117:14

Audio


English DTS-HD Master Audio 5.1
English LPCM 2.0 Stereo
Subtitles: English HoH, English for Russian dialogue

Made in Dolby stereo this has been translated to the default setting 2.0 Stereo; a modestly effective track typical of a comic drama of the period in that the surrounds are Mainly used for ambient in crowd scenes and for the score; especially during the first American scenes. It's a good track with no distortion and plenty of range. I didn't feel much subwoofer activity but it's nit the kind of film where that would be a priority.

The 5.1 upmix has a bit more welly at times and the separations are in stereo as opposed to the mono of the 2.0, but there's little to tell between them.

There's plenty of Russian dialogue which has player generated subtitles throughout. Hard of hearing are also provided and are typically comprehensive and excellent.

Extras


Audio Commentary with Director Paul Mazursky (2001)

Mazursky manages to fill this track thoroughly from start to finish with plenty of detail about how the script was developed (everyone in it is an immigrant) and lots about his experiences in Russia, how blue jeans were much prised there. Mazursky seems very proud of the film and even laughs at a couple of junctures. He did quite a bit of research for this film (also covered in the booklet). A laid back informative track.

"The Guardian Interview with Paul Mazursky and Robin Williams: Conducted by Critic Derek Malcolm at the National Film Theatre, London on 10 September 1984" plays as an alternate audio track over the film (93:20)

This is a typically fascinating listen with plenty of detail; It was at the time Moscow on the Hudson was debuting in the UK. However, the sound is muffled and I had to channel it through all speakers. In any case, it's well worth the effort as anyone who's listened to these recorded screen talks will know. There's stuff that crosses over with the 2001 yaktrak but equally there's much more about his career up to that point. This 1984 discussion is more immediate and obviously closer to the making of the film. Once again, Mazursky likes to laugh a lot; "I'm just a kid from Brooklyn looking desperately for his next picture" sums him up nicely. Both he and Williams obviously are pals and work well together; Williams is in fine, intelligent form.

Theatrical Trailer #1 (2:15)
Theatrical Trailer #2 (2:07)

Two comedy orientated trailers; both in 1080/24p. #1 is open matte 1.33:1 and may have been for TV of video exhibition. #2 is matted 1.85:1.

Moscow on the Hudson Image Gallery: Original Promotional Material (18 images)

Nice, limited HD gallery. 1080/24p

36-page liner notes booklet with a new essay by Monica Castillo, a contemporary account of the making of the film, Paul Mazursky's research visit to Moscow, an overview of contemporary critical responses, and film credits

Another in a long line of excellent, thorough booklets; if you've read others you know what to expect. Essential.

Packaging


Standard clear Blu-ray case like other Powerhouse Films releases.

Overall


Yet another cracking disc from Powerhouse Films and essential for those so inclined towards American comic-dramas, particularly from the '80s. Picture and sound are as good as can be; this uses the same master used on the US Twilight Time disc. That release also had a unique commentary In addition to the Mazursky one, a Julie Kirgo essay and an isolated score track not ported over here. However, the encode is most likely stronger on this UK release; based on prior experience as I have over 60 Twilight Time discs. The screen talk here and substantial booklet are both priceless. They elevate this Powerhouse disc above the US to my mind.
| | | | | |
| --- | --- | --- | --- | --- |
| The Film: B+ | Video: A+ | Audio: A+ | Extras: B+ | Overall: A |

---
DVD Compare is a participant in the Amazon Services LLC Associates Program and the Amazon Europe S.a.r.l. Associates Programme, an affiliate advertising program designed to provide a means for sites to earn advertising fees by advertising and linking to amazon.co.uk, amazon.com, amazon.ca, amazon.fr, and amazon.de.