Watermelon Man (Blu-ray) [Blu-ray]
Blu-ray B - United Kingdom - Powerhouse Films
Review written by and copyright: Rick Curzon (13th May 2020).
The Film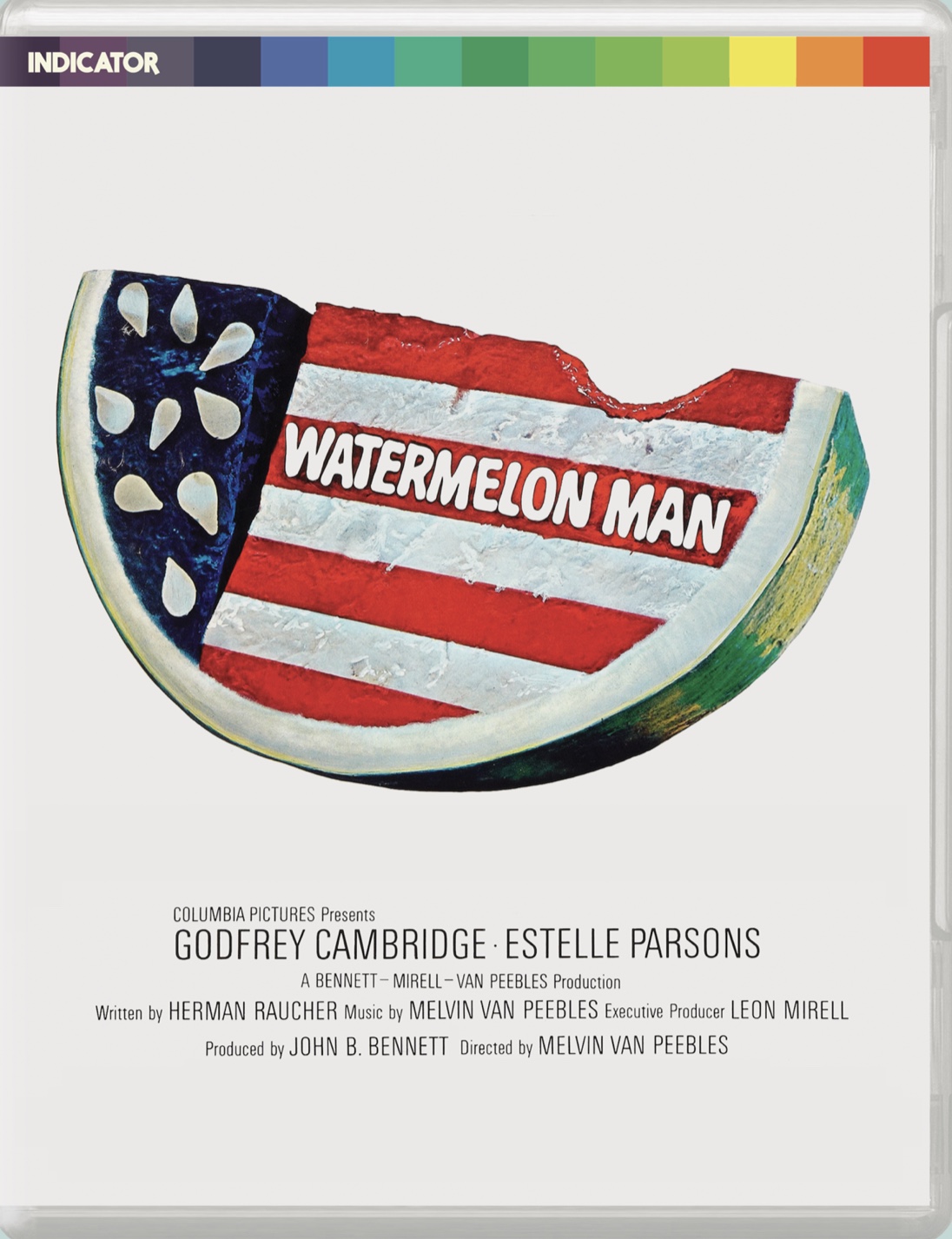 A bigoted, white salesman (played by stand-up comedian Godfrey Cambridge) wakes up one morning to find he has become black. Although it has been somewhat overshadowed by Melvin Van Peebles' next film, Sweet Sweetback's Baadasssss Song, Watermelon Man has never felt more relevant than it does today.

Video


A white businessman Jeff Gerber (Godfrey Cambridge) wakes up one day and finds he's turned black. His Althea (Estelle Parsons) is shocked and his colleagues confused. Jeff had been fairly bigoted in his outlook and his wife had been chastising him for his views as she feels that he should be more sympathetic towards the race issue.

Incredibly heavy-handed but spirited comedy about race with the late great Godfrey Cambridge on the top of his game; jokes, wisecracks and very possibly ad-libs come thick and fast as he gleefully overplays from the off. His amusing portrayal of an white American alpha male bigot who seems to be competing with everyone he encounters is hilarious.

Seeing a black man whited up is very unusual and it's obviously a reversal of what black people have had to put up with since the year dot, although thankfully it's a practice much frowned upon these days although the recent trend towards colour blind casting is a reaction perhaps.

Utterly goofy and played at a fever pitch but manages to be screamingly funny most of the time. It's like a big, widescreen sitcom and a film that seems to have been understandably out of circulation. I'd heard of it before but fir whatever reason hadn't had the chance to see it.

A comedy gem that obviously inspired Lenny Henry's True Identity (1991) in some ways.

Made in 1969-70 director Melvin Van Peebles and cinematographer W. Wallace Kelly follow a pretty standard brightly lit, richly coloured studio palette. Colours are rich with fashions being of particular note with their late '60s, early '70s gaudiness. The moment where Cambridge wakes up and finds he's gone from white to black is a riot of gel lighting as if the technical bods are attempting to keep up with Cambridge's patter. Flesh tones are velvety and rich be they black or white with plenty of body.

Black levels and shadow detail are exceptional; fabrics have texture even at distance. The scene where Estelle Parsons is asleep while Cambridge monologues is richly detailed with the blanket covering them both filled with detail, especially on her side of the bed which is furthest away and not in shadow. Contrast is typically lowkey allowing detail and highlights to shine with no issues.

Grain is plentiful and fairly course throughout. Image quality varies along with density occasionally at optical work but that's to be expected. No signs of damage and no digital tinkering. The encode is top notch.

1080/24p / MPEG-4 AVC / 1.85:1 / 99:40

Audio


English LPCM 1.0
Subtitles: English HoH

Dialogue is loud and clear and is the main focus of this mono track ensures that it's always clear and to the fore. The score, although occasionally annoying and intrusive in tone does it's job without interfering. I heard no distortions although it can be a tad tinny which is no doubt inherent in the elements.

Subtitles for the hearing impaired are excellent.

Extras


"Melvin Van Peebles introduces Watermelon Man" 2004 featurette (5:06)

Brief audio introduction set to stills and presented in 1080/24p, 1.78:1 and 2.0 mono. Van Peebles is chatty and recounts the films genesis; his second feature film as director after The Story of a Three Day Pass (1968). Watermelon Man was shot in 21 days.

"The Guardian Interview with Melvin Van Peebles: Conducted by Broadcaster Darcus Howe at the National Film Theatre, London on 30 August 1996" plays as an alternate audio track over the film (70:48)

Wide ranging discussion filled with plenty of trivia and detail; typical of these screen talks. His career is covered along with his experiences as a black man and his route to making features.

Watermelon Man Image Gallery: Original Promotional Material (64 images)

Decent HD gallery. 1080/24p / 1.78:1

40-page liner notes booklet by Sergio Mims, a 1970 profile of director Melvin Van Peebles, archival interviews with Van Peebles, an overview of contemporary critical responses, and film credits

Another chunky supplemental booklet that covers a fair number of bases and provides excellent contextual added value to the appreciation of the film.

Packaging


The usual clear Blu-ray case we've come to expect from Powerhouse Films.

Overall


A rarely seen, controversial film gets the deluxe treatment from Powerhouse Films via Sony's excellent master. Picture and sound are well up to par and the extras, although less than usual, are choice and valuable.
| | | | | |
| --- | --- | --- | --- | --- |
| The Film: B- | Video: A+ | Audio: A- | Extras: B+ | Overall: A |

---
DVD Compare is a participant in the Amazon Services LLC Associates Program and the Amazon Europe S.a.r.l. Associates Programme, an affiliate advertising program designed to provide a means for sites to earn advertising fees by advertising and linking to amazon.co.uk, amazon.com, amazon.ca, amazon.fr, and amazon.de.