Sea Fever (Blu-ray) [Blu-ray]
Blu-ray B - United Kingdom - Signature Entertainment
Review written by and copyright: Rick Curzon (14th May 2020).
The Film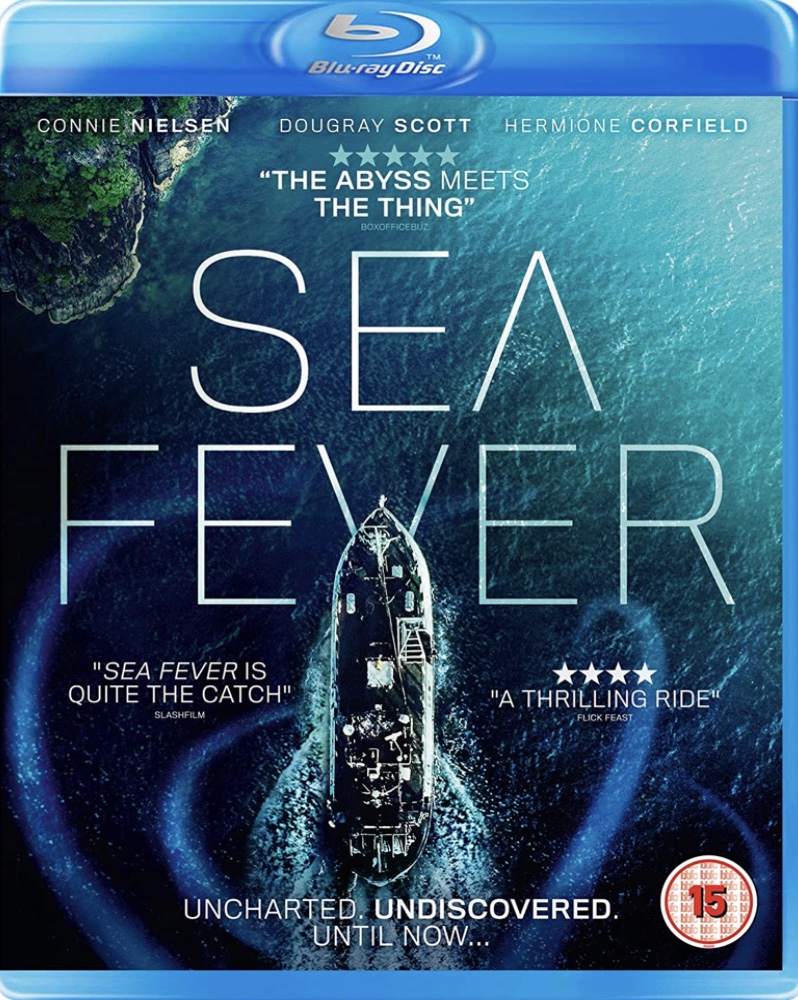 Sea Fever is a tense and original Irish sci-fi thriller reminiscent of cult classics The Thing and The Abyss, starring Hermione Corfield (Star Wars: The Last Jedi) and Connie Nielsen (Wonder Woman).

For marine biology student Siobhan (Hermione Corfield), it was supposed to be a research excursion with a trawler crew fishing the West Irish seas. But when they hit an unseen object and become marooned, a mysterious parasite infects their water supply. Soon the oozing force infiltrates the entire vessel and turns Siobhan's journey into a claustrophobic fight for survival. Can they stop the mysterious water borne parasite from spreading before it's too late?

Sea Fever also stars Dougray Scott (Hitman) and Jack Hickey (Game of Thrones). Written and directed by BAFTA© winning Irish filmmaker Neasa Hardiman (behind BBC triumph Happy Valley and Netflix hit Jessica Jones).

Video


Siobhán (Hermione Corfield) red headed, Aspergic university student studying faunal behavioral patterns is on a placement onboard an Irish fishing vessel. There she encounters suspicion due to her hair colour and finds it difficult relating to the crew. However there's little time for all this because they encounter and unknown, marine monster that starts to infect the crew and drive them nuts.

Watching the film and then listening to the commentary this is yet another monster mash with ambitions of being something more rather than content to just be a spook opera. It's good, if dour and self serious with an attractive, naturalistic look. The ensemble cast all do very well and the eclectic bunch of characters make up for the not terribly sympathetic lead.

This is a great looking film with a naturalistic colour palette that favours rich colours; thank heavens for none of your dour, digitally colour corrected horror film grades here. Flesh tones are warm and inviting, the production design favours lots of browns and the sea looks luminous and beautiful, especially the underwater scenes and shots of the film's jelly fish-squid hybrid creatures.

The image is pristine with a very fine grain field; so fine as to be almost non existent. Black levels are consistently dark and inviting with a decent amount of shadow detail. Detail is pleasing throughout with the obvious boost in closeups of flesh and fabrics. Contrast is low key and supportive. The film is mostly pretty dark being set inside the ship and at night. This disc has a supportive encode.

A fine presentation. That said, I can't help but think that had this been shot photochemically on 35mm it would have more grit and texture.

1080/24p / MPEG-4 AVC / 2.4:1 / 94:13

Audio


English DTS-HD Master Audio 5.1
English LPCM 2.0 Stereo
Subtitles: None

A full bodied modern soundtrack with plenty of active surrounds. It's not used in quite the same room-rattling way a similar 5.1 track would be on a mega budget Hollywood films but it's almost demo quality in a more subtle way. Mood is name of the game with this monster flick and the track is filled with ambient music and sound effects lending the settings depth and presence. Plenty of base and subwoofer activity when required however. Dialogue can get slightly lost if you have the sound too low but that's by design to boost the grim, dreamy mood and tone of the piece.

Subtitles are present but for an entirely different film! The packaging makes to claim for their presence to it's safe to assume that they were never intended to be there. However, it's amusing to play them as they're from Takishi Miike's First Love (2019) so it can be quite a surreal bit of fun to view Sea Fever with them on screen.

Extras


Audio commentary with director Neasa Hardiman

Hardiman has high ambitions for her monster mash to do with ethics, morality, responsibility. Very much a stream of consciousness dissertation on the film dealing with each moment as it happens delving into themes, emotions, characters and motivations. Lots of mention of the leading character's possible Aspergers issues and her lack of understanding of emotional cues. Hardiman is a passionate, creative and she delivers a passionate monologue, explanation and defence of her film.

"Sea Fever: From Storyboard to Screen" 2020 featurette (4:00)

Brief but reasonably interesting comparison betwixt storyboards and final scenes with commentary by the writer-director.

"Sea Fever" 2020 making of featurette (11:10)

Brief EPK puff piece.

Startup Trailers:
- Come to Daddy (2:09)
- The Dark Red (1:58)

Promos for other Signature Entertainment releases.

Packaging


Standard blue Blu-ray keepcase.

Overall


A brand new modern digitally shot science fiction horror flick and the image and sound are as good as you'd expect. Extras are solid if not extensive; decent, detailed commentary from the director plus some minor EPK and storyboard material. The price is cheap and the disc will be easy to pick up with superior image and sound to the streaming version.
| | | | | |
| --- | --- | --- | --- | --- |
| The Film: B- | Video: A | Audio: A+ | Extras: C+ | |

---
DVD Compare is a participant in the Amazon Services LLC Associates Program and the Amazon Europe S.a.r.l. Associates Programme, an affiliate advertising program designed to provide a means for sites to earn advertising fees by advertising and linking to amazon.co.uk, amazon.com, amazon.ca, amazon.fr, and amazon.de.