American Woman (Blu-ray) [Blu-ray]
Blu-ray B - United Kingdom - Signature Entertainment
Review written by and copyright: Rick Curzon (15th May 2020).
The Film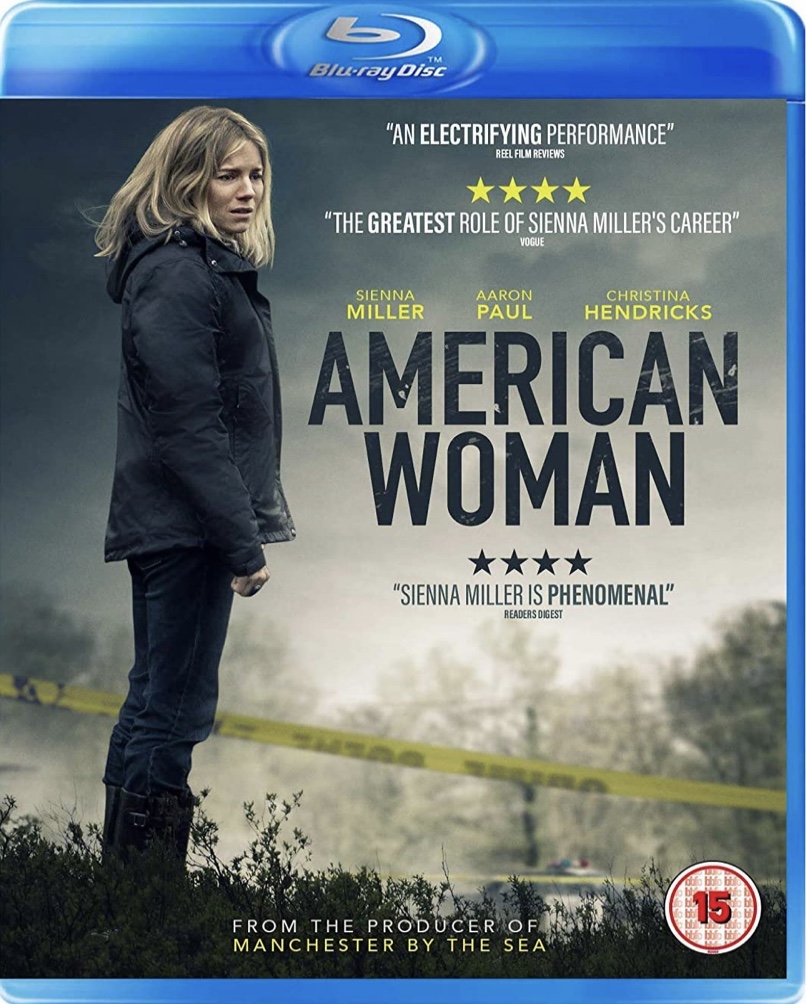 American Woman finds poignant drama in one womanís gruelling odyssey, thanks in no small part to Sienna Millerís outstanding work in the leading role.

In a blue-collar town in Pennsylvania, a 32-year-old womanís teen daughter goes missing and she is left to raise her infant grandson alone. The story is told over the course of 11 years: we journey with her from the time her daughter vanishes, through the trials-and-tribulations of subsequent years, and ultimately to the long-awaited discovery of the truth.

Also staring Aaron Paul and Christina Hendricks and from the producers of Manchester By The Sea.

Video


Drama about a blue collar woman in her early thirties (Sienna Miller) who's teenage daughter goes missing and her relentless search for the truth and happiness. You can't fault the acting, direction or production but ultimately it's just so filled with American blue collar cliches even if the actors do their best and there are some undoubtably powerful moments. It's also unrelentingly grim offering little light along the way although happily it ends ... reasonably well. Sienna Miller is the whole show and plays her part exceptionally well; you'd never know that she was from the UK. The generic, faintly jingoistic title does the film no favours.

American Woman utilises a more colourful palette than is usual for a grim American / Hollywood film, with a fairly naturalistic look. As is standard these days it was shot digitally and completed in the matted 2.4:1 ratio which strikes me as an odd choice for such a non-spectacle as this. Darker scenes are bathed in blue and look effective; flesh tones are natural and I could see no black crush. Shadow detail is exceptional, contrast is low key and allows reasonable amounts of detail to be plainly seen across all focal planes.

There's very little grain which isn't surprising given how this was shot and the encode gets the job done; no artefacts that I could detect. There is a softness here that could've been remedied by using a BD50 and increasing the bitrate.

1080/24p / MPEG-4 AVC / 2.4:1 / 111:54

Audio


English DTS-HD Master Audio 5.1
English LPCM 2.0 Stereo
Subtitles: None

Solid if undemanding 5.1 track gets the job done. Being a drama first and foremost it ultimately comes down to the score which uses the surround channels very well. Ambience is present but not worthy of special mention. There's very little subwoofer activity but that'll come as no real surprise given the nature of the film.

No subtitles which is inexcusable as I'm certain other releases around the globe will have them; it's definite that streaming services will so the files will exist. Surely it doesn't cost much to include them? B+ for the sound but overall B- for no subs.

Extras


Startup Trailer:
- The Peanut Butter Falcon (1:50)

Sweet F-A! Nowt, nada.

Packaging


Standard blue Blu-ray keepcase.

Overall


A pretty standard, single-layered presentation of a bang up to date modern, digitally shot film. Image and sound are decent without being spectacular and there are virtually no extras which is - as always - a shame. Barebones, cheap BD can be had for a very reasonable price to obviously it's recommended. You can also be assured that the same master will be available to stream but will be more robust on this physical copy unless viewed in 4K, obviously.
| | | | | |
| --- | --- | --- | --- | --- |
| The Film: C+ | Video: A | Audio: B- | Extras: E | Overall: C+ |

---
DVD Compare is a participant in the Amazon Services LLC Associates Program and the Amazon Europe S.a.r.l. Associates Programme, an affiliate advertising program designed to provide a means for sites to earn advertising fees by advertising and linking to amazon.co.uk, amazon.com, amazon.ca, amazon.fr, and amazon.de.