The Film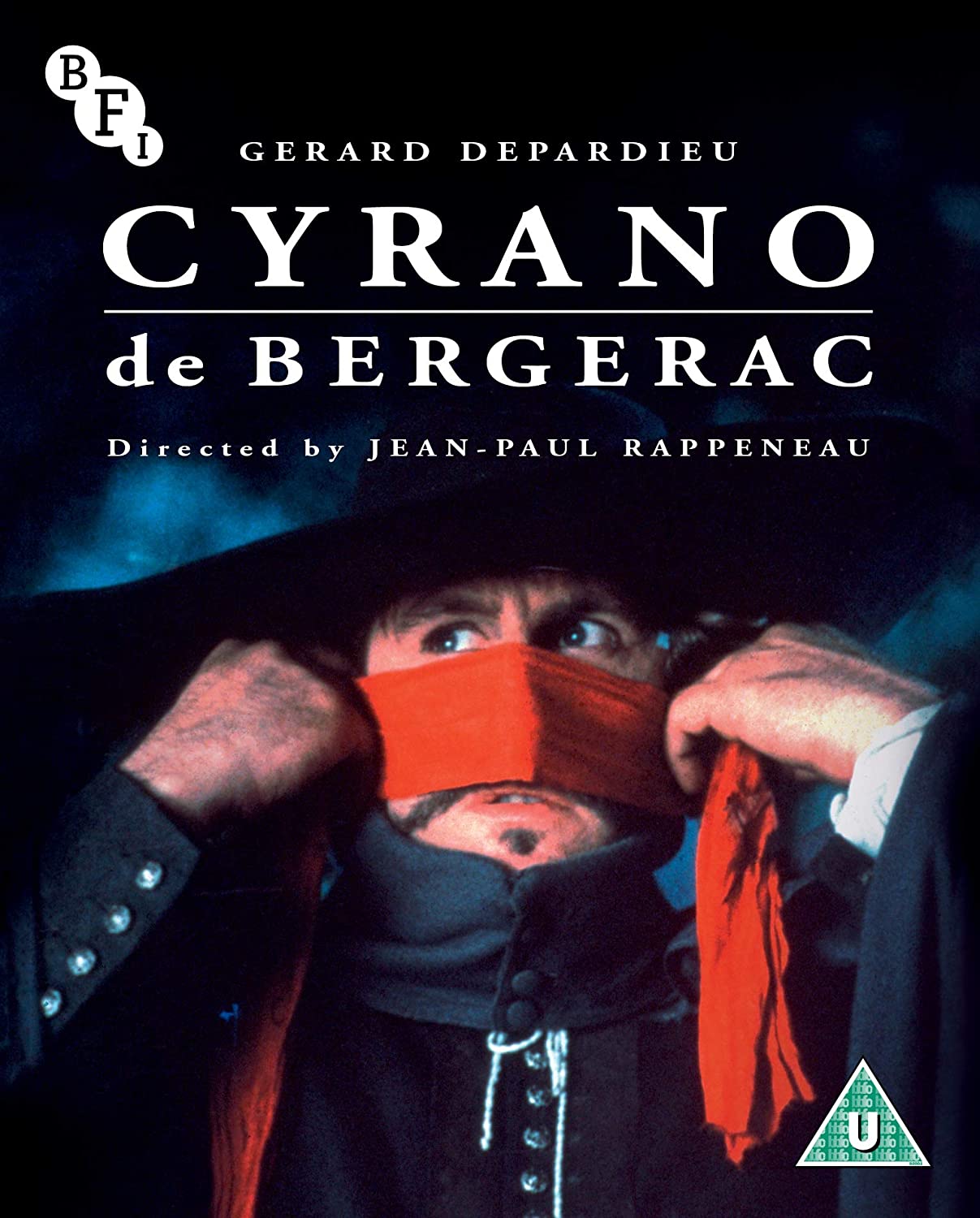 "Cyrano de Bergerac" (1990)

Cyrano de Bergerac (played by Gérard Depardieu) is a poet and a man who is as quick with his witty wordplay as he is with his way handling a sword. A critic of bad stage direction and acting and a man who is unafraid of confrontation, there is one thing missing from his life and that is a woman by his side. He is in love with the beautiful Roxane (played by Anne Brochet) but he isn't confident with his natural appearance, as his nose is twice as long as the average man. A spark of light comes when Roxane says she has fallen in love, but it is not with Cyrano but a young soldier named Christian (played by Vincent Perez). A handsome swordsman but little in terms of vocabulary, Cyrano sees an opportunity to help Roxane achieve happiness and be able to use his wonderful words of love and wisdom, by coaching Vincent with his words and helping the two fall in love. But with increased awkward situations and Vincent having trouble reciting the words, is there hope for the young couple, or will Cyrano be able to help them overcome their differences?

The real Cyrano de Bergerac was born in 1619 and died in 1655 at the age of 36. He was a writer and duelist whose works became popular posthumously, but he is best known for being the title character in the 1897 stageplay by Edmond Rostand which was almost entirely a fictionalized story, only using his name, his presence, as well as his young accidental death as the basis. Roxane and Christian are completely fiction, as well as the storyline of Cyrano being a third voice in the unusual relationship. The play has been performed countless times in many adaptations, from stage to screen to television, in the original French language as well as translated into others. The 1923 silent "Cyrano de Bergerac" is the earliest feature film adaptation, which was bombastic with the visuals especially with the hand tinted colors, but couldn't fully express the rhythmic ballet of the title character's vocabulary. The 1950 Hollywood adaptation of "Cyrano de Bergerac" was a fairly low budget English language adaptation that is fondly remembered for José Ferrer's Golden Globe and Oscar winning performance. While those were films faithful to the time period, there were many other films that took liberties such as 1987's "Roxanne" moving the setting to contemporary America, and 1996's "The Truth About Cats & Dogs" flipping the gender roles of the three main characters. Not only were there direct or indirect adaptations, but the concept of two people speaking while one is being secretly coached in what to say to woo the other is a cliche seen in almost every form of entertainment. Even the "punctual" scene at Jasmine's balcony in Disney's animated "Aladdin" is a direct homage to the balcony scene in "Cyrano de Bergerac".

In 1984, the rights to a film adaptation became available, and filmmaker Jean-Paul Rappeneau set forth on a long journey in adapting it to the screen. A celebrated director whose filmography is filled with quite a few years of vacant spaces in between projects, it would take a full six years until the project would see it completed, and becoming France's most expensive film made at the time with a budget of Fr100 million ($15 million+). No expense was spared with the production, with costumes and sets to mirror the time period, the many extras involved including a large battle sequence between the French and the Spanish. For the role of Cyrano, Gérard Depardieu was cast and it is hard to see anyone but him playing the part. An accomplished actor of many awards over the course of two decades in France ranging from mainstream to independent films, he had a way of delivering the words with a powerful and confident voice that mirrored the character perfectly, as he had the voice but his looks were not the most handsome to say the least. Though he already had a nose that was naturally large, a prosthetic piece was additionally applied for his character to complete the transformation. It is a powerhouse performance for any actor to play the title role as the dialogue is done in many rhythmic successions like a musical without music, or a rapper without the DJ, and dialogue by the character is easily about two thirds of the entire production. While there are a large number of supporting characters, everyone else is basically a supporting character to Cyrano's. There are still some great performances to be found in the supporting roles, such as Jacques Weber as Comte De Guiche, who is actually younger than Deparideu in real life but made to look a generation older.

The script was adapted by Rappeneau with Jean-Claude Carrière, retaining as much of the core of the original play but removing about a third of the dialogue to fit a cinematic adaptation. Famed cinematographer Pierre Lhomme lensed the elegant looking film and a score by Kurt Kuenne and Jean-Claude Petit accented the soundtrack beautifully. Though French in setting, language, and production, the film had a universal appeal, with a look and feel of an epic tale but with comedy and romance in the tone and situations that were easily relatable even if the setting itself was foreign. While it was a surefire hit in its native France when released in cinemas on March 28, 1990, the film surprisingly became a smash hit worldwide. The film rolled out its release internationally through the rest of the year and the first half of 1991, and became the highest grossing French language film at the time with a gross of over $41 million worldwide. Depardieu became an international superstar with his performance and it was coupled with his English language debut in the romantic comedy "Green Card", which was released just after the US theatrical release of "Cyrano de Bergerac". In addition he won the Best Actor award at the Cannes Film Festival. For other awards, the film won 10 out of 13 nominated Cesar Awards, 4 wins at the BAFTAs, one Academy Award for Best Costume Design out of five nominations, and a Best Picture award at the Golden Globes, among many others. The film cemented France's reputation again in world cinema and reinvigorated outside interest, leading to a renaissance of works by up and coming filmmakers like Luc Besson and Matthieu Kassovitz, and also seeing new works from older directors with new interest. "Cyrano de Bergerac" may be conventional, but is still one of the most visually and aurally one of the most powerful works in cinema, and certainly holds its place as a definitive adaptation of the classic tale.

Note this is a region B Blu-ray

Video


The BFI presents the film in the theatrical 1.66:1 aspect ratio in 1080p AVC MPEG-4. A 4K restoration of the film was done by Lagardère Studios in 2018 alongside some of Jean-Paul Rappeneau's other works. Being a uniquely vibrant looking film, the restoration certainly looks stunning to say the least. From the opening sequence at the theater with its browning hues, to the battlegrounds and the bright green grass, the colors look absolutely fantastic. As the film is shot with mostly natural light with candles or sunlight, there are dark interior sequences as well as night sequences throughout, and detail can be a bit crushed in the darkness. The image is very stable in color balance, damage is eliminated entirely, and has a sharp look throughout while also keeping a filmic look by keeping the film grain intact. An absolutely strong restoration and one that puts all previous DVD releases in the dust.

The film's runtime including the restoration credits at the opening is 138:24.

Audio


French DTS-HD Master Audio 5.1
French LPCM 2.0 stereo
There are two original language tracks: a lossless 5.1 remix and an uncompressed 2.0 stereo mix. The film was originally released in Dolby Stereo and has been remixed to the 5.1 soundscape. The 5.1 track has dialogue being almost entirely center based, with the left and right complimenting the music and effects while the surround rear channels are used for some ambiance and echoes. Being a dialogue heavy production, it sounds very nice with separation and feels naturally balanced. The 2.0 stereo track mimics the original stereo mix and also sounds very good, but lacks the depth found in the 5.1 track.

There are optional English subtitles in a white font for the main feature. In 1970 English writer Anthony Burgess adapted "Cyrano de Bergerac" for the English stage and was commissioned to write the subtitles of the 1990 film adaptation, featuring a rhythmic pacing and rhyming to match the French dialogue rather than a literal translation. The Blu-ray features the theatrical subtitles rather than a new translation. They are well timed, easy to read and without any errors to speak of.

Extras


Audio commentary by Ginette Vincendeau
In this new audio commentary by Ginette Vincendeau, the professor gives information on the making of the movie alongside information on the history of the play and character as well as the cast and crew of the 1990 film. She talks about Depardieu's career up to the film, the sporadic but important output of Rappaneau, the lawsuit involving similarities in the soundtrack to the "Batman" 1989 score, and much more through the lengthy runtime.
in English Dolby Digital 2.0 with no subtitles

Interview with Gérard Depardieu (11:34)
This archival interview with Depardieu has him discussing about the film and the character, in addition to creating and adapting Cyrano for the screen for a new generation. This interview was previously released on various other DVD editions. Though encoded in 1080p, this is upscaled from a standard definition master.
in 1080p AVC MPEG-4, in 1.33:1, in English LPCM 2.0 with no subtitles

Interview with Jean-Paul Rappeneau (8:18)
This archival interview with Rappeneau is a discussion about the 1923 silent film adaptation directed by Augusto Genina and its inspiration it had on making his own version. This interview was previously released on various other DVD editions.
in 576i AVC MPEG-4, in 1.33:1, in French LPCM 2.0 with optional English subtitles

"Anthony Burgess with A.S. Byatt" conversation (57:57)
This vintage episode from ICA Guardian Conversations has novelist Anthony Burgess interviewed on stage by author A.S. Byatt. They discuss various various British novelists, writing techniques, criticism, politics and religion, and also receiving some questions from the studio audience. While there are some interesting notes to be heard, there is no mention about his work on "Cyrano de Bergerac". Though this interview is in 1080p, it is from a standard definition tape and upscaled, and there is some tape error at points disrupting the video and audio.
in 1080p AVC MPEG-4, in 1.33:1, in English LPCM 2.0 with no subtitles

Gérard Depardieu in Conversation (76:51)
Recorded at the National Film Theatre in 1987, Depardieu is interviewed by film critic Derek Elley, with an interpreter Leslie Howard in between, with Depardieu speaking mostly French. The audience seems to have quite a lot of French speakers as they laugh quite a bit after his comments in French before the English interpretation is provided. He discusses work with various directors, his acting technique. how he has not been offered any British films to play in (at the time of the recording), and interestingly his fear of horses. This is an audio only extra, playing as an alternate audio track over the film. Once the interview ends, the audio reverts to the film's soundtrack.
in English/French Dolby Digital 2.0 without subtitles

Image Gallery (1:39)
An automated slideshow gallery featuring behind the scenes stills and posters, with no music or narration.
in 1080p AVC MPEG-4

Booklet
A 28 page booklet is included. First is the essay "Ahead by a Nose: Jean-Paul Rappaneau's Cyrano de Bergerac" written by Dr. Martin Hall, which discusses the greatness of the film and comparisons to other adaptations. Next are biographies of Rappaneau and Depardieu written by Ellen Cheshire. This is followed by "The Other Cyranos" by BFI curator Corinna Reicher on the many film and stage adaptations. There are also full film credits, special features information, transfer information, acknowledgements, and stills.


The film was previously released on Blu-ray in France by Pathe! in 2012, and later reissued in 2018 featuring the 4K restored transfer. The French Blu-ray includes a documentary on the making of "Cyrano de Bergerac" directed by Jérôme Wybon which unfortunately wasn't licensed for the BFI release. Though the BFI has curated a great selection of extras, it would have been interesting to see a documentary focused entirely on the making of the film.

Overall


"Cyrano de Bergerac" lived up to the hype with its lavish visual spectacle, having a powerful lead performance by Depardieu, and being brilliantly directed by Rappeneau. The BFI Blu-ray is a stellar looking disc with the 4K restoration transfer with a great number of lengthy extras included. Highly recommended.
| | | | | |
| --- | --- | --- | --- | --- |
| The Film: A | Video: A | Audio: A | Extras: A | Overall: B+ |