Danger Close: The Battle of Long Tan
R2 - United Kingdom - Signature Entertainment
Review written by and copyright: Rick Curzon (20th May 2020).
The Film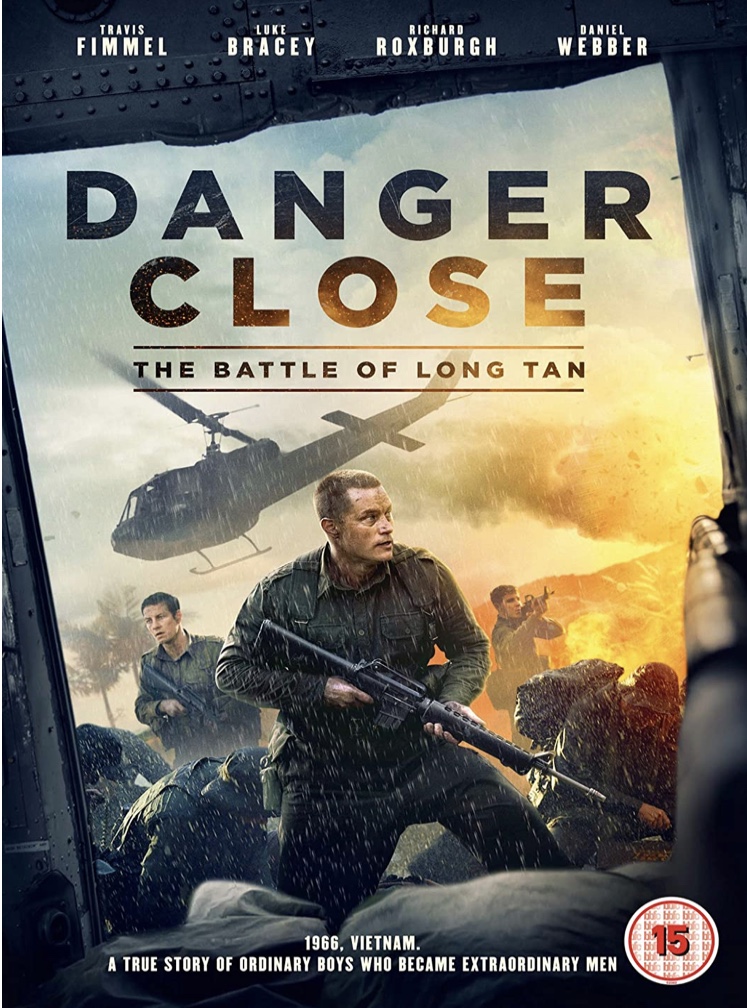 Outnumbered, outgunned, never out of courage - DANGER CLOSE is an exhilarating and hard-hitting war thriller based on the unbelievable true story of The Battle of Long Tan. Major Harry Smith (Travis Fimmel) and his company of 108 young and inexperienced Australian and New Zealand soldiers are fighting for their lives in the Battle of Long Tan. With 2,500 battle-hardened Viet Cong soldiers closing in, their ammunition running out and casualties mounting, each man searches for the strength to triumph over an uncertain future with honour, decency and courage.

Video


An exciting, effective combat film set in August 1966 telling the little known tale of a small Australian military unit of 108 men and how they held their own against a couple of thousand North Vietnamese Army soldiers on a rubber plantation.

Visually the filmmakers have done a great job with this one. Special kudos to cinematographer Ben Nott who's given the film a lush, heated, warm look to emphasise the heat and the sweat of the Southeast Asian locations. The colour palette is splendid and much warmer than many digitally shot features I've seen; I love strong colour values and like to seen vivid primaries and lovely ranges of tone ... the way we do in real life. The transfer handles all of this very well I'm happy to report with pleny of healthy flesh tones and vivid green vegetation coming off especially well.

Black levels are rich, vivd, deep and velvety with no signs of unintended crush and shadow detail is very good for standard definition. Contrast is excellent and supportive with no issues to report. Given this in standard def, detail is very good on all focal planes although obviously close and medium shots fair best; backgrounds can het a little mushy but that's entirely to be expected.

Which then beggars the question as to why Signature Entertainment continue to release DVD only editions for so many of their films, especially as their prices of their BDs are extremely reasonable on day of release? All of the titles I've been graciously sent to cover have been shoe-ins for high def release; action films, war films, historical epics, neo-noirs etc. It's time they embraced the BD format more. Were this release in HD then my rating would be A+; as is, B+

Encoding is adequate; I saw ho egregious issues although there is some mild noise occasionally in darker scenes.

PAL / MPEG-2 / 2.4:1 / 113:41

Audio


English Dolby Digital 5.1
English Dolby Digital 2.0 Stereo
Subtitles: None

A top notch 5.1 track and a decent 2.0 downmix. The 5.1 is the way to go with greater envelopment and activity and obviously the range and depth are a good notch up. Plenty of surround activity in battle scenes, the score is mainly in the rears, dialogue is clear when it needs to be. No distortions when played loud.

Sadly, as with other Signature DVDs the tracks are of low volume so I had to increase by two to get the benefit. I've got plenty of DVDs in my library that have thunderous volume when played on my system at volume level 20, these Signature Entertainment discs need 35-40 to sound correct. Battle scenes are spectacular with bullets and explosions rippling around the sound field with force and energy. A very good lossy track.

If this track was lossless then my rating of B+ would be A+ but due to the fact it's lossy Dolby Digital and encoded at a low volume on the disc it's a B+.

Once again, no subtitles which is not good for anyone with hearing issues. These films are released in other territories (on Blu-ray as well, I might add) and usually have subs. Why is it so hard to get access to those subtitle streams and put them on these DVDs?

Extras


Startup trailers:
- Enemy Lines (1:36)
- Escape from Pretoria (2:26)

Meh; the usual token trails for other Signature Entertainment releases. Both look good but alas haven't been sent for review.

Given this films historical setting and true story nature, surely something about the real event could've been included.

Packaging


Standard black, DVD keepcase.

Overall


A thoroughly engrossing and exciting war film telling the story of a little known historical event in the Vietnam war gets solid standard definition treatment with excellent image and sound although the katter is hobbled by being recorded at a low volume. Boosting the volume makes it sound great however. Extras are non existent which given the films historical setting seems a missed opportunity for contextual added value.
| | | | | |
| --- | --- | --- | --- | --- |
| The Film: B+ | Video: B+ | Audio: B+ | Extras: E | Overall: C+ |

---
DVD Compare is a participant in the Amazon Services LLC Associates Program and the Amazon Europe S.a.r.l. Associates Programme, an affiliate advertising program designed to provide a means for sites to earn advertising fees by advertising and linking to amazon.co.uk, amazon.com, amazon.ca, amazon.fr, and amazon.de.