Come to Daddy
R2 - United Kingdom - Signature Entertainment
Review written by and copyright: Rick Curzon (22nd May 2020).
The Film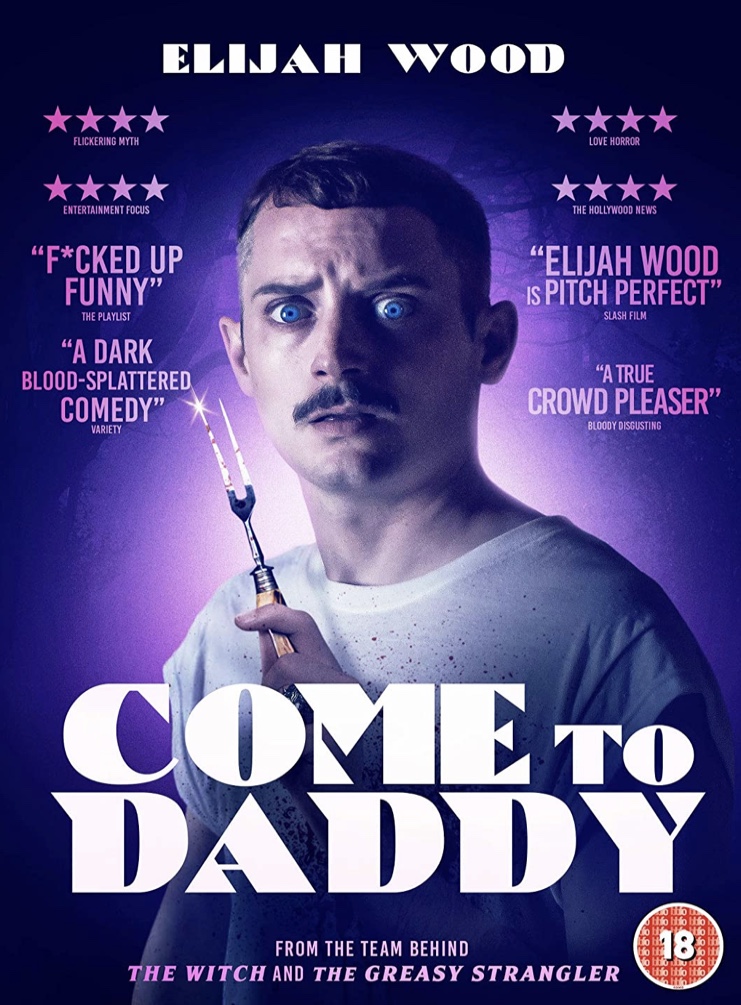 Come to Daddy is a critically acclaimed and super entertaining genre-bending horror comedy that will leave you shocked and in hysterics.

Elijah Wood (The Lord of the Rings) stars in this wild and dark comedy. After thirty years of no contact, Norval (Wood) visits his estranged father (Stephen McHattie, Watchmen) at his remote cabin by the sea. He quickly discovers that not only is his dad a disapproving alcoholic, he also has a shady past that is rushing to catch up with him.

This future cult classic also stars Michael Smiley (Kill List) and Garfield Wilson (The Man in the High Castle). From the producers of The VVitch and World War Z.

Video


The Canadian-Irish-New Zealand-USA comedy horror thriller Come to Daddy comes to UK DVD and Blu-ray courtesy of Frightfest (i had it's UK premiered at the 2019 Frightfest). Come to Daddy was shot digitally using Panavision Millennium DXL2, Panavision E-Series Lenses and finished in the 2.4:1 aspect ratio.

The film largely favours a warm colour palette most of the time with plenty of orangey lit interiors. Flesh tones vary from quite hot in those interiors to pale and naturalistic in well lit or exterior scenes. Black levels are satisfying allowing detail when needed; I saw no unintended crush. Contrast is quite stark at times but never to the point of blown out highlights.

Detail is about as good as can be expected given this in standard definition and there is some grain but, once again, being in standard def it can only be so good.

Encoding on this single layered DVD is adequate and I could see no issues in the many dark scenes beyond a teeny amount of noise. A double layered DVD with an increase in bitrate may have given us a bit more detail and more onvious grain.

PAL / MPEG-2 / 2.4:1 / 91:16

Audio


English Dolby Digital 5.1
English Dolby Digital 2.0 Stereo
Subtitles: None

I found that the sound level on this DVD from Signature Entertainment was encoded at a higher volume than most others I've covered; I only had to raise the volume by one quarter as opposed to double. The 5.1 is a generally very active track when required to be with sounds popping up in the rears regularly to make the atmosphere creepier and likely to cause unsettling feelings. This is a creepy, funny, profane little effort. Score is mostly given to the surrounds and dialogue remains front and centre. In lossless on the BD (which I wasn't sent to cover) I'm sure this will kick out even more when required. In lossy Dolby Digital it lacks the depth and range of lossless.

Sadly, no subtitles are provided.

Extras


Startup Trailers:
- First Love (1:50)
- The Dark Red (1:51)

Nothing of interest here which is a shame because the Blu-ray Signature Entertainment released has some extras mostly centring around director Ant Timpson including his first short film and Frightfest appearances. Why oh why have these not been put on the DVD?

Packaging


Standard black DVD keepcase.

Overall


Funny, profane and gory; Ant Timpson's Come to Daddy Looks great on DVD with decent image and sound but this DVD is purely for the casual viewer. Film lovers will want the Blu-ray version which contains some decent sounding extras. The DVD has nothing of note, alas. Technical specs are about as good as can be given this is a single layered DVD.
| | | | | |
| --- | --- | --- | --- | --- |
| The Film: B | Video: B+ | Audio: B+ | Extras: E | Overall: C+ |

---
DVD Compare is a participant in the Amazon Services LLC Associates Program and the Amazon Europe S.a.r.l. Associates Programme, an affiliate advertising program designed to provide a means for sites to earn advertising fees by advertising and linking to amazon.co.uk, amazon.com, amazon.ca, amazon.fr, and amazon.de.