The Film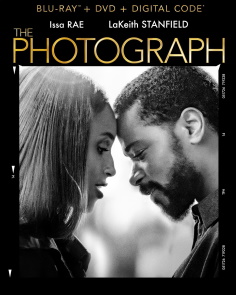 While researching a story about fisherman in the aftermath of Hurricane Katrina in Pointe à la Hache, Louisiana, New York magazine journalist Michael Block (Knives Out's LaKeith Stanfield) interviews fisherman Jefferson Isaac (Stranger Things' Rob Morgan) and notices among his belongings photographs shot by his long lost love Christina Eames (Monster and Men's Chanté Adams) who moved to New York to pursue her art. Returning to New York, he sets his intern Andy (It Comes at Night's Kelvin Harrison Jr.) to the task of finding out about her only to learn that she has recently died from cancer. Michael meets her daughter Mae Morton (The Hate U Give's Issa Rae), an assistant curator at a New York museum, who still resents her mother neglecting her in favor of her work but is left with the task of sorting through her mother's effects including a letter left to her and another to her father. Although her father (Dangerous Minds's Courtney B. Vance) tries to convince Mae that her mother was just a woman with flaws, Mae is not ready to face what is in her letter. Micahel and Mae nevertheless start to bond over an exhibition of her mother's photographs and Mae learns of her mother's life back in Pointe à la Hache, of her relationship with her bitter mother (Orange Is the New Black's Marsha Stephanie Blake), and being torn between her artistic ambitions and settling down with Isaac (The First Purge's Y'lan Noel) who knows nothing else but fishing. Things get serious when Michael and Mae are stuck together during a hurricane, and Mae becomes more open to a relationship; however, Michael's career ambitions may take him away from Mae who has just stumbled onto a mysterious involving her mother and possibly herself.

A romantic drama with two love stories intertwining between the past and present through the medium of photography should be interesting; however, The Photograph has some severe stumbling blocks that keep it from being a satisfying viewing experience. Stanfield and Rae have charisma but the chemistry developing between their characters is undercut by the screenplay in which everything aspect of their relationship can be seen coming a mile away: of course their going to get stuck together during a storm, of course her intern Rachel (Marriage Story's Jasmine Cephas Jones) 'ships the two, of course she's going to fall in love with him despite some off-putting tales of his youthful romantic conquests, learning about his ex from his cute nieces, and some more mature discussion of his commitment issues with his brother Kyle (Get Out's Lil Rel Howery) and sister-in-law Asia (Chi-Raq's Teyonah Parris). The central mystery is quite obvious and it results in a convenient reunion while the parallels between the two relationships are also obvious, flipped as they are what with Michael's ambition and Mae's desire not to be like her mother. All of the film's attempts at atmosphere are also undercut by the soundtrack which batters the viewers' ears rather loudly and constantly with cool jazz and R&B numbers from establishing shots to any scene of Michael or Mae going from place to place. The film is at its best in comparatively intimate moments; that is, when their voices are the only soundtrack element on which the viewer can focus, and nuances of performance shine through some rather pedestrian plotting and characterization and it may only really entertain those who revel in the clichés of romantic comedies and light dramas.

Video


Digitally shot and graded, The Photograph looks spectacular on Universal's 1080p24 MPEG-4 AVC 2.40:1 widescreen Blu-ray encode. A romantic drama with sunny warm Louisiana backdrops and New York metropolitan interiors with mixes of natural lighting and neutral practical lighting, some scenes look soft on the surface but the detail is there in wardrobe, skin, hair, and textures of the décor even in scenes with the moodiest low lighting (which seem to have been shot flat and adjusted in grading rather than on the set).

Audio


Audio options include an English DTS-HD Master Audio 7.1 track along with French and Spanish DTS 5.1 dubs and an English Descriptive Audio Dolby Digital 2.0 stereo track. The 7.1 mix is not a powerhouse but it makes use of the surrounds for atmosphere and background as well as spread for the soundtrack. While the music itself is sometimes distractingly prominent, one does notice subtle tweaks to the music as the film moves back and forth in time as if seguing from underscore to source music, from modern playback to vintage sound quality. Optional English SDH, French, and Spanish subtitle track are also included.

Extras


The extras are not extensive but they are informative. In Shooting The Photograph (5:37), director Stella Meghie (Everything, Everything) and producer Will Packer (Girls Trip) discuss their desire to create a new wave of romantic dramas representing "black love" – both noting the youthful influence of Love Jones – while Rae discusses the differences between working with a writer/director and a director in terms of building a character, and Stanfield reflects on his mainstream success and the opportunities it has given for picking more dramatically-satisfying roles. In Culture in Film (3:48), the same participants discuss showing black relationships and family dynamics on film using the genre, while in The Film Through Photographs (2:24), Meghie expresses her desire that the photographs reflect the vision of the character, taking inspiration from the work of Carrie Mae Weems and hiring a young New York photographer to shoot the photographs within the film.

Packaging


A digital copy code is packaged with the Blu-ray and DVD copy.

Overall


A romantic drama with two love stories intertwining between the past and present through the medium of photography should be interesting; however, The Photograph has some severe stumbling blocks that keep it from being a satisfying viewing experience.