Taza, Son of Cochise [Blu-ray]
Blu-ray A - America - Kino Lorber
Review written by and copyright: Eric Cotenas (24th May 2020).
The Film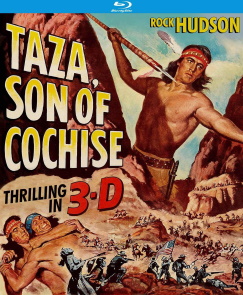 On his deathbed, Apache chief Cochise (Fox Fire's Jeff Chandler) charges his elder son Taza (Giant's Rock Hudson) with honoring the peace treaty with the "white eyes" and his younger son Naiche (This Island Earth's Rex Reason) with supporting Taza. While Taza is determined to uphold the treaty, Naiche, however, has sworn loyalty to renegade chief Geronimo (High Noon's Ian MacDonald), as has Gray Eagle (Earth vs. the Flying Saucers' Morris Ankrum) whose daughter Oona (It Came from Outer Space's Barbara Rush) is desired by both brothers. When Naiche attempts to break the treaty by raiding a white caravan and killing its members, Taza begs U.S. military Captain Burnett (Zombies of Mora Tau's Gregg Palmer) to let Apaches punish Apaches but Burnett arrests Naiche and his cohorts, as well as insisting they honor the treaty's stipulation that the tribe must move to the San Carlos reservation if an Apache kills a white man. Taza leads the tribe in taking over the military fort, renegotiating a new treaty in which the tribe will move to the reservation if they are given supplies to work the land and allowed to police themselves with an auxiliary police force. Although General Crook (The Slime People's Robert Burton) agrees to the new treaty, Taza loses face with some of the tribe, and must choose between honoring the treaty or being granted Oona's hand only if he gives Gray Eagle guns and bullets that he knows find their way to Geronimo. When Taza chooses honor over love, Gray Eagle gives Oona to Naiche who has raised the money to buy guns and ammunition to take on the white eyes.

A Technicolor western from Universal Pictures is not at all unusual – there were nine others the same year – but Taza, Son of Cochise is a western directed by melodrama king Douglas Sirk (Written on the Wind), and it's in 3D! Hudson is thoroughly miscast, sticking out awkwardly apart from the rest of Universal-International's more adaptable contract players and technicians with Sirk's regular DP Russell Metty (Spartacus) providing some handsome Utah location lensing and composer Frank Skinner (Harvey) providing a typically barnstorming score full of the usual "Indian" musical motifs, with some good uses of 3D (cutting from Taza and Naiche cutting in profile to Naiche hurling a rock into Taza's camera POV and other shots where depth is emphasized over action). Although the film has scope on the surface – there is one gorgeous opening shot in which a simple pan across Navajo extras looks like a documentary and then magically segues to cinema as Hudson and Reason are revealed in the foreground – it actually is quite a small film that drags out the climactic battle to the last ten minutes and then deprives the viewers of a final showdown between the brothers. The film is ultimately less satisfying as a western and more intriguing for its combination of elements, what with Sirk auditioning Hudson for a string of romantic dramas and Universal-International trying to compete with Cinemascope with the novelty of 3D. An uncredited Russell Johnson (Gilligan's Island) provides the opening narration.

Video


Released theatrically in 3D and 2D by Universal Pictures, it was the latter that came to DVD from Universal individually in the TCM Douglas Sirk: Filmmaker Collection, as well as on Blu-ray in Germany and France. Kino Lorber and the 3D Film Archive present the film in a 1080p24 MVC AVC widescreen encode in Universal's house ratio of 2.00:1. The upgrade in resolution is immediately felt in the depth of the image and the skin textures visible beneath the "Indian" foundation makeup on the main performers which is a shade lighter brown here rather than what was seen on DVD where a slight yellow tinge rendered it darker while shadow detail is superior even in the sunny exteriors. The optical transitions are a bit more obvious here with shifts in color and the day-for-night timing is darker without flattening. The 3D effects are quite impressive considering that many of the effects are just variations of rocks and arrows flung at the camera or extras falling from above the camera after being shot with bullets or arrows, adding some excitement to the otherwise unexceptional action scenes. The menu has 3D and 2D playback options, but the former will not play if no compatible equipment is hooked up.

Audio


The sole audio option is a DTS-HD Master Audio 2.0 mono option. Dialogue, effects, and music are clear, but it is unfortunate the 3D production did not attempt a more gimmicky directional stereo track since there are scenes that could exploit it like the sequence in which Taza and Burnett hear the distant drums of the different Apache tribes coming from different sides of the frame. Optional English SDH subtitles are provided.

Extras


The film is accompanied by an audio commentary by film historian David Del Valle and author/screenwriter C. Courtney Joyner who admit that Hudson is miscast but that Sirk was auditioning him for Magnificent Obsession, but they puzzle over why Sirk rather than any number of Universal contract directors was chosen to direct a 3D western – noting that a number of directors regarded the format as a bother – while also noting that it was a favorite film of the director. They also note the cameo by Chandler who had been nominated for an Academy Award playing Cochise in Broken Arrow which forms with Taza, Son of Cochise a loose trilogy alon with his Cochise turn in The Battle at Apache Pass, also noting Hudson's other western roles (including as Native American characters) before his more romantic roles, as well as providing some background on the real Cochise and Taza. Also included is a slideshow commentary by 3-D expert Mike Ballew (19:58) which offers up some further production information including the use of Navajo extras, the local mayor getting the housewives to launder the production's clothes – with the women drawing lots to handle Hudson's laundry – and production shutdowns due to inclement weather. He also discusses the 3D rigs available to Universal at the time, and how examining the 3D elements revealed shots that could not be achieved with the same rigs used on It Came from Outer Space and The Creature from the Black Lagoon. Recently discovered production photos turned up the answer in a custom rig built the Universal camera department that was used along with the more familiar rig. He also discusses Universal needing to "re-sell" 3D to exhibitors and attempts at a more simplistic transmission system, in this case the single project Pololite system which did not take off and why (presumably this short commentary was part of the feature commentary since Del Valle introduces Bellew). The 3D theatrical trailer (2:06) is also included.

Overall


A Technicolor western from Universal Pictures is not at all unusual – there were nine others the same year – but Taza, Son of Cochise is a western directed by melodrama king Douglas Sirk, and it's in 3D!

---
DVD Compare is a participant in the Amazon Services LLC Associates Program and the Amazon Europe S.a.r.l. Associates Programme, an affiliate advertising program designed to provide a means for sites to earn advertising fees by advertising and linking to amazon.co.uk, amazon.com, amazon.ca, amazon.fr, amazon.de, amazon.it, amazon.es and amazon.se.