Robert the Bruce (Blu-ray) [Blu-ray]
Blu-ray ALL - United Kingdom - Signature Entertainment
Review written by and copyright: Rick Curzon (27th May 2020).
The Film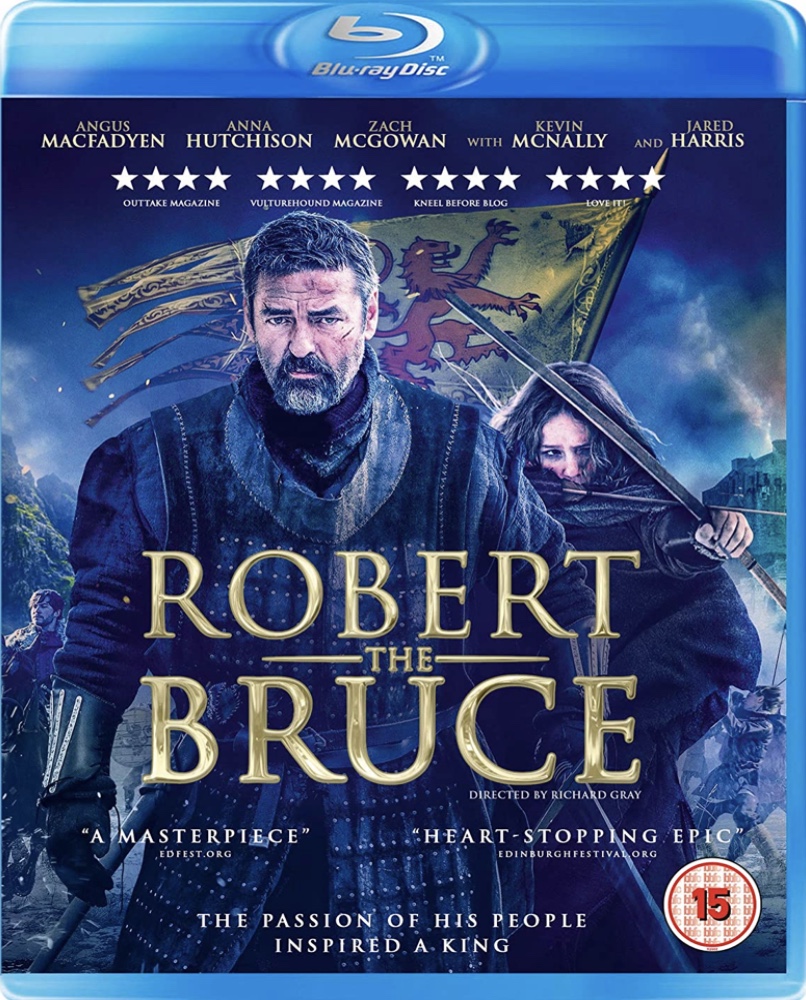 Robert the Bruce is a hard-hitting historical epic covering the turbulent time after William Wallaceís victories depicted in Braveheart.
Scotland 1306, Robert the Bruce (Angus Macfadyen: Braveheart) crowns himself King and takes the ambition of Scotlandís freedom as his own. But he cannot overcome Englandís power: defeated again and again, his army is scattered and Scotlandís nobility abandons him. Hunted, with a price on his head, he finds himself alone and wounded. The cause of freedom seems lost once more.

Hidden secretly in a secluded croft of a clan pledged to England, and close to death Robert is nursed back to life by a young widow and her orphaned children. His determination to do what is right, regardless of the cost, reinvigorates his passion to rise again. But itís not revenge he desires. Itís freedom. Now.

Also starring Daniel Portman (Game of Thrones) Anna Hutchinson (Cabin in the Woods), Jared Harris (The Crown), Zach McGowan (Black Sails, Agents of S.H.I.E.L.D.), Patrick Fugit (Almost Famous), Kevin McNally (Pirates of the Caribbean) and Emma Kenney (Shameless) and featuring original music from Scottish national treasure, Lulu.

Robert the Bruce picks up where Braveheart left off in a thrilling, brutal and breath- taking fashion.

Video


Gorgeously lensed, well mounted bedtime story version of history. Lensed using digital cameras and finished in the matted 2.4:1 aspect ratio.

This is a great looking film presenting the film on a dual-layered disc with a maxed out bitrate so it looks about as good as it possibly can. Being new and a digital file there's no worries about print damage and I saw no digital artefacts in evidence and the encode is more than up to the task allowing the largely grain free image to breathe.

Interiors are richly coloured favouring a warm palette; flesh tones are very natural throughout. Exteriors favour a colder palette befitting the wintry setting although there are some gorgeous blues and brilliant whites, albeit with a slightly blueish cast in the grade. It's an earthy looking film with lots of browns, grays and blacks in the palette. Contrast and blacks work in concert to ensure plenty of shadow detail and no blown out highlights.

The DVD is obviously the same although obviously is less sharp and lacking in that crisp edge HD lends a transfer. Detail is muted by comparison; digitally lensed films with their lower contrasts ratio (when compared to photochemical film) seem to suffer in standard def to my mind. The DVD edition benefits from being on a dual layered disc. A very good DVD transfer overall.

1080/24p / MPEG-4 AVC / 118:40

Audio


English DTS-HD Master Audio 5.1
English LPCM 2.0 Stereo
Subtitles: None

Being a bang up to date 2019 production this has an impressive track overall. Plenty of robust, front centric activity with the surrounds mainly utilised by score and ambiance. I was expecting much more activity during the action scenes than I got but it's certainly no slouch. Subwoofer activity was present at key moments although being a lower budget production by Hollywood standards it doesn't kick out like a Bond film. The 5.1 track is obviously the way to go with greater depth and range and volume. The 2.0 is also pretty sweet and no disgrace although obviously inferior.

My comments for the DVD are exactly the same although obviously much more compressed; you'll need the volume turned up more to approach getting the same experience as well.

Neither BD nor DVD have subtitles, alas.

Extras


Audio commentary with director Richard Gray and co-writer and star Angus Macfadyen

Engaging track with director Gray and producer / co-writer / star Macfadyen. The track is opened by Gray stating that there's no CGI snow in this film; all real. The opening shot is the only bit seemingly shot in Scotland on The Isle of Skye and Gray is happy that they tell the story from the point of view of a bedtime story so had complete artistic licence.

Personally, I'd prefer it if filmmakers would approach historical films from a much more rigorous, accurate standpoint. More people will watch their efforts that will read books or watch accurate documentaries; they have a responsibility. Both justify their choice by claiming that history is written by the victors and this is an oral history. That said, the film seems to be largely pretty accurate and is certainly better than the overblown, overrated Braveheart (1995).

They cover the films thirteen year journey to the screen, original intentions for it versus the practicalities of getting it made; weather was harsh as they shot most of it in the US in midwinter so a tricky shoot, plenty of illness issues, inaccuracies caused by shooting in Montana versus actual flora in Scotland etc. A good track.

Startup Trailers:
- Arctic (2:19)
- Night Hunter (2:32)

Usual promos for other Signature releases.

The US release also had an EPK making of, absent here for some strange reason.

Packaging


Standard blue Blu-ray keepcase.

Overall


Image and sound are about as good as one could expect given the scale of production with the image coming out on top betwixt the two. Extras are scant but the commentary is meaty and a good listen. A making of hasn't been ported across from the US disc sadly. Excellent value given the price but I lament the absence of subtitles for the hearing impaired which knocks the sound rating down slightly.
| | | | | |
| --- | --- | --- | --- | --- |
| The Film: B | Video: A+ | Audio: A- | Extras: C | Overall: B |

---
DVD Compare is a participant in the Amazon Services LLC Associates Program and the Amazon Europe S.a.r.l. Associates Programme, an affiliate advertising program designed to provide a means for sites to earn advertising fees by advertising and linking to amazon.co.uk, amazon.com, amazon.ca, amazon.fr, and amazon.de.