The Film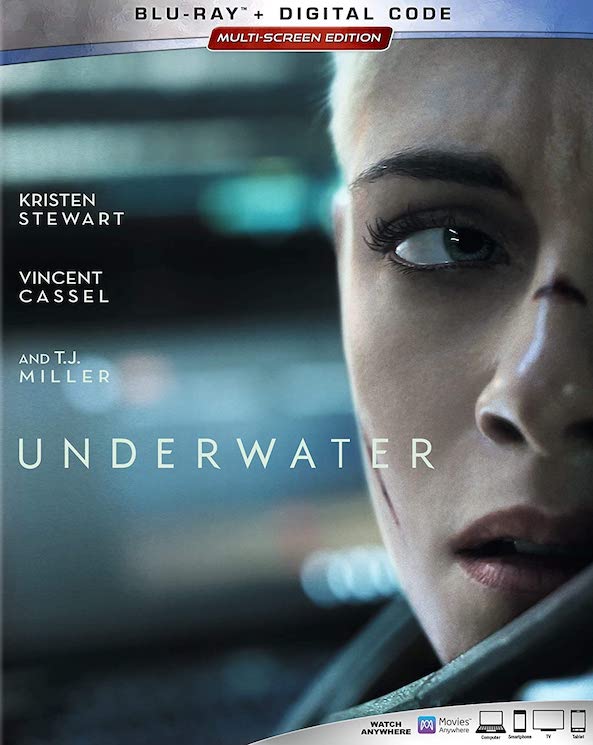 Since the great Underwater Creature Feature explosion of 1989 - a year that saw at least six similarly-themed pictures released within the same calendar year - monster mayhem beneath the waves has been infrequent; a few pictures here and there over the years, some worth remembering. A big studio picture of that ilk hasn't been since "Deep Rising" way back in 1998 (not counting the "dime a dozen" killer shark/croc films). Then, this January, a couple months before the worldwide pandemic in which we are still living hit, the last gasp of 20th Century Fox was released onto the big screen - and the final picture released by that storied studio was a deep sea Lovecraftian tale that had been sitting on the shelf since 2017, "Underwater" (2020)…

…and just like star Kristen Stewart's other recent big film, "Charlie's Angels" (2019), this, too, was a bomb on impact, opening low and then quickly sinking into the box office trenches. Too bad because it isn't a terrible film by any means, and if you've spent the past couple decades pining for abyssal action then chances are good you'll enjoy what director William Eubank has delivered. Wikipedia calls the film a "loose adaptation of [H.P. Lovecraft's] "The Call of Cthulhu"", though that distinction seems to stem from the fact Eubank has said his primary inspiration for the beastly behemoth's design was the infamous Great Old One himself. So, sure, I'll accept it – but just know the story has virtually nothing else "Lovecraftian" aside from the creatures.

This thing hits the ground running, too, with Norah (Kristen Stewart) and a few lucky researchers surviving a massive earthquake that has triggered explosions and implosions within their deep sea station – all within the first five minutes. Norah and her crew have to get from Point A to Point B in order to activate the escape pods that can take them up top back to safety. Standing (swimming?) in their way are humanoid creatures of varying sizes that have an interest in eating the survivors.

What separates this film from the majority of underwater horrors is that usually the film spends a big chunk of the running time building up characters, often a ragtag bunch of clashing personalities, giving viewers some potential sense of loss when someone is killed. In "Underwater" the action kicks off before anyone utters a single word and by the time we are introduced to characters the impetus is survival, not introductions. Translation: nobody here has any character. Norah maybe shows a bit throughout but even she's thinner than Stewart's midsection.

Let's get to the real reason most of us are here: the creature action. Spoiler: it's a little light. I was a bit frustrated by the constant teasing and lack of truly meaty monster scenes because if the film isn't going to bother making me care about the characters then the tradeoff should be getting more time with the monsters. Eubank metes these encounters out gradually, building in intensity (and creature size) and the journey progresses. Thankfully, by the end the screen is saturated with slimy suckers of all sizes and the full scope of that $80 million budget is put into effect.

Despite offering up an ignominious end to one of Hollywood's most venerable studios "Underwater" is a boon for horror fans whose taste for salty sea horrors hasn't been sated in some time. Even with a near-total lack of character depth I still enjoyed this much more than the reputation it has undeservedly received.

Video


Due to the current pandemic, I was supplied with a digital copy and the specs and extras are mirrored here to the physical copy that would have been shipped out had things been business as usual. The streamed 2.40:1 widescreen 1080p HD 24/fps image looked exceptionally strong to my eyes. There are some instances of minor banding when the crew is navigating underwater trails and light sources are scarce, but for most of the film the action is within the research station and the picture is frequently sharp and stunning. The digital intermediate was reportedly finished at 4K, so while a Blu-ray would likely trump this streaming version a proper 4K Ultra HD release would be the right way to go – unfortunately, since this property now lies with Disney, and it bombed, the odds of such a disc materializing is virtually zero.

Audio


The film includes four audio track options, English DTS-HD Master Audio 7.1 surround, French Dolby Digital 5.1 surround, Spanish Dolby Digital 5.1 surround, and English Audio Descriptive Dolby Digital 5.1 surround. The digital 4K release reportedly has an Atmos track, the current English audio results are strong, too. Dialogue is nicely prioritized and always incredibly clean & clear. This being a film that relies on tension and creeping terror the underwater soundscapes offer opportunities for ambient sounds and inhuman noises to emanate from every available speaker. The track often has an audibly attractive enveloping quality. Optional subtitles are available in English HoH, French, and Spanish.

Extras


An audio commentary track is available with William Eubank, Jared Purrington, and Phil Gawthorne.

"Underwater Exclusive: Call the Mover" extended scene (1080p) runs for 1 minute and 29 seconds.

A selection of extended & deleted scenes (1080p) is available, with optional audio commentary track is available with William Eubank, Jared Purrington, and Phil Gawthorne:

- "Crew Suit Up" runs for 1 minute and 43 seconds.
- "Gantry Exit" runs for 2 minutes and 29 seconds.
- "Baby Clinger" runs for 1 minute and 34 seconds.
- "Midway Station" runs for 1 minute and 42 seconds.
- "Ocean Floor Walk" runs for 5 minutes and 24 seconds.
- "Rock Garden" runs for 47 seconds.
- "Smith Departure" runs for 1 minute.

An alternate ending (1080p) is available, also with optional audio commentary track is available with William Eubank, Jared Purrington, and Phil Gawthorne, running for 2 minutes and 54 seconds.

"Real Bunny" montage (1080p), with optional audio commentary track is available with William Eubank, Jared Purrington, and Phil Gawthorne. , runs for 3 minutes and 24 seconds.

"Making Underwater" (1080p) contains the following featurettes:

- "Design" runs for 17 minutes.
-"Production" runs for 19 minutes and 42 seconds.
- "Creatures & Visual Effects" runs for 19 minutes and 2 seconds.

A theatrical trailer (1080p) runs for 2 minutes and 19 seconds.

Packaging


Packaged in a Blu-ray keep case, first pressings include a cardboard slip-case.

Overall


Not groundbreaking or original by any means, "Underwater" is an entertaining trip to the lowest depths on the planet, with a strong cast of shallow characters and a roster of tentacled terrors to keep horror fans satisfied. Definitely worth a watch.
| | | | | |
| --- | --- | --- | --- | --- |
| The Film: B- | Video: A- | Audio: A- | Extras: A- | Overall: B |