From Iceland to Eden
R0 - America - Cinema Libre
Review written by and copyright: Eric Cotenas (30th May 2020).
The Film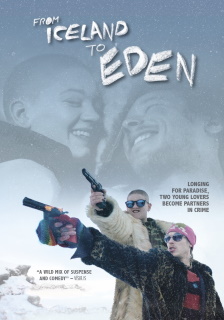 Running for his life in only a towel from a Salvia deal gone bad, Oli (Albatross' Hansel Eagle) bursts into the first unlocked house on a suburban street only to discover stoned Lóa (Webcam's Telma Huld Jóhannesdóttir) nearly drowned in the bathtub and "Molly" dealer Steini in the living room dead of an overdose. Fearing Steini's suppliers, Oli and Lóa got to pot dealer friends Gunni (Einar Viðar G. Thoroddsen) and Ronni (Gunnar Marís) to lay low and make some fast money. While Gunni and Ronni are saving up to retire in Cuba, Oli's dream is to open up a meditation camp while Lóa fancies taking up ballet again. When they visit Oli's friend Vigga (Tinna Sverrisdóttir) and discover that she too has overdosed, they initially plan to steal her stash of morphine only to discover among her belongings a cache of cocaine not yet diluted for sale and seek her friends' help to sell it. Unfortunately, their big spending attracts the attention of Vigga's kingpin supplier Tumi (Hjalti P. Finnsson) who will only forgive them if they make deliveries for him; Tumi having been able to escape legal scrutiny by having no physical connections or proximity to his goods. Tumi's father (Atomic Station's Arnar Jónsson) lets Lóa know that Oli will be the one suffer if she ever betrays the family business, and Oli is under constant threat of physical (and possibly sexual) violence from Tumi; nevertheless, restless Lóa convinces Oli, Gunni, and Ronni that they should deal under Tumi's nose for one last haul before they escape to Cuba. Things do not go as planned, however… Although modest in scope and production value, and quite ordinary in its plotting – apart from cutaways that suggest a cosmic connection between the central duo – From Iceland to Eden is relatively undemanding entertainment, made engaging thanks to the easygoing lead performances and some attractively chilly Christmastime imagery. While there would seem to be some degree of complexity in the interpersonal relationships of the characters, and it may be a mark of restrain on the part of director Snævar Sölvason to leave much of the characterization on a subtextual level, the film overall feels like an impersonal portfolio piece of a westward-bound Hollywood hopeful demonstrating an affinity for slow motion montages, dance floor thrashings, and druggy delirium that is pleasant to watch but may not be all that memorable even if the viewer is not as high as the characters.

Video


Lensed in HD and given a serviceable progressive, anamorphic 2.35:1 widescreen thanks to the clean lensing while some of the neon-lit night (and nightclub) sequences would probably look better on Blu-ray.

Audio


Audio options include Dolby Digital 5.1 and 2.0 stereo mixes, with the surrounds used mainly for music and intermittent atmosphere that is like the film's visuals: modest yet slick. English subtitles are burnt in using a small font; however, a couple lines that seem to have been added to the translation are in a much larger font. English Closed Captions identify music and effects as well as the identities of offscreen speakers of dialgoue as well as overlapping ones.

Extras


The disc includes the film's theatrical trailer (2:07) as well as two deleted scenes (0:40 and 4:08, respectively). The latter deleted scene is intersting since it gives more time for Tumi's father to intimidate characters, and it shows maturity on the director's part to have deleted it and let the viewer surmise what happened. The disc also incldues three trailers as both start-up and available from the menu.


Overall


Although the performances are engaging and the imagery slick, From Iceland to Eden feels like an impersonal portfolio piece of a westward-bound Hollywood hopeful demonstrating an affinity for slow motion montages, dance floor thrashings, and druggy delirium.

---
DVD Compare is a participant in the Amazon Services LLC Associates Program and the Amazon Europe S.a.r.l. Associates Programme, an affiliate advertising program designed to provide a means for sites to earn advertising fees by advertising and linking to amazon.co.uk, amazon.com, amazon.ca, amazon.fr, amazon.de, amazon.it, amazon.es and amazon.se.