The Film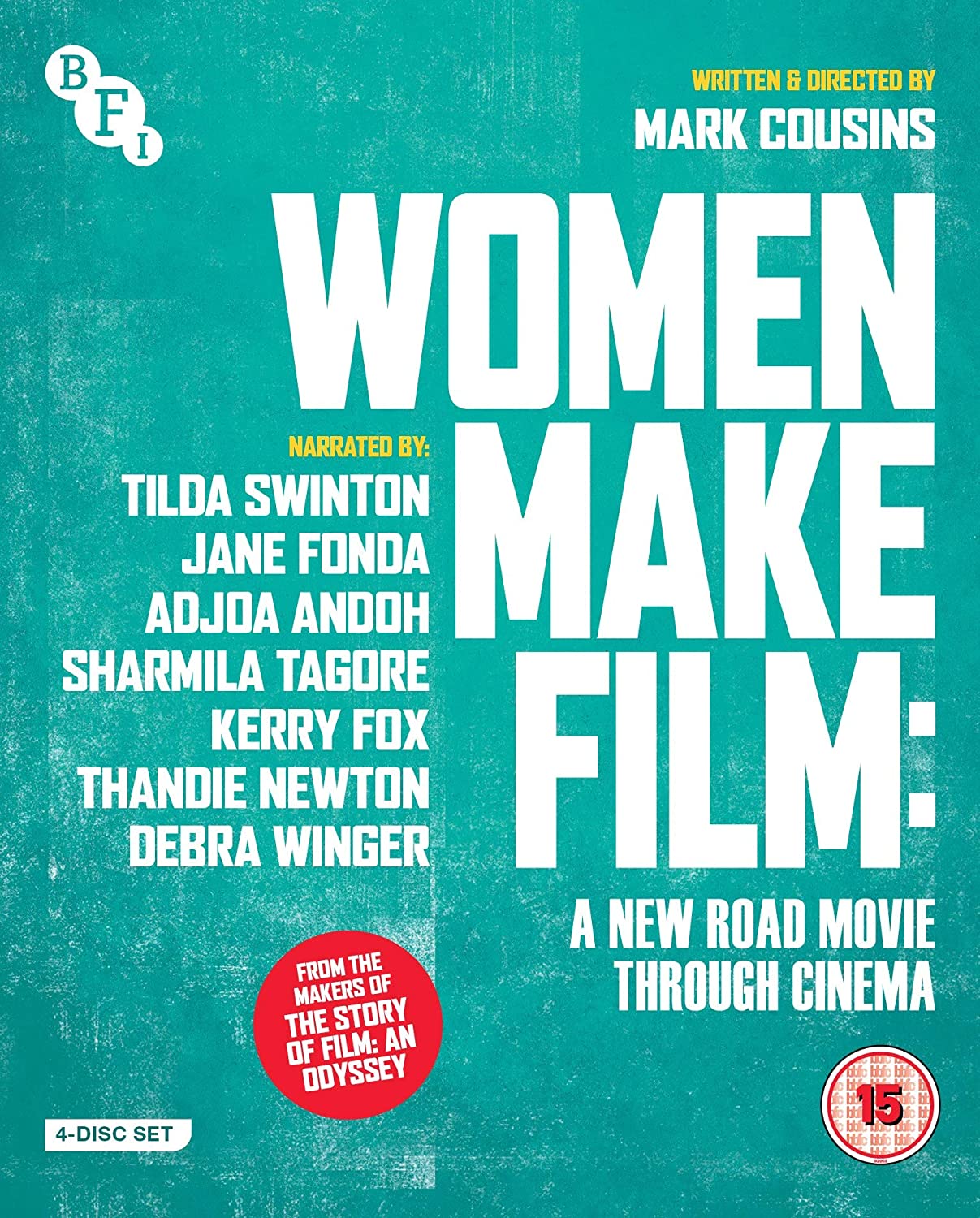 "Woman Make Film: A New Road Movie Through Cinema" (2018)

In the history of cinema, women have been directing film ever since the dawn of the artform. There are female filmmakers across the globe that continue to produce work. But when critics, cinephiles, film fans make a list of favorite films, where are the works of the female film directors? Looking at the Top 100 Greatest Films of All Time list by Sight and Sound and listed on the BFI, there are female directors. Chantal Akerman's "Jeanne Dielman, 23 Commerce Quay, 1080 Brussels" is at 35. "Beau Travail" by Claire Denis is at 78. And that's it. Two out of one hundred films in the top list were directed by women. The Golden Globes have only given one director statue to a female director and that was to Barbra Streisand for "Yentl" (1983). Kathryn Bigelow made Oscar history by winning the directing statue for "The Hurt Locker" (2008), making her the first and only female be an Oscar winning director. Most films in history have been directed by men and so it might seem to make sense that they would be more celebrated. But that isn't to say that women haven't made a significant contribution. They certainly have. But their works while in total is smaller in numbers, there are many women across the world that have and are continuing to make challenging and entertaining works, and "Woman Make Film: A New Road Movie Through Cinema" celebrates them.

This 14-part series directed by Mark Cousins is not a complete history of female filmmakers. It doesn't give reasons as to why their works have been overlooked, it doesn't give biographical information on the filmmakers, nor does it give a history on the sexist attitudes of the male dominated industry making it harder for women to climb to the director's chair. Instead it focuses on the films themselves. How these women used the artform and examples of their work in different categories and context. Divided into 40 chapters, each is dedicated to showing examples of the filmmakers taking on the themes - from tension between characters, relationships between parents and children, dream sequences, the use of close-ups, setting of the tone, comedic touches, etc. Each chapter has multiple clips from various works from around the world, which could start with a silent film from the Soviet Union, followed by a modern American work, then a Belgian indie drama, but all having a similar theme being focused on. In addition to the theme being the connecting points, Cousins employed an incredible lineup of narrators to guide the viewers through each chapter: Tilda Swinton, Adjoa Andoh, Jane Fonda, Sharmila Tagore, Kerry Fox, Thandie Newton and Debra Winger. Each have made significant contributions to cinema in front of the camera, and it is with their voices that the audience is guided through a journey into the mostly unknown.

With the film clips, there are quite a few very well known names and films introduced. Sophia Coppola's "The Virgin Suicides", Mary Lambert's "Pet Sematary", Kathryn Bigelow's "Point Break", Ava DuVernay"Selma", Agnes Varda's "Cleo from 5 to 7", Jane Campion's "The Piano", Mary Harron's "American Psycho", Penny Marshall's "Big", Leni Riefenstahl's "Triumph of the Will". But for each well known example, there are a dozen lesser known examples to be showcased. Larisa Shepitko from the Soviet Union who only made a handful of features who died too young in a car accident at the age of 41. Binka Zhelyazkova from Bulgaria who made some lyrical works and became an obsession for director Mark Cousins. Park Nam-ok, the first female Korean filmmaker who made her one and only film while carrying a baby on her back on set. Wang Ping from China who rose in prominence following the cultural revolution as an actress and eventually filmmaker. Kinuyo Takana, the respected and popular Japanese actress made the leap to the director's chair and became one of the most acclaimed in her field. Nearly 200 filmmakers are represented throughout the 14 episode series, with many being mentioned in multiple chapters. But this series doesn't go into the biographies of each. Instead it is about what they did for the screen and how they honed their craft.

The episodes are in the following order:

DISC ONE
Play All (239:02)
- Episode 1 (60:24)
-- Introduction (10:19)
-- Openings (28:09)
-- Tone (21:39)
- Episode 2 (60:48)
-- Believability (23:05)
-- Introduction of Character (13:26)
-- Meet Cute (23:05)
- Episode 3 (60:47)
-- Conversations (26:02)
-- Framing (20:44)
-- Tracking (12:49)
- Episode 4 (60:43)
-- Staging (15:07)
-- Journey (22:55)
-- Discovery (21:29)

DISC TWO
Play All (239:24)
- Episode 5 (60:54)
-- Adult Child (24:09)
-- Economy (10:26)
-- Editing (25:07)
- Episode 6 (60:34)
-- Point of View (16:57)
-- Close Ups (17:10)
-- Surrealism and Dreams (25:15)
- Episode 7 (60:42)
-- Bodies (27:09)
-- Sex (32:21)
- Episode 8 (60:53)
-- Home (18:28)
-- Religion (18:05)
-- Work (23:08)

DISC THREE
Play All (236:28)
- Episode 9 (59:16)
-- Politics (25:42)
-- Gear Change (9:52)
-- Comedy (22:31)
- Episode 10 (59:55)
-- Melodrama (14:01)
-- Sci Fi (13:01)
-- Hell and Horror (31:41)
- Episode 11 (60:31)
-- Tension (24:07)
-- Stasis (20:09)
-- Leave Out (15:03)
- Episode 12 (60:25)
-- Reveal (18:43)
-- Memory (17:12)
-- Time (23:19)

DISC FOUR
Play All (122:03)
- Episode 13 (60:43)
-- Life Inside (10:41)
-- The Meaning of Life (20:51)
-- Love (27:59)
- Episode 14 (61:20)
-- Death (18:24)
-- Endings (13:32)
-- Song and Dance (25:38)
-- Conclusion (2:36)

Each episodes is an hour in length, which can be viewed with a "Play All" for each disc. They can also be viewed individually by episode. In addition, each chapter can also be viewed separately. There are captions on each clip listing the film's name, the director, the country or countries the film was from, and the year it was released. The narration is very soothing, informative, and easy to digest as it takes even the casual viewers with ease. It does not talk about miniscule technical aspects but instead gives the viewer an overview and additional information to fill in the gaps, as there isn't particularly time to know who each of the characters are or what the scenario is. What the audience is shown is the geniuses that set an unmistakable footprint. Alice Guy's editing for emotional impact in an era without sound. Kathryn Bigelow's handheld camera to place the viewer in a documentary like field. Patty Jenkins's "Monster" with tension and explosion. Ida Lupino's use of point of view in "The Hitch-Hiker". Looking at many of these clips, these films have genuine artisty that rival or even surpass many male filmmakers and their works. But this series is not a competition or comparison against the genders. Instead it shines a light where it was neglected for a long time. There isn't anything that says "Only a woman could have directed that" or anything that degrades what men have been able to accomplish in the world of cinema. Instead it states how these masters of cinema should be treated equally, given the same opportunities, and should be given the recognition they deserve - both for their work as filmmakers and for the works themselves.

As stated at the beginning of the series in the introduction, there are some surprising omissions and there are some surprises within. While viewing I had a list of my own and crossing off the filmmakers I thought would be mentioned while also making a new list of filmmakers I was unfamiliar with. But not everyone made the cut, whether it was rights issues with the use of film clips, for time constraints, or other reasons. Armenian filmmaker Mariya Saakyan who made only a few films including the gorgeously wonderful "The Lighthouse" (2006) and died too young at the age of 37 from cancer, was not featured. Drew Barrymore's directorial debut, the roller derby drama "Whip It" (2009) being absent. Catherine Harwicke's hard hitting teen rebellion drama "Thirteen" was also unseen. "Near Dark" (1987) or "Freddy's Dead: The Final Nightmare" (1991) not being shown despite the respective directors Bigelow and Rachel Talalay's other works being shown? Some surprise came from a clip of "The Matrix", as it was directed by men Andy Wachowski and Larry Wachowski. They are now Lilly and Lana Wachowski after coming out as transgender, and so two of their works before and after are showcased, the latter being the divisive "Jupiter Ascending". Not every film in the series is a masterpiece. There are even some female filmmakers that made some absolute clunkers (but I won't be naming names here). The series is a celebration of talent and in that sense, presents the figures and works extremely well and fluidly without any major misstep.

The daunting task of piecing this series together was under the guidance of Mark Cousins alongside colleagues that went on a worldwide search for great female filmmakers. From the start of Google searches to find lists and examples of the best of the best female directors, clips were provided by distributors and film archives from around the world, with Cousins piecing together the flow of the series by chapter. With many of the films from Bulgaria to Senegal not having a rich film archive to restore the works, the provided film clips were less than ideal, but a starting point to get the word out that these lost and forgotten films were in need of rediscovery and eventual restoration. Quite a number of the works featured in this series have no official DVD or Blu-ray release anywhere in the world. Hopefully the series will change that in the years to come.

"Women Make Film" was screened at various film festivals in segments, at Venice, Toronto, Telluride, and elsewhere to very positive response. The UK limited theatrical release by Hopscotch Films/Dogwoof for theatrical exhibition came to a halt due to the shutdowns of cinemas with the COVID-19 pandemic, but the BFI has made the series available on Blu-ray in a four disc set.

Note this is a region B Blu-ray set

Video


The BFI presents the film in a multi-aspect ratio presentation in 1080i 50hz AVC MPEG-4. The "road" scenes that were newly shot look as great as expected with vibrant colors of the beautiful scenery and occasional shots of the narrators in the vehicles. As 90% of the series are clips from various films, the quality will vary depending on the source material. Silent films have their expected amount of wear and tear. More modern pieces look excellent being sourced from pristine elements. Some of the films come from analog sources that have blurry images and tape damage. There are clips with telecine wobble, fluctuating colors, speckles, debris, and other anomalies. But for many of these, they were the best and only available materials coming directly from worldwide film archives, with the films not having any restoration done. As for the framerate of 25fps for the series, this has also created some issues with certain clips being sourced from 24fps and not properly sped up to 25fps. They are noticeable in instances such as the handheld photography of Kathryn Bigelow's film clips, where there is ghosting. Not all are affected, as a lot of the clips come from 25fps transferred materials.

Audio


English DTS-HD Master Audio 5.1
English LPCM 2.0 stereo
The 5.1 track is an interesting one, as the center channel is used entirely for the narration of the series, while the surrounding channels are for everything else. The film clips come in through the left and right, even for mono films, keeping the soundscape wide, while the series' music and effects are also accentuated in the left and right as well as the surrounds. It's certainly an interesting way of presenting the clips in a surround environment rather than the expected center channel for dialogue. For the 2.0 track it is a different mix, with the narration and the film clips sounding centered rather than equalizing to separate the audio for the film clips.

There are burned-in English subtitles for some non-English portions, optional English subtitles for some non-English portions, and optional English HoH subtitles. Some of the film clips have burned-in English subtitles (as well as other languages like French or Russian, depending on the clip's source materials and they can be slightly hard to read at times. For some of the non-English language films there are optional English subtitles to translate the dialogue and this subtitle stream is the default setting. The English HoH subtitle track subtitles both the non-English language portions as well as captioning the narration.

Extras


All of the extras are on the fourth disc and have a "Play All" function, with a total runtime of 80:15.

"The Making Of..." featurette (12:32)
Director Mark Cousins narrates about how the project came together and the important women in his life - not only in film but in personal life and in history, how everything was funded independently, and the recording of the narration, with a series of stills on screen. They are made up of photos of filmmakers featured, personal photos, shots of memos and notes for the planning of the series.
in 1080i 50hz AVC MPEG-4, in English LPCM 2.0 with no subtitles

Mark Cousins and Barbara Kopple Q&A (17:42)
Recorded at the Toronto International Film Festival on September 7th, 2019 (though the on screen caption mistakenly spells Toronoto) after a screening, Mark Cousins and famed documentary filmmaker Barbara Kopple are interviewed by TIFF programmer Kiva Reardon about the film and about women filmmakers. Cousins talks about the importance of researching the unknown and how simple Google searches like "Great Female Polish Filmmakers" helped greatly, Kopple talks about some of her experiences, and more are discussed.
in 1080i 50hz AVC MPEG-4, in 1.78:1, in English LPCM 2.0 with no subtitles

Theatrical Trailer (1:42)
The BFI's theatrical trailer is presented here, which features some footage of the road segments and narrators with stills of the represented filmmakers, but interestingly without footage of the films featured throughout the series. The trailer has also been embedded below.
in 1080i 50hz AVC MPEG-4, in 1.78:1, in English LPCM 2.0 with no subtitles

"Together" 1956 film (48:22)
Directed by Lorenza Mazzetti (who passed away this January at the age of 92) with writer Denis Horne and shot in the East End of London with many non-professionals, "Together" was produced by the BFI's Experimental Film Fund and first shown as part of the first Free Cinema programme at the National Film Theatre in London in February 1956. With the two main protagonists being deaf brothers as characters, the film is basically a silent movie with their sign language being left untranslated and the only dialogue heard being incidental background chatter at times and music and effects being left in. Times when the characters are being talked to by parents and others are kept intentionally mute. The short had an array of talent in front of and behind the camera. Sculptor Eduardo Paolozzi and painter Michael Andrews play the brothers. John Fletcher, Walter Lassally and Lindsay Anderson all worked behind the scenes.
in 1080i 50hz AVC MPEG-4, in 1.33:1, in English LPCM 2.0 with no subtitles

Booklet
First is an introduction by writer Cari Beauchamp on the series and the importance and sad neglect of women in film and the impact of the series. Next is "Aftershock" by Mark Cousins, which focuses on some of the feedback he has received and how after screening Q&As were both dreaded and also insightful. There are full credits for the series as well as a full list of all the directors featured and their films with annotations on their availability. There is a minor typo with Park Nam-ok's "The Widow" (1955) not having her name boldfaced like the rest of the directors and the film title being in parenthesis, and is not in the correct alphabetical order. It also states that the film is not available in digital format but in fact is on DVD in the "Landscape After the War" boxset from the Korean Film Archive. There are also written biographies of the filmmakers behind the scenes of the series, special features information, technical information, acknowledgements, and stills.



Streamed to commemorate the Blu-ray release is a Q&A with director Mark Cousins which can be seen here:



Overall


"Women Make Film: A New Road Movie Through Cinema" is an absolute must for everyone. Whether a casual film fan or a cinephile, there is a mountain of discovery waiting to be unlocked and it is guaranteed to make one walk away with notes on what to try and see next. The BFI Blu-ray set includes a good amount of bonus features as well, making this highly recommended.

For more information about the films and the filmmakers showcased, please visit the official website https://www.womenmakefilm.com/.
| | | | | |
| --- | --- | --- | --- | --- |
| The Film: A | Video: B | Audio: A | Extras: B | Overall: A- |