The Film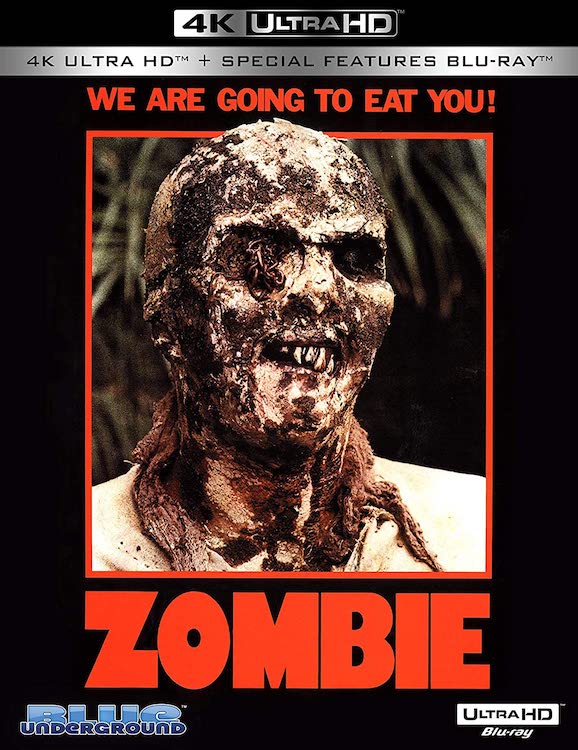 When the topic of zombie films is brought up, the question for me isn't "fast vs. slow" but "American vs. Italian" because, really, those are the two countries that have done more to get flesh eaters on the map than anywhere else. On the U.S. shores, George A. Romero's "Dawn of the Dead" (1978) is nearly impossible to top, delivering social commentary, gross-out gags, richly developed characterization - and he did it all with style. Plus, a score by Italy's progressive rock outfit Goblin (billed as "The Goblins" in the opening credits) only further elevated the groundbreaking feature. Italian filmmakers are always looking for a hit film to unofficially sequelize into oblivion – thanks to a weird copyright rule allowing for such things - and George's seminal sequel was fertile ground. Just one year later, Italian writer/director Lucio Fulci, who at that time was best known for his giallo pictures, took up the reins and delivered what is arguably Italy's greatest undead feature, "Zombie" (1979, a.k.a. "Zombi 2", "Zombie Flesh Eaters", et al.). What Fulci's film lacks in subtlety and social awareness it more than makes up for with gruesome FX work and horrific death scenes, key selling points for getting it banned or censored in countries across the globe.

After New York City cops find a zombie aboard her father's boat, Anne (Tisa Farrow) travels to the Caribbean with journalist Peter West (Ian McCulloch) to visit the island of Matul, her father's last known whereabouts. There, Dr. Menard (Richard Johnson) and his wife, Paola (Olga Karlatos) run the local hospital, which has seen an outbreak of dead patients returning to life. The villagers think voodoo ritual is to blame, a claim Dr. Menard finds dubious. Anne and Peter hook up with Brian (Al Cliver) and Susan (Auretta Gay), a couple sailing around the islands, and secure passage to Matul. Bad move. The island is beginning to teem with the undead and there isn't much time before the place is overrun. What begins as an exploratory mission quickly becomes a frantic attempt at escape. Also, a zombie fights a shark.

Fulci gets so many elements of this film right – atmosphere, gore, story, decent characterization – but everything is practically overshadowed by one key moment (that he reportedly wasn't even there to shoot). Of course I'm talking about the epic undersea battle between a waterlogged zombie and a tiger shark. This fight is fake like professional wrestling is fake, and no matter how many times I watch this movie it blows my mind that a shark trainer in full zombie make-up wrestles a fearsome beast (a friggin' "tiger shark"; those things eat anything). The fact all of this is competently shot underwater, in the open sea, with the shark practically acting (after what I'm sure were many, many takes) while a sorta-stuntman spews fake blood and gnashes at its tender white underbelly… can't get away with that shit these days. It's an astonishing sequence in a movie filled with enduring cult moments.

Not only are the make-up effects exquisite but I was shocked by how well all of it holds up under the scrutiny of a brand-new 4K restoration. Usually seams and latex and make-up become more readily apparent – no so here, largely thanks to the Italians' love of chunky, splattered gore effects. There are the expected hordes of generic flesh eaters shuffling around, but Fulci frequently features zombies with distinct looks, usually swathed in smoky atmosphere and appearing like an apparition ripped right from the pages of an E.C. Comics issue, such as the famous "worm-eyed zombie" that adorned U.S. posters alongside the legendary tag line "We Will Eat You!" Cinematographer Sergio Salvati deserves much praise for his tight lensing and lighting that set an unmistakable mood which captures the essence of horror.

Tying all of these elements together is a gut-churning synth score, courtesy of frequent Fulci collaborator Fabio Frizzi. The soundtrack runs the gamut from lumbering lo-fi keyboard themes to tropical island motifs, settling viewers into each scene with complementary mood music. Frizzi has gone on tour in recent years to perform his most famous themes, this among them, proving the endurance of his work.

Video


The previously issued 1080p Blu-ray of "Zombie" has an impeccable picture; it is, for all intents and purposes, flawless. I even mentioned in my review the only possible room for improvement would be if a proper 4K Ultra HD release ever surfaced… and here we are approximately 18 months later. I won't claim this is the revelation I found the Blu-ray to be but there are clear variances in saturation, texture, and the finest of details that if you have the right set-up – a calibrated 4K set capable of Dolby Vision output – the upgrade in visual quality will be evident in this 2160p image. Colors are richer, allowing those tropical primaries to pop just a bit more. Textures and minute details are clear from foreground into the background - even when the action moves to nighttime. Black levels on the previous Blu-ray are precise and perfect but what the 4K presentation allows for is extra detail within the shadows to be glimpsed, giving the visuals a push toward looking more robust than ever before.

Audio


Audio options are still numerous, with English DTS-HD MA tracks in 5.1 surround and 1.0 mono, Italian DTS-HD MA tracks in 7.1 surround and 1.0 mono, and a French Dolby Digital 1.0 mono track – but this release adds a new option: English Dolby Atmos (which resolves to TrueHD 7.1 depending on your set-up). The additional channels are selectively filled out, mostly with Fabio Frizzi's score or general island mayhem ambiance. Does it seem like overkill giving an Italian horror film such tony treatment? Maybe, but is it also awesome being able to watch Lucio Fulci's tropical getaway gut-muncher in actual 4K with a modern audio track? You're damn right it is. Optional subtitles are included in Cantonese, Danish, Dutch, English (for Italian audio), English HoH (for English audio), Finnish, French, German, Italian, Japanese, Korean, Mandarin (Simplified), Mandarin (Traditional), Portuguese, Russian, Swedish, and Thai.

Extras


DISC ONE: 4K UHD BLU-RAY

Filmmaker Guillermo del Toro provides an optional introduction to the film, running for just under a minute.

The first audio commentary is with Troy Howarth, Author of Splintered Visions: Lucio Fulci and His Films.

The second audio commentary is with Star Ian McCulloch and Diabolik Magazine Editor Jason J. Slater.

"When The Earth Spits Out The Dead - Interview with Stephen Thrower, Author of Beyond Terror: The Films of Lucio Fulci" (HD) this interview runs for 32 minutes and 48 seconds.

Promotional Materials (HD/SD) contains the following:

- "International" theatrical trailer which runs for 3 minute 43 seconds.
- "U.S." theatrical trailer which runs for 1 minute 30 seconds.
- TV spot 1 runs for 32 seconds.
- TV spot 2 runs for 32 seconds.

Radio spots (with "Play All" option; 2:05):
- Radio spot 1 (0:29)
- Radio spot 2 (0:49)
- Radio spot 3 (0:22)
- Radio spot 4 (0:24)

A Poster & Still Gallery is also included, running for 9 minutes and 35 seconds.

DISC TWO: BLU-RAY

"Zombie Wasteland" are interviews with Stars Ian McCulloch, Richard Johnson & Al Cliver, and Actor/Stuntman Ottaviano Dell'Acqua (HD) runs for 22 minutes and 52 seconds.

"Flesh Eaters on Film:" is an interview with Co-Producer Fabrizio De Angelis (HD) runs for 10 minutes and 4 seconds.

"Deadtime Stories" is an interviewwith Co-Writers Elisa Briganti and (Uncredited) Dardano Sacchetti (HD) runs for 15 minutes and 7 seconds.

"World of the Dead" is an interview with Cinematographer Sergio Salvati and Production & Costume Designer Walter Patriarca (HD) runs for 16 minutes and 46 seconds.

"Zombi Italiano" is an interview with Special Make-Up Effects Artists Gianetto De Rossi & Maurizio Trani and Special Effects Artist Gino De Rossi (HD) runs for 17 minutes and 12 seconds.

"Notes on a Headstone" is an interview with Composer Fabio Frizzi (HD) runs for 8 minutes and 1 second.

"All in the Family" is an interview with Antonella Fulci (HD) runs for 7 minutes.

"Zombie Lover", is an interview with Award-Winning Filmmaker Guillermo del Toro as he talks about one of his favorite films (HD) runs for 9 minutes and 54 seconds.

Packaging


The two-disc set comes housed in a black 4K Ultra HD keep case, with an embossed slip-cover on first pressings.



Overall


This is an important release, not only because the quality is outstanding but it is a welcomed portend of (hopefully) more 4K Ultra HD horrors in the immediate future for this growing format.
| | | | | |
| --- | --- | --- | --- | --- |
| The Film: B+ | Video: A+ | Audio: A+ | Extras: A | Overall: A |