The Film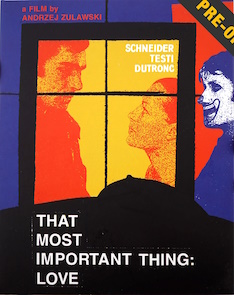 César (Best Actress): Romy Schneider (won), Best Production Design: Jean-Pierre Kohut-Svelko (nominated), and Best Editing: Christiane Lack (nominated) - César Awards, 1976

To pay back the debts incurred by his alcoholic father (Le Corbeau's Roger Blin) to loan shark Mazelli (Barbarella's Claude Dauphin), photographer Servais Mont (What Have You Done to Solange?'s Fabio Testi) sneaks onto the set of a pornographic film to take some snaps only to be shamed by the self-loathing of actress Nadine (What's New Pussycat?'s Romy Schneider) when she sees him pointing his camera at her. Servais tracks Nadine down to a villa where she and her husband Jacques (Merci pour un Chocolat's Jacques Dutronc) are living rough on the generosity of an aristocratic fan. Servais' alcoholic friend Lapade (A Very Long Engagement's Michel Robin) – whose wife Luce (Beyond Good and Evil's Nicoletta Machiavelli) Servais has slept with – introduces him to Austrian actor Karl-Heinz Zimmer (Aguirre, the Wrath of God's Klaus Kinski) who has been trying to get an production of Shakespeare's "Richard III" by avant-garde director Messala (Z's Guy Mairesse). Servais borrows money from Mazelli, knowing he will have to work for it, and gives it to Messala under the stipulation that Nadine never know he had anything to do with the funding. Nadine suffers for her art, pushing her abilities into unknown areas guided by the unstable Zimmer and the undisciplined Messala. She seems offended that Servais shows up at the rehearsals seemingly as an acquaintance of Messala and not to see her, but Jacques grows suspicious of Servais' involvement in the production but also and jealous of his interactions with his wife. The production of "Richard III" goes off just about as well as can be expected. While Zimmer can find more work anywhere he goes, and Messala can shrug off the critics because of his passion for an art for which they believe him ill-suited, Nadine feels even more hopeless than before. Seeing the truth of their relationship for the first time, Jacques finds his wife's pity unbearable, and Servais realizes just how low he has sunk and endangers his own life with a last ditch attempt to redeem himself.

Based on the novel "La nuit américaine" by Christopher Frank (Love at the Top) – not to be confused with François Truffaut's Day for Night, L'important c'est d'aimer is melodrama ramped up to eleven as only director Andrzej Zulawski (Possession) is capable (here with the relentlesssly roving handheld camera of Klimt's Ricardo Aronovich and the alternatly lyrical and bombastic scoring of the great Georges Delerue whose main theme is every bit as memorable as Contempt). In keeping with the film's title – translated in some territories as That Most Important Thing: Love – love is as potentially redemptive as it is destructive, although perhaps less so than the notion of honor that dooms some unhappiness in denying themselves their true desires. Servais is attracted to Nadine and wants to help her, but upon meeting her husband, tells Lapade he wants to "do something for them," and constantly dodges the questions of Lapade and his father about whether he is in love with Nadine. Jacques becomes increasingly antagonistic towards Servais until he realizes that he may have "saved" Nadine but she suffers not for her art but to keep both of them fed out of a feeling of indebtedness. When Nadine finally throws herself at Servais, it is also out of a sense of indebtedness after she learns the truth; and Servais' attempts to remain honorable come across as cold to her and arrogant to others, including those who can do him harm (it is interesting that the film's most vile characters are the charming and paternal Mazelli and his equally maternal wife [The Things of Life's Gabrielle Doulcet] in contrast to Servais' loutish father and slovenly best friend, the alternately flippant and boorish Jacques, Messala, or Zimmer). Jacques act of self-sacrifice could be seen as honorable, stupid, or emotionally manipulative. In the opening Nadine is uncomfortable not with acting out a sex scene with a supposedly dying man but having to tell him "I love you," but those words are all she can offer in the coda sequence. The theme of honor and a love triangle also figure into Zulawski's later La Fidélité, a modern-day (possibly even futuristic) updating of Madame de La Fayette's "The Princess of Cleves" in which Zulawski's later life partner Sophie Marceau (La Boum) is a photographer caught between her burgeoning love for a colleague (The Beach's Guillaume Canet) and honoring her vows to the man (Pauline at the Beach's Pascal Greggory) who saved her at a tragic point in her life.

Video


Released theatrically in America by Seaberg Pictures with an English dub, L'important c'est d'aimer was hard to see in English-dubbed or subtitled form until 2005 when Universal Pictures released a DVD with both options in certain European territories including Spain using the anamorphic master Studio Canal struck for their 2003 French-only DVD. In Germany, the label NEW put out three hardbox editions with English dubbing, but the image was cropped to 1.78:1 from the 1.66:1 original. The film finally received the treatment it deserved in 2009 when American Zulawski-focused boutique label Mondo Vision put out 2000-copy Premium Signature Edition edition with a commentary, a Zulawski interview, photo galleries, a CD soundtrack, and a booklet in a specially-designed hard case (along with a cheaper single-disc digipak special edition). A restoration featurette revealed the additional work that Mondo Vision did on the Studio Canal master, not only cleaning up dirt and faint scratches but also additional color correction that made the colors look subtly more vibrant including the formerly pallid skintones. While Film Movement does not offer anything up about the transfer beyond the usual "new restoration" press release statement, their 1080p24 MPEG-4 AVC 1.66:1 widescreen transfer seems to have gone the same route as their earlier HD master for the French DVD. All of the minor traces of wear are back and the colors are cold and muted again with everyone including usually tanned Testi having skintones that range from gray to minutely pink. It is a more than watchable presentation but not what the film deserves, one would have hoped that in the absence of Zulawski Studio Canal could have at least used the Mondo disc as a rough guide, and it seems unlikely that it will be bettered since Studio Canal will likely release the film on Blu-ray themselves in other territories where they have distribution arms.

Audio


The LPCM 2.0 mono French track is the way to go here, not only because of the superior vocal performances - Kinski is dubbed by Michel Duchaussoy (This Man Must Die) and Testi by Josep Maria Flotats - but also the overall quality which is cleaner and more vibrant than the English dub which is poorly cast and gets a bit brittle on the high ends during screeched dialogue and the more frenetic passages of the score. Optional English subtitles are included.

Extras


The Zulawski commentary has not been carried over, but the disc does include the interview with director Andrzej Zulawski (16:22) in which he recalls being approached by an America producer with the Frank novel which had proved unadaptable by other directors who had taken it on before him. Zulawski also felt that it was not adaptable cinematically as it stood, but he found some throwaway bits of character around which he could fashion a screen story. He also discusses the casting, noting Schneider's dislike of Testi and his Italian machismo – throwing all of her contempt into the scene in which she slaps him – and how the casting of singer Dutronc must be understood in the context not of the accomplished actor he is now but of the unknown quantity he was back then, suited to such a character. The disc also includes the film's French theatrical trailer (3:41).

Packaging


Housed in the case with the disc is a booklet by film historian Kat Ellinger who discusses the conventions of melodrama, its critical perception as "emotional pornography" – to use a term actress Isabelle Adjani used to describe Zulawski's Possession – and how Zulawski embraces, subverts, and utilizes those genre conventions and "amplifies them to them to excessive extremes."

Overall


Film Movement's Blu-ray of L'important c'est d'aimer may fall short compared to its previous special edition DVD incarnation, but it makes an incredibly moving and emotionnally grueling film more accessible for discovery and reassessment.